Since The Bug starts school today, I don't yet have any school lunches to share, so I thought I would try something I'll call Wayback Wednesday, where I bring back a recipe from the past, maybe re-edit the photos, maybe make it again and retake them, and share it with those of you who may not have been reading since the early days of Cupcakes & Kale Chips.  Today it's Sage Cornbread Muffins with Cranberry Orange Butter, which was my very first #SundaySupper.
Get the recipe HERE.
I also wanted to take this opportunity to remind you about all of the awesome giveaways going on right now.
Happy Birthday Holly – Kitchenaid Stand Mixer & $100 Target Gift Card #Giveaway!
Cuisinart Baby Food Maker & Bottle Warmer Giveaway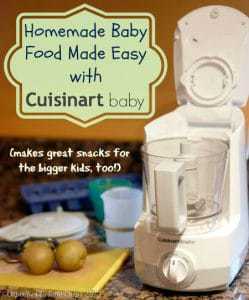 Cooking Planit T-Fal Cookware Giveaways are still going on for another week on these blogs:

Not in the mood for corn muffins, then how about some other breakfast baked goods…
Gluten Free Almond Blueberry Mini Muffins with Maple Cream Cheese Drizzle
Red, White & Blueberry Crumb Cake
Vanilla Donuts with Blueberry Lemon Glaze (Guest Post from Je Suis Alimentageuse)
Or some muffins from my friends…

Want to see lots more yummy food from me and my friends, and cute pictures of my kids?
Follow me! 
Or have Cupcakes & Kale Chips delivered to your Inbox by entering your email in the box on the left sidebar.
Disclosure: This post may contain affiliate links, which means I earn a small percentage from any purchases you may make if you click on them.  These companies have not contacted me.  I only use the stuff because I love it.)
If you like this post, you'll love these: