This post may contain affiliate links. Read my disclosure policy.
For the best blondies ever, you need to make this White Chocolate Salted Carmel Gooey Bars recipe.
White Chocolate Salted Carmel Gooey Bars

Salted. Caramel. Yum!!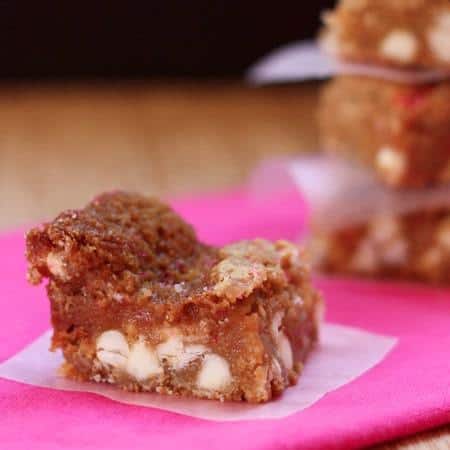 So I am officially in love with Pink Parsley's Salted Caramel. This is my third recipe using it. Actually, it is the first one I made, but the two cupcake recipes got posted first. You see, I didn't get to taste this one. *sniff sniff*  This makes me very sad, because they look awesome, right?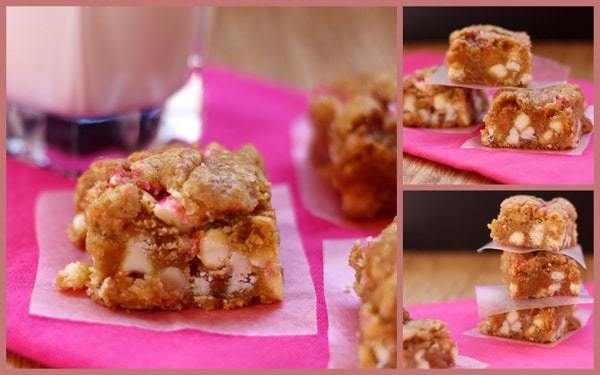 So I had to wait to hear if they turned out well before I could post them. I made them for a friend from my church mommy group, and I couldn't even sneak one (gotta stick to my no-flour black bean cupcakes). She had just had a baby, and I was bringing her dinner. Her third girl – which is why you see a little sprinkle of pink sugar on top. But I didn't hear back from her right away. The nerve! I mean, what could possibly be keeping her so busy?! 🙂 Kidding! I can barely handle one kid – totally can't imagine three.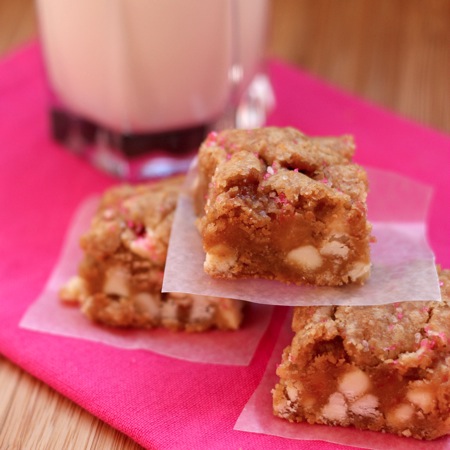 Her response? Well, she said they were amazing, and asked for the recipe. Because she clearly has tons of time to bake right now. Well here you go, Colleen. Of course, I knew they had to be good, because it is only a slight variation on these, the recipe from Pink Parsley where I first discovered Josie's Salted Caramel. I just used white chocolate chips, and doubled the salted caramel, since the recipe made so much, and I hadn't yet planned on anything else to do with it (other than eating it with a spoon or drowning a scoop of ice cream in it – which obviously never happened). This made them super-gooey (hence the name), but they also needed to bake a bit longer, and I still wasn't sure that they were done in the middle. But seriously, when is a slightly under baked cookie a bad thing?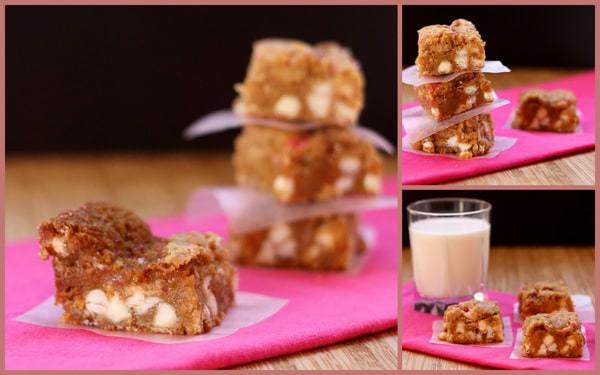 Here they are, all packed up and ready to go. Bye-bye, gooey wonderfulness! I'll miss you!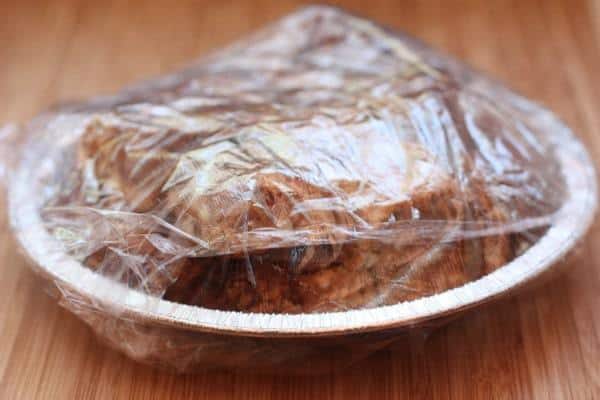 Do you have any special sweet treat recipes that you love to make and share with others?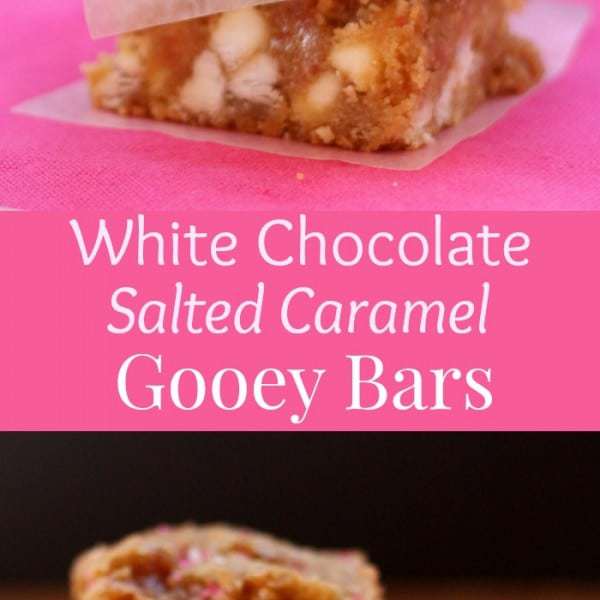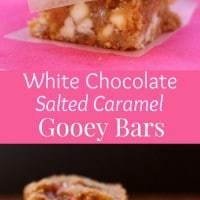 White Chocolate Salted Caramel Gooey Bars
Ingredients
2

c

plus 2 T all-purpose flour

1/2

t

baking soda

3/4

t

kosher salt

12

T

unsalted butter

melted and cooled until warm

1

c

light brown sugar

packed

1/2

c

granulated sugar

1

large egg plus 1 egg yolk

2

t

pure vanilla extract

1 1/2

c

white chocolate chips

1/2

c

Salted Caramel Sauce

coarse sugar or colored

for sprinkling

coarse or flaked sea salt

for sprinkling
Instructions
Prepare the Salted Caramel Sauce

Preheat oven to 325°F. Line an 8×8-inch baking pan with aluminum foil so that the edges of the foil overhang two sides of the pan, and spray the foil with cooking spray.

In a medium bowl, whisk together the flour, baking soda, and salt.

In the bowl of a stand mixer fitted with the paddle attachment or in a large bowl with a hand mixer, on medium speed, beat together the butter, brown sugar, and granulated sugar.

Beat in the egg, yolk, and vanilla until just combined.

Reduce the mixer speed to low, and add the dry ingredients to the wet ingredients until just combined - do not overbeat.

Stir in the white chocolate chips.

Dampen your fingers, and press half of the dough into the bottom of the prepared pan.

Pour the Salted Caramel Sauce over the dough and spread evenly.

Drop the remaining dough in clumps over the caramel – the dough will bake together.

Bake for 30-35 minutes until a toothpick comes out clean. (I actually had to bake mine a few minutes longer, and they were still fairly gooey from the extra caramel.)

As soon as the bars come out of the oven, sprinkle the top with the sugar and sea salt.

Allow the pan to cool on a wire rack for 15 minutes before carefully removing the bars from the pan and peeling off the foil.

Cool completely before slicing.
Categories:
This recipe was adapted from Pink Parsley's Salted Caramel Chocolate Chip Cookie Bars.
Enjoy!