This post may contain affiliate links. Read my disclosure policy.
Don't want to wait for takeout or bother with making homemade crust? Or do you just love a good grilled cheese sandwich? Gooey Italian cheeses oozing out from between two parmesan-crusted, buttery and golden brown slices of bread will make it impossible to resist this Three Cheese White Cheese Pizza Grilled Cheese.
Three Cheese White Cheese Pizza Grilled Cheese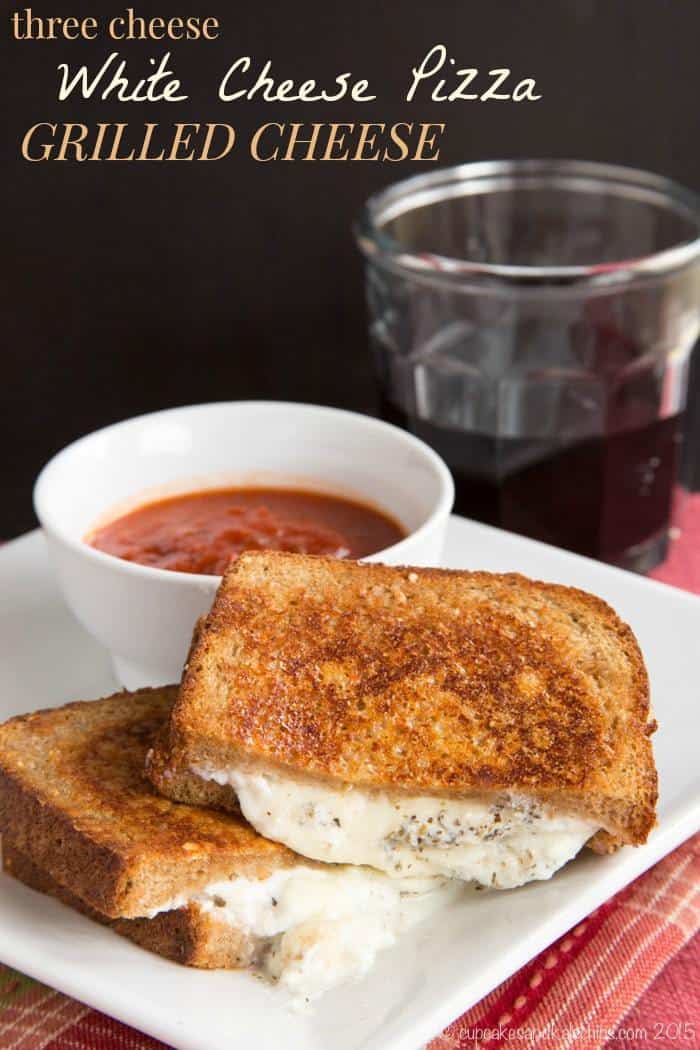 Let me tell you something about The Bug (as if I don't do that already) – the kid is a talker. Always has been. And the vocabulary on this kid, it's kind of insane. The words that pop out of his little not-quite-five year old mouth are well beyond his years. And from the second he wakes up in the morning, the mouth starts, and doesn't stop until I am literally walking out of his room at night saying, "Good night, it's time to quiet down, you can tell me more tomorrow…" The only think that moves faster than his mouth is his brain because I seriously don't think he can speak fast enough to let out all of the thoughts he is formulating.
Do you have any idea how nervous this makes me? I'm pretty much doomed because the kid is slick, and he is going to be able to talk his way out of anything when he gets older. Or he is just going to talk so much that people are just going to throw their hands up in the air and be like, "Fine, do what you want, just STOP!"
Little Dude, on the other hand, was pretty quiet for a long time. Honestly, I'm thinking it's because big brother never let him get a word in edgewise. I have no doubt that the gears were turning inside his head because I swear it was overnight that he started babbling and then those babbles became full on sentences. "Mommy, brother threw the truck." "Mommy, can I have my water, peeeeeze?" "Mommy, I want more froooooot, please. Kank you." Still not 100% intelligible, but I know what he is saying most of the time.
And I think every kid has some words they say wrong or misuse, but it's just so darn cute that you almost don't want to correct them. Little Dude thinks everything is pizza. And not just pizza, it's "pete-zzzaaaaaaaa!!!!" with the hugest grin on his face. I swear I need to get him on video for you. Freaking adorable!
It's helpful, too, because he loooovvveess pizza. So hey, if he thinks something is pizza, and that means he will eat it even if he might not otherwise, who am I to correct him? So quiches and frittatas are pizza and casseroles are pizza and sandwiches are pizza. Oh wait, this sandwich actually is pizza…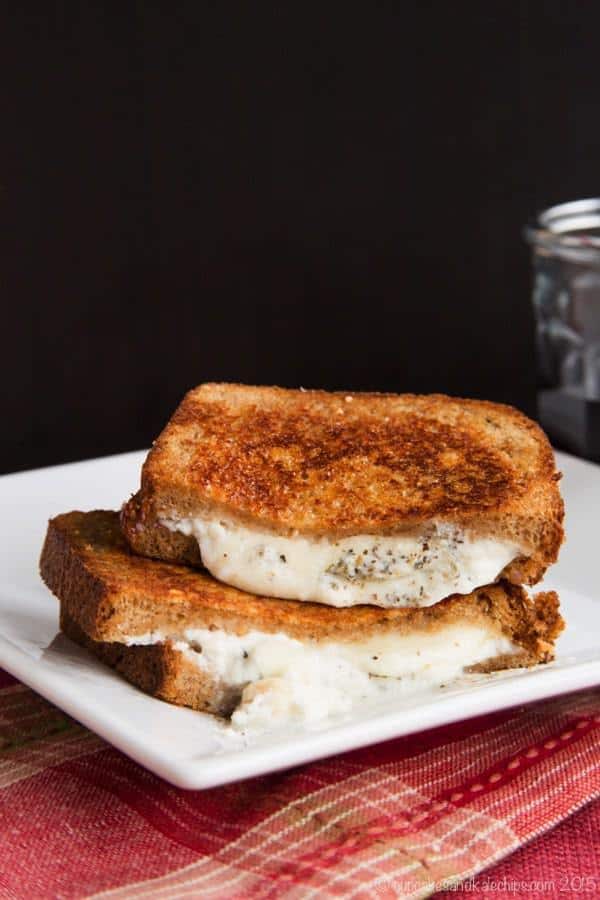 This grilled cheese sammie is inspired by The Bug. He also loves pizza, but especially white cheese pizza, and we haven't found a really awesome white cheese pizza here in Maryland yet. So since I don't always want to make pizza crust, I thought I'd combine his favorite pizza and his favorite sandwich to make Three Cheese White Cheese Pizza Grilled Cheese. He's not a tomato sauce kid, but if you are, you can always heat up some marinara sauce on the side for dunking, kind of an Italian-American take on the classic grilled cheese and tomato soup combo.
This sandwich couldn't be simpler or more amazing. I mean, you've got three, count 'em, three cheeses here. Of course you have the classic stretchy mozzarella, then some ricotta which really makes it oozy and good, with just a little Italian seasoning to give it that pizza-like flair. Then to take it over the top, I crusted it in parmesan cheese to make it toasty and golden brown.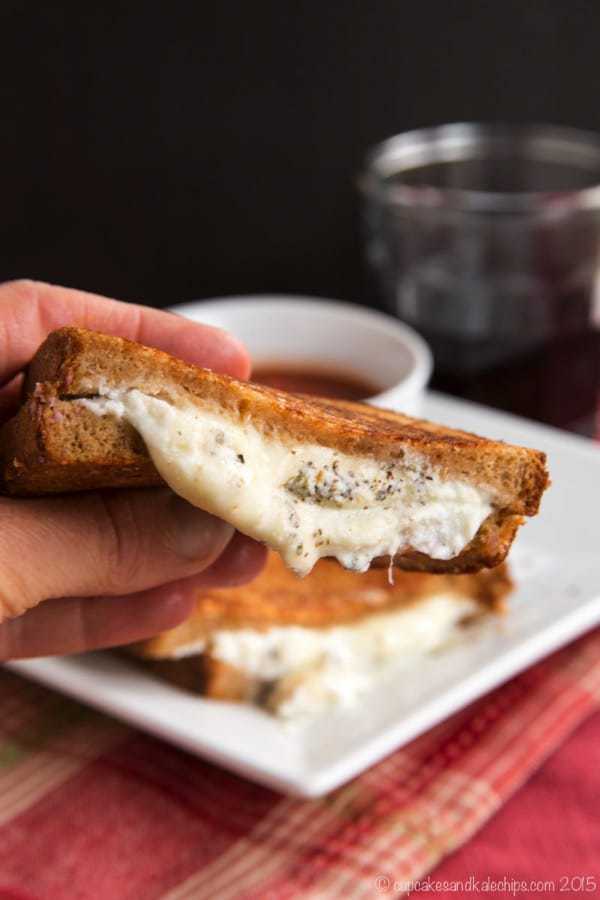 Oh my cheesy goodness!!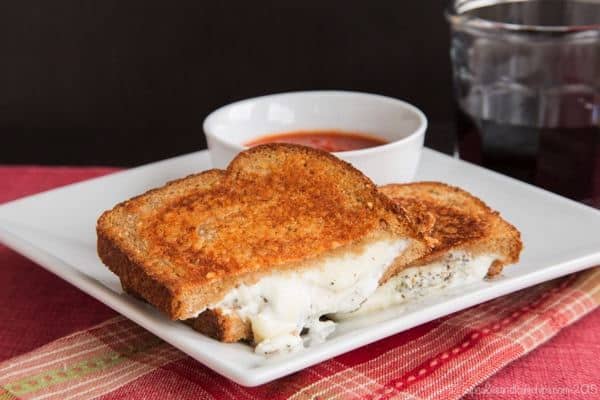 What are some funny things your kids say or said?
Get Cupcakes & Kale Chips delivered to your Inbox! Every Friday you'll see all of the Yummy Eats & Tasty Sweets from the week. Sign up HERE.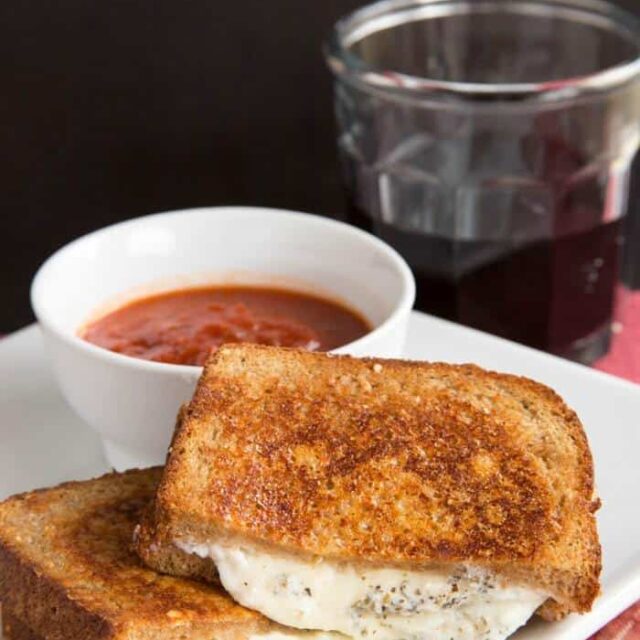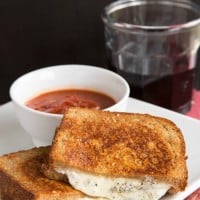 Three Cheese White Cheese Pizza Grilled Cheese
Combine the cheesy goodness of white pizza and the classic comfort food sandwich for one delicious grilled cheese sandwich.
Ingredients
For each sandwich (just multiply by how many sandwiches you are making):
1/2

Tablespoon

Butter

1

tablespoon

grated parmesan cheese

2

Tablespoons

ricotta cheese

1/4

teaspoon

Italian seasoning

2

oz.

fresh mozzarella

cut into slices

2

slices

whole wheat bread

or your favorite sandwich bread

2

tsp

olive oil

for the pan. divided if you are cooking the sandwiches in batches and not all at once in one large pan.
Instructions
In a small bowl, combine the butter and parmesan cheese. Set aside.

Spread the outside of each slice of bread with the butter and cheese mixture.

Spread the ricotta on the plain side of one slice of bread. Sprinkle with the Italian seasoning and top with mozzarella slices.

Top with another slice of buttered bread.

Heat the olive oil in a pan over medium-low heat.

Cook the sandwiches for 3-4 minutes per side, or until golden brown and the cheese has melted. Covering the pan with a lid during cooking will help melt the cheese.
Nutrition Facts
Three Cheese White Cheese Pizza Grilled Cheese
Amount Per Serving (1 sandwich)
Calories 513
Calories from Fat 306
% Daily Value*
Fat 34g52%
Cholesterol 79mg26%
Sodium 731mg30%
Potassium 181mg5%
Carbohydrates 25g8%
Protein 25g50%
Vitamin A 690IU14%
Calcium 464mg46%
Iron 1.8mg10%
* Percent Daily Values are based on a 2000 calorie diet.
Categories:
Here are some more super cheesy sammies…
Plus some from my friends…
And since it's National Grilled Cheese Month, you have to check out my Grilled Cheese Obsession Pinterest Board!
Follow Brianne @ Cupcakes & Kale Chips's board Grilled Cheese Obsession on Pinterest.