This post may contain affiliate links. Read my disclosure policy.
Lemon Chicken Foil Packets with parmesan green beans and potatoes pack your entire dinner in one little pouch. Whether you toss them on the grill or bake them in the oven, these chicken foil packs are easy to make and even easier to clean up, plus completely delicious. When you need quick and easy dinner recipes, these hobo packs are the answer. A simple marinade, fresh ingredients, and layering in aluminum foil is all you need for family-friendly, healthy, and delicious lemon chicken foil packet dinner recipe.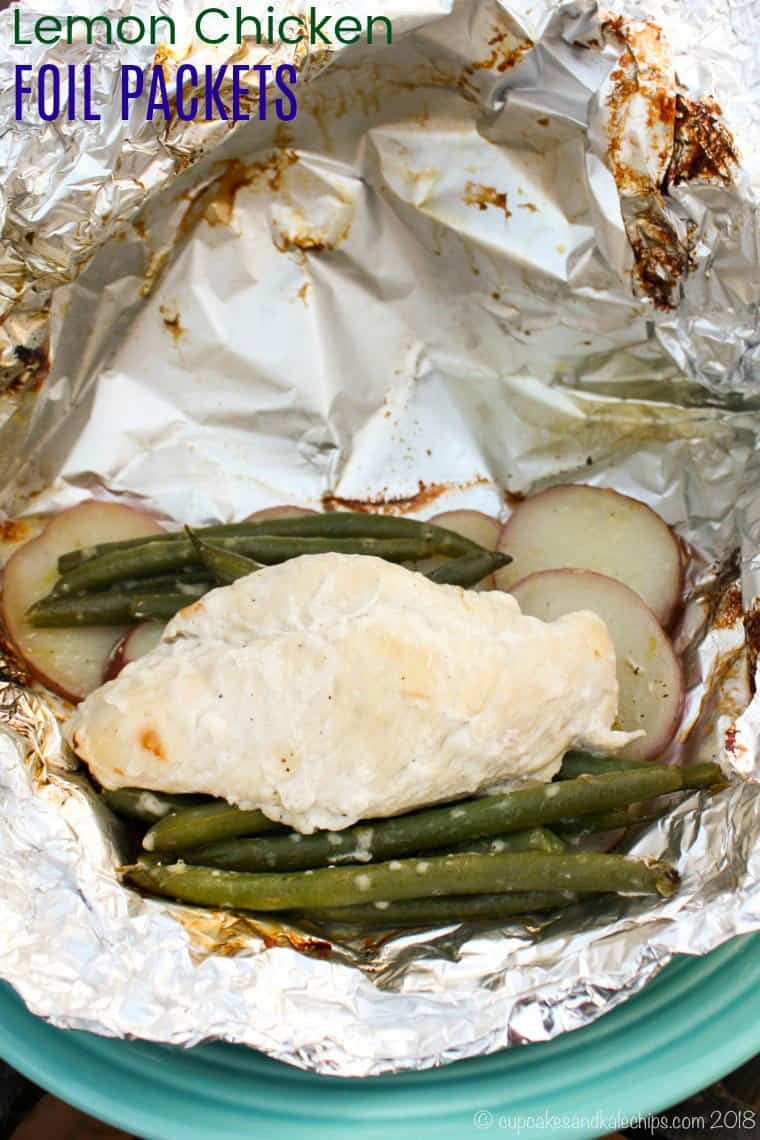 Lemon Chicken Foil Packet Dinner Recipe
Originally published on March 23, 2013.
It's March, and I am grilling. That never happens! This has been the weirdest winter, and being somebody who is always cold and hates being cold, I am not complaining. It would have been nice to have one good snowstorm, so that I could get a chance to play in the snow with The Bug, since he was not even walking last winter. And since I spent good money on snow pants and boots, because if you don't buy them in October, there will inevitably be a blizzard in December, at which time all of the snow pants and boots are gone, and you are left deciding on what swimsuit you want for the summer. But that is neither here nor there.
Back to grilling. The Hubby loves meat, especially grilled meat. So sometimes, even in the coldest winters, he will go outside and grill a rosemary balsamic marinated flank steak on a Saturday night. He has even been known to dig a path through the snow to get to the grill. Not me. I wait until I can go outside in a tee shirt and flip flops before I am going to go outside of my nice, cozy kitchen to cook dinner. Seventy degrees in March calls for cooking dinner on the grill. So I threw together these tasty little packets, tossed them on the grill went inside to set the table, play with The Bug and say Hi to The Hubby. Then 20 minutes later, dinner was on the table.
That's the beauty of foil pack dinners.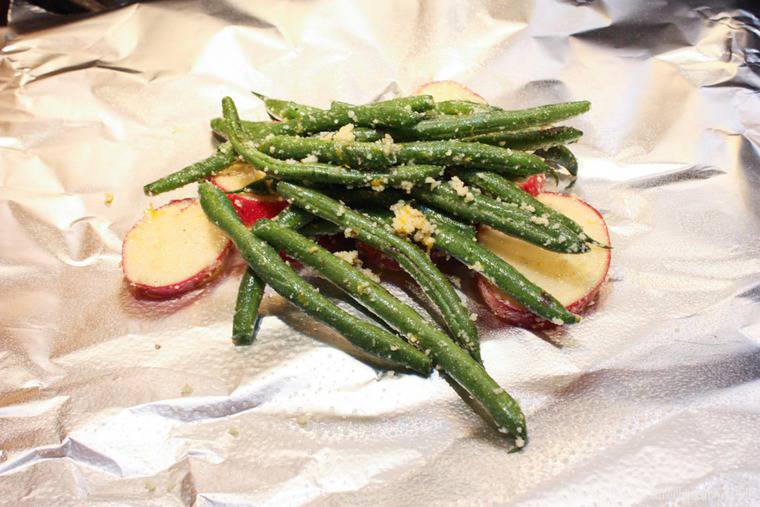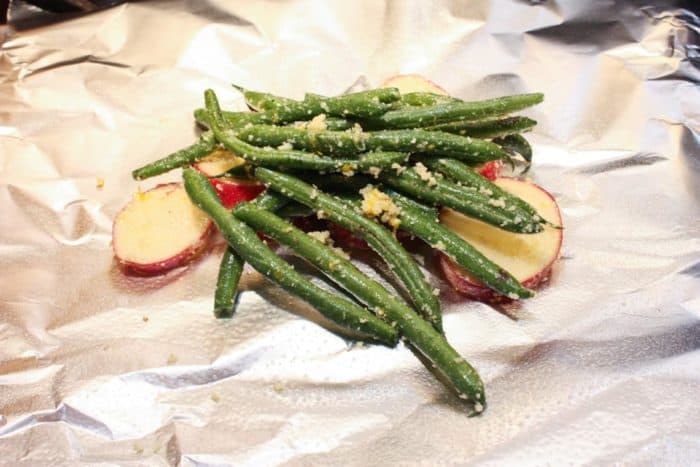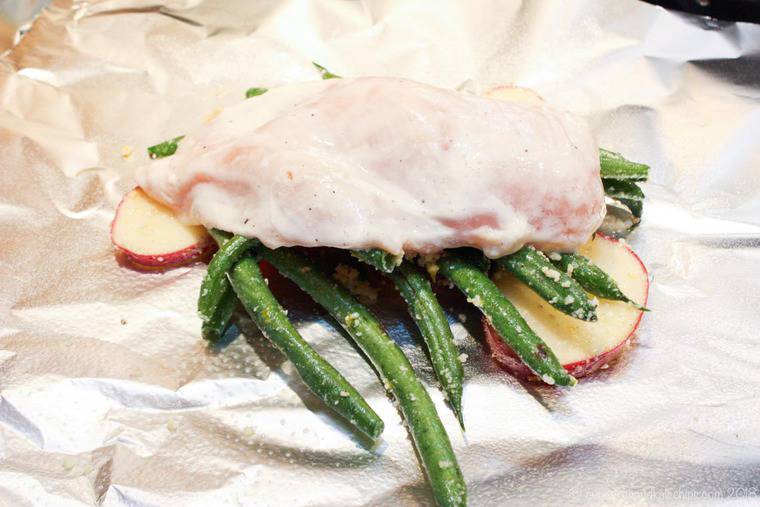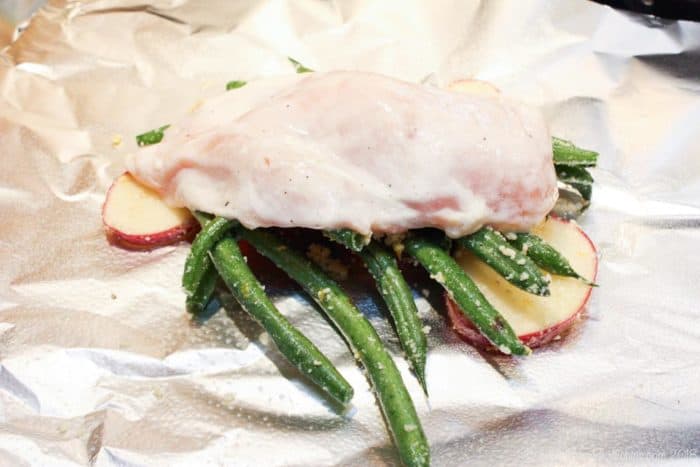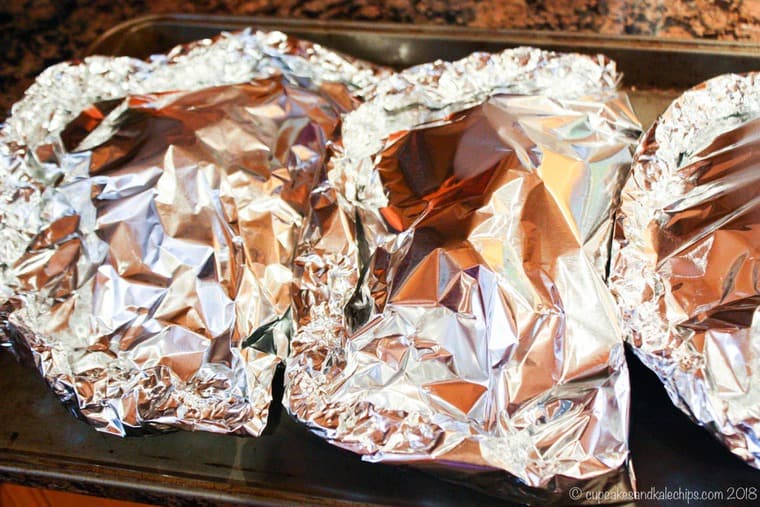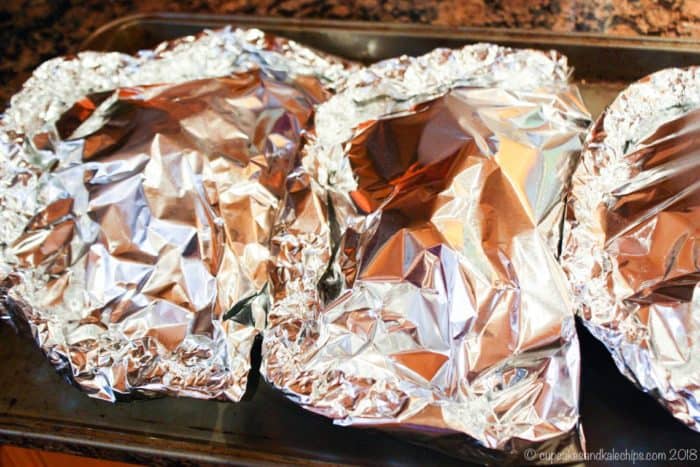 If you don't have a grill, don't know how to use your grill, or, you know, live in North Dakota where it is too cold to grill, especially in March, you can always throw the packets in the oven.The Greek yogurt and lemon juice marinade give the chicken so much flavor, and help to create a little lemony sauce and some steam to cook the poatoes nice and soft, and the green beans still slightly crisp.
I didn't get a picture, but The Bug was a fan! Well, truthfully, he did not eat the beans. Even when I put ketchup on them (yes, he is one of those kids who will eat anything with ketchup – but I do make my own. I'll get to that in another post). For some reason, he will eat green beans at school, but at home, he won't go near them. Whatever. Potatoes are always a hit, but he can be picky about meats. And this chicken was so tender and flavorful that he devoured almost as much as I ate! The Hubby isn't the biggest fan of green beans, but he indulged me when I want them sometimes, and he thought they were pretty good.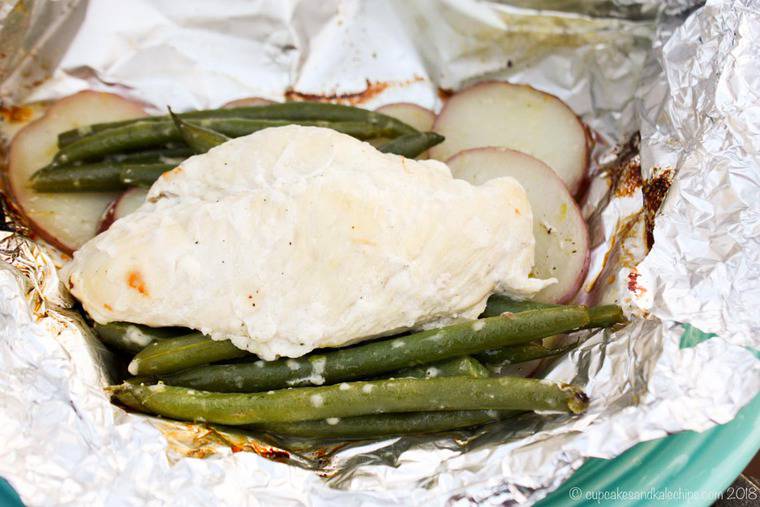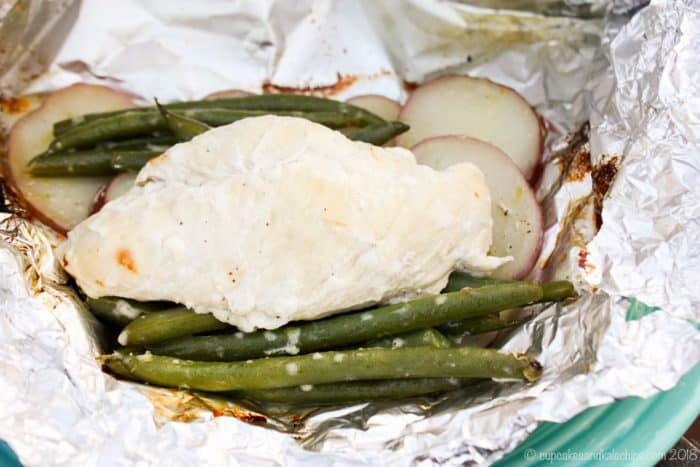 For more yumminess from me and my foodie friends, keep up with me on…
Or sign up to have Cupcakes & Kale Chips delivered straight to your Inbox!
Lemon Chicken Foil Packets
When you pair chicken breasts marinated in a simple mixture of lemon, Greek yogurt, garlic, and thyme with potatoes and green beans tossed in olive oil and you have a meal the family will love. Cook it all in a foil packet on the grill or in the oven and it makes it even better because cleanup is a cinch. Keep the kitchen cool by cooking it all on the grill, or enjoy this as an easy dinner recipe year round by baking the lemon chicken foil packets in the oven. You can even toss it on the campfire for your next camping trip.
I hope you'll leave a comment and give it a FIVE STAR rating or share a photo on this pin on Pinterest!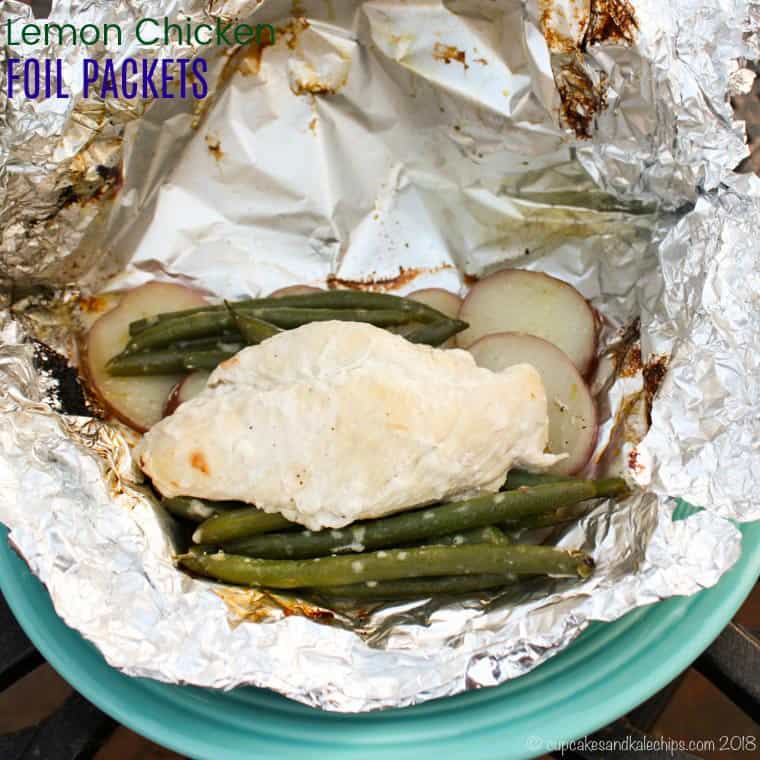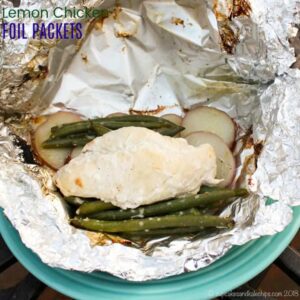 Lemon Chicken Foil Packets with Parmesan Green Beans and Potatoes
Ingredients
four

chicken breasts

1/4

cup

plain Greek yogurt

1

lemon

1

teaspoon

fresh thyme leaves

(or about 1/4 teaspoon dried thyme)

1

clove

garlic

2

teaspoons

kosher salt

, divided

1

pound

red potatoes

, sliced about 1/4 inch thick

1

pound

green beans

1

Tablespoon

olive oil

1/4

cup

parmesan cheese

4

Tablespoons

water
Instructions
Before making the marinade, zest the lemon before you cut it and squeeze it for the juice. Set the zest aside.

Make the marinade by combining the Greek yogurt, the juice of the lemon, thyme, garlic, 1 teaspoon salt, and a few grinds of pepper in a plastic bag.

Add the chicken breasts, seal the bag, and let marinate in the refrigerator for at least 20-30 minutes, or longer if you have time.

In a bowl, toss the potatoes, green beans, olive oil, parmesan cheese, 1 teaspoon salt, a few grinds of pepper, and the reserved lemon zest.

Preheat your grill to medium-high or your oven to 350F.

Take four squares of heavy-duty aluminum foil, or a double layer of regular aluminum foil, and spray the dull side with olive oil or coking spray.

Divide the potatoes and beans evenly between the packets.

Lay one chicken breast on top of the potatoes and beans in each packet.

Fold up the foil into pouch, and before sealing, add 1 Tablespoon water to each packet.

Place the packets on a medium-high grill for about 20 minutes, or until potatoes are soft and chicken is cooked through, or bake in a 350F oven for 25-30 minutes.

Open up your packets and serve.
Nutrition Facts
Lemon Chicken Foil Packets with Parmesan Green Beans and Potatoes
Amount Per Serving (1 packet)
Calories 358
Calories from Fat 81
% Daily Value*
Fat 9g14%
Cholesterol 99mg33%
Sodium 1468mg61%
Potassium 1337mg38%
Carbohydrates 29g10%
Protein 39g78%
Vitamin A 900IU18%
Vitamin C 40.7mg49%
Calcium 158mg16%
Iron 2.8mg16%
* Percent Daily Values are based on a 2000 calorie diet.
Enjoy!