This post may contain affiliate links. Read my disclosure policy.
Whether you want to add a sweet dip to the dessert table at a baby shower, are looking for a fun snack for a girls night in, or just want to curl up with a spoon and a bowl full of gooey goodness, you'll definitely want "s'more" of this smooth and buttery cookie-flavored dip, swirled with marshmallow and topped with chopped milk chocolate. Who needs a campfire when you can whip up Cookie Butter S'Mores Dip?!
Cookie Butter S'Mores Dip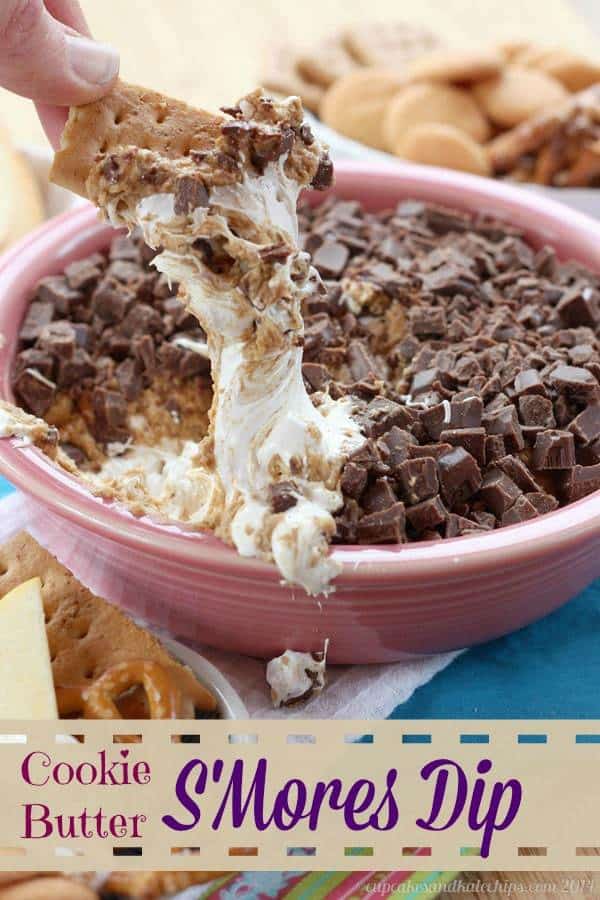 Do you guys know Lisa from Wine & Glue? If not, you totally should. She makes amazing treats like Chocolate Bacon Bomb Pie and Rainbow Cake Roll, and is super crafty in ways that I could never dream of being. Lisa is also an awesome mama to two adorable kids and guess what – she is about to add another little girl to her family (by the way, check out how she shared the news with her family)! So some of Lisa's friends got together to throw her a virtual baby shower! You can find all of the other guests and goodies linked at the bottom of this post.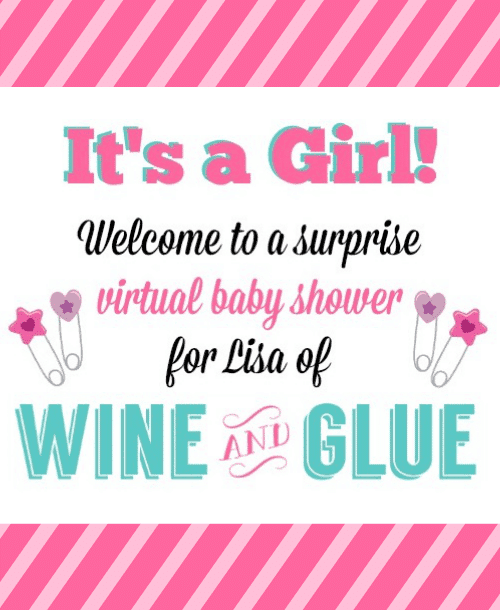 I am so excited to be part of this fun event to honor such a special mama. She and her family have been through so much in the past several years, and the arrival of this baby girl will be such a blessing. It's also gonna be a blessing for her to be done with the pregnancy! I mean, I know how hard it was keeping up with The Bug when I was in my third trimester. She has two active kids and was snowed in for most of the winter. Add on to that stomach viruses, tonsillectomies, business trips for her husband. Well, let's just say she would be totally justified to grab a spoon and sit down with a bowl of this…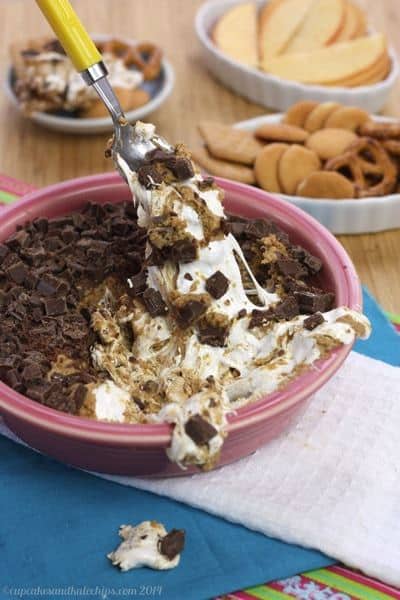 Yeah, I know it's pretty much a hot mess, but it might possibly be the most ooey gooey delicious hot mess ever. When I was thinking about what kind of sweet treat to make, my thoughts immediately went to the half-empty jar of Trader Joe's Cookie Butter leftover from when I made those French Toast Roll-Ups and to this Fluffernutter Dip. You see, Lisa is a big cookie butter fan and loves to make dessert dips. So swap out the peanut butter for cookie butter, roll it in Hershey bars instead of chocolate chips, and just like that I would have the perfect thing to bring to her baby shower – Cookie Butter S'Mores Dip. Easy peasy!
Not so much.Well, I mean, the recipe is easy peasy now that I know what to expect, but I did have to play around with it a bit. You see, cookie butter is already sweet, so adding a ton of powdered sugar to help it hold its shape, like with the peanut butter, really doesn't work or it would be way too sweet. So when I tried to roll it all up in a ball, well, like I said, hot mess. So I plopped the hot mess in a bowl, loaded it down with tons of chocolate, and proceeded to absolutely destroy the lovely bowl of dip, all in the name of food photography.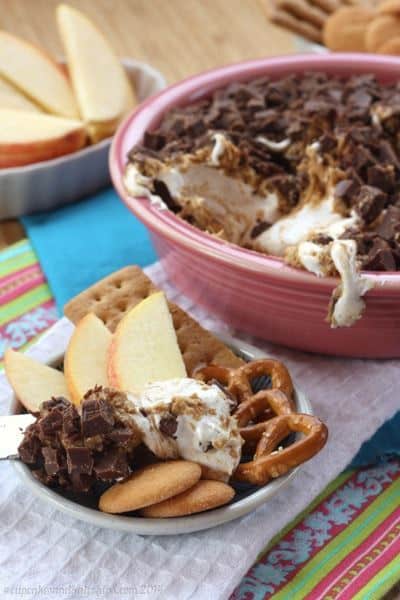 So you could make this like I did, essentially encapsulating the marshmallow fluff in the cookie butter dip. Or just dump it all in a bowl and swirl it together. Doesn't really matter. I mean, cookie butter, marshmallow fluff, chocolate. Really, you can't go wrong. Then just get your graham croackers or pretzels or vanilla wafers ready. Or pretend to be healthy and slice up an apple.
My family happened to be visiting just after I finished the photo shoot, and I really didn't know how they would feel about consuming the carnage from what now ranks as my messiest photo shoot to date. So I decided to repurpose the wreckage. Let's just say that this dip also makes an amazing ice cream topping. You know, like a Cookie Butter S'Mores Sundae. Just sayin'…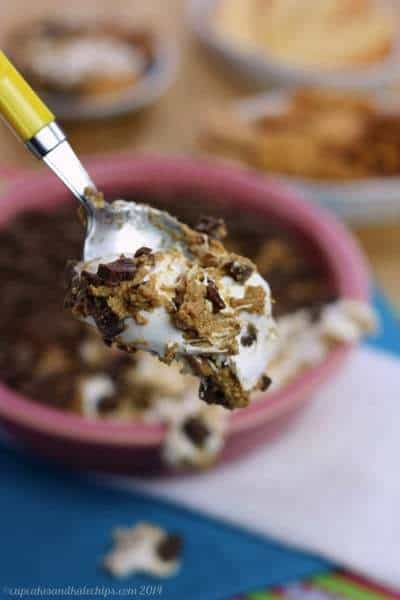 Make sure you scroll down to see what everyone else brought to the party!
Did you or your significant other have any favorite pregnancy indulgences?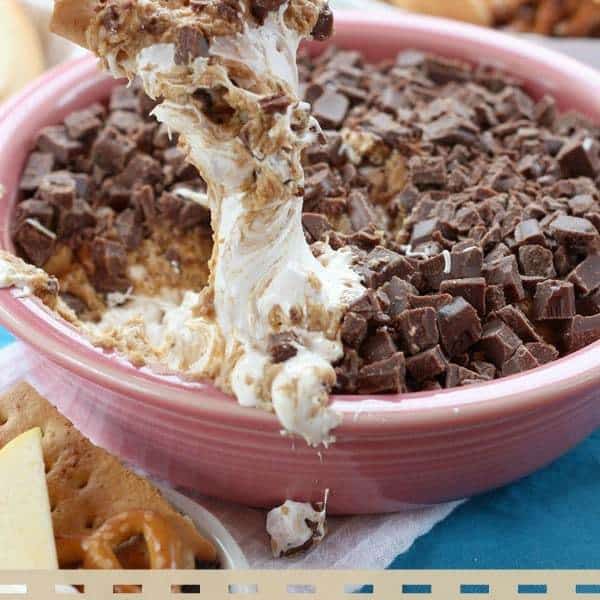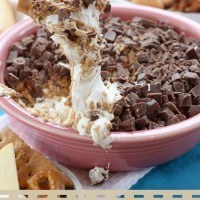 Cookie Butter S'Mores Dip
Who needs a campfire when you have this smooth and gooey Cookie Butter S'Mores Dip swirled with marshmallow and topped with chopped milk chocolate?!
Ingredients
3/4

cup

cookie butter

Trader Joe's, Biscoff, or Speculoos

1/4

cup

unsalted butter

softened (half a stick)

1

cup

powdered sugar

3/4

cup

marshmallow fluff

8

mini bars chopped Hershey's Milk Chocolate Bars

or chocolate chips (about 3/4 cup)

Graham crackers

vanilla wafers, pretzels, or apple slices, for dipping
Instructions
In a medium bowl, using a hand mixer, cream together the cookie butter and butter until well blended.

Add the powdered sugar, and mix on low speed until thoroughly blended and smooth. Mix on low speed until all of the powdered sugar is mixed in.

Option #1 - Line a cookie sheet with wax paper and press the cookie butter mixture into a rectangle, about 1/4-1/2 inch thick. Freeze for about 10-15 minutes. Remove from the freezer and spread the marshmallow fluff evenly to about 1/2 inch from the edge of the cookie butter mixture. Using the wax paper, fold in half and seal the marshmallow inside the cookie butter mixture. Transfer to a serving bowl, working carefully to keep the marshmallow encapsulated inside the cookie butter.

Option #2 - Transfer the cookie butter mixture to a serving bowl, top with the marshmallow fluff, and, using a knife, swirl the marshmallow through the cookie butter mixture.

Top with the chopped chocolate.

Serve at room temperature with graham crackers, vanilla wafers, pretzels, or apple slices, for dipping.
Nutrition Facts
Cookie Butter S'Mores Dip
Amount Per Serving
Calories 893
Calories from Fat 477
% Daily Value*
Fat 53g82%
Cholesterol 32mg11%
Sodium 13mg1%
Potassium 404mg12%
Carbohydrates 100g33%
Protein 7g14%
Vitamin A 376IU8%
Calcium 45mg5%
Iron 7mg39%
* Percent Daily Values are based on a 2000 calorie diet.
Enjoy!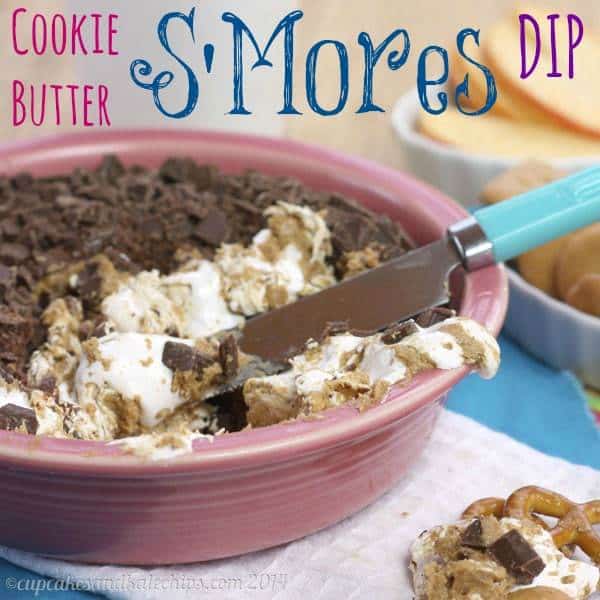 Need some more sweet dips?
Wanna see what else is on the menu for Lisa's baby shower? Check it out…