Chewy Trail Mix Granola Bars
Disclosure: This post may contain affiliate links. Cupcakes & Kale Chips is a participant in the Amazon Services LLC Associates Program, an affiliate advertising program designed to provide a means for us to earn fees by linking to Amazon.com and affiliated sites.
Chewy trail mix granola bars are perfect for lunchboxes, trips to the park, long car rides, or to power the kids (and yourself) through busier days. These healthy no-bake snacks have dried fruit, whole grains, and seeds, but they're nut free, dairy free, and gluten free!
Disclosure: I'm proud to partner with CVS/pharmacy for the Gold Emblem Abound October "Snackurday" campaign. I am being sponsored to help lead this campaign, but all opinions expressed are my own, and all product claims or program details shared should be verified at CVS.com or with the appropriate manufacturers. 
Snack snack snack snack snack snack. If you've been around my blog for any length of time, you know that my boys are always eating. Don't get mad at me, but those of you that have picky kids or kids who barely eat, I really have no idea what you are dealing with.
Can I tell you what happened yesterday? The Bug had his afternoon snack at three o'clock – pomegranate seeds and half an apple. Stir fry beef and broccoli with rice was dinner at six, then by six forty-five, he was begging for his nighttime snack. After a mini muffin and some raisins and almonds, he was still crying for more. He then proceeded to eat another half an apple, which he shared with King Stuff, who had eaten his dinner and mini muffin and was standing at the refrigerator door saying "Ant bar, mama." (Translation: I want a bar, Mommy.)
That whole strategy of not giving your kids snacks between meals so that they actually eat their breakfast, lunch, and dinner – yeah, it pretty much doesn't apply in my house.
And why did King Stuff "ant bar, mama"? Because he remembered that last week when we was hungry, it was often these chewy trail mix granola bars that came out of the fridge…
Chewy Trail Mix Granola Bars have been satisfying my boys' munchies lately. Sweet and chewy with just a bit of crunch, and a touch of chocolate to make The Bug a happy camper, but packed full of wholesome ingredients. But since I wanted a snack I could pack in The Bug's lunchbox or bring to the park that would be safe for being around kids with nut allergies, I decided to make these nut free. And if you use certified gluten free oats and vegan chocolate chips, you can make them gluten free and dairy free too. I'm also guessing agave or maple syrup would work in place of the honey if you wanted to make them vegan.
And while I'd love to be able to make all of their snacks, with the amount these boys consume, and the time it takes to make and clean up from all of the meals and snacks I am already preparing, I honestly can't keep up. That's why I love the line of Gold Emblem Abound Snacks from CVS/pharmacy. I first had the chance to sample some of the products at the BlogHer Food Conference back in May. I was excited to hear about a line of snacks that was free of artificial flavors, preservatives, and trans fats so that I cold feel good about giving them to my boys, but would they taste good?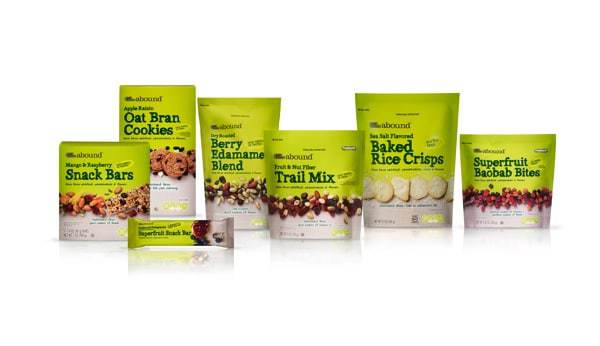 Oh yes! After munching on the different varieties of trail mixes and snack bars, as well as the Heavenly Light Popcorn and especially the Blueberry Almond Rice Pop Clusters, I was hooked and couldn't wait to bring some of the snack bars and cookies home to my snack-aholics. And let me tell you, they passed the kiddie test. I'm sure even those picky kids out there will find something they like! The Superfruit Baobob Bites and Mango & Strawberry Fruit & Veggie Snack Bars are favorite around here.
And I love that now they have Raw Natural Almonds and No Stir Creamy Peanut Butter available, which I can use as ingredients in some of my homemade snacks! While they won't be nut-free anymore, I really want to remake this recipe using the Fruit & Nut Fiber Trail Mix or Sweet & Nutty Probiotic Trail Mix in place of the dried fruit and seeds.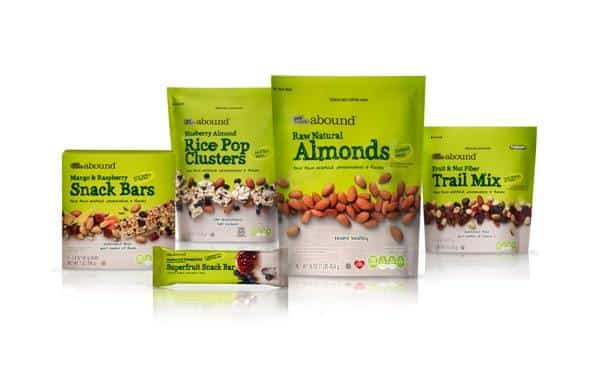 Which of the CVS Gold Emblem Abound Snacks do you want to try?
Print Recipe
Chewy Trail Mix Granola Bars
A healthy snack for kids that are nut-, gluten- and dairy-free, but packed full of nutritious and delicious ingredients.
Ingredients
3

cups

old fashioned oats

certified gluten free, if necessary

2

Tablespoons

honey

agave or maple syrup would likely work, if strict vegan

½

cup

raw sunflower seeds

½

cup

raw pumpkin seeds

pepitas

2

Tablespoons

chia seeds

1

cup

dried apricots chopped

½

cup

raisins

½

cup

dried cranberries

½

cup

semi sweet chocolate chips

dairy free, if desired

1

teaspoon

cinnamon

1

teaspoon

vanilla extract

¼

teaspoon

salt

2

cups

water
Instructions
Preheat oven to 325°F. Line a 10x15 in. baking pan with parchment paper.

Place all the ingredients except the water in a food processor and pulse until combines and slightly chopped.

Add the water and pulse until thoroughly mixed.

Spread evenly into the prepared pan and press down firmly with a spatula.

Bake for 20-25 minutes, or until lightly browned and firm, but still chewy and slightly moist on the bottom.

Transfer pan to a rack to cool completely.

Cut into bars about 1 inch wide and 3 to 4 inches long.

Store in the refrigerator.
Enjoy!
Looking for more snack bars…
And here are some from my friends…