This post may contain affiliate links. Read my disclosure policy.
Chai tea cut out cookies are a delicious spin on Christmas cut out cookies. With Chai added to sugar cookie dough, these Christmas cookies will be the star of the cookie platter!
If you noticed my disaster of a kitchen in the background of the photos of The Bug on Monday, I clearly am not the neatest cook, nor the neatest person in the world. My mom is, like, uber-clean, so I love when she is around in the midst of one of my major kitchen projects – she cleans up after me. Of course sometimes she "cleans up" things I am still using, but that is another story. But there are a few areas where I am totally obsessive compulsive an insane perfectionist very meticulous. One is my Christmas tree. The other are my Christmas cookies…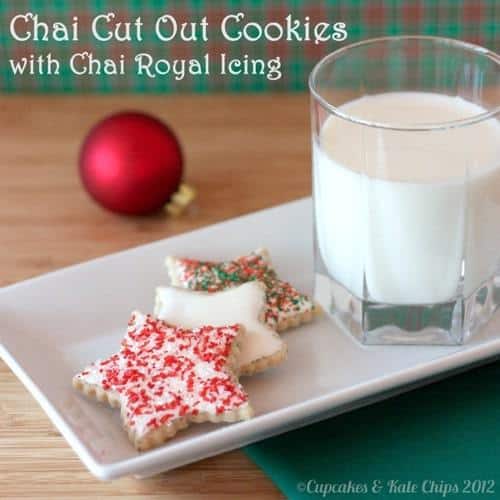 Yeah, you know why I started making the Sugar Cookie Bars with The Bug? Because I am just not ready yet for him to mess up my cookies. Sorry, bad mommy. I am supposed to let him express himself. Yeah, that is what the bars are for. Cut Christmas cut outs are my domain! Or dipping in chocolate – I'll do that! Now, my piping skills still need some improvement, but when it comes to that perfect, even coating of sugar or sprinkles – I am all over that.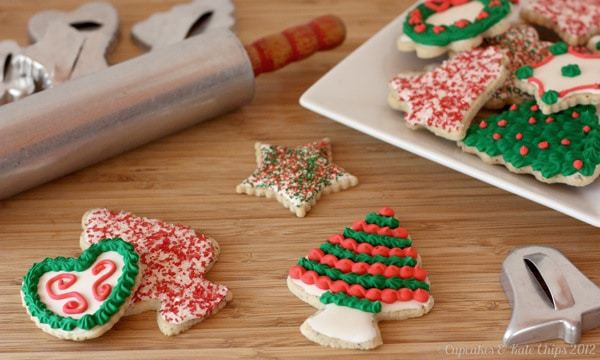 So about that tree. Even my super-neat mom, the one who taught me how to decorate a Christmas tree (exactly one strand of tinsel per branch – not two, not zero), laughed when I posted on Facebook about tree trimming being a week long process. She forgets that as her patience waned, I started doing the lights and all the nitpicky parts of the job. Now that we aren't living in the same house, she just gets it up and done – always nice, but really only one-third of the quantity of lights that I use (our little tree this year has six strands), and no 2-inch wide wire-edged ribbon cascading down in perfect curls.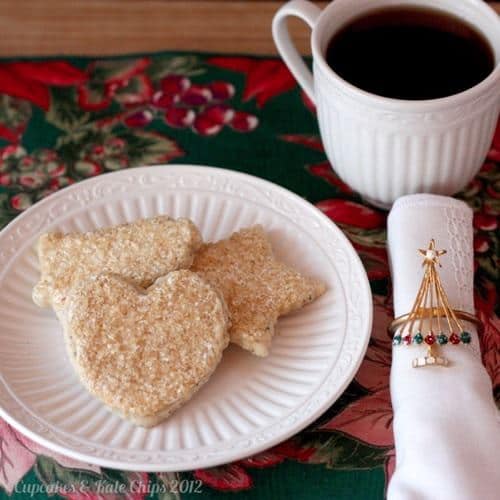 So the tree trimming process:
Day 1 – Choose the coldest day of early December, go to the tree stand, and spend way too long in the cold trying to pick the "perfect" size and shape tree. Bring it home and set up in the stand. Vacuum.
Day 2 – Allow the branches to fall. And undoubtedly more needles. Vacuum.
Day 3 – Adjust the tree to make sure it is straight, and the "bad side" is not facing the center of the room. Vacuum.
Day 4 – String the lights, as many as possible, twisting them around each of the branches. Undoubtedly not have enough or have some that burned out, so run to the store to buy more. Vacuum.
Day 5 – Cascade the ribbon down the tree. Maybe start the "individual" ornaments.
Day 6 – Finish the "individual" ornaments, then begin filling in gaps with glass balls, being sure to evenly distribute size and color. Vacuum. Put tree skirt on the bottom and gold star on top.
Day 7 – Make any final ornament adjustments. Sit back and enjoy the lovely glow. And maybe vacuum again.
Each of these steps takes me so darn long that I just can't do any more than that on each particular day or I will drive myself crazy.
And this year it has taken even longer because I have been running around and baking like crazy a bit earlier than usual, and The Hubby had minor surgery. So we bought our tree last Tuesday. Still no ornaments. Don't ask…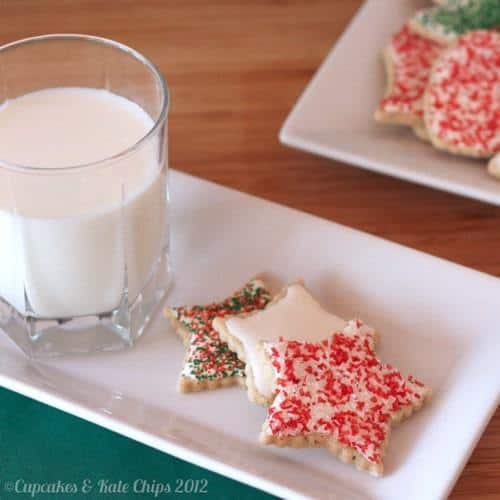 But about the Chai tea cut out cookies.
I didn't want these to be spice cookies. I wanted them to have the light Chai spice essence of a Chai latte, where you've added about equal parts steamed milk to the tea. So I started with my Whole Wheat Lemony Sugar Cookies, used vanilla instead of lemon extract, and just added the contents of one Chai tea bag to the flour mixture for the dough.
Let me tell you, the aroma from the oven was heavenly, and though I only tried a little, there was no overwhelming spice and no grittiness, which was my concern with using the Chai tea. Just a warm, almost creaminess. I keep opening the Tupperware where I am storing the cookies because I just love to smell them.
The royal icing was made with egg white or meringue powder – no raw eggs for this preggo mama. But since the egg white powder is mixed with water to make the royal icing, it gave me to opportunity to also infuse the royal icing with Chai tea, as well. But feel free to use any royal icing or frosting (shh, use the canned stuff. I won't tell). And while most of them were decorated with Christmas piping or sprinkles, a few I just coated in some turbinado sugar.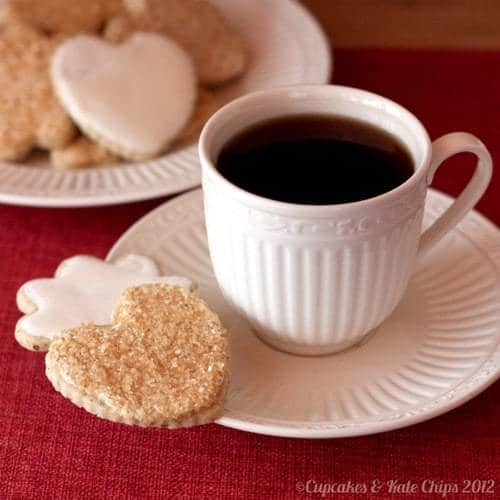 Light and crispy, with just the hint of Chai flavor and spices, these are beautiful for Christmas, but are really an any time of year kind of cookie. So have a Chai Tea Cut Out Cookie with your cuppa…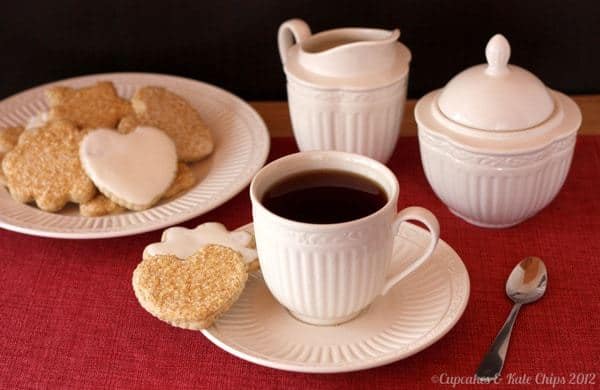 Are you super-meticulous with your cookies or your tree, or do you have a little more "freestyle" approach?
Enjoy the chai tea cut out cookies!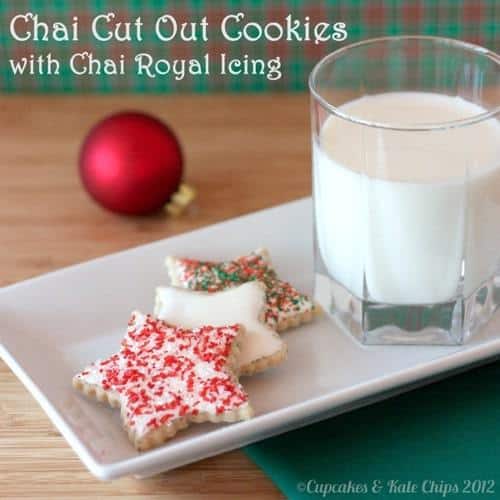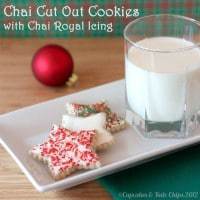 Chai Tea Cut Out Cookies with Chai Royal Icing
A classic sugar cookie, infused with the flavor and warmth of Chai tea. These Chai Tea Cookies with homemade royal icing will be a welcome addition to your Christmas cookie tray!
Ingredients
For the cookies:
1

cup

all purpose flour

1

cup

white whole wheat flour

can use all purpose flour

1/2

teaspoon

baking powder

1/4

teaspoon

salt

contents of one Chai tea bag

1/2

cup

butter

at room temperature

1

cup

sugar

1

egg

1

teaspoon

pure vanilla extract

Royal Icing or other icing/frosting

Sprinkles

colored sugar, luster dust, turbinado sugar, as desired
For the royal icing:
1/2

cup

boiling water

one Chai tea bag

2

cups

powdered sugar

1 1/2

tablespoon

meringue powder

1/4

teaspoon

pure vanilla extract
Instructions
For the cookies:
Sift the flours, baking powder, salt, and contents of tea bag together into a bowl.

In another bowl, using an electric mixer or stand mixer with a paddle attachment, cream the butter and sugar on medium to high speed for 3-4 minutes, or until light and fluffy.

Add the egg and vanilla extract, and beat until well combined.

Reduce the speed to low, and slowly add the flour, mixing just until the dough comes together.

Wrap the dough in plastic wrap, and chill in the refrigerator until firm, at least an hour.

Preheat the oven to 325°F.

Remove the dough from the refrigerator, and roll out to about 1/4 inch thickness on a floured surface with a floured rolling pin.

Using cookie cutters, cut out the desired shapes and place them onto a cookie sheet, preferably lined with parchment or a silpat.

Bake for 10-15 minutes, or until golden, rotating about halfway through baking.

Cool the cookies and frost with royal icing. Decorate with sprinkles, sugar, etc., as desired
For the royal icing:
Pour 1/2 c boiling water over the Chai tea bag and brew for 5-7 minutes. Remove tea bag and cool to room temperature (slightly warmer is OK, too).

Using an electric mixer or stand mixer, combine the sugar and meringue powder.

Add 1/4 c of the brewed tea and extract, and beat on medium to high speed for 5-10 minutes, or until stiff, glossy peaks form.

Add more tea or powdered sugar, if needed, to get the desired consistency for spreading, piping , or flooding. The icing is a good consistency for spreading or flooding when you lift the beater and it makes a ribbon that stays on the surface for a few seconds before disappearing.
Nutrition Facts
Chai Tea Cut Out Cookies with Chai Royal Icing
Amount Per Serving
Calories 145
Calories from Fat 36
% Daily Value*
Fat 4g6%
Cholesterol 17mg6%
Sodium 61mg3%
Potassium 27mg1%
Carbohydrates 26g9%
Protein 2g4%
Vitamin A 128IU3%
Calcium 10mg1%
Iron 0.4mg2%
* Percent Daily Values are based on a 2000 calorie diet.