This post may contain affiliate links. Read my disclosure policy.
Here in my home state of New Jersey, the store shelves are overflowing with local blueberries and peaches. They are a perfect combination in this healthy snack that is also nutritious enough for breakfast, but still sweet and satisfying for a dessert. Make the most of late summer fruit in these Blueberry & Grilled Peach Quinoa Parfaits.
Blueberry & Grilled Peach Quinoa Parfaits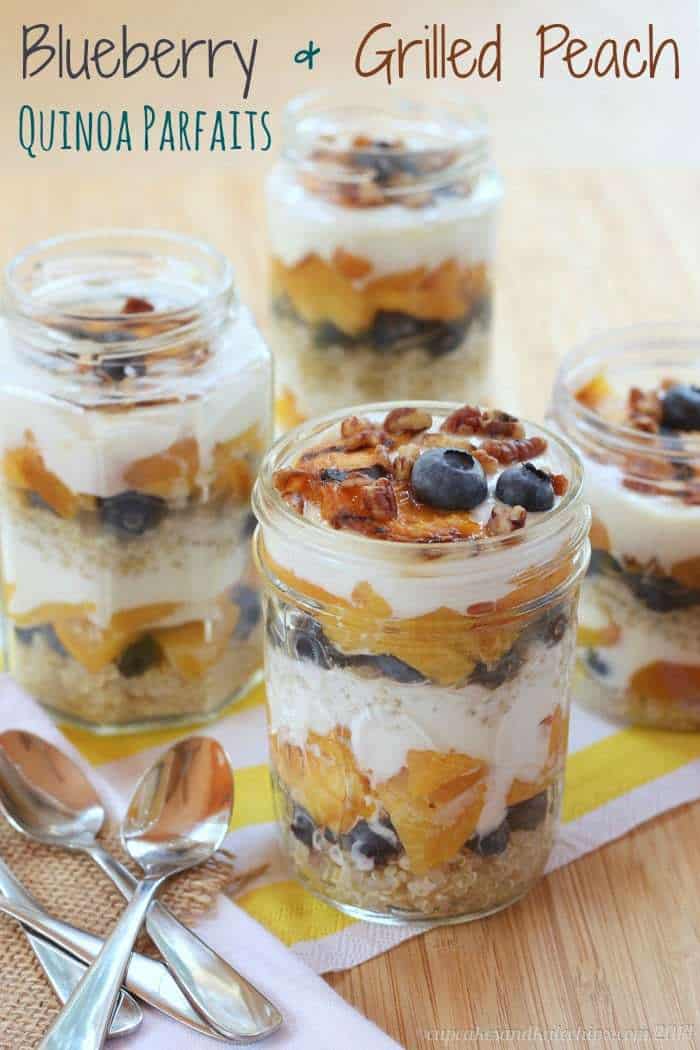 You guyssssss! This is insane. Guess what! I'm moving! And those aren't "Yay, I'm super excited, this is gonna be awesome" exclamation points. They are "OMG, I am so freaked out" exclamation points. I mean, I think in the long run it is gonna be pretty cool, but when I tell you I am a Jersey girl, I mean it. More specifically I am a Somerset County girl. I have literally lived within a twelve mile radius my entire life. I've moved twice, one of those times being when I got married, so like, there was no house-hunting or anything involved, and I gradually just started bringing stuff over in the months leading up to our wedding.
And now I'm going to be moving to an entirely different state. In one fell swoop. With movers. Like people who are gonna touch and pack MY STUFF. I literally cannot process this.
I am still trying to wrap my brain around the whole idea of having to figure out where Target is, what's the best grocery store, is there a good gym nearby, what's the most direct route to get to my mom's or, you know, like, back to New Jersey. What church am I gonna go to? Who is a good pediatrician? Because, seriously, my kids go to the same practice that my sister and I went to. I don't know how to figure these things out!
And this is all AFTER we find a town and a house to live in. I still haven't even seen the area we are going to be moving to. I'm running on faith.
The Hubby is trying to be understanding. I mean, this is kind of a big deal for him, too – it's a new job, we have made this house, which he had bought back in his bachelor days solely as an investment, into our home, and he has lived here longer than he lived anywhere in his life. But, well, he has lived here longer than he lived anywhere in his life. Meaning, moving was something he and his family did fairly regularly, since his dad was in the Navy. Pennsylvania to Florida to Pennsylvania to South Carolina, back to Pennsylvania for college while his parents were still in South Carolina, Delaware, New Jersey. He doesn't fully grasp how traumatic this is for me.
#dramaqueen
Maybe I'll just have to comfort myself by eating lots and lots of ice cream these healthy treats that feature my favorite New Jersey fruits…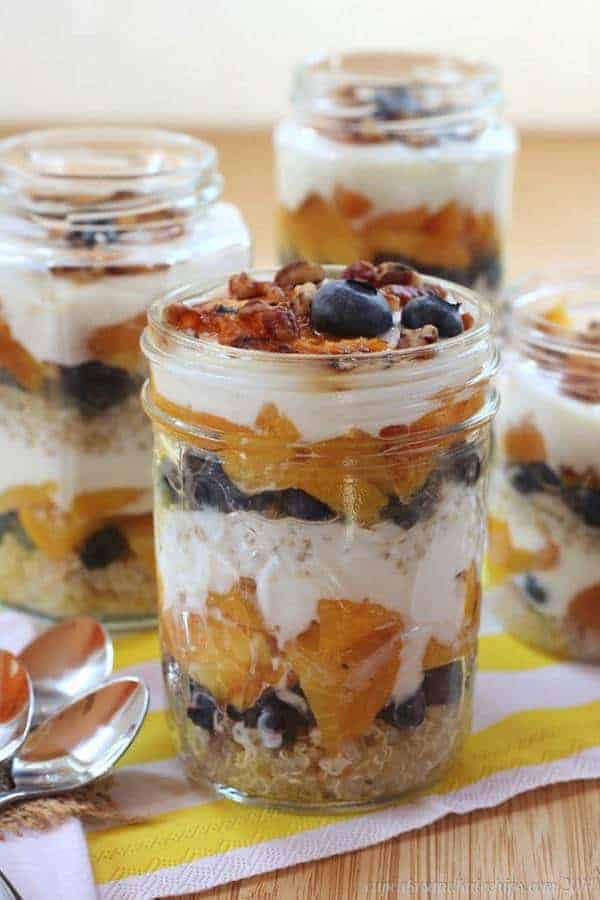 For these Blueberry & Grilled Peach Quinoa Parfaits, I briefly grilled the peaches to enhance the natural sweetness with a little caramelization, and to contrast the pop of the fresh blueberries. You could roast the peaches, or if they are very ripe and juicy, just chop them up as-is without any grilling or roasting, and toss them in.
These parfaits are super versatile. Of course you can change up the fruit. I went with vanilla Greek yogurt and a bit of maple syrup plus a few pecans because I just adore maple, pecans, and blueberry together. But you could use plain yogurt or even your favorite fruit flavor, a bit of honey or agave, and walnuts or almonds instead of pecans (or leave them off altogether if you have a nut allergy).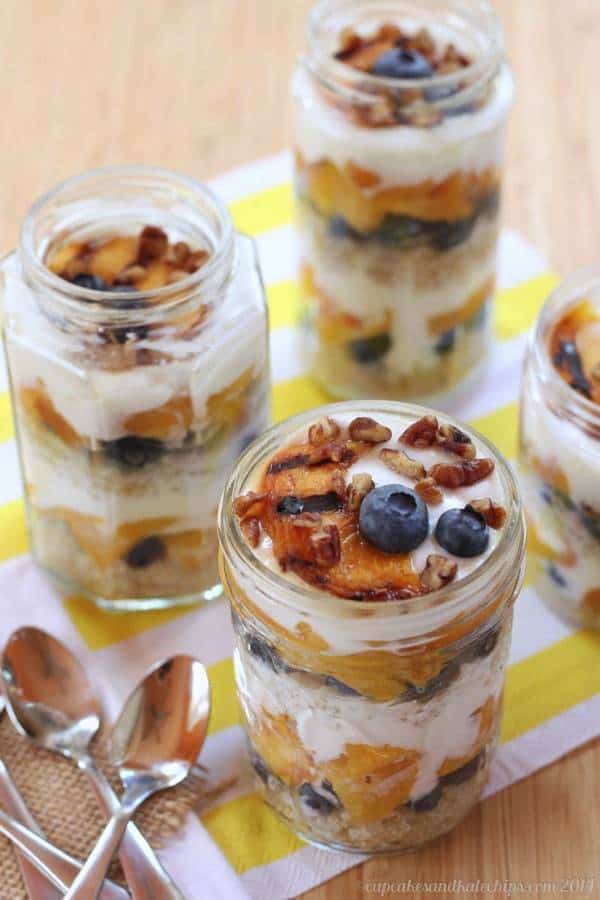 Breakfast, snack or dessert – The Bug, King Stuff and I enjoyed them for all three!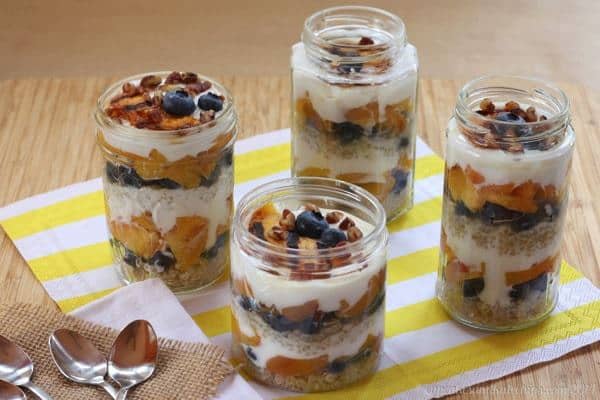 Do you have any tips or words of advice as we embark on this big move?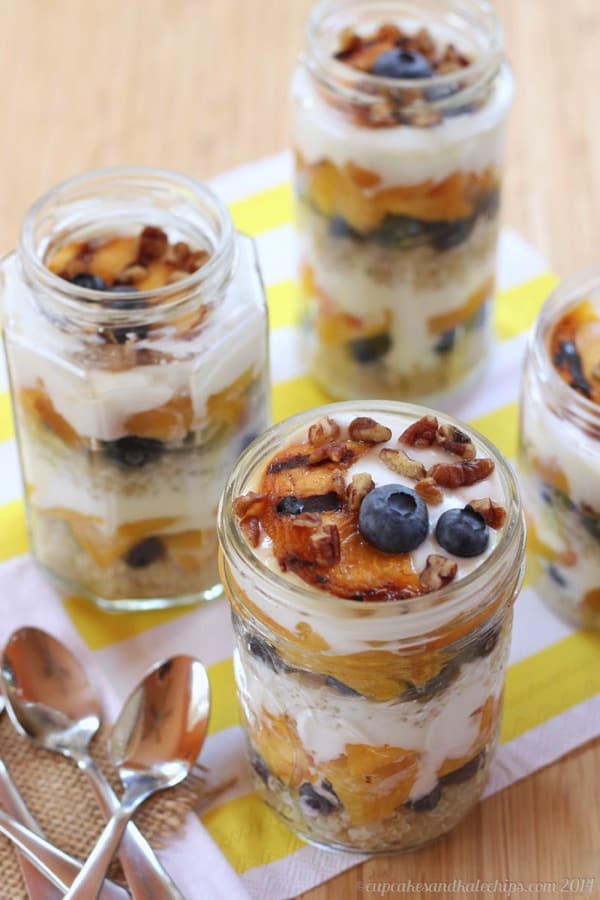 Blueberry and Grilled Peach Quinoa Parfaits
A healthy snack that is also nutritious enough for breakfast, but still sweet and satisfying for a dessert.
Ingredients
2

large

peaches

halved and removed from the pit

1

cup

cooked and cooled quinoa

prepared as per package instructions

1

cup

blueberries

1

cup

vanilla Greek yogurt

or plain, or your flavor of choice

4

teaspoons

maple syrup

or honey or agave

4

teaspoons

chopped pecans
Instructions
Preheat your grill to medium high heat. Place each peach half on the grill, cut side down, for 4-5 minutes. Flip over and grill for another 4-5 minutes, or until caramelized and juicy. Remove from the grill and chill in the refrigerator for at least 30 minutes. Alternatively, you can roast them cut side up on a baking sheet for 20-25 minutes at 425°F, or until tender.

If desired, remove the peels and chop the peaches into about 1/2 inch pieces.

Place about two tablespoons of quinoa in the bottom of each of the four jars, glasses or bowls. Top each with about two tablespoons of blueberries, about an eighth of the peaches, two tablespoons of yogurt, half a teaspoon of maple syrup, and half a teaspoon of pecans.

Repeat the layers, then top with a reserved peach slice or a couple of blueberries for garnish, if desired.
Nutrition Facts
Blueberry and Grilled Peach Quinoa Parfaits
Amount Per Serving (1 parfait)
Calories 202
Calories from Fat 36
% Daily Value*
Fat 4g6%
Cholesterol 1mg0%
Sodium 21mg1%
Potassium 357mg10%
Carbohydrates 36g12%
Protein 8g16%
Vitamin A 305IU6%
Vitamin C 9.3mg11%
Calcium 24mg2%
Iron 1.1mg6%
* Percent Daily Values are based on a 2000 calorie diet.
Categories:
Enjoy this Blueberry & Grilled Peach Quinoa Parfaits recipe!
Do you love blueberries and peaches too? Check out these posts…
Plus here are a few from my friends…