This post may contain affiliate links. Read my disclosure policy.
Royal Icing is a simple two-ingredient frosting to decorate cookies, cakes, and cupcakes with intricate detail. Get out your piping bag and get ready to make a stunning holiday dessert spread! This icing is perfect for decorating Christmas sugar cookies!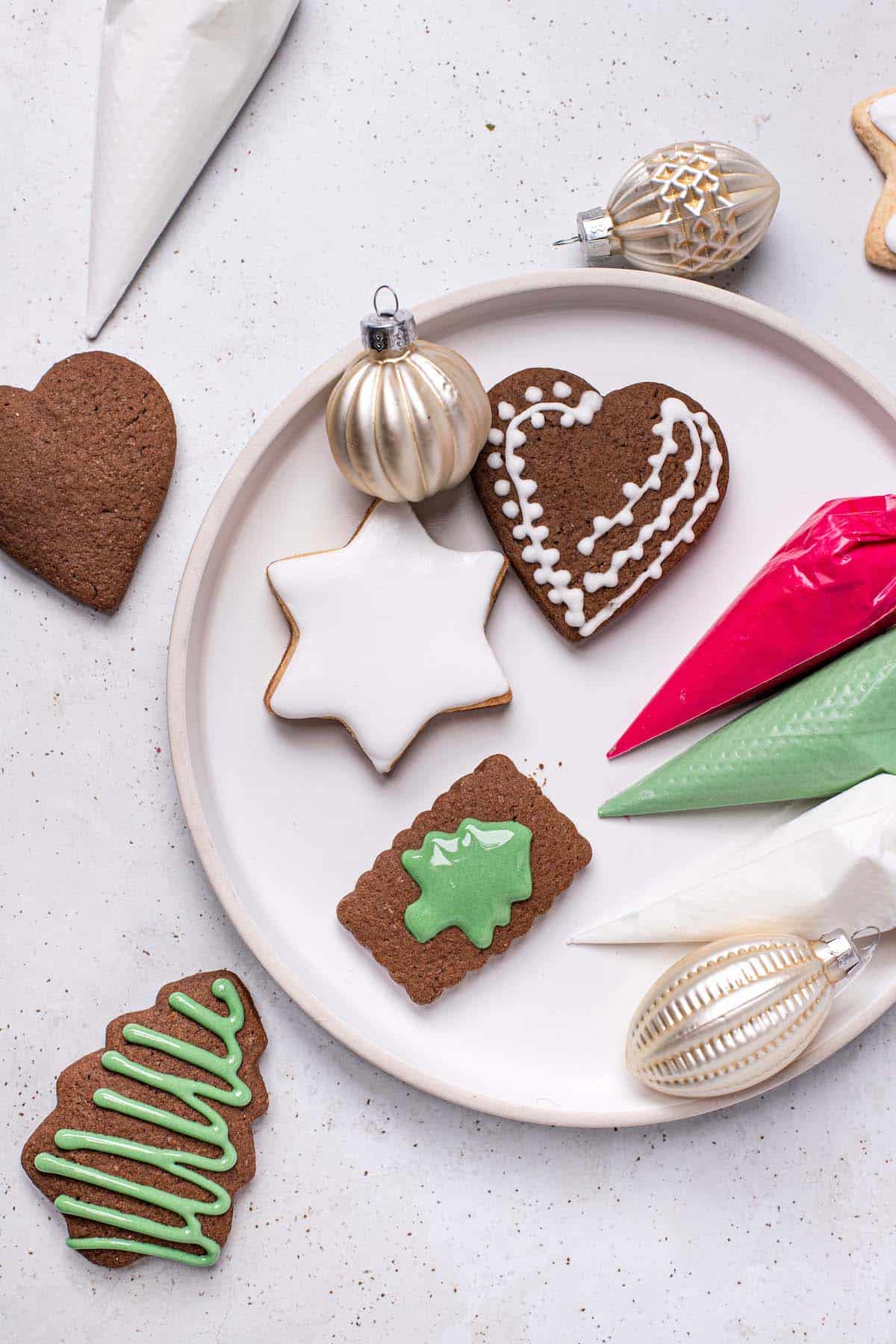 The Easiest Two-Ingredient Icing
If you've ever seen a stunning and well-built gingerbread house and wondered how the sides are staying in place and how the pretty little roof shingles have such clean lines, the answer is royal icing. This super simple two-ingredient icing is the key to making intricately detailed decorations on cookies other treats. You can even use it to assemble and decorate a gingerbread house. It's made with egg whites, which give the icing its firm, but sticky texture.
So if you're planning a holiday cookie spread or just want to try your hand stunning decorations, this is the only recipe you'll need. You can have fun and add your favorite colors and even flavors to this versatile icing. I can't wait to see what you make!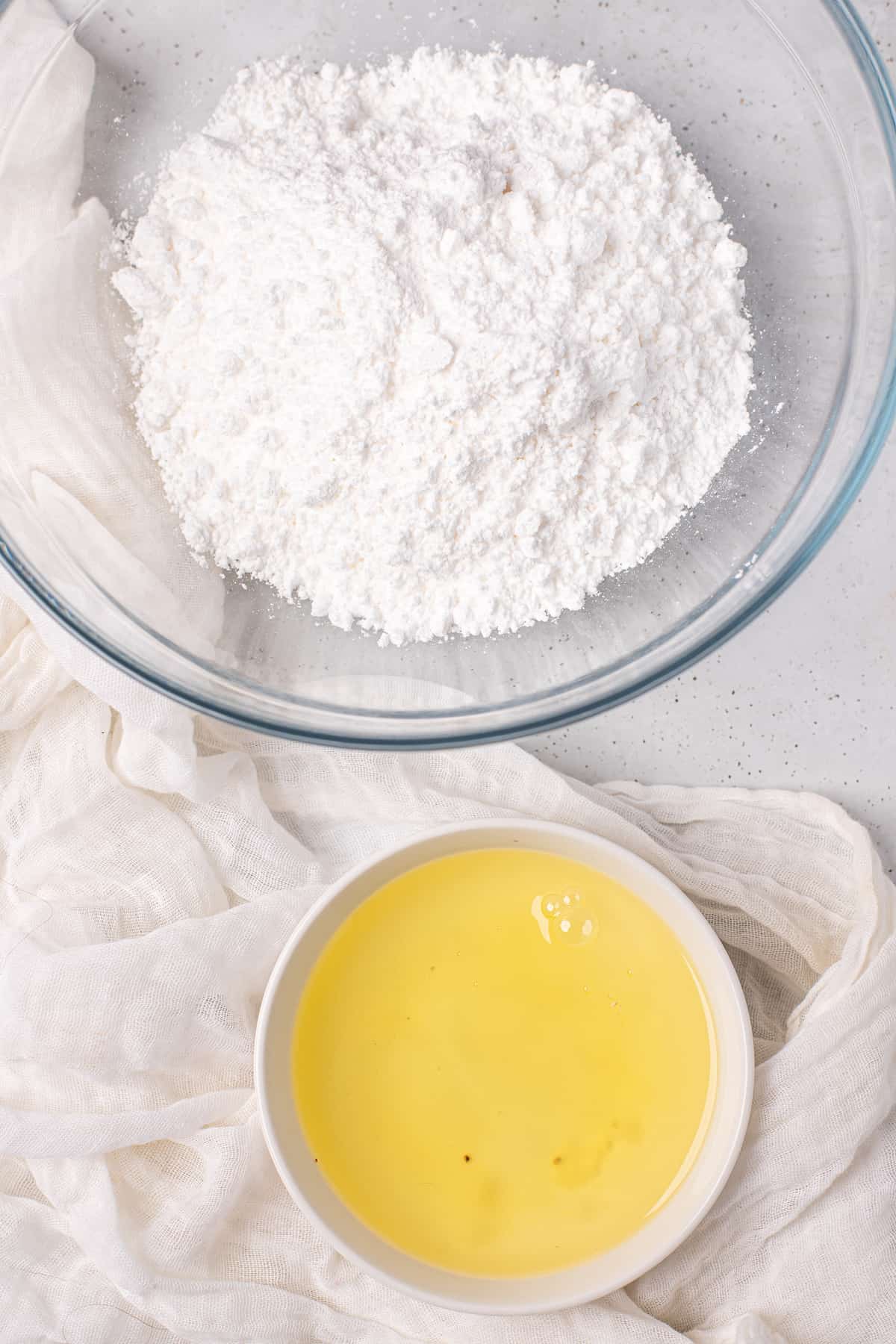 Ingredients
There are two central ingredients, plus a few additional ones you can add for flavor, color, and texture. Here's what you need to make royal icing:
Powdered sugar. Granulated sugar will add a gritty texture you don't want in this smooth decorative icing.
Egg whites. These add stability to the icing so it stays in place on decorated treats. If you are concerned about the raw eggs, you can use pasteurized egg white or powdered egg whites or meringue powder.
Cream of tartar. This ingredient will help the egg whites get thicker and hold their structure better, but it's optional.
Food coloring. Feel free to use the icing as-is or add your favorite color.
Flavorings. You can make vanilla, lemon, or almond icing by adding a dash of extract.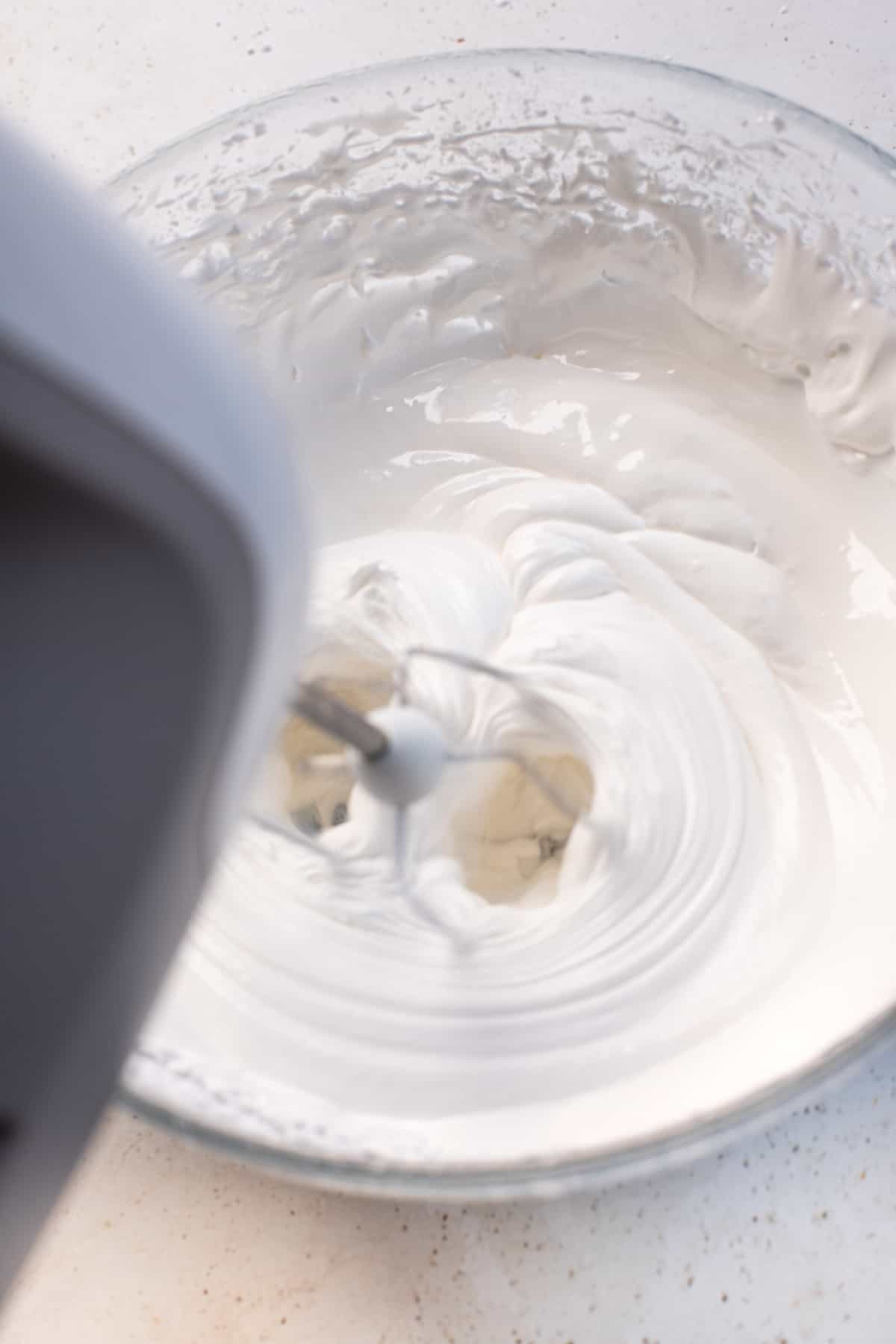 How to Make Royal Icing
You'll need a stand mixer for best results, but you can make royal icing by hand. It will just require a bit of elbow grease. The key is to get your icing to be totally smooth and shiny. Follow these steps to make royal icing:
Blend the ingredients: Place the powdered sugar, cream of tartar and egg whites into a mixing bowl. Beat on low speed with a hand mixer. Then increase the speed to high and beat for 5 minutes, until the icing is thickened.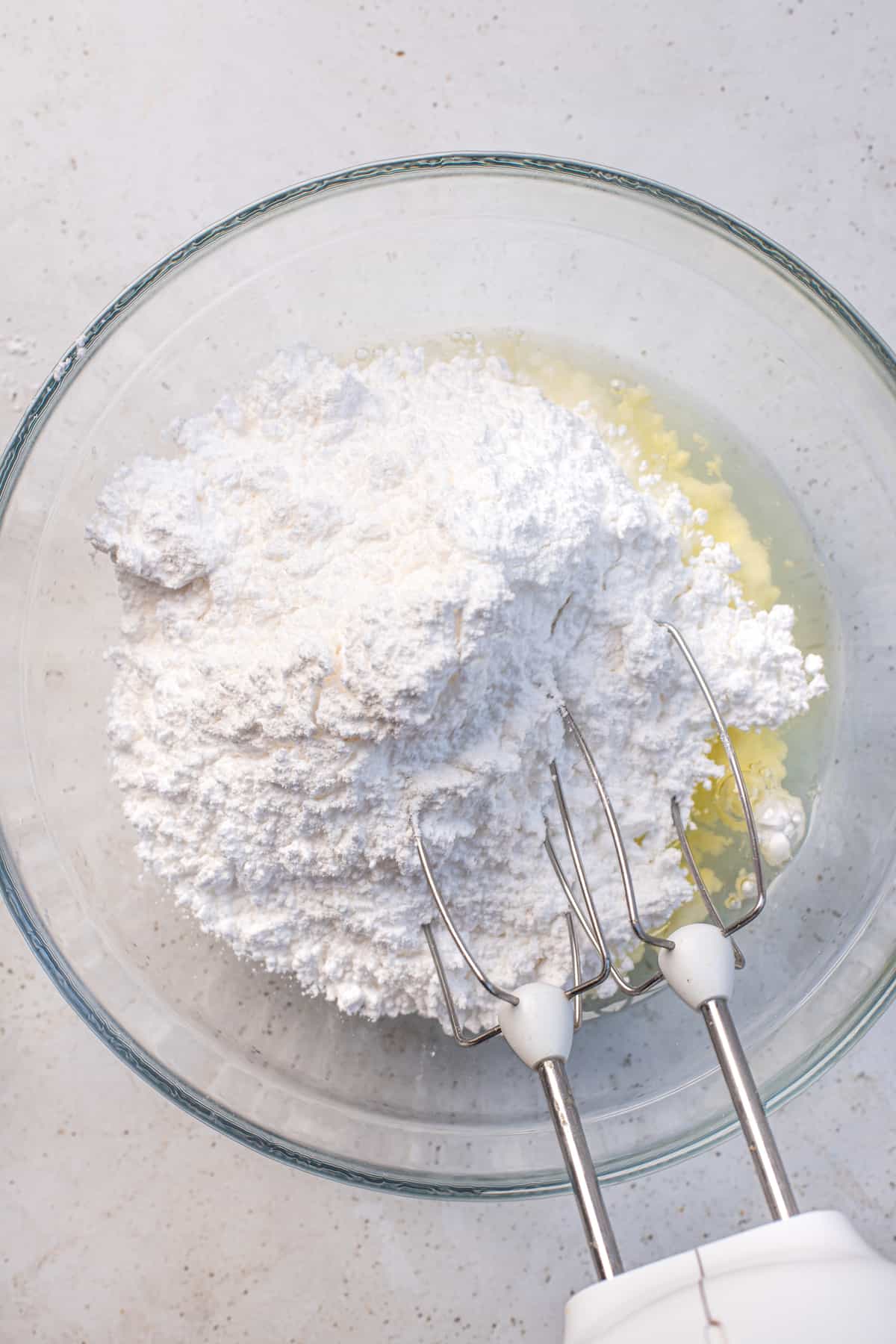 Color the icing: To add color, place some of the icing into a clean bowl. add a few drops of food coloring and stir until you have a uniform color. Add more food coloring if you lie to reach your desired color. If necessary, add warm water until the icing is a pipable texture. It shouldn't be drippy, but you don't want it so stiff that you can't push it through a piping bag.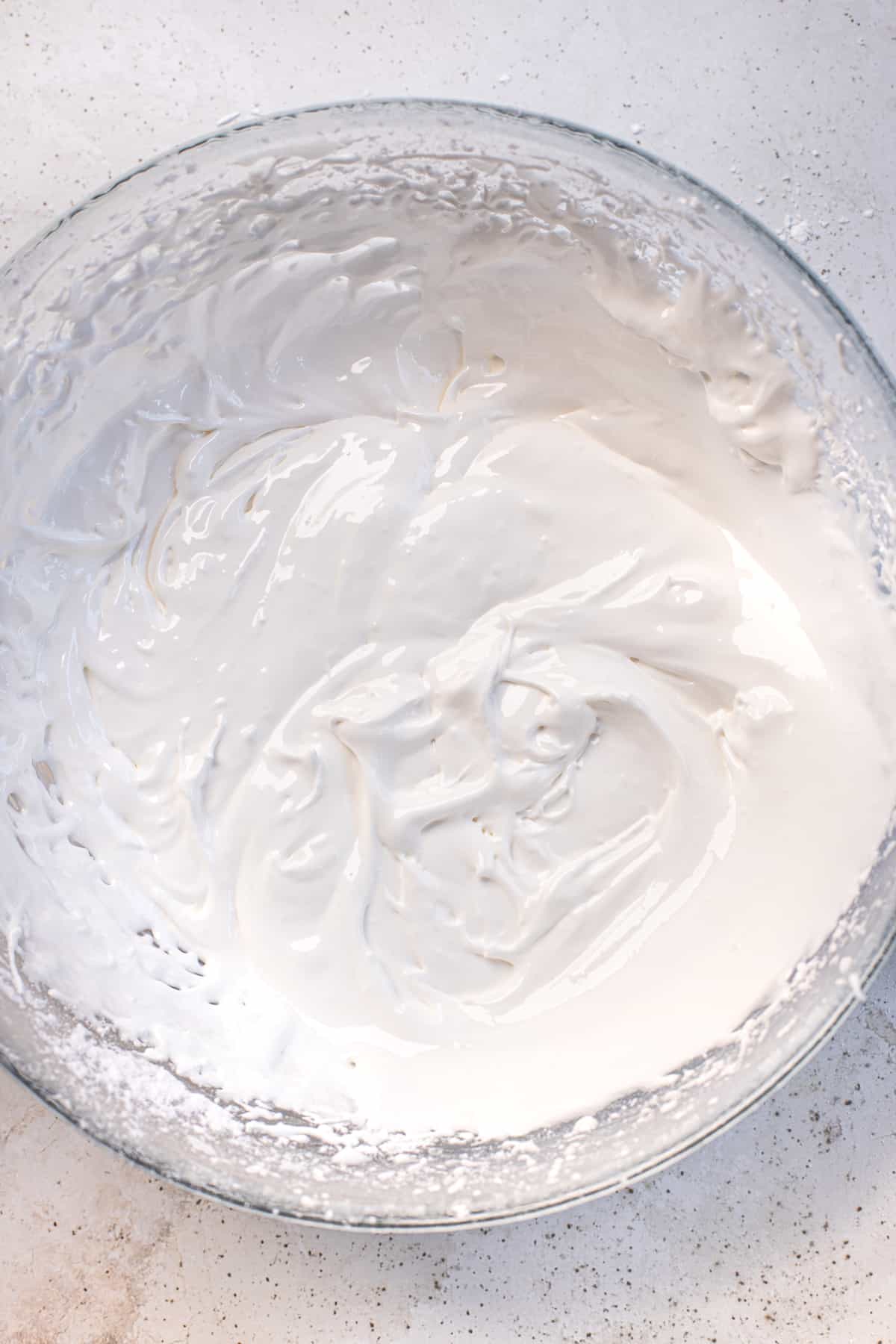 Tips for Success
Here are my top tips to make royal icing as easy as possible to make and to use.
For flavored icing, add your favorite extract during step two of the recipe. You can use almond, vanilla, lemon, or any flavor you like!
Leave some of the icing in the original bowl, as it can be useful to have different consistencies. Thicker frosting is best for outlining designs on your cookies, while thinner icing can fill in areas more easily.
This recipe makes enough icing to decorate 20 to 30 cookies. Of course, if you're covering the entire surface of your cookies or they're especially large, the icing won't stretch quite that far. You can always double the recipe.
When filling your piping bag, place the bag in a tall glass and fold the opening of the bag over the sides of the glass. This keeps the bag open and keeps te outside of the bag clean.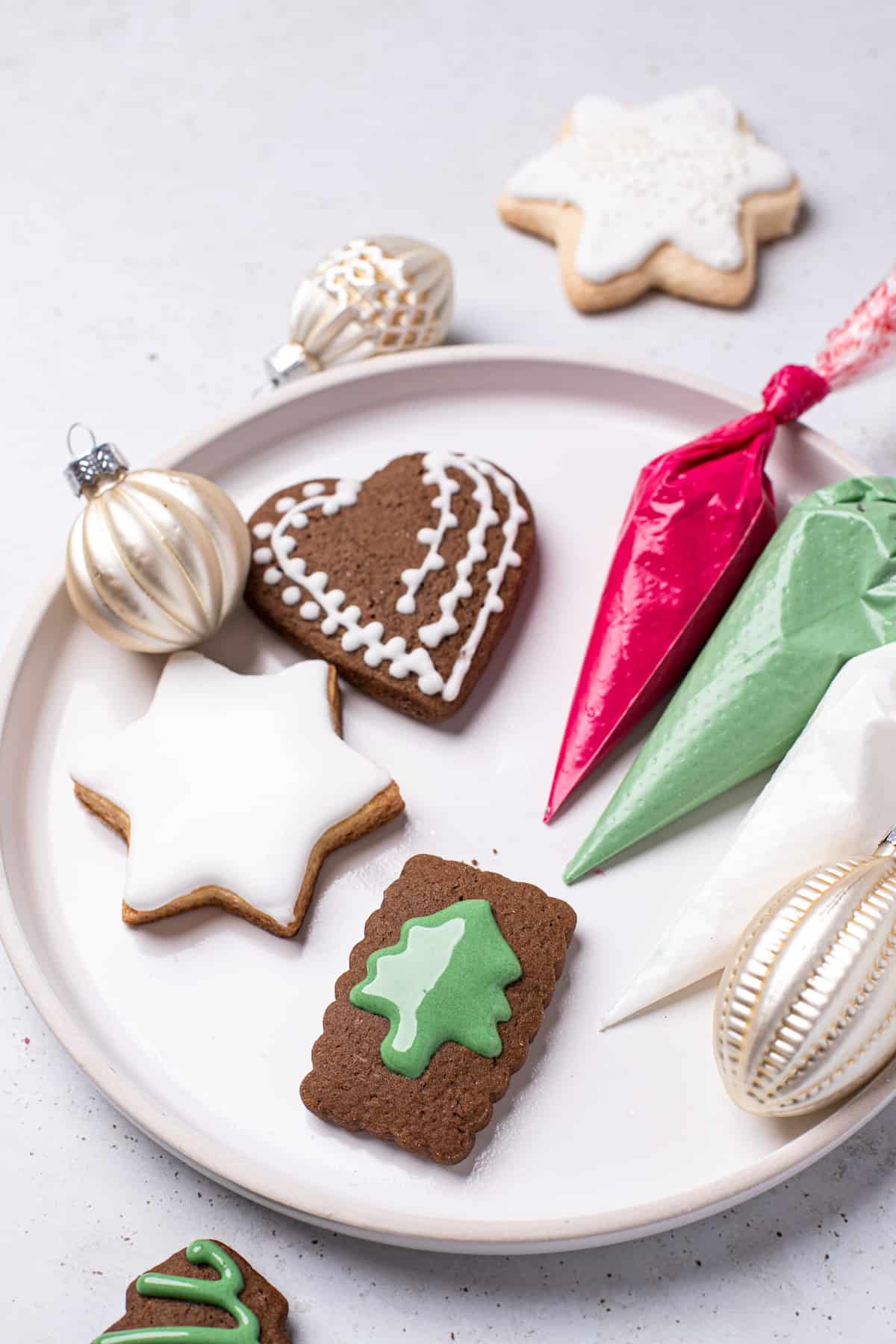 How to Use Royal Icing
The great part about royal icing is how much control you have. This icing holds its shape well, so you can make beautifully detailed designs. It's especially great for flat surfaces like cookies. You can use royal icing to glue together a gingerbread house (it dries pretty firm) or to add festive decorations to holiday cookies.
I recommend using stiffer icing to make outlines on your baked goods. Then fill in the shapes with slightly thinner icing so there are no lines. The icing makes a wonderfully smooth surface that dries hard, so you don't have to worry about smudges during transport.
I love decorating these treats with royal icing: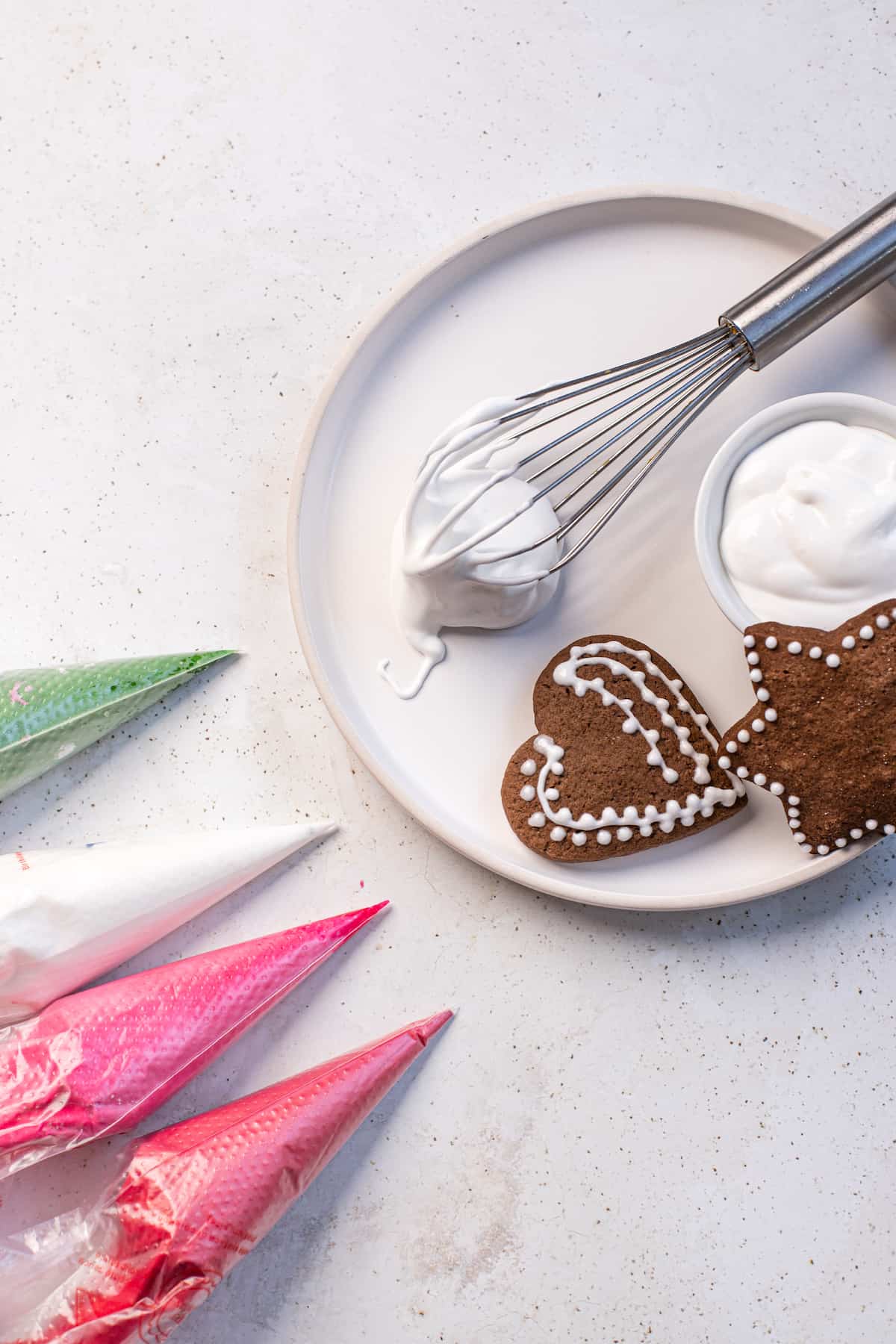 Storage Suggestions
You can store leftover icing in an airtight container in the fridge for up to three days. Let the icing warm up a bit by placing it on the counter for a few minutes before using it so it's smooth and pipable.
Can I Freeze It?
You can freeze royal icing in an airtight container for up to two months. If you've added food coloring, keep different colors in separate containers. When you want to use your icing, defrost it in the fridge overnight, then put it on the counter for a few hours until it's room temperature and easy to pipe.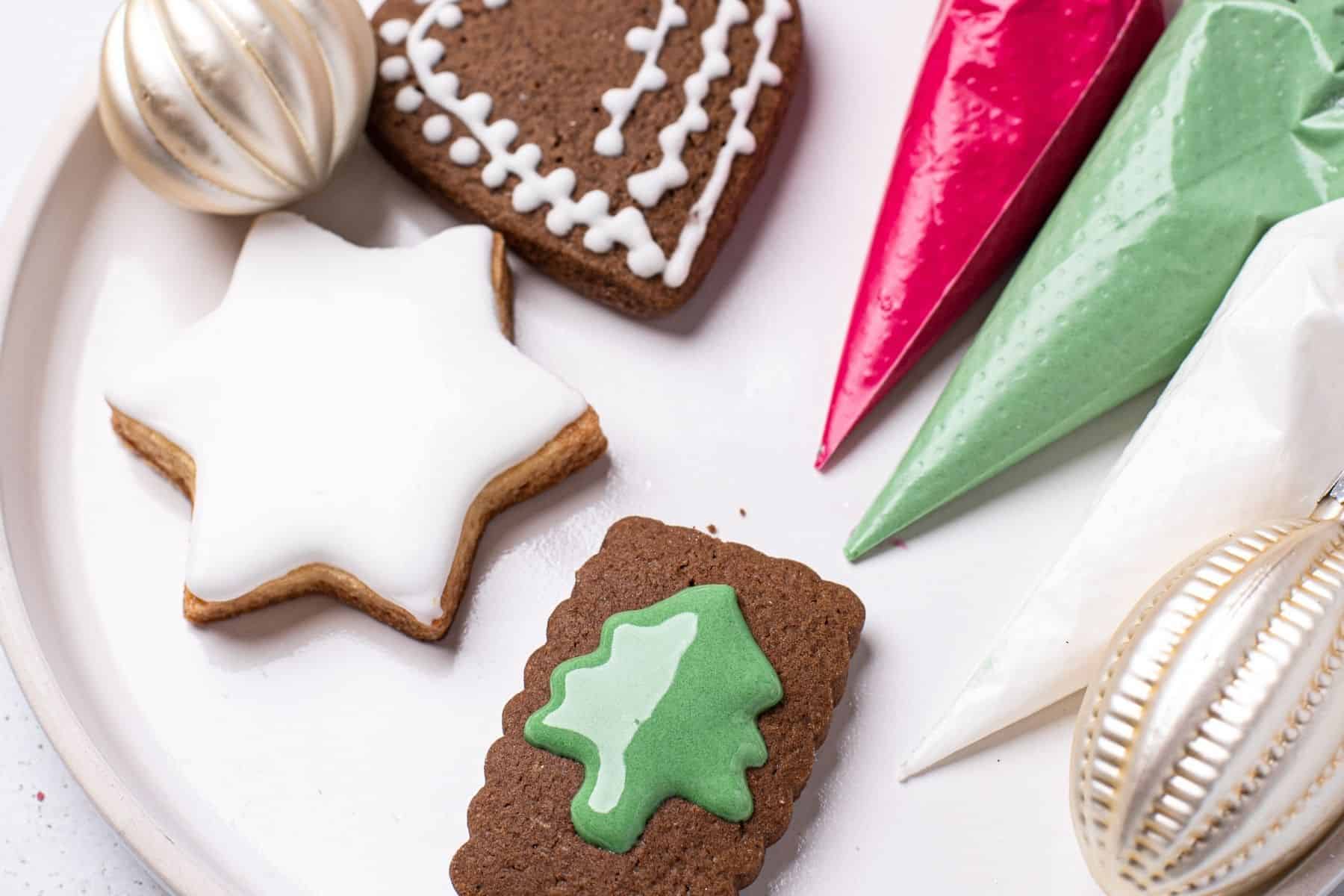 Shop the Recipe
Brianne Recommends
HAND MIXER – you can use a whisk, but it'll be a lot of work. A hand mixer helps you whip up the frosting quickly.
CREAM OF TARTAR – it does help the consistency of your royal icing, but if needed, make sure yours is gluten free.
GEL FOOD COLORING – gels will give you a more vibrant color, though you can use the liquid if that's all you have.
PIPING BAGS – the icing is hard to clean out, so disposable bags are easier than reusable ones.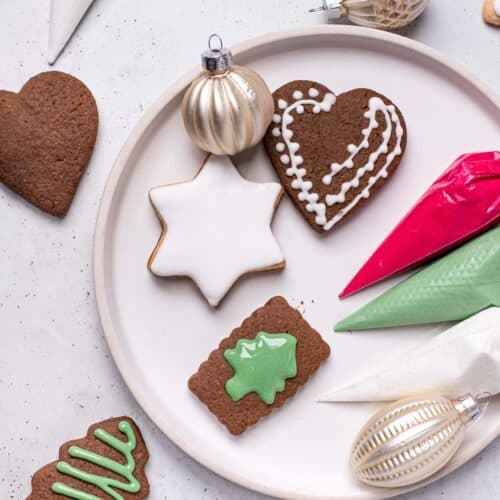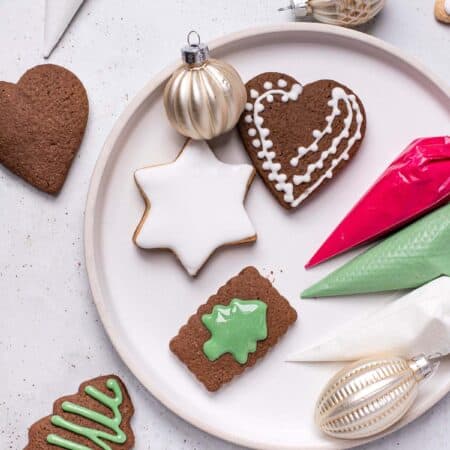 Royal Icing
Royal Icing is a simple and elegant frosting to decorate cookies, cakes, cupcakes and more. Made with two simple ingredints!
Ingredients
14

oz

powdered sugar

2

egg whites

Cream of tartar

(optional)

Food coloring

(optional)

Warm water

Flavorings like almond

, vanilla, lemon (optional)
Instructions
In a mixing bowl, combine the powdered sugar, egg whites, and cream of tartar (if using). Beat on low speed with a hand mixer to combine.

Once the mixture is smooth and combined, increase the speed too high. Beat for about 5 minutes. It will thicken a bit.

Spoon out the royal icing into a smaller bowl for your first color. Add food coloring in small amounts at a time until you achieve the desired color.

If needed, using warm water, add a little at a time and stir to get the colored icing to the thickest consistency you will need for that color. Use this thickest consistency for piping. If you are going to flood it in, then thin it out a little more after piping your borders.

Add a portion of colored icing to a piping bag. Decorate your cookies.

Repeat with favorite colors or leave it white.
Nutrition Facts
Royal Icing
Amount Per Serving
Calories 79
Calories from Fat 9
% Daily Value*
Fat 1g2%
Sodium 5mg0%
Potassium 5mg0%
Carbohydrates 20g7%
Protein 1g2%
Calcium 1mg0%
Iron 1mg6%
* Percent Daily Values are based on a 2000 calorie diet.
More Easy Icing Recipes