This post may contain affiliate links. Read my disclosure policy.
Coconut snickerdoodles are a combination of two classic Christmas cookie recipes – coconut macaroons and snickerdoodle cookies!
I like to think of myself as a little bit scientist, a little bit artist. I read, study, observe, and experiment. But I also throw in a little of this and a little of that, fancy things up a bit. I do this is pretty much all aspects of my life. All except baking…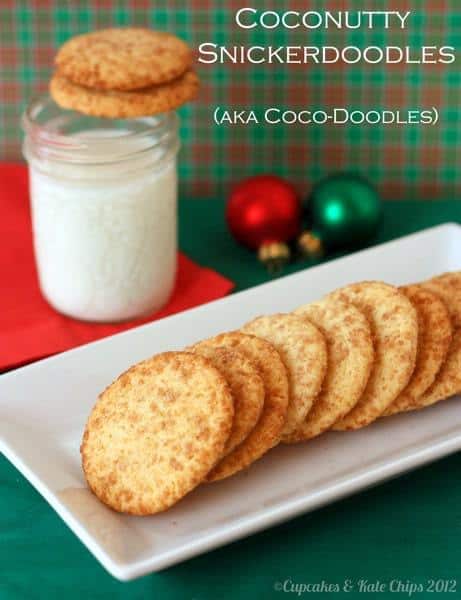 When it comes to baking, I usually stick to a recipe that someone else (perhaps lots of someone else's) has tested and gives me reasonable assurance that it is going to turn out well. I think this is due to my cheap frugal nature. I have confidence in cooking that even when I play around a little, it is still going to turn out well. But baking, well, I have baked a ton, but have not experimented enough or studied ratios and formulas to feel confident that my experiments will turn out well. And I hate throwing things away, so then I just feel compelled to eat way too many calories worth of crap. This is part of the reason why I haven't delved into gluten free baking as much as I would like. But these coconut snickerdoodles…
Well, to be honest, I haven tried them, but The Hubby gives them a big thumbs up.
I make Snickerdoodles every Christmas for my dad, but the recipe calls for half shortening and half butter. I make them that way because he loves them, but I thought it might be interesting and just a bit healthier to substitute coconut oil for the shortening. I also threw in a bit of coconut flour (though this is optional), and instead of rolling them in cinnamon-sugar, I ground up some sweetened coconut in my Magic Bullet to make a sugary coconutty cinnamon coating.
The Hubby says that the coconut snickerdoodles have just the right amount of coconut – a hint. But the coconut doesn't overpower the cinnamon, nor does the cinnamon overpower the coconut. Success! Maybe I'll experiment some more to make them even healthier, perhaps some whole wheat flour, or maybe even gluten-free. I'll keep you posted. But for now, try these if you want a new spin on the classic Snickerdoodle. I can't wait to let dad try them.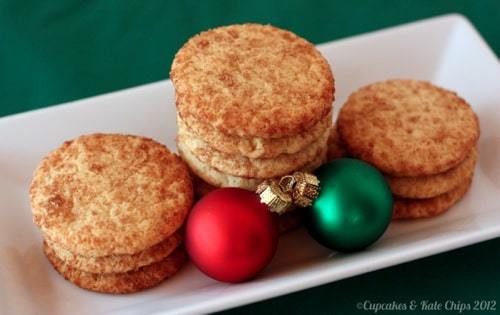 Do you experiment with baking, or do you just stick to the recipe?
Do you like using coconut in recipes?
I hope so, because coconut snickerdoodles are a delicious way to eat coconut!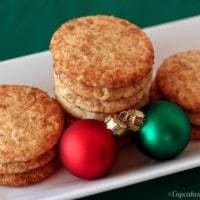 Coconut Snickerdoodles (aka Coco-Doodles)
Coconut Snickerdoodles are a combination of two classic Christmas cookie recipes – coconut macaroons and snickerdoodle cookies!
Ingredients
2 3/4

cups

all-purpose

optional – substitute 1/4 c all-purpose flour with coconut flour

2

teaspoons

cream of tartar

1

teaspoon

baking soda

1/4

teaspoon

salt

1 1/2

cups

sugar

1/2

cup

butter or margarine

softened

1/2

cup

coconut oil

2

eggs

1

cup

sweetened coconut flakes

1/2

tablespoon

ground cinnamon
Instructions
Preheat oven to 400°F.

Sift together into a medium bowl the flour, cream of tartar, baking soda, and salt. Set bowl aside.

In a large bowl or the bowl of your stand mixer, cream together the butter, coconut oil, and sugar.

Add the eggs one at a time, and mix thoroughly.

Add the flour mixture, and mix until a dough forms.

Using a food processor or Magic Bullet, process the coconut until it is almost a moist powder. Mix in a small bowl with with cinnamon.

Shape dough into approximately 1 inch balls (I use a dough scoop), roll in the coconut and cinnamon mixture, and place 2 inches apart on a cookie sheet.

Pat each dough ball down slightly, until just over 1/2 inch thick.

Bake for 8-10 minutes, or until set.

Cool for a couple of minutes on the cookie sheet, then remove to racks to cool completely.
Nutrition Facts
Coconut Snickerdoodles (aka Coco-Doodles)
Amount Per Serving
Calories 78
Calories from Fat 36
% Daily Value*
Fat 4g6%
Cholesterol 10mg3%
Sodium 46mg2%
Potassium 31mg1%
Carbohydrates 10g3%
Protein 1g2%
Vitamin A 55IU1%
Vitamin C 0.003mg0%
Calcium 3mg0%
Iron 0.3mg2%
* Percent Daily Values are based on a 2000 calorie diet.
Enjoy!
If you love Snickerdoodles, be sure to check out these recipes, too: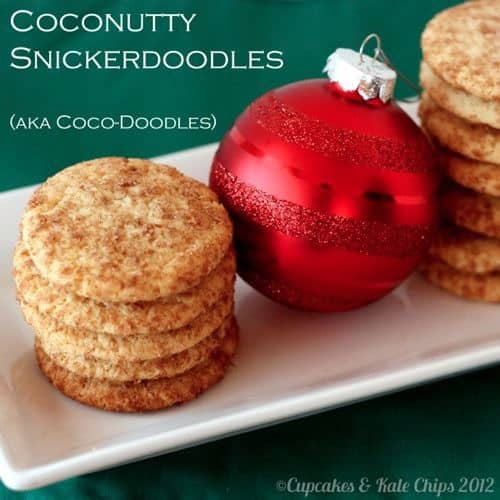 This recipe was shared with: Gooseberry Patch Christmas Cookies & Candy…Round 'Em Up!, Thursday's Treasures, Crazy Sweet Tuesday