This post may contain affiliate links. Read my disclosure policy.
Chocolate peanut butter cup cookie dough truffles are a sweet, no-bake treat, providing you with a dose of protein and fiber for a boost of healthy goodness! These truffles are one of the best gluten-free no bake dessert recipes on my holiday baking list!
After starting off Christmas Week with some crazy sweet indulgence, I thought I'd work in a healthier treat, in the form of truffles!! A secret ingredient, flourless, eggless, chocolate peanut butter "cookie dough", wrapped around teensy weeny peanut butter cups. Then, if you like, dipped into a chocolaty coating. These Flourless Secret Ingredient Chocolate Peanut Butter Cup Cookie Dough Truffles are will give you energy to make it through all of your holiday celebrations!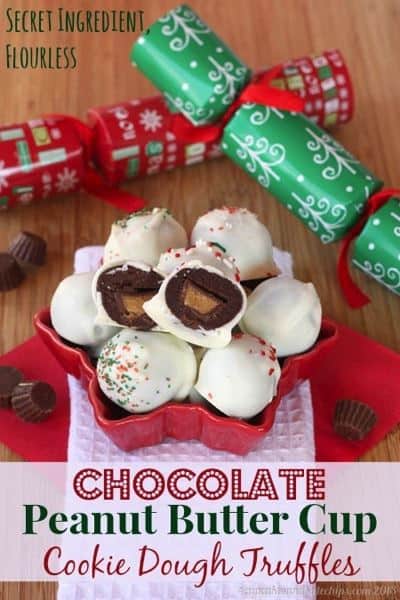 I love getting inspiration from my real-life friends AND my virtual friends. A while back, I made chocolate peanut butter "cookie dough". Seriously, I love this stuff. I just take scoops out of the bowl, or put blobs on apple slices, or stir it into banana "ice cream", or even make cookie dough smoothies. Someday, I'll manage to photograph some of these things before I devour them so I can share with you. Or maybe I'll write a "cookie dough" cookbook. Or a You Mean There's ______ in That Cookbook, since I have a tendency to transform cauliflower and black beans and butternut squash into something totally unexpected.
My friend sent me a photo of a cookie dough treat she made. She rolled it into balls and packed it into her kids' lunches as a "treat" – or at least they thought it was a treat. I thought this was genius, and knew I had to start making "truffles". Then I saw Jocelyn's Chocolate Peanut Butter Cup Truffles, and I was sold – I had to make a flourless version!
For a healthy treat that just tastes decadent, follow Amy's lead and make the cookie dough, form it into balls, then roll it in cocoa powder, toasted coconut, or chopped peanuts. If you want to make it a bit more decadent, wrap the dough around itty bitty peanut butter cups. They're small, so calories don't count, right? And if you really want to go all out, dip them into some chocolate candy coating. I chose white chocolate because I thought it looked pretty, but milk or dark chocolate will be awesome as well. Add sprinkles, because, well, they're sprinkles!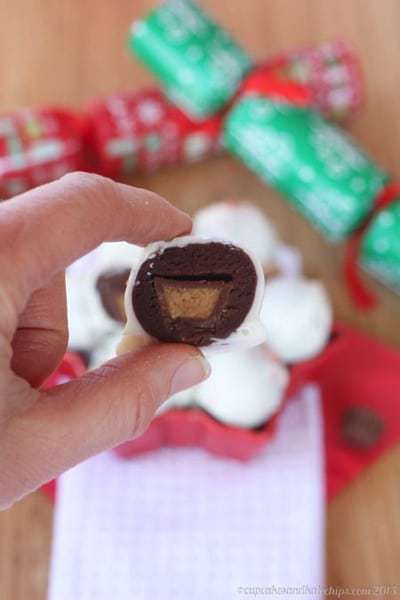 If you don't know what the secret ingredient is in the chocolate peanut butter cup cookie dough truffles yet, then stare at this picture for a few minutes.
Now, begin to salivate, and crave these yummy little bites. Now go check out the recipe. And seriously, trust me on this one!! Then, go eat a dozen one.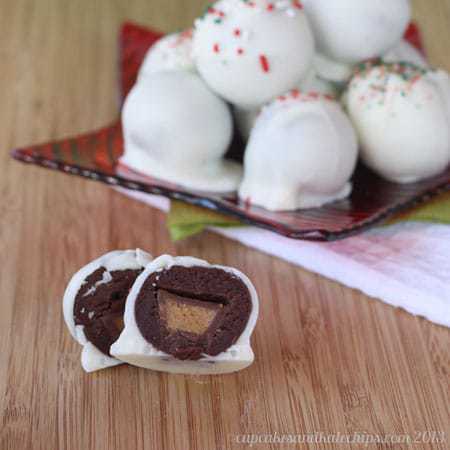 What is your favorite holiday candy?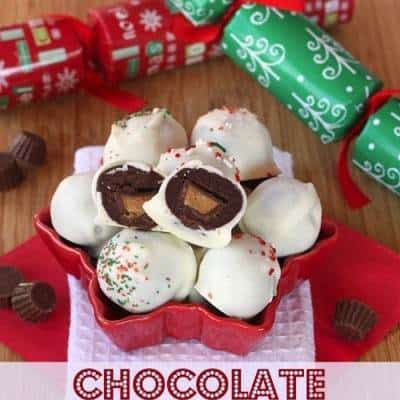 Chocolate Peanut Butter Cup Cookie Dough Truffles
Amazing truffles made from flourless, eggless chocolate peanut butter "cookie dough" wrapped around tiny peanut butter cups, then dipped in chocolate!
Ingredients
One 15 oz. can chickpeas

rinsed and drained

¼

c

cocoa powder

4

Tbl honey

or to taste (substitute agave or maple syrup for strict vegan)

½

c

peanut butter

I used natural

1

t

vanilla

About 24-30 mini peanut butter cups

the tiny, unwrapped ones in a package

About 16 oz. melting chocolate

chocolate wafers or almond bark (white, dark or milk), if desired for dipping, or cocoa powder, chopped nuts, toasted coconut, etc.

Options sprinkles or other decorations

if desired
Instructions
Combine the chickpeas, cocoa powder, honey, peanut butter, and vanilla in your food processor.

Process until a dough consistency forms, stopping to scrape down the sides, as needed.

Transfer cookie dough to a bowl or storage container. At this point, you can refrigerate the dough for a bit before making the truffles.

Take about 1 tablespoon of dough, flatten a bit, roll it around a mini peanut butter cup and roll into a ball. Repeat with the remaining dough and peanut butter cups.

If using one of the dry coatings, roll in the cocoa powder, toasted coconut, chopped nuts, or other desired coating before placing in the refrigerator. Otherwise, refrigerate the undipped truffles for at least 30 minutes or so.

If using, melt the chocolate as per package instructions, dip each truffle, and place on wax paper to cool, adding sprinkles or other decorations before chocolate is set.

Once chocolate is set, store truffles in the refrigerator.
MY new favorite treats are chocolate peanut butter cup cookie dough truffles!
Enjoy!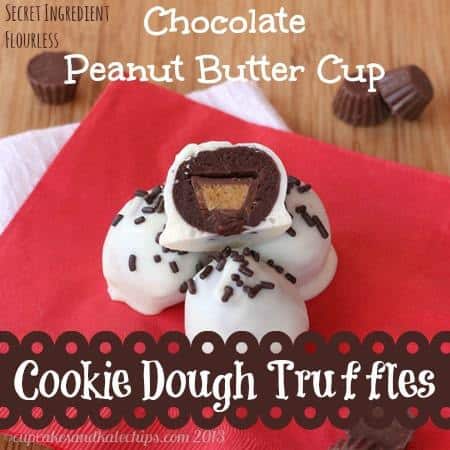 Want some more "cookie dough"?
Here are a few more sweet treats for the holidays: