This post may contain affiliate links. Read my disclosure policy.
White Chocolate Chip Snowball Cookies with Macadamia Nuts put a new twist on an old favorite. Santa loves the traditional snowball cookies recipe, but sometimes even a classic needs a bit of a change. So to combine the old and the new, I updated a popular cookie recipe by adding a fabulous flavor combination. This holiday season, be sure to bake White Chocolate Macadamia Nut Snowballs.

Disclosure: Compensation was provided by Gallo Family Vineyards via Sunday Supper, LLC. The opinions expressed herein are those of the author, and are not indicative of the opinions or positions of Gallo Family Vineyards.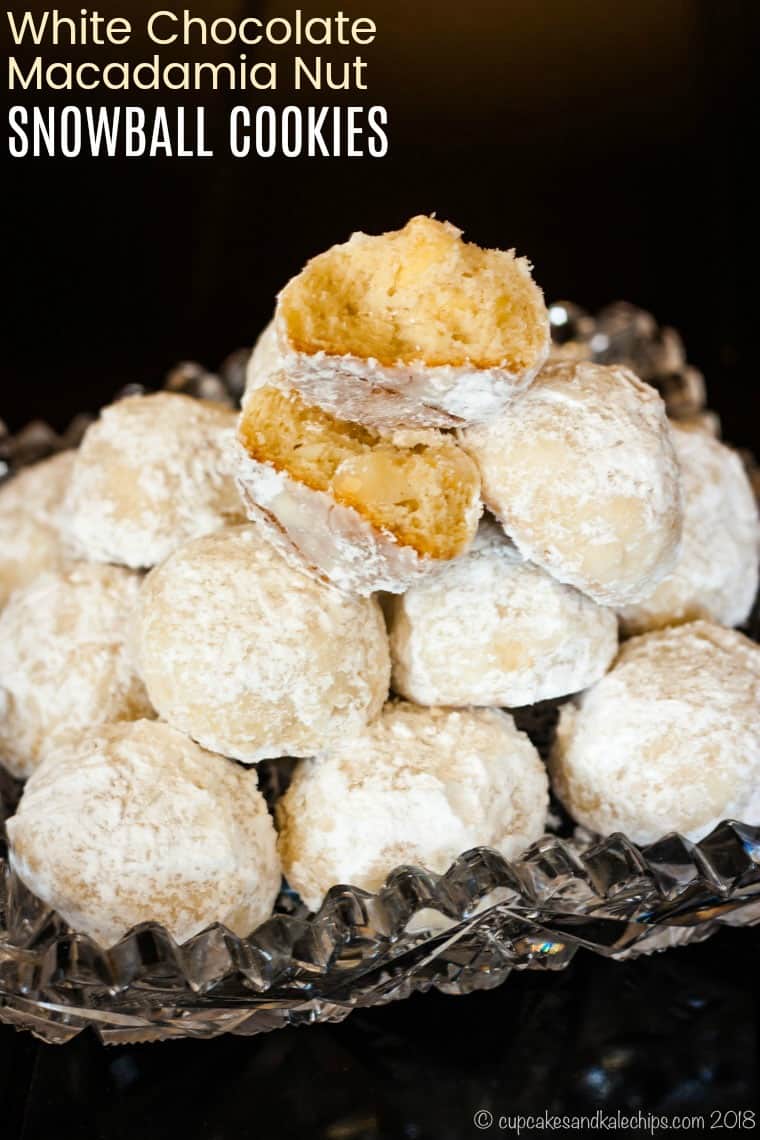 Ah, Christmas Eve. Growing up and even as an adult, it was always my favorite holiday meal. When I was a kid, we were crammed in my grandparents' small dining room. At some point we moved to the slightly larger dining room of my parents' old house. We eventually spread through the tiny dining room and at folding tables in the living room of my house with The Hubby. But regardless of where we were, it was pretty much the same menu.
Christmas Eve is a meatless meal in my family. First we'd gather around the table, say prayers, and eat a bowl of mushroom soup. This was followed by passing around platters and bowls of pierogies, mashed potatoes, fried shrimp, corn pudding, and green beans with mushrooms. We ate till we were so loaded up on carbs that we had to push back from the table a bit to make room for our expanding bellies.
After clearing the table, doing some dishes, cramming the leftovers into the fridge (because somehow we always felt the need to cook up eight dozen pierogies, even though we'd usually only eat about three or four), and exchanging some presents, out came the cookie platters.
The kids grabbed their cookies and went back to playing or watching a Christmas movie. The adults would linger around the table, maybe with another glass of wine, or perhaps a cup of coffee or tea. They'd nibble on a cookie here or a cookie there. Everyone was chit chatting until we were ready to all go our separate ways for the evening. Then we would meet up the next day and feast again.
Of course topped off with more Christmas cookies!
The faces gathered around the table and the table we gathered at have morphed and evolved over the years. Sometimes adding people, sometimes subtracting, sometimes showing up as a special surprise. But the tradition has remained the same. That is, until this year. We just moved, family members have different work schedules, new extended families, and other obligations. So my husband and children and I may be on our own for Christmas Eve for the first time.
In some ways this is sad, but in other ways it seems fitting since we will have just been in our new house for about a month. It's time for traditions to evolve, and to make new memories. Though of course we will hold on to the old ones. We will likely have our traditional Christmas Eve dinner on Christmas Day or over the following weekend. Maybe we'll add some steaks for a little surf and turf. A nod to the past, to the familiar, to the traditions we hold dear, but with something new and different. And hopefully just as memorable.
Like these cookies…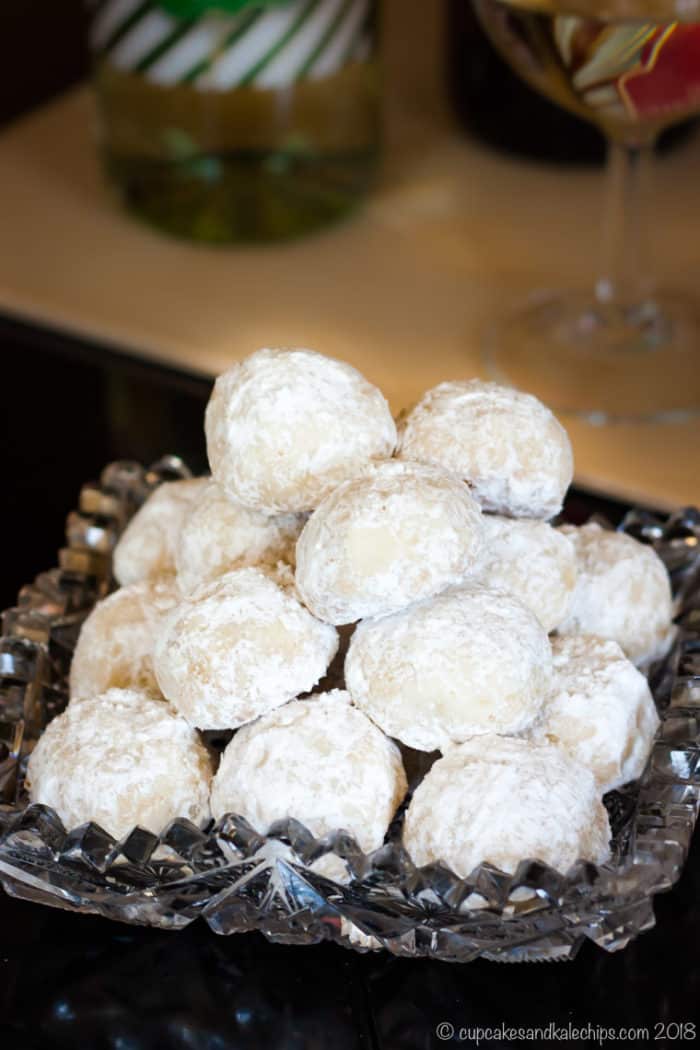 White Chocolate Macadamia Nut Snowballs
White Chocolate Macadamia Nut Snowballs are a little blend of old and new. Snowball cookies have always been my mom's favorite Christmas cookie recipe. You may know them as Russian Tea Cakes or Mexican Wedding Cookies, but we've always called them Snowballs. I've always made them the same way, with walnuts, not pecans like many people do, because that's how mom likes them.
But last year I changed them up just a bit and made Toffee Almond Snowball Cookies. These were quite popular, so I figured I'd do it again. I love the combination of white chocolate macadamia nut (hello, White Chocolate Macadamia Nut Cookie Dough Dip), so I added those in to make Macadamia Nut White Chocolate Chip Snowball Cookies.
Let's talk about how to make Macadamia Nut White Chocolate Chip Snowball Cookies…
You start by creaming together powdered sugar and softened butter.
Gradually add the flour until it forms a thick dough. It might appear crumbly and sandy at first. Just keep mixing until it comes together.
Using a wooden spoon or spatula, work the white chocolate chips into the dough.
Refrigerate until firm.
Form balls using a tablespoon of dough and place on a cookies sheet.
Bake until set and barely golden but not browned.
Roll in powdered sugar. But WAIT! Read the next section to that you have the best, most perfect Macadamia Nut White Chocolate Chip Snowball Cookies. This is so critical that it deserves its own section.
Tips for rolling perfect snowball cookies in powdered sugar…
I can't stress this enough, but this is the MOST IMPORTANT part of making snowballs. I mean, how can you call it a snowball if it doesn't look like a snowball. The key is DOUBLE ROLLING!
While the cookies are baking, put powdered sugar in a shallow bowl or baking dish.
After they come out of the oven, let them cool on the sheet for just a couple minutes. You want the cool enough that they don't crumble, but warm enough to slightly melt the sugar so it sticks.
Place two or three cookies at a time top down in the sugar. Roll each one around to coat them on all sides, then place on a wire rack. Sometimes the sugar starts to get packed down in the bowl, so loosen it up with a spoon or add more as needed.
After all the cookies are coated, let them cool completely, then repeat the process with cool cookies. The first layer of sugar acts almost like a frosting or glue to adhere the second coat of powdered sugar just enough that it sticks, but that it still kinda of puffs off and coats your lips as you bite into one. That, my friends, is the joy of a snowball cookie!
Can you freeze snowball cookies?
When it comes to holiday baking, I know many people want to get ahead of the game and bake cookies in advance. Yes, this and these 15 Recipes for Snowball Cookies are a cookie recipe that definitely does freeze well. You can either freeze the dough and bake them when you need them, or freeze the cookies. Just be sure to freeze them after rolling them in powdered sugar or it won't stick. You could just do the first rolling, then do the final roll after you thaw them out.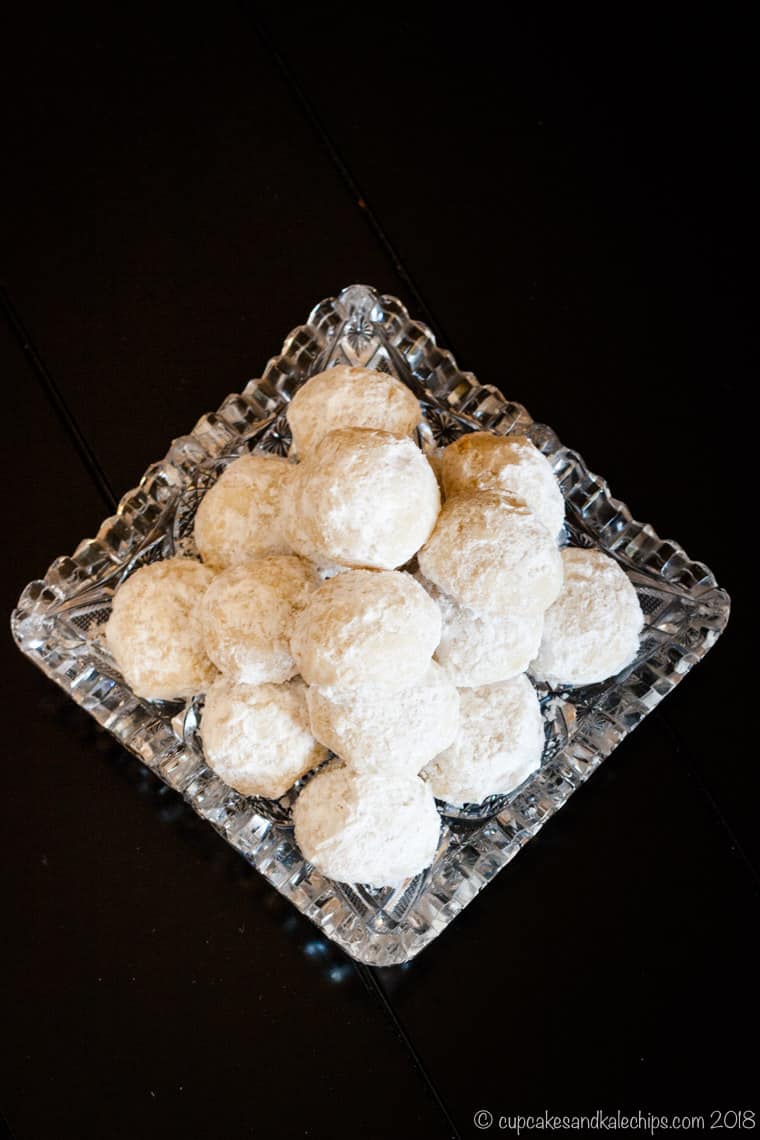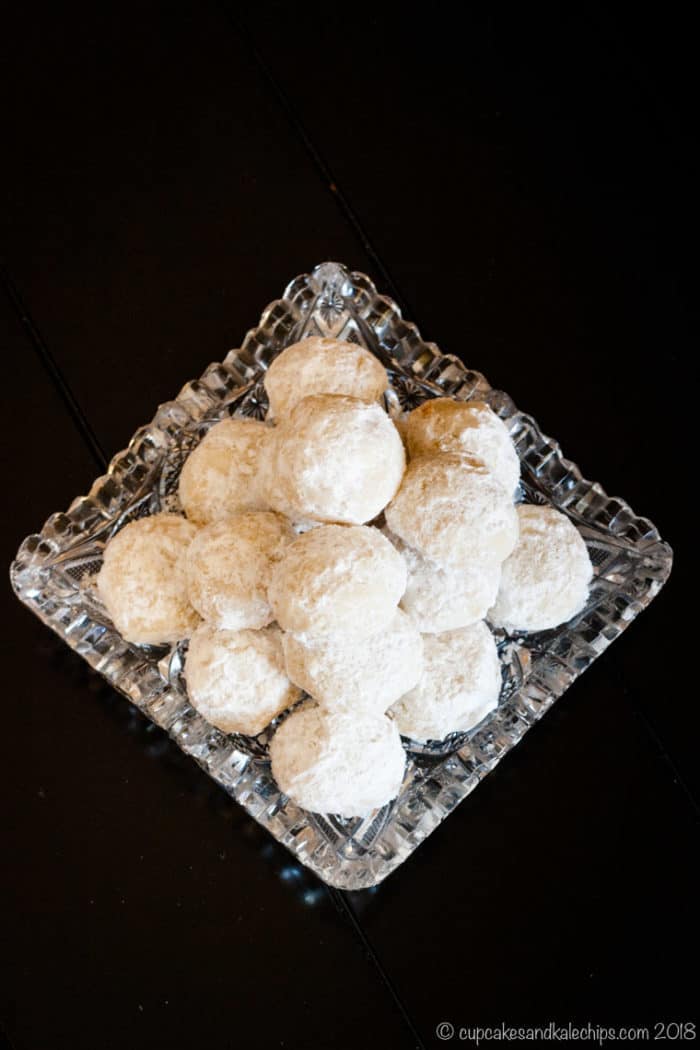 How about some more modern spins on traditional cookies?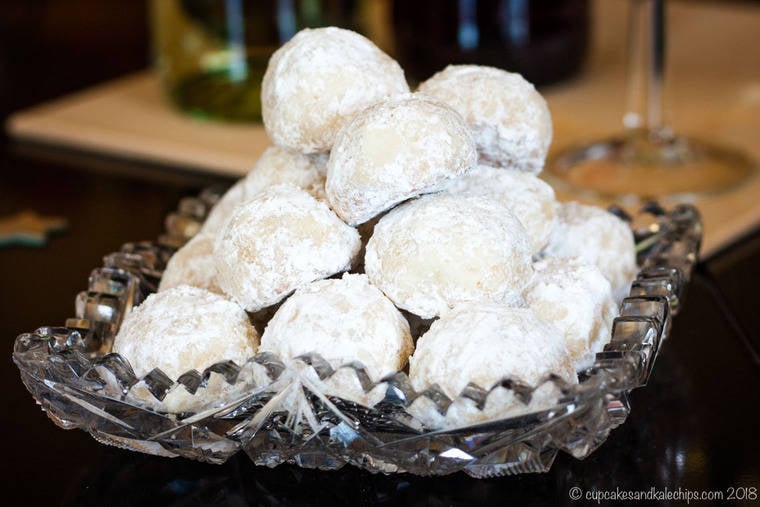 For more yumminess from me and my foodie friends, keep up with me on…
Or sign up to have Cupcakes & Kale Chips delivered straight to your Inbox!
What do you need to make snowball cookies?
[amazon_link asins='B0049C2S32,B00030CGKY,B001CH0ZLE' template='ProductCarousel' store='cupkalchi-20′ marketplace='US' link_id='58bfa87b-ecd3-11e8-8f57-1103639a9293′]
INSULATED BAKING SHEETS – I don't always use insulated baking sheets, but I like them for these cookies. Unlike many other cookies, you actually don't want these to get too golden brown. But they are thick balls that don't flatten out, so they need some time to bake through the middle. The insulated baking sheets ensure the bottoms don't brown too much while they are baking.
COOLING RACKS – After you roll the cookies, you do want to set them on a cooling rack to cool completely before the second rolling. I prefer the stackable ones so that I can save counter space while cooling a bunch of cookies.
HAND MIXER – For some cookie recipes, I break out my KitchenAid stand mixer, but this recipe doesn't make a huge amount of dough, so the giant bowl is a bit of overkill. I still use my little Hamilton Beach hand mixer and that little guy is still kicking. And I've made some serious tough cookie doughs with it. And if it dies, I can replace it for only $15.
Just as tender and buttery as the classic Snowballs, but with the rich macadamia flavor and the little bursts of vanilla. These cookies are the perfect blend of old and new, traditional and modern. Santa is sure to love these cookies as much as your friends and family when you add them to a Christmas cookie platter.
I hope you'll leave a comment and give it a FIVE STAR rating or share a photo on this pin on Pinterest!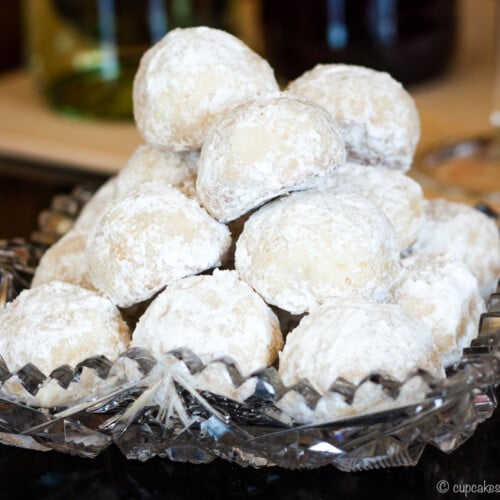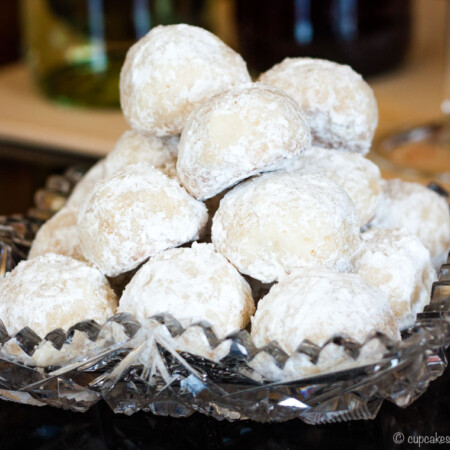 White Chocolate Macadamia Nut Snowballs
An update on the classic Christmas cookie recipe with a fabulous flavor combination.
Ingredients
1/2

cup

powdered sugar

¼

teaspoon

salt

1

cup

unsalted butter

(2 sticks), at room temperature

1

teaspoon

vanilla extract

2¼

cups

all-purpose flour

½

cup

chopped macadamia nuts

1/2

cup

white chocolate chips

Additional powdered sugar for rolling the cookies
Instructions
Preheat oven to 400°F.

In a large bowl, cream the ½ cup sugar, salt, and butter using a stand mixer or hand mixer. Then mix in the vanilla.

Gradually add the flour and mix until well combined.

Using a wooden spoon or spatula, stir in the chopped nuts and white chocolate chips.

Chill dough in the refrigerator until firm.

Form into balls using about 1 level tablespoon of dough and place on ungreased cookie sheets, preferably lined with parchment.

Bake for 8-10 minutes, or until barely set, but not browned.

Cool on the pan for about 5 minutes, then roll the warm cookies in powdered sugar, and place on a rack to cool.

Once cooled completely, roll in powdered sugar again.
Nutrition Facts
White Chocolate Macadamia Nut Snowballs
Amount Per Serving (1 cookie)
Calories 113
Calories from Fat 63
% Daily Value*
Fat 7g11%
Cholesterol 14mg5%
Sodium 19mg1%
Potassium 23mg1%
Carbohydrates 11g4%
Protein 1g2%
Vitamin A 160IU3%
Calcium 9mg1%
Iron 0.4mg2%
* Percent Daily Values are based on a 2000 calorie diet.
Enjoy!
Just like all of our families, the Gallo family has many of their own holiday meals and traditions. Of course these always include the wines of Gallo Family Vineyards. Be sure to connect with them on Facebook, Twitter, Instagram, or YouTube, and check out the store locator to try some of their wines yourself.
Originally published on Dec 7, 2014