This post may contain affiliate links. Read my disclosure policy.
Gifts for Cooks will make your favorite foodie enjoy their hobby even more. And you'll get the benefit of enjoying all of their delicious creations. Being in the kitchen is even more fun and easy when you add these tools to their arsenal. From inexpensive gadgets to top of the line appliances, there is something for everybody who loves to cook at every price point. And each item on the list of cooking gifts has an alternative that is more budget-friendly, takes up less space, or meets a slightly different need.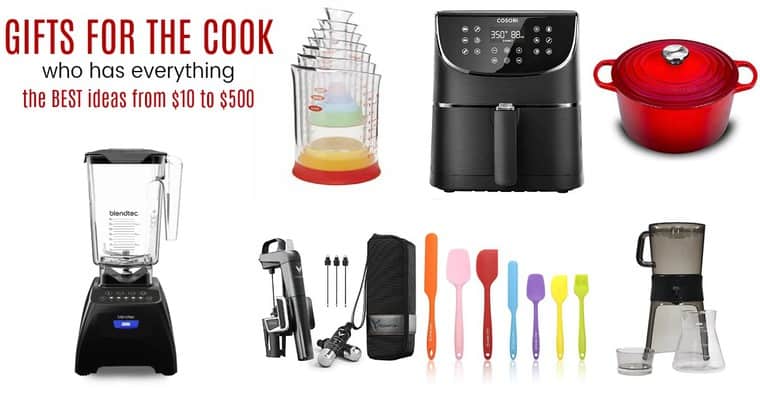 As a food blogger who develops recipes for a living and has two boys who are literally nonstop eating machines, I spend a lot of time in the kitchen. So whether it is basic gadgets and tools or fancier appliances, I have a lot of favorite things that make my cooking and baking tasks easier and even more fun.
And despite having drawers and cabinets filled with tools, I actually still have a few things on my own holiday wish list too.
I am excited to share some of my favorite and some of the things I want the most with you! Some of these gifts for cooks are definitely splurges. But in each case, I give you a more affordable option or at least something that maybe takes up a little less space, or is an alternative if you need something a little different.
There are foodie gift ideas that range from about $10 all the way up to $500 and more. So there is something for every cook and every budget.
What to buy someone who loves to cook?
What are the best gifts for cooks?
The Best Foodies Gifts for Cooks at Every Price
Photo Credit: www.amazon.com
I use my Cosori 5.8-Quart Air Fryer at least two or three times a week, and sometimes nearly every day. Oilless french fries, healthier chicken fingers, roasted veggies without waiting for the oven to preheat, falafel, and that only scratches the surface of what this baby can do. If you are looking to make your life healthier, easier, or both in the new year, an air fryer is the ultimate addition to your kitchen.
Not much space or only cooking for one or two? Try the 3.7-quart version.
Photo Credit: www.amazon.com
Scraping out measuring cups, getting the last bit of peanut butter out of the jar, stirring together overnight oats, I literally use my mini silicone spatulas for everything. And this set has the larger sizes too, plus the brush and the thin offset spatulas. Since they are a single piece, you don't get the gunk that builds up between the spatula head and the handle on other styles.
Just want the mini ones? The 5-piece set of minis is a great stocking stuffer.
Photo Credit: www.blendtec.com
The smoothest smoothies, the most velvety soups, creamy salad dressings, party-worthy hummus, and so much more, the recipes to make in your Blendtec blender are endless! I have over 4000 blends on my Blendtec Designer 725 and it is still going strong. Make sure you use coupon code CUPCAKESANDKALECHIPS to save 25%.
Just looking for your first high-powered blender? Click on the Classic Series and try out the Blendtec Fit for a more affordable option.
Photo Credit: www.amazon.com
These OXO Nesting Measuring Beakers make baking more fun, especially if your favorite chef also loves science. Or if you are trying to work quickly, you can have all of your ingredients measured out and just pour everything in quickly as you need it.
Want the stocking stuffer version? Get the OXO 4-Piece Measuring Beakers with just the smaller sizes.
Photo Credit: www.amazon.com
This Coravin Wine Preservation System is pretty incredible. Ever want to have just a glass of wine but want to save the rest of the bottle for another time? This pierces the cork, allows you to pour as much as you want, then fills the bottle with argon gas to preserve the wine. It's genius!
Want the cheaper, low tech version? I use the VacuVin to seal my wine bottles and it does the job, but I still don't want to take my chances if I have a pricer bottle of wine.
Photo Credit: www.amazon.com
This 5.25-quart Deep Round French Oven from Le Creuset is gorgeous, but also a total upgrade over your basic pot and every serious home cook deserves to have one in their arsenal. The heavy bottom allows you to simmer soups, stews, and chilis for hours without scorching, you can sear your pot roast and put the entire thing right in the oven, and cleanup is a breeze.
Looking for a lower price option? The Lodge 6 Quart Enameled Cast Iron Dutch Oven is just as beautiful and functional.
Photo Credit: www.amazon.com
Know someone who is always trying to create their own recipes? The Flavor Bible is the ultimate resource for pairing ingredients to make the most delicious dishes possible. It lists all kinds of herbs, spices, meats, fruits, vegetables, and more, and the flavors that pair best with it to bring out the best of each ingredient.
Buying for a plant-based friend or family member? Check out The Vegetarian Flavor Bible.
Photo Credit: www.amazon.com
Forget giving all of your money to Starbucks. Making your own cold brew at home is so easy. I actually just make mine in a pitcher and then strain it, but this OXO Cold Brew Coffee Maker would be so much easier!
Only want to make one cup at a time? This little French Press works well and you can use it for hot or cold brew, and even tea.