This post may contain affiliate links. Read my disclosure policy.
Hello Cupcakes and Kale Chips readers! I'm Julie from The Texan New Yorker, and I am so honored and thrilled to be guest posting for Brianne today. In addition to reading her blog, I also follow Cupcakes and Kale Chips on Facebook, and Brianne is now my go-to girl on knowing which day/week/month is which food holiday. So thanks to her, I found out that August 30th is Bacon Day. And I think it's wholly appropriate to celebrate early and often in this case. So when Brianne asked me to guest post, I knew something involving bacon was a must. So many options out there, since bacon works in some desserts too, but in the end, these enchiladas jumped out at me (probably because I've been jonesing for enchiladas in general lately), and now here we are with Cheesy Bacon Breakfast Enchiladas.
Cheesy Breakfast Enchiladas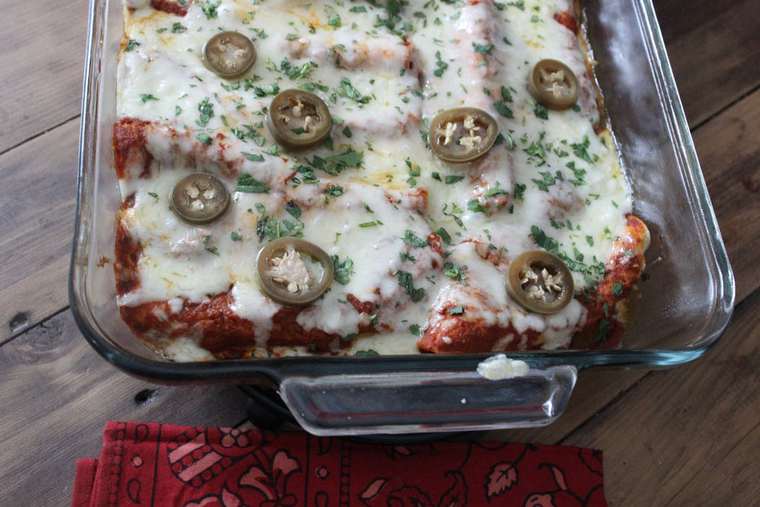 I grew up in Texas, so trust me, I've had probably both of our fair shares of enchiladas over the years; but funnily enough, breakfast enchiladas were new to me. Breakfast tacos – oh let's not go there, I've had too many to count; but breakfast enchiladas…. It struck me as simultaneously familiar and unique, and of course something I was dying to try.
And, they do not disappoint. To put it mildly. These are savory, salty, not too spicy (though if you need more of a wake-up jolt, you could certainly make them spicier!), and of course, insanely delicious. When you take a bite, your taste buds are met with the corn tortilla soaked in tomato-y, familiar enchilada sauce, and all that melty cheese envelops a piece of salty, crispy, bacon. It's soft and crunchy and melty, all in one bite.
You can of course tailor the garnishes to your personal preferences: sour cream, salsa, and guacamole are classics, but I was thinking about this later – what about a fried egg on top of a serving of two enchiladas, to make it even more breakfast-y? For full disclosure, I haven't tried it myself, but I imagine that could be *amazing*.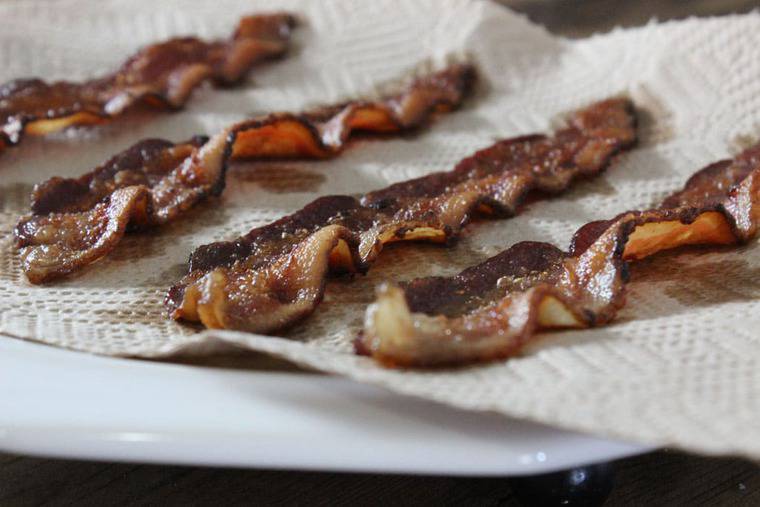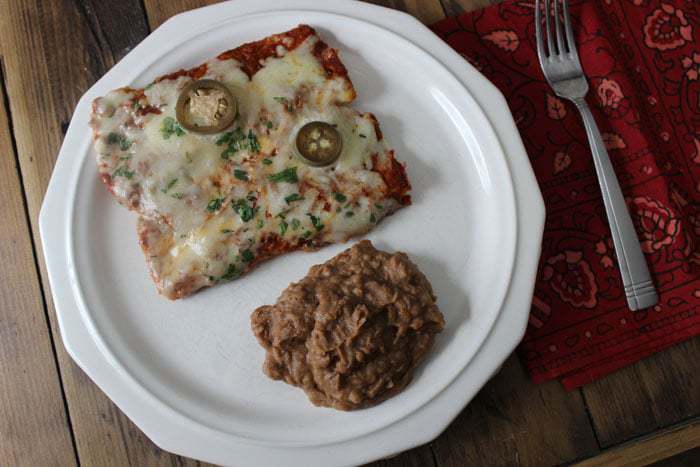 I hope y'all enjoy these breakfast enchiladas (which work nicely for lunch or dinner, too); and thank you so much to Brianne for letting me take over your wonderful blog for a day!

You can save this or any of my recipes and those from many of your favorite brands, blogs and website to your own personal recipe box. After creating your account, simply click 'Save Recipe'below. It will then be saved in your personal recipe box which you can access at any time, and even create meal plans and grocery lists.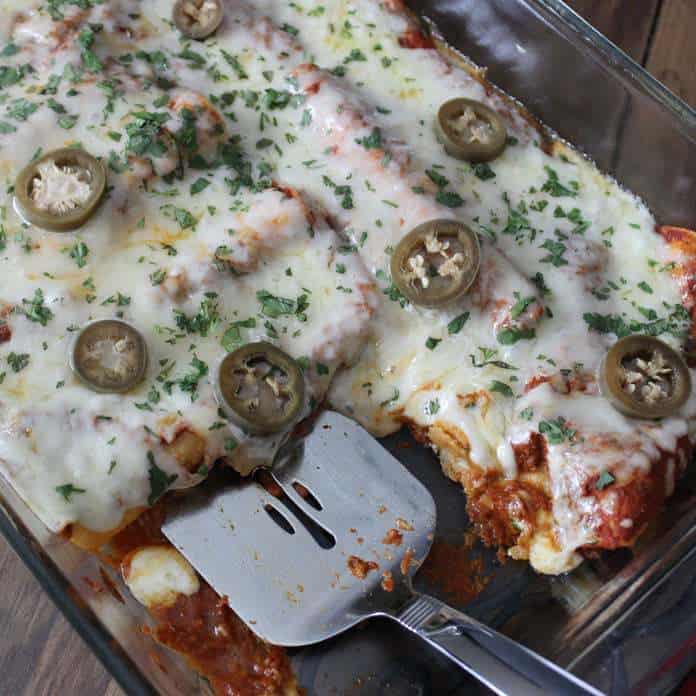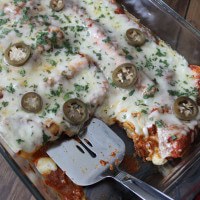 Cheesy Bacon Breakfast Enchiladas (Guest Post from The Texan New Yorker)
These easy Breakfast Enchiladas are a savory, not too spicy and, of course, delicious breakfast or brunch idea filled with cheese and bacon!
Ingredients
For the ENCHILADA SAUCE:
6

dried guajillo chiles

if you can't locate guajillos specifically, you can certainly sub in whatever you do find, just make sure it's of the milder variety, such an ancho, pasilla, or New Mexican chiles. I would not recommend chipotles here, 6 of those would blow your head off

2

tsp

vegetable oil

½

yellow onion

rough chopped

4

cloves

garlic

peeled and rough chopped

1

canned chipotle in adobo

with a dash of adobo sauce

14.5

oz

diced tomatoes

1 can, preferably fire-roasted, drained

2

tsp

ground cumin

½

tsp

dried oregano

preferably Mexican oregano

¼

tsp

ground allspice

Kosher salt and fresh cracked black pepper
For the ENCHILADAS:
12

corn tortillas

1

lb.

Monterey Jack cheese

shredded

12

slices

bacon

thick-cut, cooked until crispy

¼

cup

fresh cilantro

chopped, plus more for serving

12

pickled jalapeno rings

homemade or store-bought

Whatever you choose for garnish: salsa

sour cream, guacamole, chopped raw onion, etc.
Instructions
First make the ENCHILADA SAUCE. You will need to rehydrate the dried chiles. First, tear off the stems, taking care to leave the chile as intact as possible. Poke your finger into the chile (now it's okay to tear them a bit) and loosen the membranes and seeds. Pull out the membranes and shake out the seeds over the sink or the trash. Wear gloves for this if your skin is sensitive. Place the chiles in a medium stockpot and fill with water, enough to cover them. (They will float, so enough water to submerge them when you physically submerge the chiles with tongs; as they soften they start to sink). Set the pot on the stove over high heat, uncovered. When it comes up to a nice, rolling boil, shut off the heat and cover the pot. Let it stand for at least 20 minutes, and up to 30 minutes. When the chiles are completely soft, pick them out of the water with tongs and place them in the blender. Beware when you're lifting the chiles out – they fill with water, so turn them upside-down over the water in the pot and drain them first. If you don't, it can make a huge mess on the way to the blender. Don't ask me how I know this.

Add 1 cup of the rehydrating liquid to the blender.

While the chiles are rehydrating, set a medium to large sauté pan over medium heat. Add 1 tsp vegetable oil and sauté the onion and garlic until softened and translucent. Let them cool for just a minute or two, then add them to the blender with the chiles. Also add to the blender the chipotle in adobo, plus a dash of adobo sauce, the tomatoes, cumin, oregano, allspice, plus salt and pepper to taste. Puree until very smooth.

Wipe out the sauté pan, add the remaining tsp of vegetable oil, then pour the enchilada sauce into it. Cook over medium-low for about 10 minutes. It will thicken slightly and darken a little bit in color. When it's done, turn the heat to low and set aside until needed.

Now you can assemble the enchiladas! Preheat your oven to 350 F and grease a large baking pan (at least a 9×13", larger if you can). Warm the tortillas, either in the microwave or over a gas stove heated to roughly medium-low, and keep them warm in a clean kitchen towel or a tortilla warmer. Transfer about ½ cup of enchilada sauce to the bottom of the baking pan. Spread the sauce out evenly over the bottom of the pan.

On a clean, flat work surface, lay a tortilla out and fill it down the center with about ¼ cup of shredded cheese. Now lay 1 slice of bacon on top (break them in half if need be), then a pinch of cilantro. Carefully roll the tortilla up and place it seam side down in the pan. Repeat with the remaining 11 tortillas, fitting them snugly into the pan. Pour the remaining enchilada sauce on top of the tortillas, then sprinkle evenly with the remaining cheese. Place 1 pickled jalapeno ring on each enchilada.

Bake in the preheated oven for 15 minutes, or until the cheese is bubbling. Sprinkle the remaining cilantro all over and serve with the garnishes. Leftovers reheat in the oven or microwave just fine.
Nutrition Facts
Cheesy Bacon Breakfast Enchiladas (Guest Post from The Texan New Yorker)
Amount Per Serving
Calories 391
Calories from Fat 216
% Daily Value*
Fat 24g37%
Cholesterol 62mg21%
Sodium 968mg40%
Potassium 370mg11%
Carbohydrates 24g8%
Protein 21g42%
Vitamin A 1120IU22%
Vitamin C 9mg11%
Calcium 491mg49%
Iron 2mg11%
* Percent Daily Values are based on a 2000 calorie diet.
Categories: