This post may contain affiliate links. Read my disclosure policy.
If you are heading to the Green Mountain State, I hope you'll head to one of my favorite vacation spots, and if you have celiac disease or a gluten allergy like I do, I also have some extra suggestions and tips for you in this edition of Cupcakes & Kale Chips Gluten Free Travel: Smugglers' Notch, Vermont.
Cupcakes & Kale Chips Gluten Free Travel: Smugglers' Notch, Vermont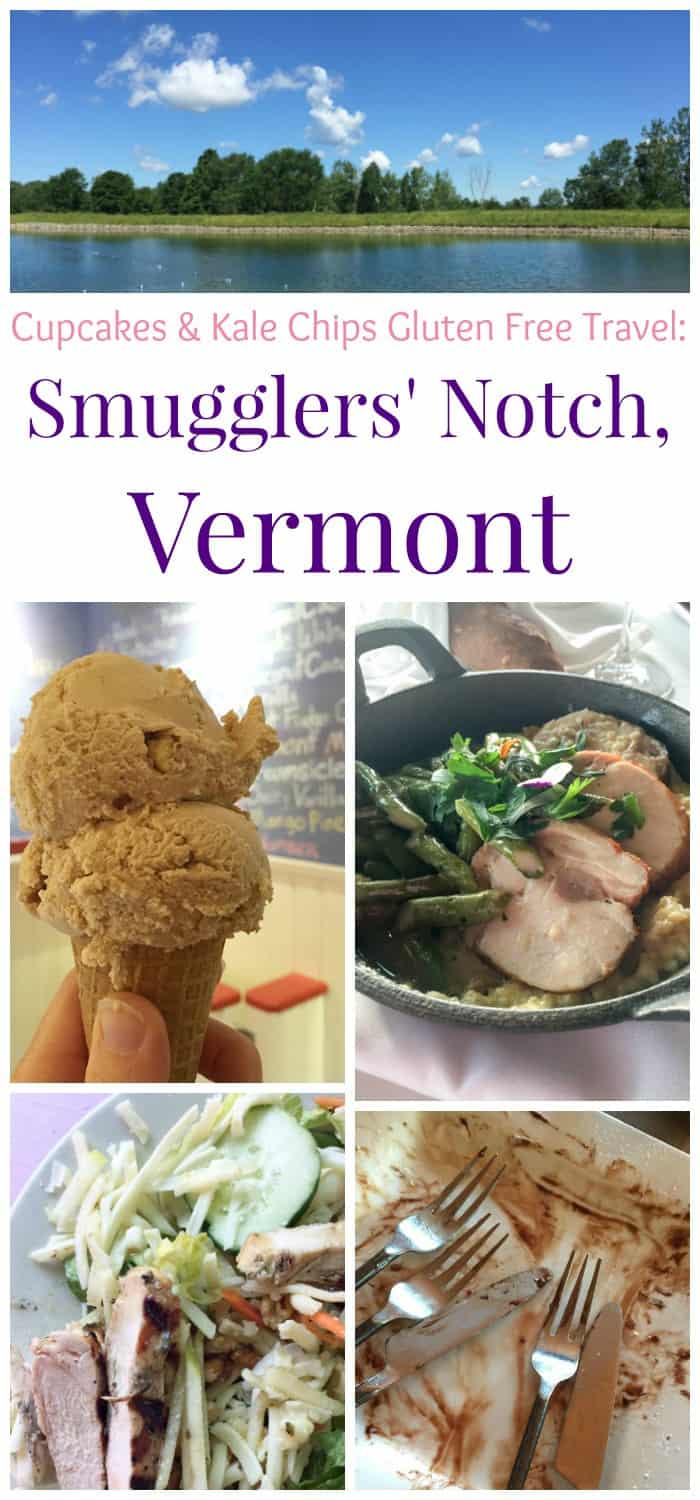 Disclaimer: I was not compensated to write this post. I am simply sharing my favorites and my experiences. If you have celiac disease or a very severe allergy, please speak with the servers and/or managers at these establishments to ensure your safety due to their practices to prevent cross-contamination. I am not a professional and none of this is intended as medical advice. Have a fun and delicious trip, and, as always, all opinions are my own.
My parents have a timeshare at the gorgeous Smugglers' Notch Resort. They have been visiting every other year since 1998, and The Hubby and I have joined them since The Bug was born in 2010. Most people think of Vermont as a ski destination or a gorgeous setting to enjoy the fall foliage, but we love our visits in late June or early July. There's plenty of fun to be had right on the property, with swimming, hiking, canoeing, and more, as well as the good ol' fashioned family fun every evening with events like the Campfire Sing Along, the Vermont Country Fair, and dance parties, karaoke, and bingo galore!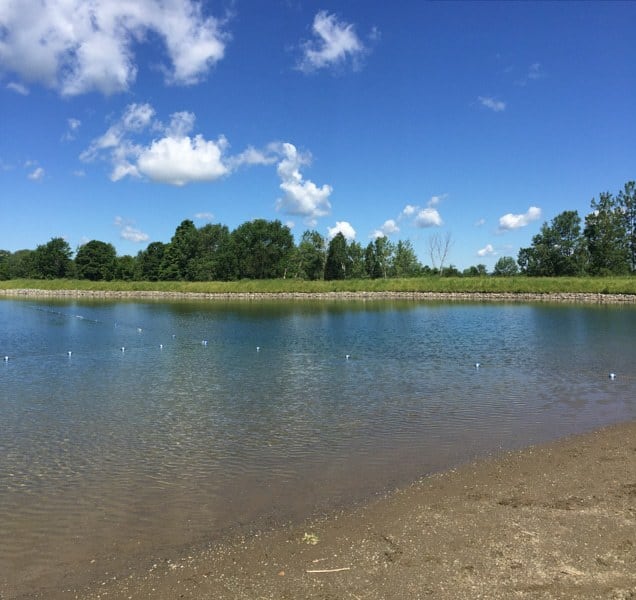 And of course you can venture out into Waterbury, Stowe, Burlington, and beyond to visit the factories where they make everything from Ben & Jerry's Ice Cream and Cabot Cheese to Vermont Teddy Bears. The Hubby and I also enjoyed some biking and mom and sister did their share of shopping.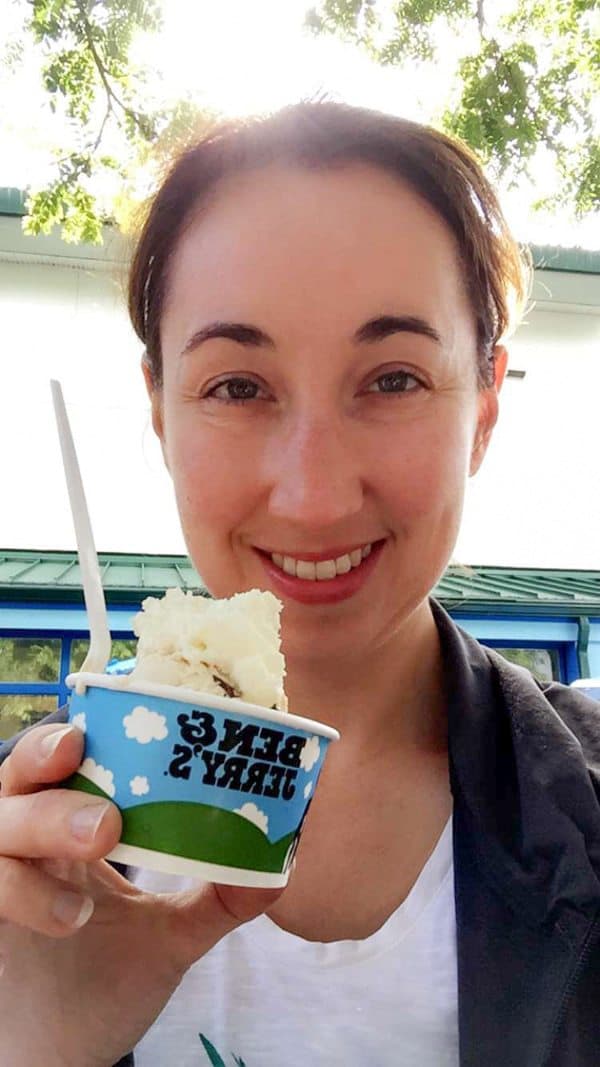 But one thing that is essential to any of our vacations is eating good food. While traveling to Vermont, you might think of visiting microbreweries and slathering a stack of pancakes with pure Vermont maple syrup, neither of which are very gluten-free-friendly. But during my trips there, I've found many eating establishments to have plenty of gluten free options, with menus that are well-labeled and restaurant staffs that are informed and aware.
First of all, if you are staying right at the Smugglers' Notch Resort, you have a condo with a full kitchen for your trip. Pack food from home, or stop at the grocery store, the Cabot Annex, or even the Monday morning farmers market right at the resort, and you can easily make all your favorites as well as enjoy some fresh, local produce and meats.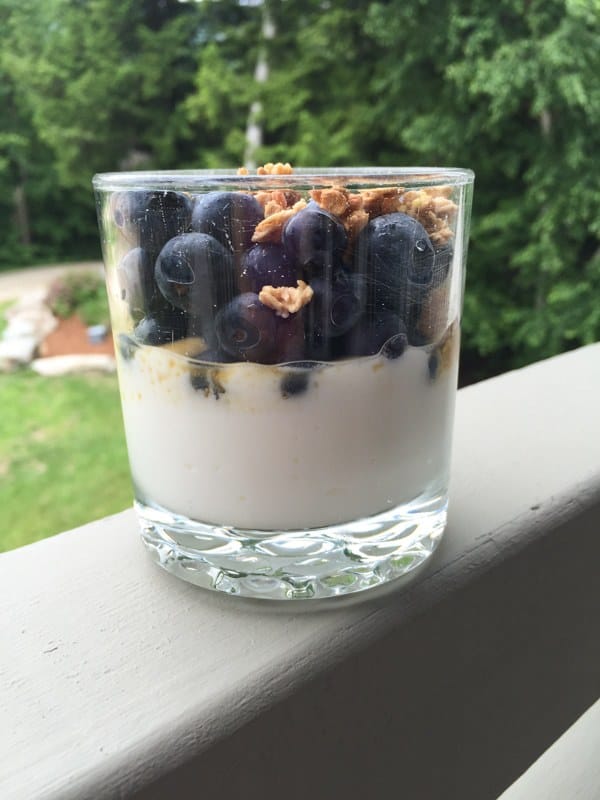 There's even charcoal grills so you can have a barbecue!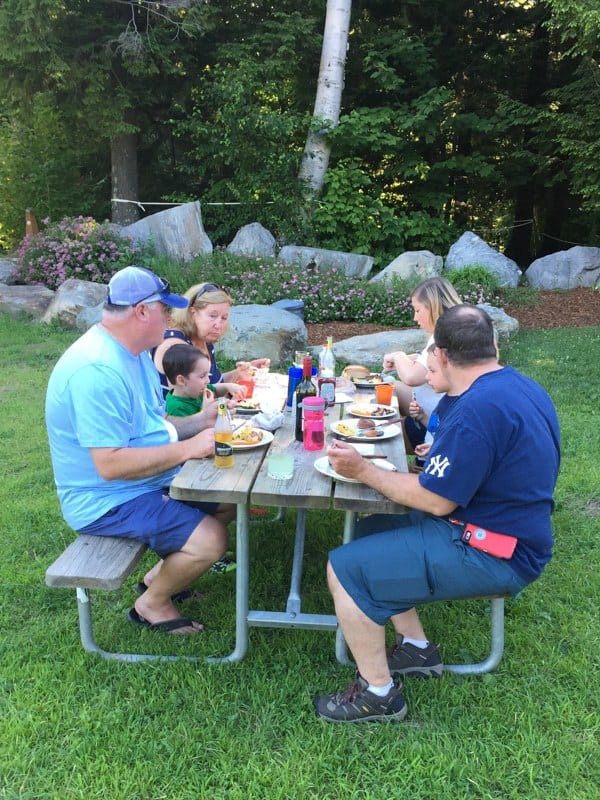 And let's not forget that aforementioned campfire where I always make "gluten free s'mores". Who needs graham crackers?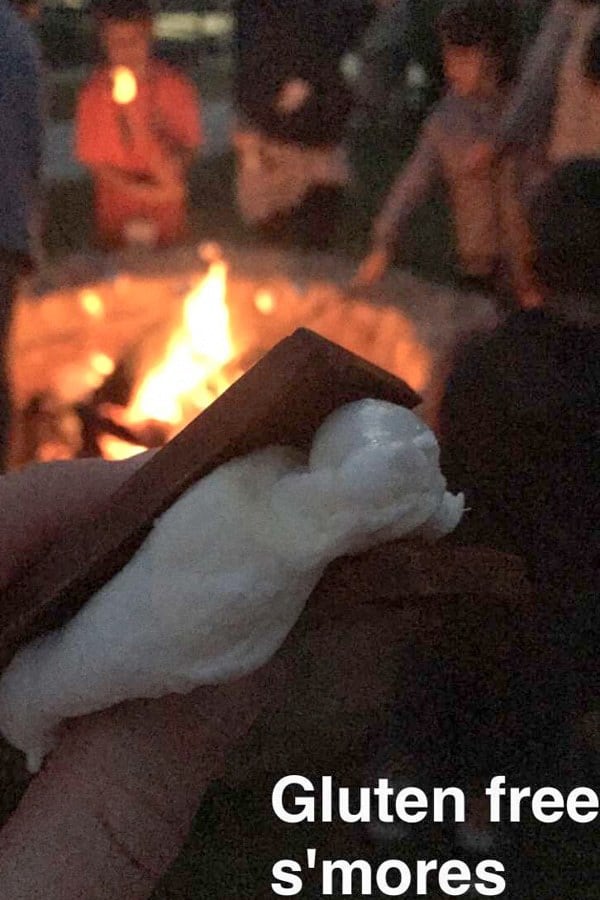 One of our favorite stops, often as we are making our way towards the resort, prior to heading up through the Notch, is the Depot Street Malt Shop. It's just what you'd expect from a malt shop – hot dogs, burgers, milkshakes, and the like. But their soups and salad dressings are made form scratch and gluten free. Since it's usually a hot day when we arrive and we enjoy sitting out on the patio, I tend to skip the soup and get the Vermont Chicken Salad with Maple Dressing, just being sure they skip the croutons. It's always piled high with perfectly grilled chicken and tons of Cabot sharp cheddar cheese.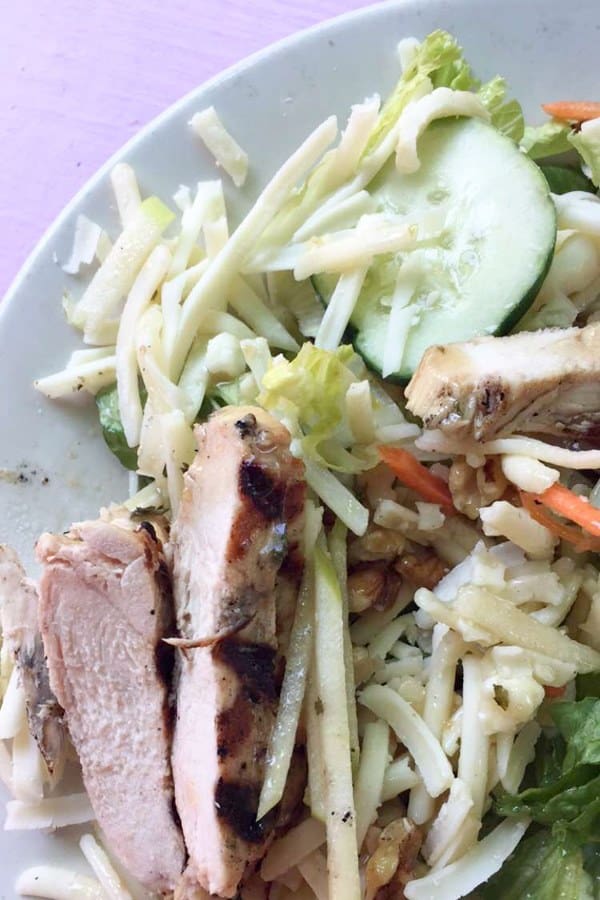 While you are onsite, you can stop by the Morse Mountain Grill where on certain nights you can have dinner with Mogul Mouse or Ron the Friendly Pirate and enjoy salads, steaks, or burgers with gluten free buns available on request. I typically choose the Sycamore Salad with greens, apples, cranberries, glazed walnut, and Cabor cheese, or the Pear and Maple Salad, and add grilled chicken, though the local gras-fed Boyden Farm burger topped with Gorgonzola, caramelized, onions, and smoked applewood bacon does sound incredible. There's also hard cider and wine available, my favorite being the small wine flights. P.S. They have little veggie platters and chips and dip included with the kids meals so that they aren't whining they are hungry as you wait for your meal!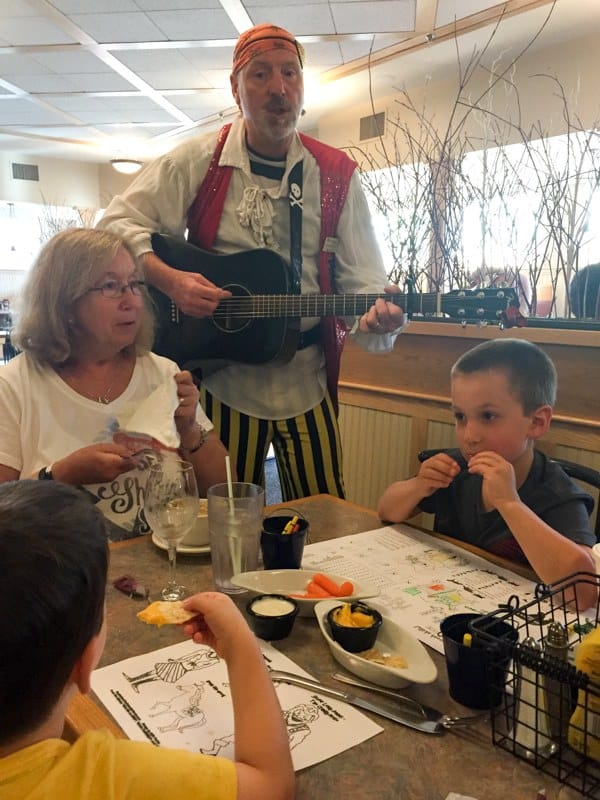 Just up the road in Jeffersonville is a small place called The Family Table. It's not a fancy place inside or out, but we all enjoyed our meals immensely. Most of my family had pasta, but when I asked if the demi glace on the Chicken Marsala was made with flour, the waitress double checked and confirmed it was not, and as she serves it to me, she made sure to note that it was gluten free Chicken Marsala. And it was moist and delicious, with a variety of wild mushrooms all served over rustic mashed potatoes (just how I like them) and fresh, crisp asparagus. The serving size was huge, and I totally took one of the chicken breasts back to our condo to have for lunch another day.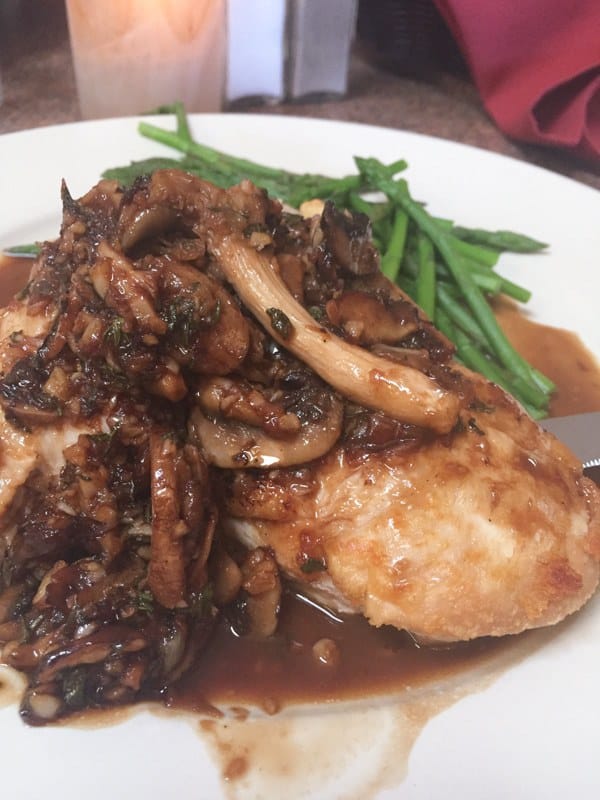 For date night, The Hubby and I headed to Michael's on the Hill, a gorgeous chef-owned farm-to-table spot, aptly named because you dine in an enclosed porch surrounded by windows overlooking the valley and mountain beyond.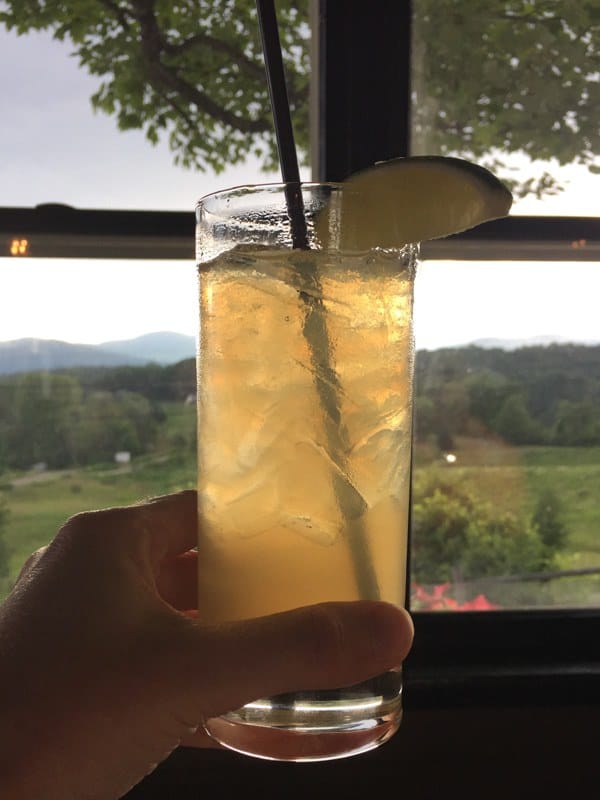 After a Dark and Stormy-style cocktail made with Smugglers' Notch Distillery Rum, The Hubby and I both chose the Summer Corn Soup as out starter. It was velvety and creamy without being heavy, and I confirm that it was thickened strictly with pureed corn. Mine was simple served without the corn fritter. The ramp oil was a brilliant balance to the soup, and even Mr. I Don't Eat Soup raved that it was probably the best soup he has ever had.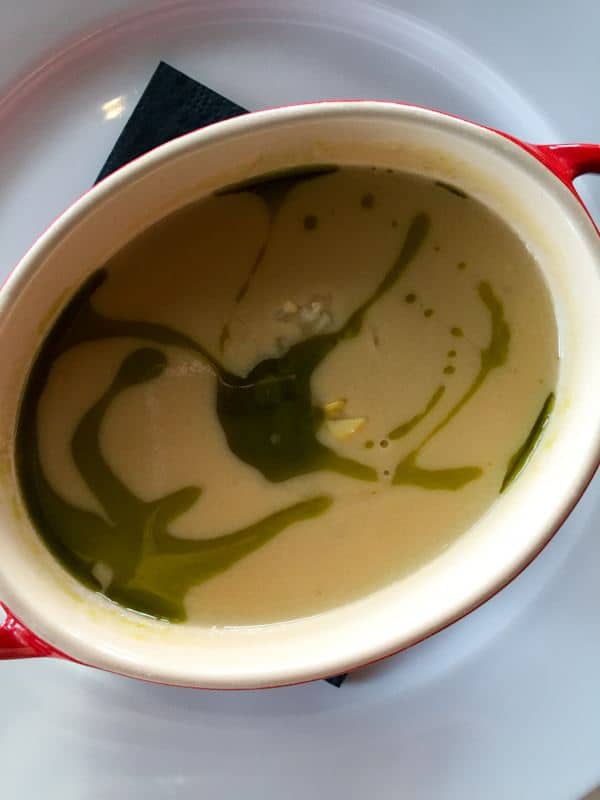 And my entree of Skillet Chicken with Local Peas, Asparagus, Mint, Crème Fraîche and Roasted Corn Polenta was impeccable. Sometimes you think it's too boring to order chicken in a top notch restaurant, but that was not the case here. Perfect seared and cooked through, with that creamy polenta and crisp-tender asparagus topped with fresh herbs took chicken to a refined level. And again, the chef confirmed that it wad gluten free.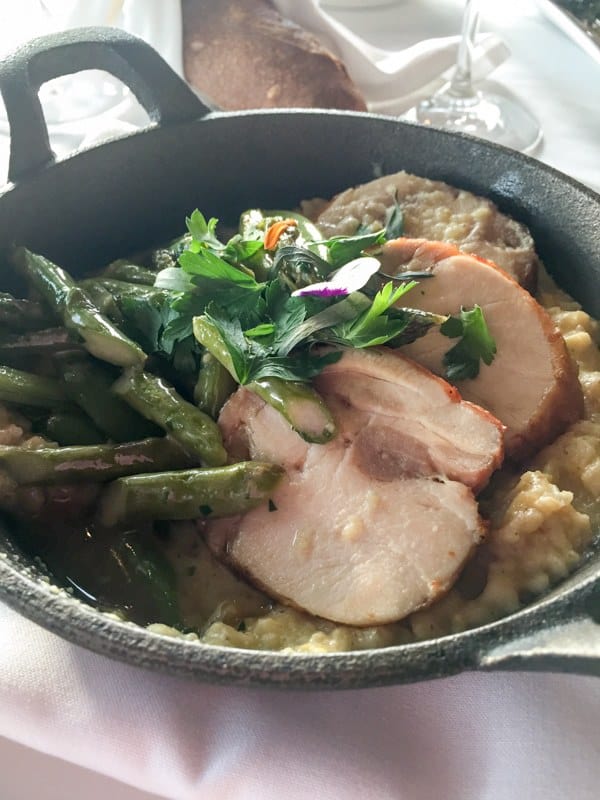 Other than a cheese platter or some sorbet, there wasn't much on the menu for dessert. However, I wanted to let my meal settle for a bit before stopping in Stowe on our way back at one of my favorite ice cream shops, I.C. Scoops. Typically I opt for the maple creamee, which is soft serve ice cream made with real maple syrup, but I was in the mood for hard ice cream this time. This is premium stuff, made with many local and organic ingredients. Maple Walnut was the obvious choice for me this time, and the added bonus – they had gluten free cones, both cake and sugar. The ice cream was pure Vermont perfection, and it was dreamy to be able to savor a cone versus settling for a cup!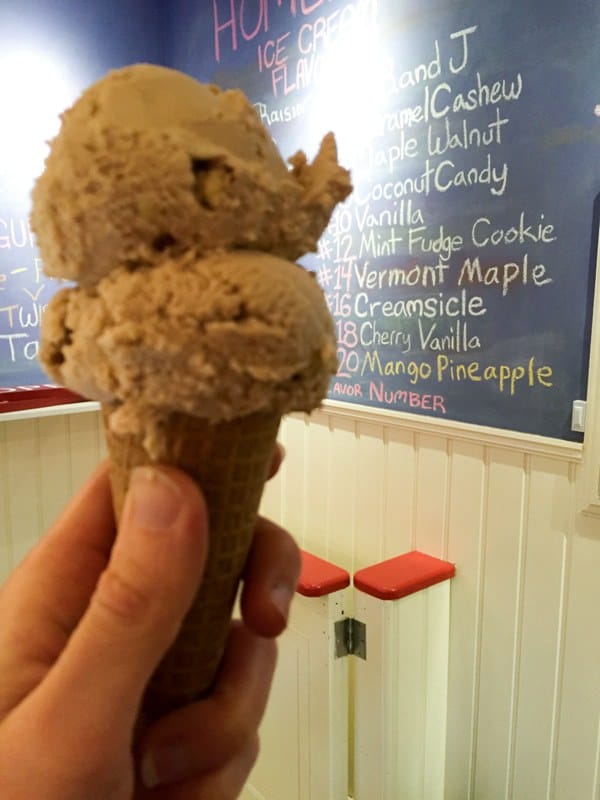 Speaking of ice cream, a stop at the Ben & Jerry's Factory, and usually also the Scoop Shop at Smugglers' Notch is a must! I am not sure that their ice creams are certified gluten free, but as long as I avoid the ones with wheat-containing ingredients, I am fine. On the factory tour they give out free samples, and will have a sign with any potential allergens. If you are allergic to one of the ingredients, they will help you out, because it's not a tour of the Ben & Jerry's Factory without a free sample. Luckily the day we were there it was Triple Caramel Chunk, which was my flavor of choice this trip.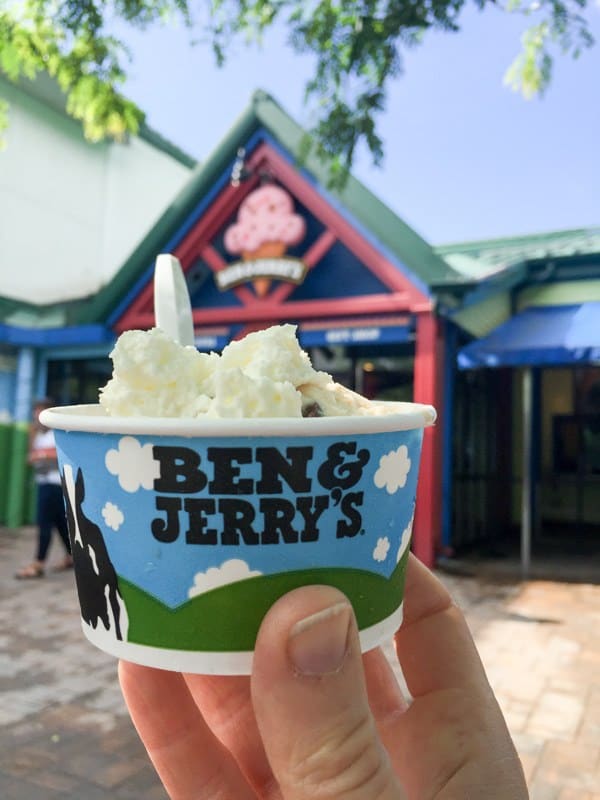 I have a few other favorites, but sadly no pictures. At the gas station up the road in Jeffersonville you can get perfect Maple Creamees out of a window. They don't have gluten free cones, but I'll happily spoon it up out of a cup. Boyden Valley Winery has a tasting room where you can sample their wines. I enjoyed a fabulous sausage, apple, and cheddar omelette for breakfast as McCarthy's in Stowe, and they have gluten free toast and muffins available. I love the gluten free pizza at Piecasso, and they also can make their pasta dishes with gluten free penne. Sadly my family did not enjoy their regular pizzas on this trip, but it's never been an issue before, so maybe the dough just had a bad day. But the topping range from classic like Margherita, ones loaded with meat, all veggies, or super creative ones like artichoke hearts, roasted red peppers, and chevre. Also, Skinny Pancake, with locations in Burlington and Montpelier, is a crepe restaurant that makes tons of sweet and savory crepes, and they have a gluten free buckwheat batter. I'll be honest, my choice of the Localvore's Dream was only okay. The individual components were good, with the chicken, apples, and blue cheese, but the ingredients didn't melt together as I had hoped compared to the one I had the last time with ham, cheddar and apples. But everyone else in the family loved theirs, with selections ranging from the Pure & Simple that just had butter and sugar to the Crepe Monsieur with eggs, ham, and cheese. And I'd say the boys and I enjoyed our dessert crepe loaded with strawberries, bananas, and Nutella.
And this is just the tip of the iceberg. I will continue to update this post every year we return, but I've also enjoyed good gluten free eats in Burlington and elsewhere in the Stowe area on past trips. So if you are heading to one of our favorite vacation spots, you'll have plenty of deliciousness to enjoy, whether you are gluten free or not! And some gorgeous scenery as well!