Cooking Planit & T-fal Cookware Giveaway COMING SOON!
Disclosure: This post may contain affiliate links. Cupcakes & Kale Chips is a participant in the Amazon Services LLC Associates Program, an affiliate advertising program designed to provide a means for us to earn fees by linking to Amazon.com and affiliated sites.
I am so excited to tell you that I am teaming up with T-fal, Cooking Planit, and 50 other bloggers to giveaway 50 sets of T-fal cookware!!

I've already gotten my hands on this 12-piece set of stainless steel cookware, and while I will be giving you a full review in the coming weeks, right now let me just tell you that you definitely want a set of your own.  I'll also be telling you some more about Cooking Planit, "a simple technology solution that helps them prepare delicious meals on time."  Basically through the website or mobile app, you can download recipes and create menus, and Cooking Planit guides you through putting together a shopping list, gathering all your utensils and equipment, and preparing the meal so that you can get a delicious meal on the table in a timely way.
But don't wait for my review – head on over to sign up for a free account to start scoping out the recipes and menus.  You'll have to do that to enter the giveaway, so you might as well get a jump on it now, and get some dinner ideas while you are there.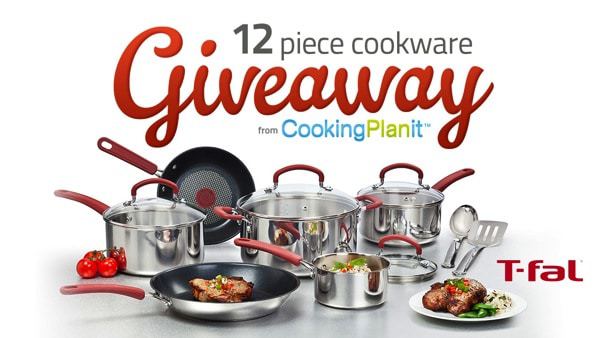 My giveaway starts on August 25th, so make sure you come back that day to enter, and then through the rest of the week to get all the lowdown on my thoughts on Cooking Planit and this set of cookware.  And if you want 49 more chances to win, make sure you visit the blogs below.  While some of them are new to me (and I can't wait to check them out), many of them are my awesome foodie friends, so I am sure you will find some delicious new blogs you'll love.
Contest is open to US citizens only. Limit one-winner per household/per family from the 50 blogs participating in the promotion.  If an individual is the winner of more than one giveaway, they will receive only one set of cookware and an alternate winner will be chosen for the other set(s).