This post may contain affiliate links. Read my disclosure policy.
So I had the coolest idea for The Bug's birthday party. As you probably saw, we did a baseball party. And, really, it was a Yankees party.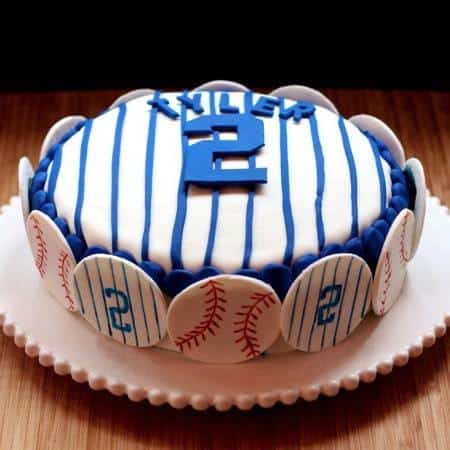 The Hubby and I watch the Yankees all the time, but he will put on other games sometimes, if there is no Yankees game on. I don't. I always tell him that I am not a baseball fan, I am a Yankees fan. Have been my whole life, just like my mom and my grandpa. In fact, when my aunt saw this picture on Facebook…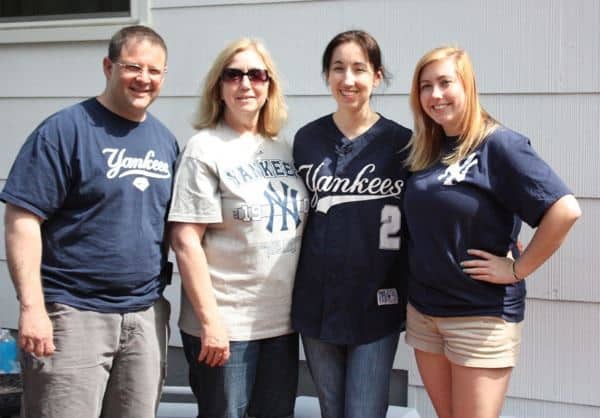 …she asked if we knew of any other teams. My response, "You mean, there other teams?" She said, "How about the Red Sox?" (my late uncle's favorite team). And I said, "They are not another team. They are the enemy!" So, you see, my blood runs Yankees pinstripe blue. Like the stripes in this cake.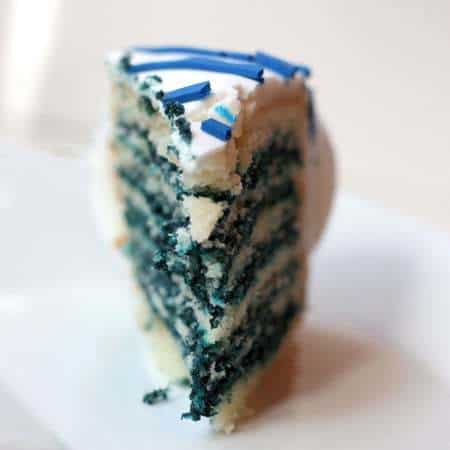 Well, I wanted to make a pinstriped cake. We all know the classic red velvet. I've also seen blue velvet cakes, and I thought I would make one of those. But then I thought it wouldn't really look pinstriped, since the blue cake layers would be thick, with the thin layers of white buttercream between them. So I decided to do what I am calling a "Reverse Blue Velvet" cake – a white buttermilk cake with cocoa buttermilk frosting, dyed a lovely shade of blue.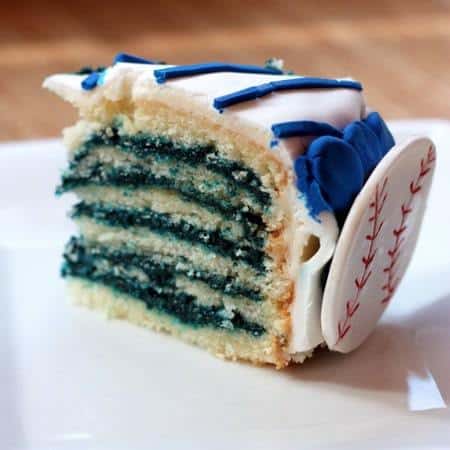 Like I mentioned yesterday, I stuck with my flourless cupcakes, so I can't personally vouch for the taste, but this cake got rave reviews. And the cool thing is that you can leave the frosting with with lovely chocolaty color, or add any colors you like. And, with a little luck, when you slice into it, you'll get this…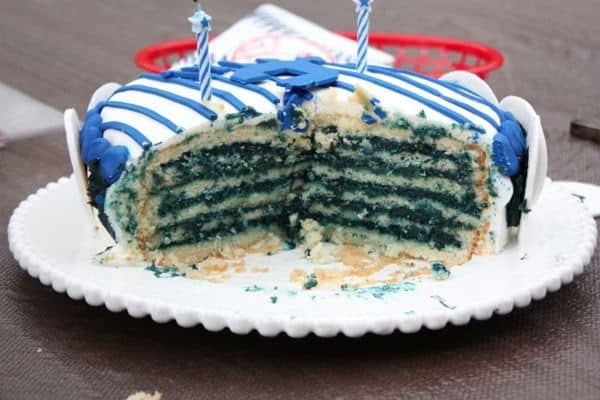 And not only did everyone else love the cake, but it was totally Bug Approved, whose approval was the most important, since it was his birthday. Though he has never turned down cake.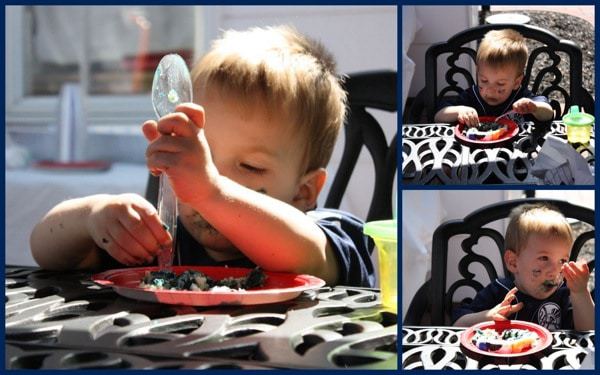 What is your favorite birthday cake? Personally, I like ice cream cake.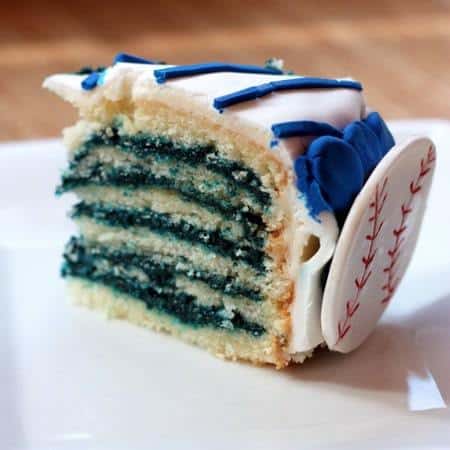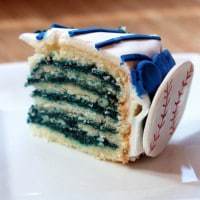 Yankees Pinstripe Cake (a.k.a. Reverse Blue Velvet Cake)
Ingredients
One White on White Buttermilk Cake

see link below

Chocolate Buttermilk Frosting

see link below

Gel food coloring in blue

or desired color, optional

Basic Buttercream

see link below, optional

Fondant

sprinkles, or whatever other decorations you want to use.
Instructions
Bake the cake according to the recipe, in three layers, as instructed.

While cake is cooling, make the Chocolate Buttermilk Frosting, adding food coloring, as desired, and Basic Buttercream.

Slice each of the three cake layers in half.

Place one layer on a cake plate or stand, and spread 1/2 c of the Chocolate Buttermilk Frosting on top of the cake. Repeat with each of the additional layers.

Frost the outside of the cake with Basic Buttercream or the remaining Chocolate Buttermilk Frosting.

Decorate cake as desired. I vovered with white fondant, then decorated with fondant pinstripes, letters, and baseballs.
The cake is White on White Buttermilk Cake from The Pastry Queen by Rebecca Rather, which I found on Bakespace.
The frosting is Chocolate Buttermilk Frosting from Evil Shenanigans and Martha Stewart's Basic Buttercream.
Enjoy!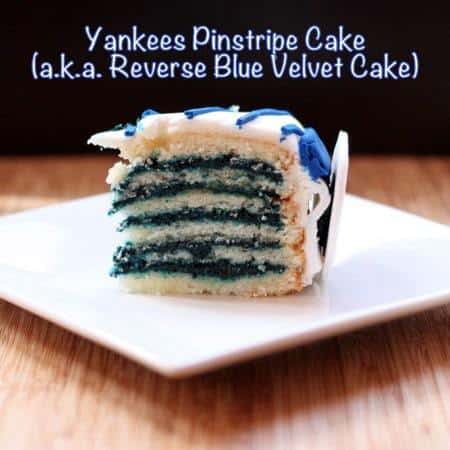 This recipe was shared with:


Recipes for My Boys' Thursday's Treasures