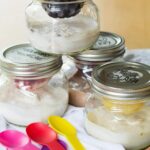 Print
4-Ingredient Fruit Yogurt Snack Hack {four ways}
For a wholesome idea to pack for breakfast, lunch, or any time in between, this is the perfect portable way to pack your favorite yogurt parfait to go. With a little mason jar trick using Dole Fruit Bowls and Frozen Fruit, here are four different fruit and yogurt snacks, each with only four ingredients.
Maple Cinnamon Blueberry
1/2

cup

plain Greek yogurt

1-2

teaspoons

maple syrup

or to taste

1/4

teaspoon

cinnamon

1/2

cup

Dole Frozen Blueberries
Pina Colada
1/2

cup

plain Greek yogurt

1-2

teaspoons

coconut or brown sugar

or to taste

1

Tablespoon

coconut cream or scoop 1 Tablespoon of the thick

nearly solid cream portion from a can of chilled full fat coconut milk

1/2

cup

Dole Frozen Pineapple Chunks
For each of the flavors, in a bowl or jar (wide mouth pint-sized jar), stir together the yogurt, sweetener (honey, maple syrup, coconut sugar, etc.), and the third flavoring ingredient.

If serving immediately, all the fruit to thaw slightly and use it to top the yogurt.

If storing in jars, place the fruit in reserved empty plastic bowls from Dole Fruit Bowls and slide onto the top of the jar. Screw on the top and keep in the refrigerator until ready to serve.