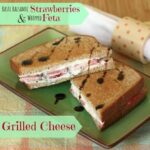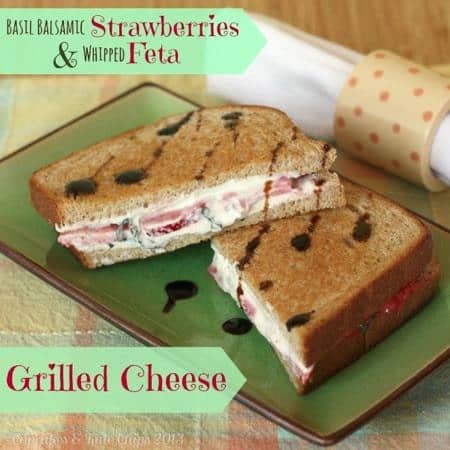 Print
Basil Balsamic Strawberries & Whipped Feta Grilled Cheese for #SundaySupper
Creamy & crispy, sweet & salty, tangy & tart, simple & sophisticated - this Basil Balsamic Strawberries & Whipped Feta Grilled Cheese has it all.
For the Grilled Cheese:
1

c

sliced strawberries

1

T

balsamic vinegar

2

T

basil cut into a chiffonade

fine ribbons

8

slices

of your bread of choice

I used whole wheat and Rudi's Gluten-Free Sandwich Breads

Whipped Feta

olive oil in a spray bottle

Aged balsamic vinegar

or regular balsamic vinegar that has been reduced to a syrup (optional, but soooo delicious)
For the Whipped Feta:
Crumble the feta into a food processor, then pulse until crumbly.

Add the cream cheese and Greek yogurt, and process for several minutes, until smooth and creamy.

Place in the refrigerator to firm up slightly before making the grilled cheese.
For the Grilled Cheese:
Combine the strawberries, balsamic vinegar, basil, and pepper in a small bowl, and allow to sit for at least 15 minutes.

Spread 2-3 T of the whipped feta on each of the eight slices of bread.

Divide the strawberry mixture between four of the slices of bread, and top each one with one of the slices that just has cheese.

Heat a large pan over high heat, and coat with the olive oil spray.

Place the sandwiches in the pan, spray the tops with olive oil, cover, and reduce heat to medium. Cook for 2-3 minutes, or until bread is golden brown.

Uncover, flip sandwiches, and cook for an additional 2-3 minutes, until second side is golden brown and cheese is melted.

Drizzle with aged balsamic, or balsamic reduction, if desired (Do this! Trust me!)

Let sit for a minute or two before cutting.