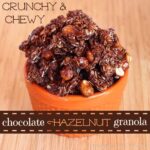 Print
Crunchy & Chewy Chocolate Hazelnut Granola for #SundaySupper
Granola that tastes like Nutella brownies, only with crunchy bits and chewy chunks!
One 13 oz. jar

about 1 1/4 c chocolate hazelnut spread (like Nutella)

1/2

c

honey

can probably use agave or maple syrup, as well

1/2

t

salt

3

c

old fashioned oats

gluten free, if necessary

One 6 oz. bag

about 1-1 1/4 c hazelnuts, skins removed, if not already (see Note), and coarsely chopped
Preheat oven to 350°F and line a sheet pan with parchment or a Silpat.

In a large bowl, whisk together the chocolate hazelnut spread, honey, and salt.

Add oats and hazelnuts, and stir until completely coated.

Spread in a single layer on the sheet pan, spreading out as much as possible.

Bake for 30-45 minutes, stirring every 10-15 minutes. The longer you bake it, the crunchier it will be, but it will still be liquidy when you take it out of the oven.

Allow to cool completely on the sheet pan. It will harden as it cools. Break up or chop into pieces.

Store the granola in an airtight container or a plastic storage bag. If you put it in a container, it will likely stick together, so storing it in a bag is easier if you want to break it apart into smaller pieces.
I like this method for removing the hazelnut skins by boiling them in baking soda and water, instead of the alternative method of roasting them in the oven, since they are going to be roasted when the granola bakes.