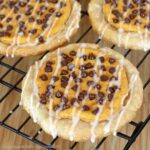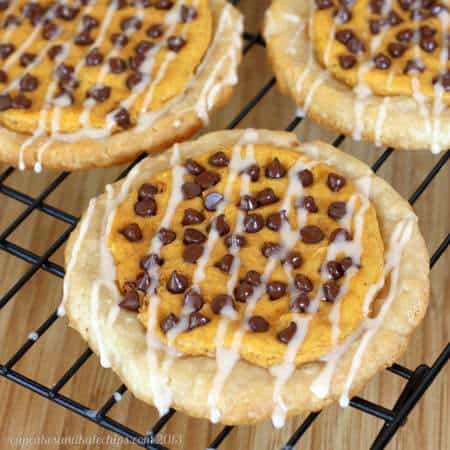 Print
Chocolate Chip Pumpkin Cheesecake Pastries
Flaky pastries (made with gluten free dough, if you like), with pumpkin cheesecake filling, mini chocolate chips, and powdered sugar drizzle.
For the pastries:
Half of a container of Pillsbury Gluten Free Pie and Pastry Dough

or your favorite homemade or store-bought pie dough for a single crust

4

oz.

cream cheese

softened (can use light)

2

T

sugar

1/4

c

pumpkin puree

1/2

t

pumpkin pie spice

2

T

mini chocolate chips
For the Powdered Sugar Drizzle:
Preheat oven to 425°F, and line a baking sheet with a Silpat or parchment paper.

Separate the pie or pastry dough into four equal pieces, and, on the prepared baking sheet, flatten into four circles, about 4-5 in. in diameter, about 1/4 in. thick, forming a small lip around the edge.

In a small bowl, blend together the cream cheese, sugar, pumpkin, and pumpkin pie spice until smooth and creamy.

Divide the cream cheese mixture between the four pastries, and spread to about 1/2 in. of the edges.

Sprinkle 1/2 T mini chocolate chips on each of the pastries.

Bake for 14-17 minutes, or until crust is lightly brown.

Remove to a wire cooling rack to cool.

Meanwhile, stir together the ingredients for the Powdered Sugar Drizzle, and drizzle over the pastries.

Store in the refrigerator.