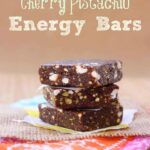 Print
Five-Ingredient Double Chocolate Cherry Pistachio Energy Bars {copycat Lara Bars}
Chewy chocolaty-cherry energy bars dotted with bits of pistachio and white chocolate, for when you need a portable snack or even a healthy treat.
Toast pistachios in a small pan over medium heat until lightly browned and they give off a nutty aroma. Set aside to cool.

Line a 8x8 or 9x9 square pan with wax or paper.

Place dates, cherries, cocoa powder and salt in a food processor, and process until the mixture forms a large mass.

Break up slightly with a spatula, add pistachios to the mixture in the food processor, and pulse until there are small chunks of pistachio.

Break up the mixture one more time, add white chocolate chips and pulse a few times to slightly break and distribute the chips.

Press the mixture into the prepared pan. You can cover the top with more paper and press an equal sized pan to roll the top with a glass to flatten completely.

Refrigerate for 30-45 minutes, then slice into bars or squares.