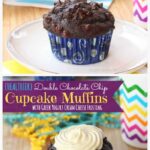 Print
{Healthier} Double Chocolate Chip Muffins with Greek Yogurt Cream Cheese Frosting
Rich and chocolaty for breakfast or snack, but made with healthier ingredients. Add Greek Yogurt Cream Cheese Frosting for a special treat.
For the Greek yogurt cream cheese frosting (optional):
For the muffins:
Preheat oven to 400°F.

Line 22-24 muffin cups with cupcake liners, or spray with nonstick cooking spray.

Sift the flour, cocoa powder, baking soda, and salt together into a large bowl. Whisk in the brown sugar.

In another bowl, add the milk, Greek yogurt, oil, eggs, and vanilla, and whisk until thoroughly combined.

Add the wet ingredients and 1/2 cup chocolate chips to the dry ingredients, and gently fold until just combined. Do not overmix.

Divide the batter between the muffin cups, about 3/4 full.

Sprinkle remaining chocolate chips over the muffin batter in the pans.

Bake at 400 degrees for 16-20 minutes or until a toothpick comes out clean.

Cool pan on a wire rack for several minutes, then remove the muffins from the pans to the rack to cool completely.

If desired, while cooling, prepare the Greek yogurt cream cheese frosting, and, when completely cool, frost the muffins.
For the Greek yogurt cream cheese frosting: