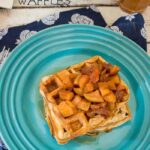 Print
Apple Cider Waffles
A subtle apple flavor enhanced with the sautéed chopped apples on top, a hearty breakfast that the family will love to wake up to.
In a medium bowl combine the flour, sugar, baking powder, cinnamon, nutmeg, salt and clove.

In a small bowl combine the milk, eggs and melted butter.

Make a well in the dry ingredients and pour in the milk mixture and apple cider. Mix until all the dry ingredients are incorporated, it's fine if the batter is lumpy.

Heat your waffle iron according to it's instructions, grease and cook the waffles accordingly. Keep warm on a baking sheet in a 250°F oven.

If making ahead of time, let the waffles cool and store in an airtight container in your refrigerator. Reheat in your toaster oven until toasty.

Make the apple topping right before serving the waffles.

In a medium saucepan over medium heat combine the chopped apples, apple cider, sugar, cinnamon, nutmeg, salt and butter.

Cook until the the apples have softened and formed a syrup in the pan. About 10-15 minutes.

Serve the apples on top of your waffles with maple syrup if you choose.