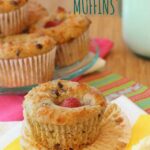 Print
{Healthier} Raspberry Chocolate Chip Muffins
With whole wheat flour, honey, & Greek yogurt, and full of raspberries and few mini chips, these are a tasty and healthy breakfast.
2

cups

whole wheat pastry flour

2

tsps

baking powder

1

tsp

baking soda

1/2

tsp

salt

1

cup

plain Greek yogurt

1/2

cup

honey

1/2

tsp

orange zest

1

large egg plus 1 large egg white

1

tsp

vanilla extract

one half pint Driscoll's Raspberries

14-16 set aside and the remainder partially frozen

1/4

cup

mini chocolate chips
Preheat oven to 350°F. Line 14-16 cups in muffin tins with paper liners.

Soft together flour, baking powder, baking soda, and salt in a medium bowl.

Whisk together yogurt, honey, orange zest, egg, egg white and vanilla in a large bowl until combined.

Stir flour mixture into yogurt mixture until barely combined. Fold in frozen raspberries and chocolate chips until evenly mixed. Batter will be thick, do not over stir.

Fill each muffin cup about three-fourths full. Do not overfill.

Top each muffin with one of the reserved raspberries, gently pressing into each muffin top.

Bake 10 minutes. Rotate pan and continue to bake about 12-15 minutes longer or until muffins are golden brown and toothpick inserted in center comes out clean. Cool in pan 3 minutes. Serve warm or remove to wire rack to cool completely.