This post may contain affiliate links. Read my disclosure policy.
OK OK OK, I know I said it was Cookie Week on Cupcakes & Kale Chips, but I just am not ahead of the game and I am tired, so I am not ready to get a new cookie recipe to you. I am sure you can hold yourself over with the Almond Joy Macaroons (and all the other great #SundaySupper cookie recipes linked in that post), Sugar Cookie Bars, and Coco-Doodles. But at the bottom of the post I will show you and give you a link to a great healthy "everyday" cookie that The Bug Loves (well, maybe not EVERYDAY, but OK to have more often than the holiday sugar-bombs!).
************************************************************************************
The Bug started pre-school this year, so I am packing lunches for the first time. I actually packed my lunch for most of junior high and high school, as well as for work, since I was never a fan of cafeteria food. Well, except in college. And no, I am not showing you the photos of the consequences of that. But, this is the first time I am packing lunch for my own child. I like to try to keep giving him the same variety as I would give him at home, when most days I repurpose leftovers into something different. The one challenge I have is that the pre-school he goes to is actually housed in a Jewish Temple, so one of the mandates is that all meals consumed on the premises adhere to Kosher rules (laws? Sorry if my terminology is bad. I am not Jewish.). Since kosher meals cannot have meat or dairy together, for simplicity, rather than worrying about if one kid's meal conflicts with another kid's, the rule is that all meals must be meatless. This is a challenge since we are decidedly NOT vegetarian. But I am totally in favor of some meals being vegetarian, so I actually love this. Luckily, we do not have to be nut-free, though I do try to minimize sending in nut-based items, simply for safety. So this has led to me getting quite creative.
Since packing lunches is something that many of us parents have to do, I thought I would start sharing with you what I pack for The Bug. I'll give you links and recipes when they are available, and let you know what went over well, and what he was not a fan of. I'd love for you to share ideas, photos, and links in the comments, on Facebook, or Twitter every Wednesday. I think we could all help each other give our kids a variety of nutritious lunches! I know I am always looking for new items to pack. Plus, it is fun to be a little bit of a voyeur, right?! I will tell you, the photos aren't up to the same quality as my recipe photos – I just take a quick shot with my iPhone while I am assembling lunch.
So here goes:
Wednesday 12/5
What I Sent: Broccoli & cheese "pizzas" made on leftover polenta, hard boiled egg, pineapple.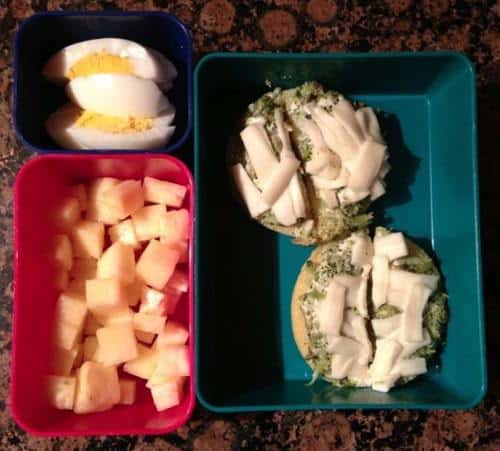 What Came Home: About half of one of the pizzas.
Friday 12/7
What I Sent: Chickpea Sliders (a slight modification of these from How Sweet It Is) with barbecue sauce, broccoli, pineapple, Chocolate Graham Crackers (see more about these below).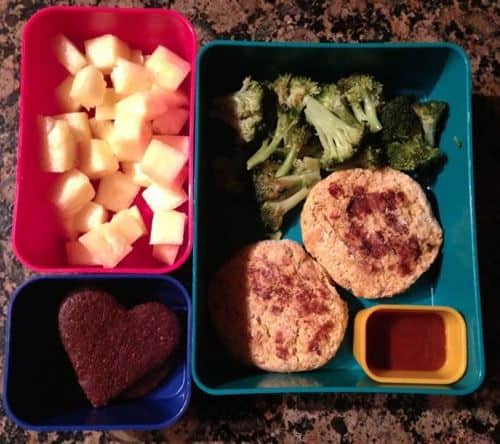 What Came Home: A little of the broccoli
Monday 12/10
What I Sent: Bean & cheese taquitos, Wholly Guacamole, mashed squash, banana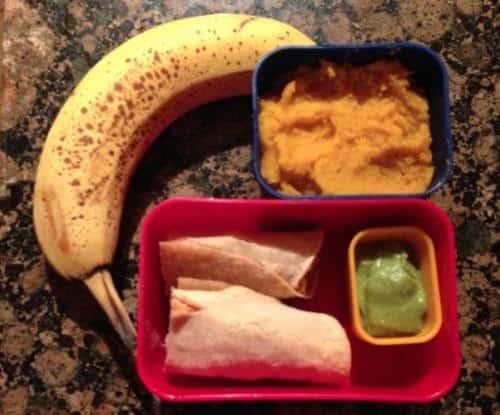 What Came Home: About half of the squash
So, about those cookies. While I don't put sweets (other than fruit) in The Bug's lunch everyday, I do like to give him the occasional treat. That being said, I prefer that it still be something that is reasonably healthy – whole grains, not super sweet. I mean, I do have to attempt to get him down for a nap when he gets home. I don't need him hopped up on sugar. Well, I found these Chocolate Graham Crackers over on Weelicious, one of the first blogs I ever started reading. The chocolate flavor comes from just a bit of cocoa powder, and Catherine's recipe has whole wheat flour, and only a 1/2 cup brown sugar and 1/4 c honey in the entire recipe, which makes a TON of cookies. And really I only give The Bug one or two at a time. He loves them, and also helped make them and we used them to make our big announcement…

 Share your ideas, recipes, links photos here, or on Facebook, or Twitter. I know lots of mamas (and dads, too) who would love some lunchbox inspiration!! In honor of Cookie Week, if you have any other healthy cookies, I'd love to see those.