This post may contain affiliate links. Read my disclosure policy.
Hi friends! I am very busy chilling poolside with a cocktail or lounging on the sand or frolicking in the waves in Virginia Beach. OK, truthfully I am probably carrying The Bug around the pool trying to teach him to swim, chasing him on the sand, trying to keep him from crying from the waves, or bathing him after he decides to use sand as shampoo for a "shower" on the beach. Oh, the joy of family vacations. But seriously, I am enjoying a little fun in the sun with the family, and taking a little blogging break. Though I am sure I will keep you updated via Facebook, Twitter, and Instagram on my inevitable excessive consumption of ice cream.
While I am away, I have some wonderful foodie friends keeping my kitchen cranking out some delicious eats & treats. Today is the amazing Ann from Sumptuous Spoonfuls. Ann (and her son) have inspired several of my recipes. And she and I both share a love of salads and ice cream. Her food always sounds amazing, with fresh, flavorful ingredients, and she always photographs them beautifully! I have and continue to learn a lot from her. And since we both love ice cream, I am so happy she chose to share a sorbet. It sounds divine, and truly reflective of her style. I hope you will check out her blog for many more great recipes, and stop by to say Hi on Facebook.
Enjoy! And thanks again, Ann!
***********************************************************
Hello everyone! I'm Ann from Sumptuous Spoonfuls and I'm so pleased that Brianne asked me to guest post here today. I adore Brianne — I love her creativity in the kitchen and especially the gorgeous salads she makes. We are definitely on the same salad train—she and I both love to add cheese, fruit and nuts to our salads. Seriously, if you compare Brianne's salad recipes to mine, you will think we are salad twins!
Anyway, a little about me: I am an engineer, mother of two teenagers and lifelong foodie. My parents are both big gardeners that grew up on farms … plus my mom's a retired dietician, so I learned a lot about food when I was growing up. I am constantly on the search for good taste combinations, but then I health-ify them. I refuse to sacrifice taste, but I want to eat healthy. I love to cook and sometimes wake up in the middle of the night with a new taste combination I just can't get out of my head.
I want to share one of my favorite cool and healthy summertime treats with you today. Watermelon is a huge favorite for us in the summertime; both my daughter and I love them, but sometimes we get overwhelmed with a big watermelon and can't finish it all off. This is a great way to use up some of that excess watermelon (especially if some of it isn't quite superb for eating) and cool off on a hot summer day. You can keep it kid-friendly by using rosewater or give it an adult twist with vodka (or tequila!). (You can also definitely make it without the roses … it's just a little more fun with flowers.) The taste of basil with watermelon is just amazing. If you've never tried the two tastes together, you are in for a real treat.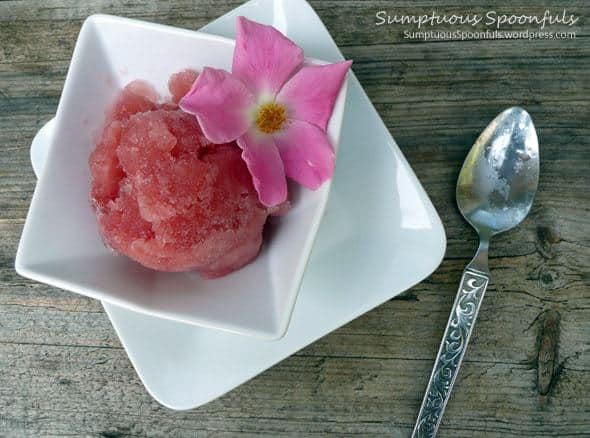 Thanks again to Brianne for letting me "tend the kitchen" here today!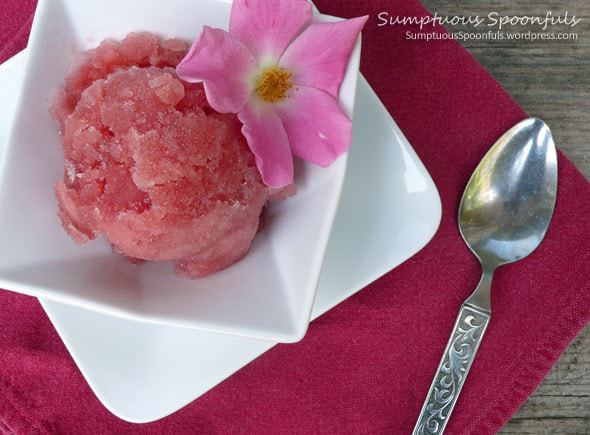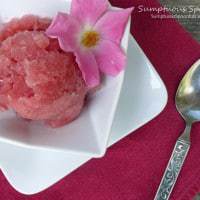 Watermelon Basil Rose Sorbet
Using alcohol will help keep the sorbet from freezing too hard, but if you want the rose flavor without alcohol, use rosewater instead of rose vodka. You can use store-bought rosewater or rose vodka, or if you have an organic rosebush, it's easy to make—
recipe for both rose vodka and rosewater is here
.
Ingredients
6

cups

cubed

seedless watermelon

1/2

cup

sugar

it's ok to substitute stevia or other sweetener if you wish … I've used half sugar/half stevia with good results

1/2

cup

water

A handful of fresh basil leaves

1/2

cup

rose vodka or culinary rosewater
Instructions
Put the watermelon in the blender and blend till the watermelon turns into juice. Strain through a strainer to catch any stray seeds and remove the excess pulp. Put it in the fridge in a covered container so it stays cool while you're making the syrup.

In a small saucepan, boil the sugar and the water until the sugar dissolves. Add the basil and remove from heat, allowing the basil to steep in the syrup for 5 - 15 minutes (or longer ... it doesn't much care if you get distracted with other things and forget to tend to it). Strain the syrup to remove the basil leaves. Let the syrup cool off in the fridge for a while.

Once the syrup is cool, combine the watermelon juice, the syrup and vodka or rosewater, and then freeze in an ice cream maker until it's frozen. (I have a Cuisinart ice cream maker and I just love it!)

Enjoy immediately (it will be a little soft) or put your sorbet in a container and freeze it for later. If you make this with the rosewater, you're going to want to eat it within a couple hours after you make it because it will get too hard in the freezer (or let it soften 10 – 15 minutes at room temperature before you eat it).