This post may contain affiliate links. Read my disclosure policy.
A simple, healthy, and protein-packed combination of sweet and savory flavors, juicy bursts, and toasty nutty crunchy goodness make an easy and tasty addition to your brunch menu, or a cool make-ahead lunch or dinner. Add a new twist to a classic by making Waldorf Quinoa Chicken Salad.
Waldorf Quinoa Chicken Salad
Welcome to the third annual #BrunchWeek hosted by Terri from Love and Confections and Shaina from Take A Bite Out Of Boca. We are so excited to have you join us this year! Celebrate Brunch with us this week as we prepare for Mother's Day. 30 Bloggers from around the country will showcase their best brunch dishes, from cocktails to casseroles, breakfast breads, sandwiches and salads – there is something for everyone, including an amazing GIVEAWAY with TWELVE prize packs for TWELVE winners, a combined value of over $1500!!
As Brunch Week leads us into Mother's Day, I need to talk about being a mom. Growing up, my dad always told me to "do my best", and I truly believe that was all he expected. In my mind, though, my best was straight A's, always being obedient, doing my chores, being a good Girl Scout, all of that sort of stuff. Well I never excelled at sports, but that's another story. But that was just the kind of kid I was. Even as an adult, I put a lot of pressure on myself to excel at my career. Without a measure of success or grading system for motherhood, I swear I feel like I am failing miserably. I guess my kids are happy, to this point they are generally healthy, we have dealt with some behavior issues with The Bug, but he's been through some craziness that doesn't jive with his personality, so we are working through these things. But still, without a crystal ball, there's no way to know that I'm going to achieve the desired outcome – two decent, loving human beings with good heads on their shoulders and good hearts in their chests.
This is so hard for me. Sure I have the days where I feel like I'm doing OK, when the boys seem to be in good spirits, we have fun family outings, they eat their nutritious meals, I'm truly present with them when needed, even if I need to break away to do some work or chores, outbursts and arguments and whining are kept to a minimum and expected level for kids their age. But most days there's at least something that I feel like has gone wrong. As I've mentioned before, the boys are at preschool full time (typically from about 8:30-3:30, some days more, some days less) since we moved for multiple very good reasons. One is that with stuff to do around the house and ramping up blogging as a business and career, it is hard for me to compartmentalize and give full attention to them, break away and give full attention to other things when they are home. I feel distracted and guilty no matter what or whom I am paying attention to at that moment, so my attention is not at 100% regardless of what I am doing because there is something else I want to or need to do. So I become paralyzed and inefficient. But then I feel guilty if I pick them up a little later than usual, or if I pick them up and then have to come home and make dinner because I didn't prep it ahead of time while they were at school. I hate when I yell at a time when I probably shouldn't have yelled. If The Bug misbehaves, I can't help but feel like it's something I did, either in that moment, or in how I handled situations for the past four or five years that led him to react certain ways, and usually react without thinking, which I know I have a tendency to do. If the Little Dude runs away from me and cries for Daddy, I feel like it's not because he misses Daddy, it's because he doesn't want to be with me. And today, after an incident with an attempted blood draw for The Bug at the pediatrician's office, I feel like I let him down, and it's going to eat at my heart until it's time to pick him up from school and I can give him another big hug.
I'm trying to cut myself some slack and be better at being totally there for them in their time, but making them understand that while they will have 100% of my attention during their time, they will not have 100% of my attention 100% of the time. I'm trying to accept that this is actually a good thing for them and for me. I'm trying to remember that they are kids. They aren't adults and they aren't perfect. And I'm not perfect, and that's OK. I love them unconditionally and they have good minds, hearts, and intentions and we are working together to help them learn how to use those things.
But I still wish I could get a report card several times a year. And naturally I wish it had straight A's. But for now, I suppose as long as I still get hugs and kisses it must mean I'm doing something right. Little Dude squeals with delight every morning when I walk in and goes running down the hall with me to "bush teef and see brudder", and every evening The Bug wants "cuddle time", which usually ends with him telling me that he will never stop loving me. So maybe I am getting A's in at least some of my subjects. It's all a matter of seeing them.
Well, if nothing else, I know I'd get an A in finding a pretty surefire way to get my kids to eat quinoa…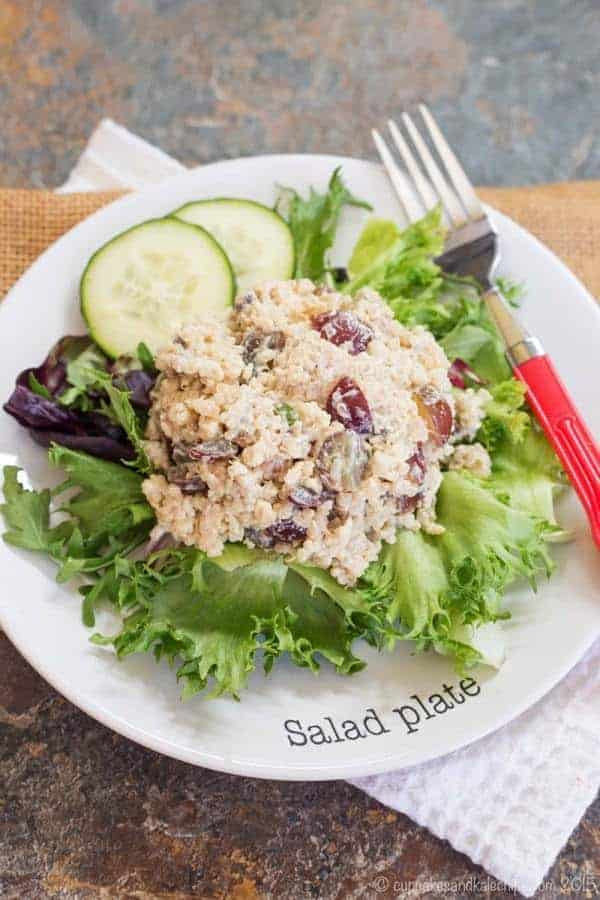 You know I love to "Buffalo" things, but I also love to "Waldorf" things – fruit salad, chicken salad, you get the idea. I am such a sweet and savory, fruit and nut kinda girl, so adding grapes and toasted walnuts to anything is pretty much always a good idea to me – the sweet juicy bursts, the element of crunch, it's just a perfect medley of mouthwatering goodness. Since I've had success in getting my boys to eat quinoa by making chicken quinoa salads (you can see some of my previous versions below the recipe in this post), I thought it was time to "Waldorf" it. I did skip the raw celery and apples or pears you usually find in Waldorf salad because of Little Dude's current lack of molars leading to a bit of a challenge chewing things like that, but feel free to toss some in.
And you guys, the boys went crazy over this Waldorf Quinoa Chicken Salad. Well, "gapes" are Little Dude's favorite fruit and The Bug loves nuts. Little Dude is a totally baby carnivore and The Bug likes anything scooped up with raw carrots, which made this a perfect meal. Put it on a brunch buffet with some raw veggies, or serve it over mixed greens as we did for dinner.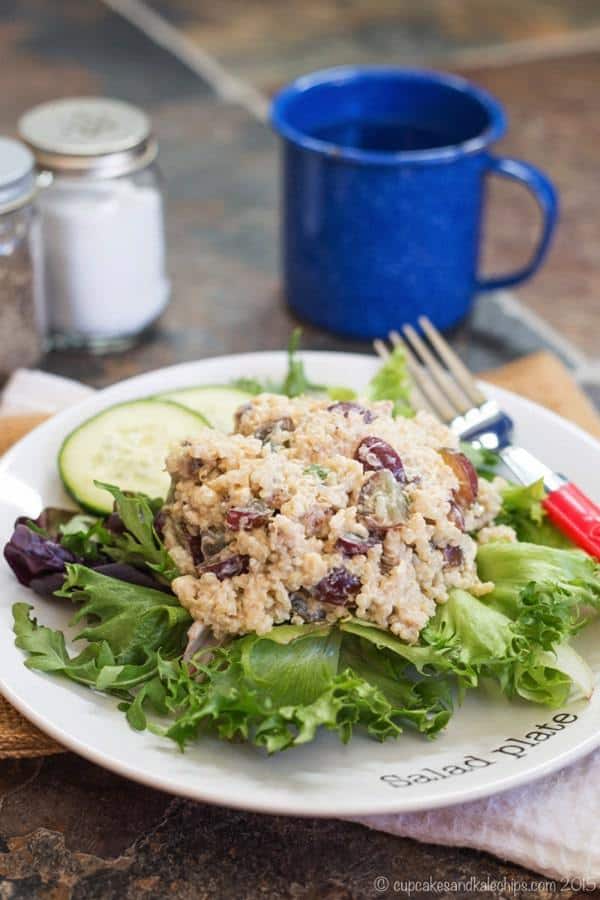 Thanks to the Brunch Week sponsors WootFroot and California Walnuts for the ingredients in this recipe. If you want to add those pears or celery I mentioned, WootFroot and Cal-Organic Farms can help you out. And both Cabot Creamery Cooperative and Stonyfield Organic offer fabulous Greek yogurt. Also make sure you check out all of our other sponsors too, and enter that awesome giveaway I mentioned earlier. You won't believe the amazing prize packs – stand mixers, juicers, panini presses, blenders, as well as some of the wonderful products from our sponsors.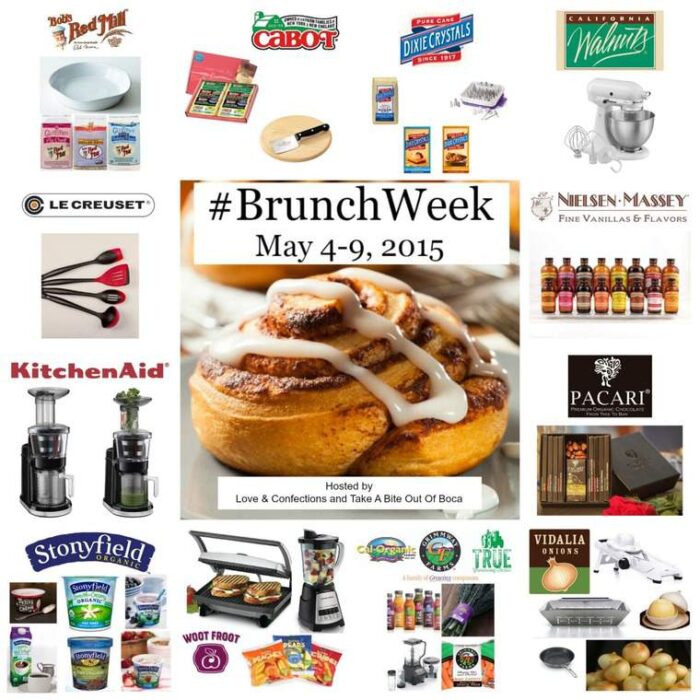 Disclaimer: Thank you to #BrunchWeek Sponsors: Bob's Red Mill, Cabot Creamery Cooperative, California Walnuts, Dixie Crystals, Grimmway Farms/Cal-Organic/True Juice, KitchenAid, Le Creuset, Nielsen-Massey Vanillas, Pacari Chocolate, Stonyfield Organic, Vidalia Onions, and Woot Froot for providing the prizes free of charge. These companies also provided the bloggers with samples and product to use for #BrunchWeek. All opinions are my own.
And be sure to check out today's #BrunchWeek offerings at the bottom of this post!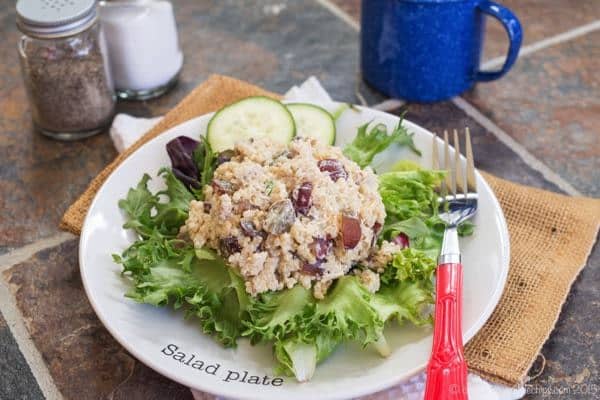 Give a shout out to your mom in the comments! It'll make her day 🙂
Get Cupcakes & Kale Chips delivered to your Inbox! Every Friday you'll see all of the Yummy Eats & Tasty Sweets from the week. Sign up HERE.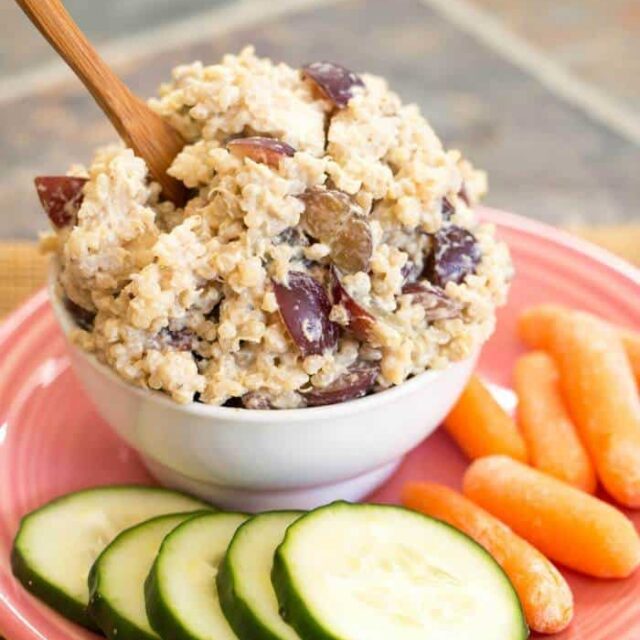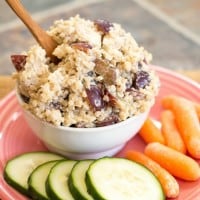 Waldorf Quinoa Chicken Salad
A simple, healthy, and protein-packed combination with sweet juicy grapes and crunchy walnuts. Make it for an easy summer dinner or lunches all week.
Ingredients
1

cup

shredded cooked chicken

2

cups

cooked and cooled quinoa

previously prepared as per package instructions

1

cup

grapes

halved or quartered

½

cup

chopped walnuts

lightly toasted

1/2

cup

plain Greek yogurt

¼

cup

Dijon mustard

1

Tablespoon

honey

2

Tablespoons

apple cider vinegar

1

Tablespoon

minced chives

salt and pepper

to taste
Instructions
In a large bowl, combine the chicken, quinoa, grapes, and walnuts.

In a small bowl, stir together the Greek yogurt, Dijon mustard, honey, apple cider vinegar, and chives until smooth. Season to taste with salt and pepper.

Pour the dressing over the quinoa and chicken mister and stir gently until evenly coated. Season to taste with salt and pepper.
Nutrition Facts
Waldorf Quinoa Chicken Salad
Amount Per Serving (1 g)
Calories 325
Calories from Fat 117
% Daily Value*
Fat 13g20%
Cholesterol 25mg8%
Sodium 239mg10%
Potassium 455mg13%
Carbohydrates 34g11%
Protein 18g36%
Vitamin A 75IU2%
Vitamin C 2.3mg3%
Calcium 76mg8%
Iron 2.3mg13%
* Percent Daily Values are based on a 2000 calorie diet.
Categories:
Want some more quinoa chicken salads…
Join us for Brunch today with these recipes from the #BrunchWeek Bloggers!
BrunchWeek Beverages:
Grape Mojito from The Spiffy Cookie.
BrunchWeek Egg Dishes:
Caramelized Onion, Kale, Bacon and Cheddar Strata from Love and Confections.
Kale and Toasted Quinoa Egg White Scramble from Take A Bite Out Of Boca.
Breakfast Enchiladas from Cooking in Stilettos
Croque Madame Breakfast Casserole from Bread Booze Bacon.
Rainbow Chard and Cheddar Cheese Frittata from My Catholic Kitchen.
BrunchWeek Breads, Grains and Pastries:
Perfect French Toast from Quarter Life (Crisis) Cuisine.
Oat Breakfast Cookies from Pink Cake Plate.
Cinnamon Oatmeal Pancakes with Spiced Pear Syrup from The Redhead Baker.
Cinnamon Crumb Coffee Cake Muffins from Making Miracles.
Classic Buttermilk Pancakes from That Skinny Chick Can Bake.
Bacci Bread and Pear Pudding from A Day in the Life on the Farm.
Pear Coffee Cake and Fruit & Cheese Salad from Sew You Think You Can Cook.
BrunchWeek Main Dishes:
Waldorf Quinoa Chicken Salad from Cupcake & Kale Chips.
BrunchWeek Fruits, Vegetables and Sides:
Chilled Strawberry Soup from The Suburban Soapbox
BrunchWeek Desserts:
Orange Blossom Olive Oil Cake with Mango Citrus Glaze from Taste Cook Sip.
Walnut Meringue Banana Mess from Jane's Adventures in Dinner.