This post may contain affiliate links. Read my disclosure policy.
You may have seen this on my Facebook page the other day, but I am so excited that I am nominee as one of the voiceBoks Top Food Blogs. I am officially part of the Top 50, but now I need your help to make it to the Top 10!
voiceBoks Top 50 Food Blogs Nominee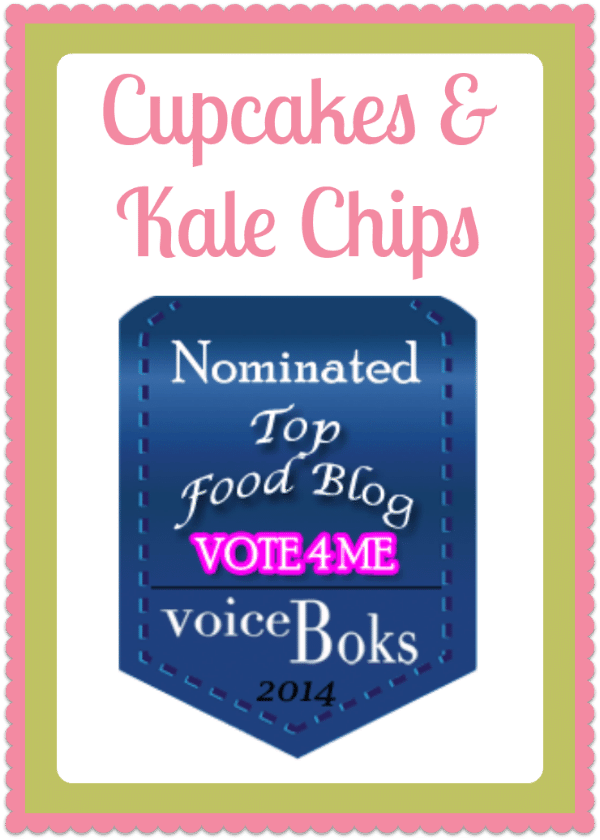 This blog, which started out as a hobby, has become so much more. It's helps me form friendships and connections, taught me about social media, photography, more about cooking than I already knew, and all kinds of technical behind-the-scenes stuff that, if you aren't a food blogger you may not know and certainly don't care about. But now it is starting to become a job, my own small business, and something that I am proud of. I love sharing my life and kitchen with all of you, and without my readers I would not be able to and have no reason to continue. You all help keep me inspired. And I certainly don't know all of you, but whether you know it or not, I appreciate each and every one of you. THANK YOU!
But now I need YOUR help. If you enjoy Cupcakes & Kale Chips, would you mind heading on over to voiceBoks and giving me a vote?
Just click HERE, find Cupcakes & Kale Chips, and click on the little heart to vote for me. No registering, no coming back day after day, just one vote one time. I'd appreciate it so much because if I make it to the Top 10, there will be more opportunities for more new people to find my blog, which would be AMAZING!
Thank you soooo much!