This post may contain affiliate links. Read my disclosure policy.
Have you ever visited a Cattle Ranch? Well, you should! I had so much fun getting a behind-the-scenes look into the life of a cattle farmer.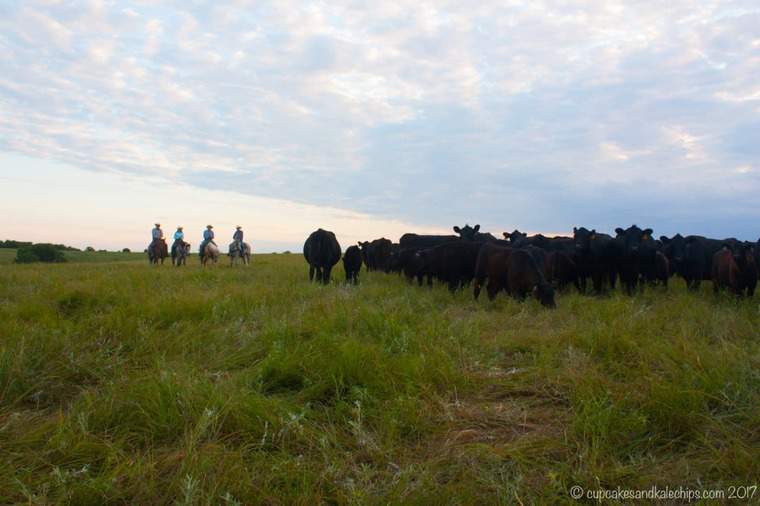 Visiting a Cattle Ranch in Kansas
A Visit to a Cattle Ranch in Kansas was a special, eye-opening, educational, and fun trip to see what life is like in cattle ranch country. Have you ever been to Kansas? I'll be honest, it was not necessarily a state on the top of my Must Visit list. But as a brand ambassador for Certified Angus Beef® brand, I had this opportunity, and it was incredible.
Disclaimer: I am a paid social media ambassador for Certified Angus Beef® brand through Sunday Supper Movement, and this trip was sponsored by the brand. As always, all opinions are my own.
We first enjoyed lunch on the deck of the home of Debbie Lyons-Blythe, situated in the middle of Blythe Family Farms, her cattle ranch. Debbie is equal parts strong and sensitive, sharing her passion and love for raising Kids, Cows, and Grass (her aptly-named blog).
I had such a wonderful time listening to her speak about her life as a rancher and as a mom. Though she apologized every time she got choked up telling us about those two aspects of her life, her tears were that of a woman who spends her life doing what she loves. Not only does this life bring joy to her, but sharing that life with others also brings her joy.
The Circle of Life
On the ranch where she has raised her children, they breed and raise Angus cattle, which is highly dependent on "raising" grass. Not to get all Lion King on you, but there is a true understanding of the circle of life, and the delicate balance between the land, the cattle, and the people who will later consume the beef from these animals.
From the outside, it might be hard to understand how a rancher can care for animals while knowing that they are raising them to eventually be slaughtered, but ranchers truly want the best for these animals during their life. They ensure the prairies are maintained to ensure the grasses the cattle need to grow and develop are thriving. Their job includes giving cattle the space they need, ensuring that they are cared for and stay healthy during the time on their ranch.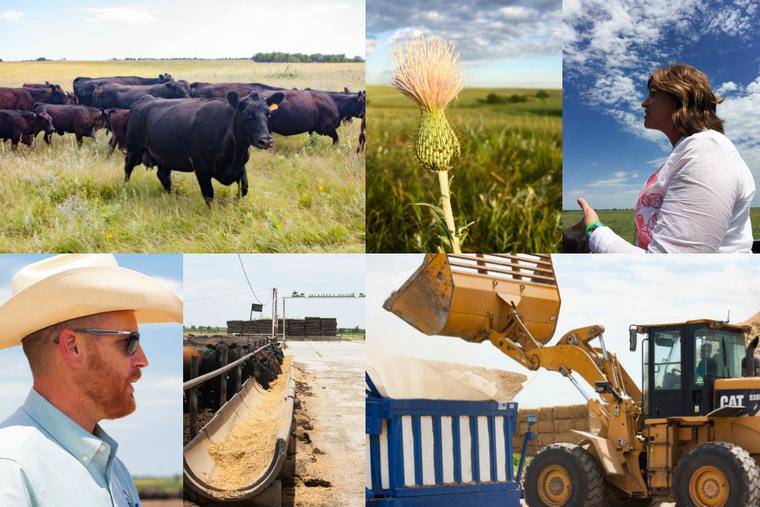 Cattle Farming – Pride and Responsibility
And the cowboys the ranchers hire take pride in their work, making sure they have the best horses and equipment to spend hours braving the elements to keep watch over the herds. Ranchers know that they have a responsibility to bring safe and nutritious food to the people of our country and beyond, and they take their duty to feed people very seriously.
Something I did not know is that the cattle don't spend their lives on the ranch. Towards the latter part of their life, they are often transferred to a feedyard. That's where Shawn Tiffany comes in. He and his brother Shane operate the Tiffany Cattle Co., which is essentially, as he says, a bed and breakfast for cattle.
The brothers don't own any of the animals themselves, but the cattle come to their feedyard for "finishing". This is where the cattle are given a carefully balanced and maintained diet. The feed consists of a blend of corn and other grains that are balanced for the optimal growth and development of healthy animals. Additionally, the feed gives the animals desired qualities for high-quality beef for consumption.
Every component of the feed is carefully weighed so that the variance in the quantity of feed the cows consume in a daily basis is but a small fraction of their daily intake. Other than Olympic athletes, there are no humans who have their diet monitored as carefully as these cattle. This ensures optimal growth and health, and like Debbie, Shawn knows how important this is for producing beef that people around the country will eat.
As a husband and father who puts family above everything, safe and nutritious food is his top priority in his business. Even the water troughs for the cattle are emptied and scrubbed regularly at the ranch. I'm not sure I even wash my own water bottle that often.
Dinner at the Cattle Farm
After a day that touched my heart, we got to enjoy a meal that filled my belly while warming my soul. We had the honor of having Cowboy Kent Rollins prepare a chuckwagon dinner for us. Who is Kent Rollins? Well, you might have seen him on Cutthroat Kitchen or Throwdown! with Bobby Flay or Chopped Grillmasters.
But above and beyond his celebrity status, he is a chuckwagon chef and to this day cooks for cowboys on ranches in addition to appearing and cooking at other events around the country. Kent told us some of his ranch stories, taught us about cooking in cast iron, and, before dinner, thanked God for "another day above the grass."
Of course, he serves the best, Certified Angus Beef, and, after a biscuit-making lesson from Kent's sweet wife Shannon, we feasted on cowboy ribeyes, baked beans, hominy, grilled corn, and bread pudding in the middle of the Kansas prairie at sunset with cattle milling around the ranch.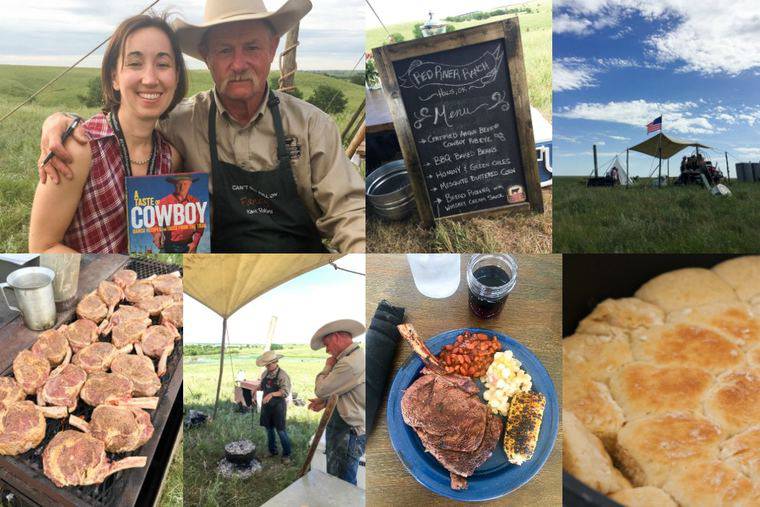 Of course, food was a central theme throughout the weekend. We enjoyed a lovely salad bar lunch on Debbie's deck, where we had an assortment of veggies, my Avocado Buttermilk Ranch Dressing (I was so honored Chef Michael chose my recipe to serve with our salads), and grilled tri-tip.
The next day, after serving us steak and eggs breakfast tacos, Chef Michael and Chef Gavin gave us guidance on selecting steaks tips for grilling. Then we got to enjoy several different cuts of beef they had grilled, along with Chef Gavin's Turmeric Potato Salad, which was also amazing.
We spent the afternoon sipping wine, painting, and noshing on beef charcuterie. And then we had an amazing treat, paella made with smoked beef fat as the oil, beef stock, and short ribs added to the traditional seafood and rice dish. Every bite was just over-the-top amazing!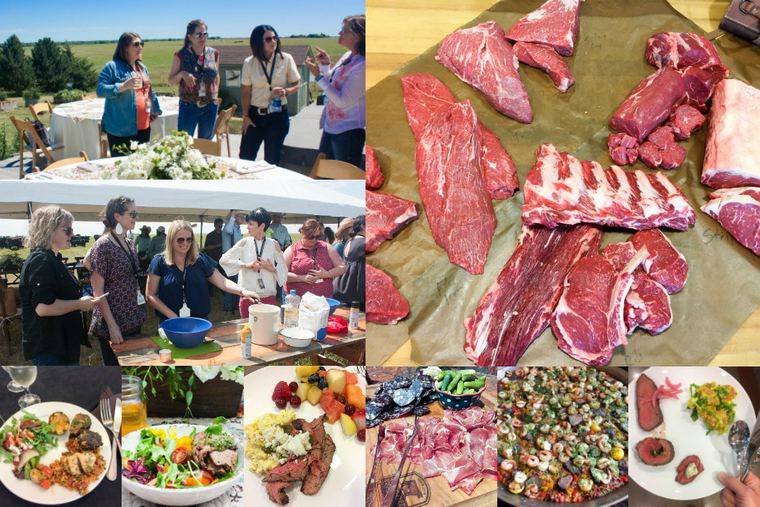 And for the Pioneer Woman fans, on Sunday we took a two-hour bus ride to Pawhuska, Oklahoma, home of the now-famous Drummond Ranch. As a complete surprise, we got to visit the house on her ranch where she films her Food Network show. We were able to peek in the pantry, stand at her stove, and walk out onto the deck overlooking the Oklahoma countryside. Then we visited the Mercantile, where we shopped till we dropped and enjoyed a hearty family-style dinner. What a treat!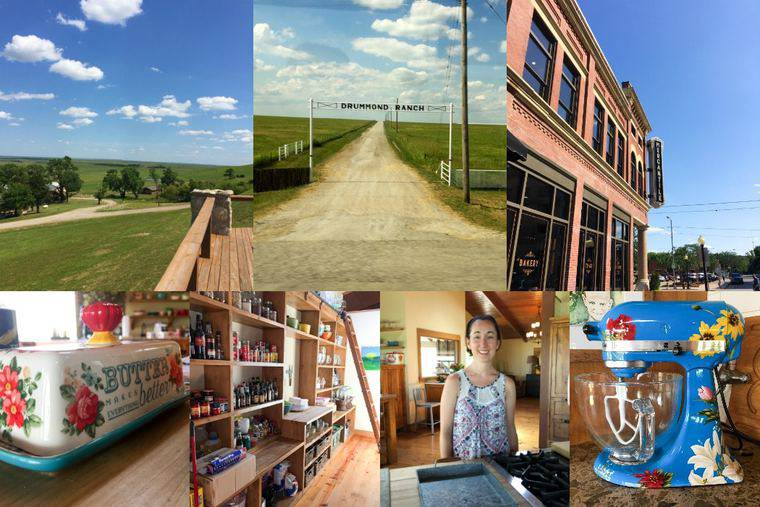 Closing Thoughts
I can't thank Margaret, Danielle, Jennifer, Chef Michael, Chef Gavin, and the entire Certified Angus Beef® brand team enough for this opportunity to meet some incredible people and have an absolutely amazing experience.
I have a new appreciation for the hard work of everyone involved in the ranching industry, and my heart is still full. Yes, I told you all about what we did and learned and ate, but what I really want to share is how touched I was by Debbie and Shawn and Kent and everyone else we met.
The two words that were ingrained in my mind the entire time were "good people" because these were all "good people". It was Debbie tearing up not only as she shared her love of prairie life, but told us about her son's illness and subsequent liver transplant, leading to her mission to increase awareness for organ donation.
Shawn telling us that he puts God and family first. As a result, he hires more than the average number of workers for the size of his operation because he wants everyone to be able to go to church, kids' school activities, and have time to serve their church and family.
It was Kent's blessing before dinner, asking for God's blessing not only on the food and the people there, but also our country. And it was all of my fellow bloggers with whom I now have this shared cattle ranch experience that not everyone will get to see firsthand.
I definitely encourage you to seek out Certified Angus Beef® brand in your local stores and restaurants. I picked up mine at my local Weis in Damascus, MD, but you can use the product finder to see where to get it near you. It truly is the highest quality beef, but through supporting this brand, you are also supporting the Blythes, the Tiffanys, and all of the other ranching families that are so important to the fabric of our nation.