This post may contain affiliate links. Read my disclosure policy.
While I am wrapped up with feeding an infant, changing diapers, feeding an always ravenous preschooler, putting in a Toy Story DVD, chasing the aforementioned preschooler while holding the aforementioned infant, and all the other insanity that comes along with a new baby, my foodie friends are taking turns in the Cupcakes & Kale Chips kitchen. Make sure you head on over to Pinterest, too, where I will be pinning all of these awesome recipes on my Guest Posts board, plus my Inspiration boards!
Today I'd like to introduce Lisa from Je suis alimentageuse, who is bringing donuts! And not just any donuts – light, guilt free Vanilla Donuts with Blueberry Lemon Glaze (with vegan and gluten free options)!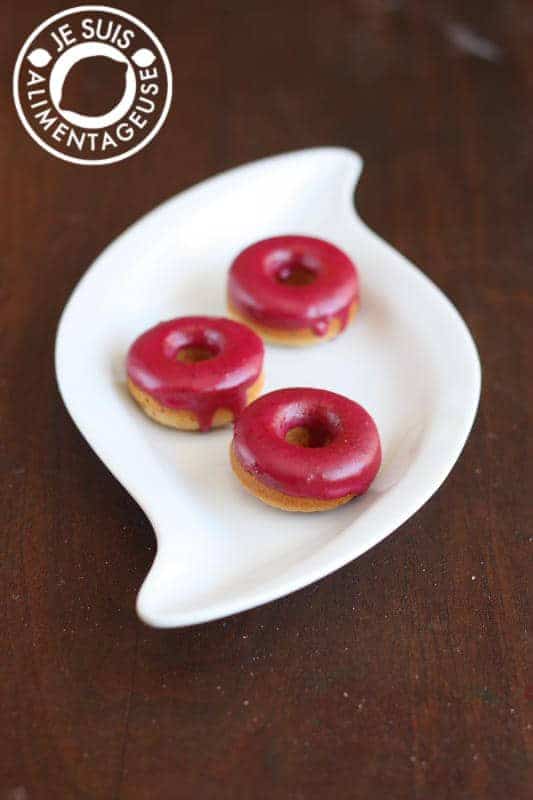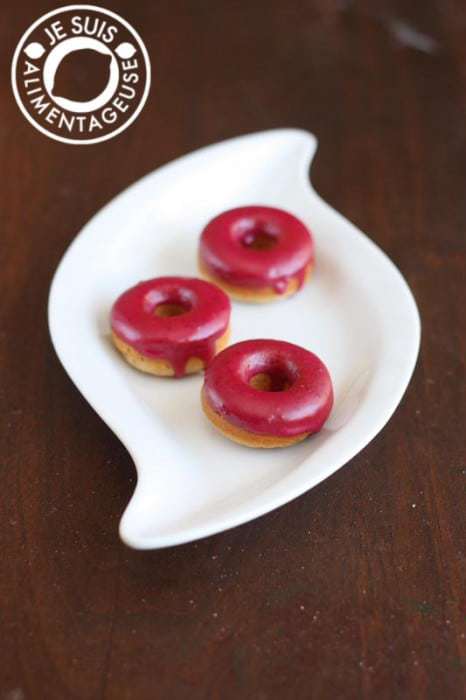 I should have required Lisa to send me a dozen along with her post and photos! You can find Lisa on Google+, Twitter, Facebook, Pinterest, or subscribe via RSS or email.
Take it away, Lisa…

Hello, Lisa here! Brianne has graciously let me share this recipe with you lovely readers and I'm so excited! So at Je suis alimentageuse, I try to keep things kind of healthy, although every now and then, I like to splurge and indulge in something sweet. And by every now and then, I mean that it happens pretty often. But these little donuts are almost guilt-free. They're vegan, first of all, and I substituted agave nectar in the donuts to reduce the amount of sugar in these donuts.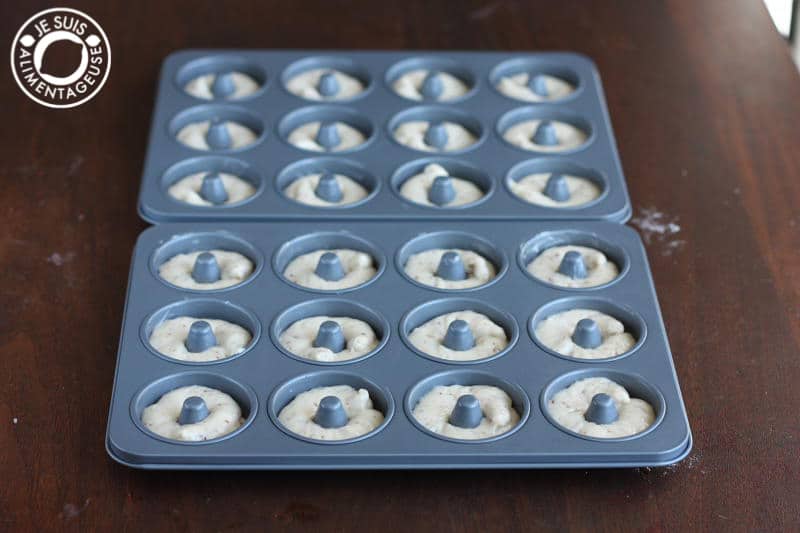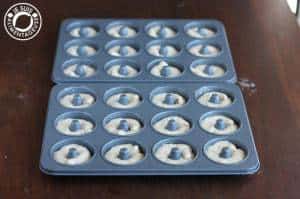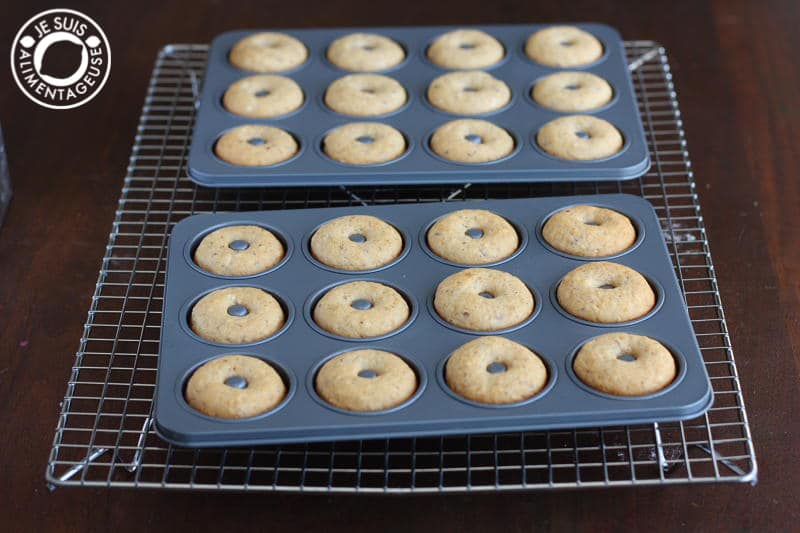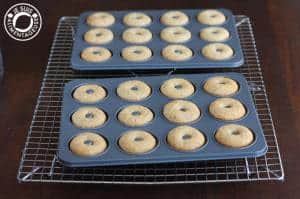 This recipe is really easy to modify for different flavours. You can add some cocoa powder or melted chocolate or different extracts for flavour. You can even change the glaze. I've made lemon donuts by adding zest to the batter, and then using the juice with icing sugar to make a glaze. To make these gluten-free, just use a gluten-free AP flour blend (I use 2 parts rice flour + 1 part potato starch and 1 part tapioca starch) and add xanthum gum.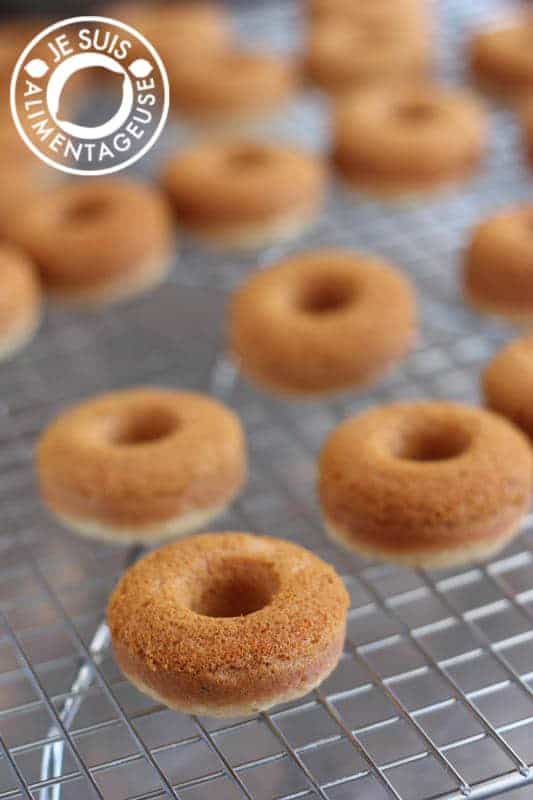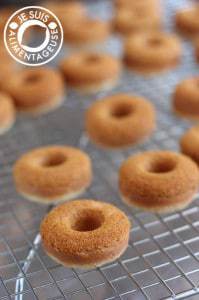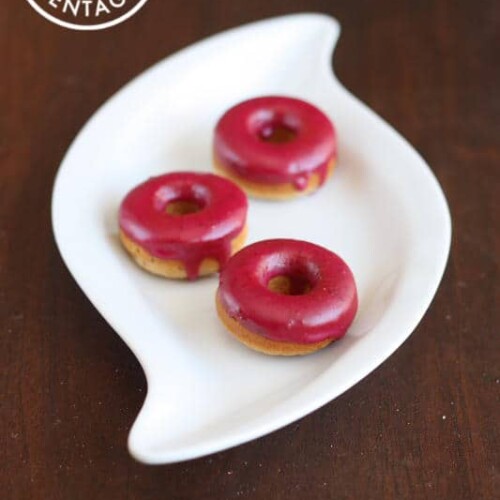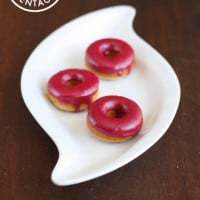 Vanilla Donuts with Blueberry Lemon Glaze
Vanilla Donuts with Blueberry Lemon Glaze are a guilt free (and vegan!) way to enjoy this breakfast treat.
Ingredients
Donuts:
1

cup

all-purpose flour

⅓

cup

agave nectar

1½

tsp

baking powder

¼

tsp

salt

½

cup

rice milk

2

tsp

flax meal

1

tsp

vanilla extract

1

tbsp

warm water

¼

cup

vegan margarine
Glaze:
1/3

cup

lemon juice

juice from one lemon

1

cup

frozen wild blueberries

2-3

cups

icing sugar

depending on how runny you want the glaze to be
Instructions
Mix flax seed and warm water in a small bowl. Stir then let sit for about 2 min.

Mix vanilla, agave nectar, flax seed mixture, milk, and margarine until combined.

Add flour, baking powder, and salt. Mix until incorporated, but do not over mix.

Pipe into greased donut baking pans about half full (they puff up a lot)

Bake for 12-14 minutes at 350F until golden. 12 minutes if using a mini-donut pan, 14 if using a regular-sized donut pan.

Remove from oven, let sit in the pan for about 1 min, then remove from pan and let cool on a wire rack until cooled.

For the glaze, in a small pot over medium heat, cook the blueberries and lemon juice until the blueberry skins pop and the juices come out. Use a spoon to smash the berries if necessary.

Strain the mixture and discard the solids (skins, seeds, etc.)

Whisk in 2 cups of icing sugar (add more or less depending on how thick you want the glaze to be)

Dip cooled donuts in glaze, let excess drip off, then let them dry on the wire rack.

Leave for about 10-15 minutes until dry, then eat!
Categories: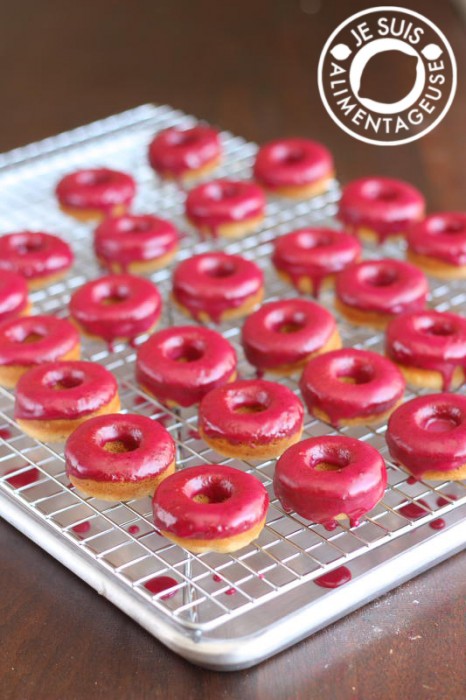 Thanks for reading!
~ Lisa

Thanks Lisa! Sounds and looks super-yummy!

Want to see lots more yummy food from me and my friends, and cute pictures of my kid?
Follow me!
Or have Cupcakes & Kale Chips delivered to our Inbox by entering your email in the box on the left sidebar.