This post may contain affiliate links. Read my disclosure policy.
Tropical shrimp salad is a flavor packed dinner, with fresh salad greens, spicy marinated grilled shrimp, avocado and mango. The salad is dressed with homemade gluten free salad dressing, a sweet and spicy honey chipotle dressing. It's easy to make and is the perfect meal to cook on the grill.
I know I have told you about my love of salads with fruit, like this one or this one. I have a little repertoire of my own, often making simple lunch salads, like greens with apples and parmesan or strawberries and feta. But to keep The Hubby from revolting on our weekly salad-for-dinner night, I have to (a) add some more protein besides just a little cheese, and (b) keep it new and interesting.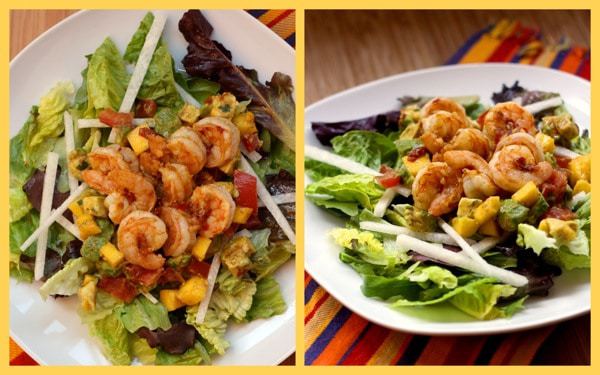 Luckily I have discovered some wonderful bloggers who make lots of amazing salads and dressings, and give me so many great ideas. Like this tropical shrimp salad with honey chipotle dressing, from The Foodie Physician. I think I've told you about Sonali before – a doctor/chef who clearly throws the most amazing dinner parties ever.
I didn't change her marinade or dressing recipes, so just head on over to her blog to get her recipe for Tropical Shrimp Salad with Honey Chipotle Dressing. The only thing I did differently was to use Mango Avocado Salsa instead of the sliced mango and avocado her recipe calls for. Not because simply slicing it wouldn't be fabulous, too, but because Mango Avocado Salsa is, like, one of our favorite things ever. And because it gave me a chance to photograph it again. Plus, having little pieces of avocado and mango lets me get a perfect forkful, with a little of everything on it.
This tropical shrimp salad is so good!
Summery and sweet, with just a little kick! It is definitely going into my regular salad repertoire – Hubby-Approved. I can't get The Bug to eat lettuce yet, but he was all over the shrimp and salsa.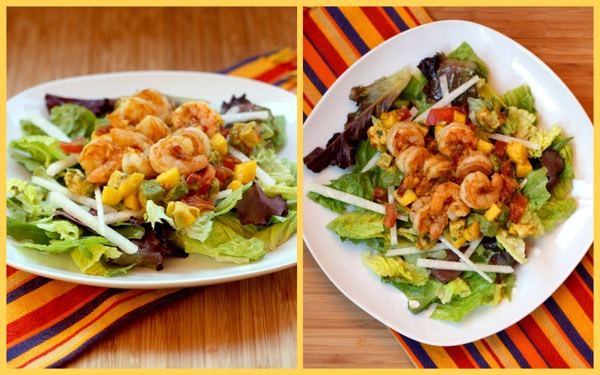 Enjoy!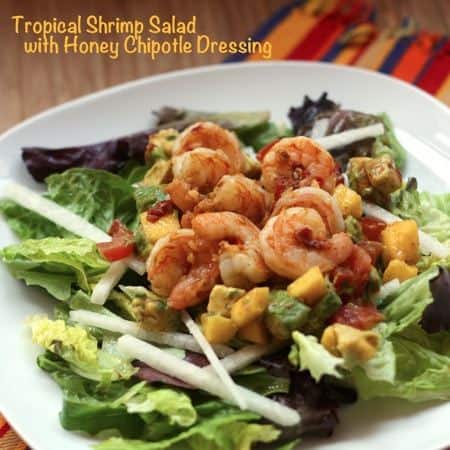 This recipe was shared with:
Amee's Savory Dish Fit and Fabulous Fridays #34