This post may contain affiliate links. Read my disclosure policy.
When life gets hectic, sometimes menu planning and grocery shopping fall by the wayside, but that doesn't mean that you can't enjoy cooking, serving, and enjoying a home-cooked meal. You'll have Dinner at Your Doorstep with Terra's Kitchen.
Dinner at Your Doorstep with Terra's Kitchen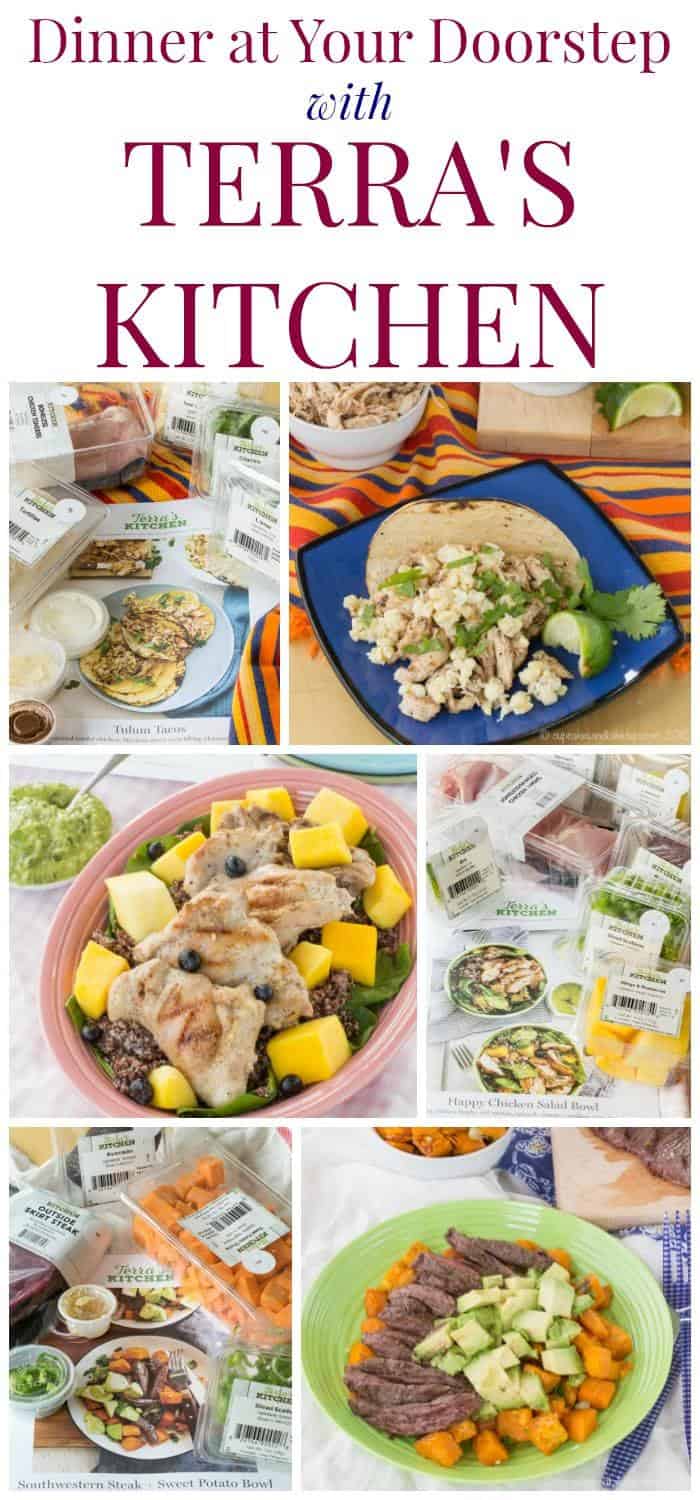 As some of you may know, I broke my foot a couple weeks ago. For a recipes developer, food photographer, half-marathon training mom of two very active little boys, this has been rather, well, inconvenient. Luckily I have a tendency to buy way more than I need at the grocery store and I have a hubby who immediately jumped in with everything, including making a few dinners. But it's not always easy for him to get home in time to prepare a meal before the time these boys get ravenous. And even though I was able to be on my feet enough to cook, trekking through a grocery store is still a challenge.
So I was thrilled when meals from Terra's Kitchen showed up on my doorstep. Terra's Kitchen is an innovative meal-kit delivery service. You'll hear a knock on your door, and on your doorstep will be their eco-friendly delivery vessel. This thing is super cool – literally. It has shelves that slide out, and each shelf has the little containers of pre-portioned ingredients and ice packs to keep everything at a safe temperature until you can get it into the fridge. Once you empty the vessel, just close it back up, and it'll be picked up and returned to Terra's Kitchen – no waste!
And all those little containers (which happen to be recyclable) contain all of your pre-portioned, fresh, healthy, high-quality ingredients, along with the recipe cards to make a fresh, healthy, chef-designed meal for your family in less than 30 minutes. So you can forget the menu planning and grocery shopping, but you still get the experience and fresh flavors of cooking the meal yourself. Plus there's options for vegetarian, vegan, paleo, and gluten free dishes. And because Terra's Kitchen wants to ensure that they are providing you with the freshest ingredients, the entree choices vary with the season.
So now that I've told you about Terra's Kitchen, what did we think?
The convenience can't be beat. Even as a recipe developer, I still sometimes get into a mental bock where I just have no idea what to put on the menu. Or I have weeks where I don't have a block of time to plan out that menu and do all of the grocery shopping. But I still love to cook and want to cook. This takes all the brain work out of it. In fact, the recipe cards also guide you for when to start each component of the dish so that everything is done at the same time. This is just what I need when I am having an especially busy week.
Also, since you are preparing the dishes yourself, versus takeout or some sort of frozen dinner, you can tweak and adjust to your tastes and preferences, just as you would with any recipe.
For the Happy Chicken Salad Bowl, I piled everything onto a platter, versus separating into bowls. This way, with the Fruit Salad and Watermelon Spears we received, I was able to stretch this into a meal for two adults and two small kids.
Now the Tulum Tacos and Southwestern Sweet Potato Bowls, there was no way I was going to have those meals for two serve four. We made both on the same night, and I initially served small portions of everything as per the instructions on the recipe cards. But then we enjoyed doing a little mix and match. Some of the steak in the tortillas, some of the sweet potatoes with the chicken, a little lime juice and cilantro all over everything. I also added a little salad to the mix just because the bulk of my kids' veggie consumption is at dinner, so I wanted to just make sure they had a little more green stuff. But that also added another great base for all of the other components. I think if you are serving a family of four, purchasing two different meals with complementary ingredients may take a little more prep time, but it's a lot of fun.
Preparation of all the dishes was simple since nothing had to be measured, other than maybe a tablespoon of olive oil here or a teaspoon of salt there. And they truly did take less than thirty minutes.
The quality of the ingredients and the flavors in the final dishes were fantastic – nothing processed here! The avocado was perfectly ripe, the corn perfectly crisp, the spinach perfectly green, and the fruit perfectly sweet. The meats all turned out juicy and tender. And even without a huge laundry list of ingredients, not one dish was lacking in flavor.
Now my only question is which meals I want to try next. The Turkey Spinach Meatballs in Skinny Sunday Gravy, the Honey Mango Glazed Salmon and Blueberry Citrus Rice, or the Spring Potato Bowl would all be family favorites. Or maybe one night we put the kids to bed early and the hubby and I cook up the Date Night Dinner or Grilled Lamb with Pan-Roasted Asparagus, Olives and Tomatoes. Or maybe I'll just have those Tulum Tacos again – they were so good!
Are you ready to make your life easier while still providing delicious and nutritious meals for your family? Head on over to Terra's Kitchen to sign up and make sure your enter code KALE50 to save $50 off your first order!
And find out more about Terra's Kitchen by following them on Facebook, Twitter, Instagram, and Pinterest.
This is a sponsored conversation written by me on behalf of Terra's Kitchen. The opinions and text are all mine.