This post may contain affiliate links. Read my disclosure policy.
Every once in a while I like to pop in with some Mama Moments – thoughts about life and motherhood and everything that goes on "behind the food blog". You know, the real stuff. And the real stuff means sometimes I need a break. The Cupcakes & Kale Chips philosophy on balance is more than just food – it's about balance in life, and we all need to take time to recharge, whether it's exercise, pampering, or just a few moments to sit back and grab a snack. While I do like to focus on homemade meals and snacks, sometimes in order to make sure I have those moments to recharge, I need something that's fast and easy, but still is healthy and satisfying to the body and soul, like Chobani Flip Greek Yogurt. So today I am challenging you and asking, Hey Moms – How Do YOU Take a Break?
Hey Moms – How Do YOU Take a Break?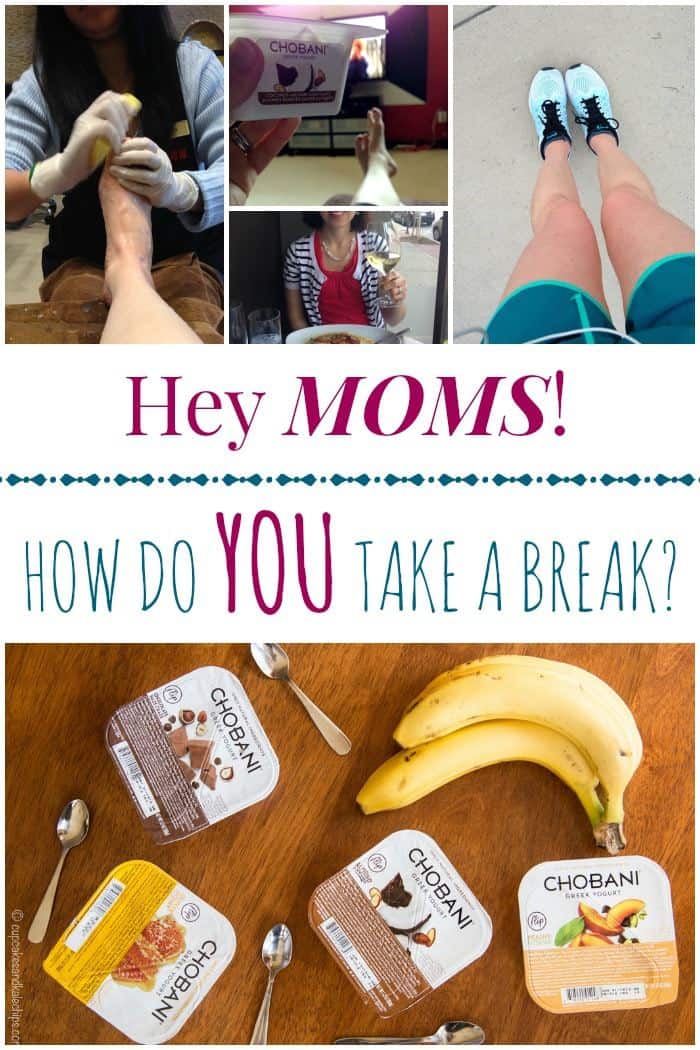 <
span id="more-11080″>Disclosure: This post was sponsored by Chobani through their partnership with POPSUGAR Select. While I was compensated to write a post about Flips, all opinions are my own.
You know, I really thought once we got through our move, and the holidays, and the brutal winter that things would settle down. Not the case. I know part of it is me, that I am taking on a lot. There's always the boys (and their unending piles of laundry) and The Hubby and the house, and we are still trying to find doctors and other services in the new area. Exercise and physical fitness is a huge priority for me, and that takes time. The Bug is taking karate and playing tee ball, which means the mom taxi is in full effect. I've got conferences to attend and speak at, recipes to develop, and all that goes into really being a work-at-home blogger mom like I never was before. We've had houseguests for probably four of the last six or seven weekends, and in between all of those visitors were my boys' birthdays and Easter. Some days I feel like I'm going, going, going, which I am (I have the step counter on my watch to prove it), yet feel like I haven't accomplished nearly enough.
But with all of these balls in the air, it's not so much that I feel like I'm going to drop them, it's that I feel like I shouldn't stop for a few minutes to put them down because there's always so much that needs to be done. But I'm learning that putting them down means I'll get my energy and focus back in order to keep them up even better than I was before. After a little break, I come back stronger, ready to take on that to-do list. So I'm starting to embrace taking a break instead of feeling guilty about it. It's an hour or two at most, maybe once a week, maybe more, maybe less, but it's when I need it, and it makes be a better mom, wife, and person!
What are some of my favorite ways to relax or recharge, and what can YOU do?
Go for a run (or whatever physical activity YOU enjoy) – Yes, I am training for a 10K, so following my training schedule is important. But sometimes swing my pace and maybe even running longer helps me to clear my head and just take in the fresh air and bright sun. I never knew how powerful a "runner's high" could be. Find an activity that you love and move it!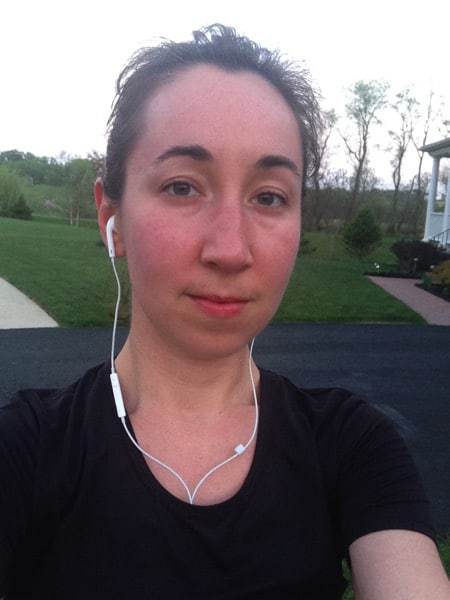 Take a nap (or yoga or mediation or whatever YOU do to unplug)

 –

The other day I was sitting at my computer and my eyes were closing. I was literally sitting there staring into space. What good was that doing me or anyone? I wasn't making any progress. So I crawled into bed and slept. And it felt glorious. Once I woke up and felt that burst of energy which made me super productive for the rest of the day, I knew that I made the right choice. I may only do this once every couple of months, but I choose my moments, and it's so worth it. Naps aren't just for the kiddos. If your body tells you that you need sleep, listen to it!

Get a pedicure (or whatever YOU do to pamper yourself)

 –

I'm not a shopping kinda gal. I don't spend money on clothes, shoes, bags. I really don't even enjoy window shopping. It causes me more stress. I'd much rather sit in a massage chair with a celebrity magazine and have somebody put hot pink or neon green polish on my toes. And yes, the color choice is absolutely critical – it's those fun colors that give me even more pep in my step! Even better when I get to wear flip flops and show it off! However you like to pamper yourself, whether it's a warm bath or long shower, curling up with a book, or retail therapy, go for it!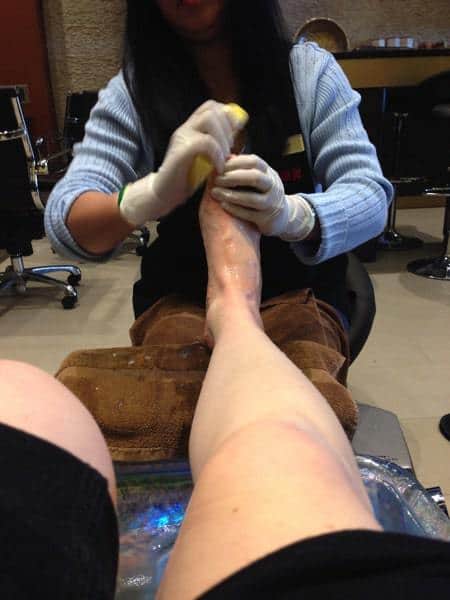 Hire a cleaning service (or whatever will help YOU) – OK, so this isn't an actual break I'm taking, but it's what allows me to get everything else done and still take a break. I'm a terrible house cleaner – I'm slow, I miss things, I procrastinate to the point that the house is a total disaster and the actual cleaning process then becomes a task so monumental that, well, I just want to put it off even longer. Picking up some extra work in order to pay for house cleaning is actually more efficient for me, and saves my sanity. I often try to hide the fact that I don't clean my own house, but you know what, we all prioritize things differently, and this is the best choice for me. Maybe it's just getting somebody to split carpool duties, or having your spouse put the kids to bed a couple of nights a week, figure out what kind of help you could use and ask for it!
Go out for dinner (or whatever YOU love to do with your spouse) – The Hubby and I are foodies, and we love to enjoy a good meal. Not always easy when you are playing zone defense with your kiddos to make sure that more food goes into their mouths than on the floor, and that they aren't the cause of a waiter or waitress tripping and sending someone's entire meal flying across the restaurant. This is something that I know we have to make time to do more often, because it really helps us reconnect over a shared passion, and give our attention to each other and not the little dudes. So find something that you and your spouse love to do together, get a babysitter, and enjoy it!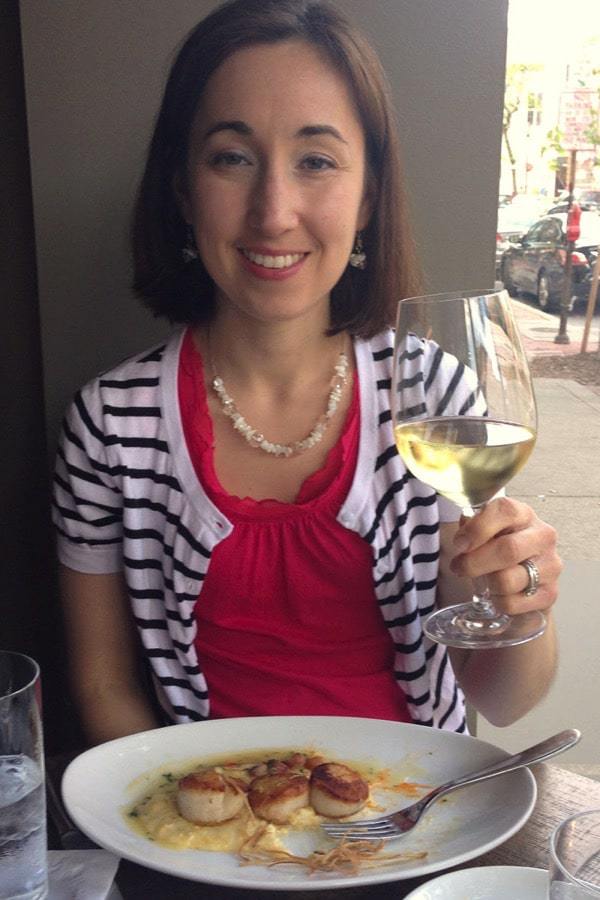 Take a mini break at home (or whatever gets YOU through the afternoon) – I hit a slump around 1:30 or 2:00 in the afternoon, and I know I have to get my boys at 3:30 and start the evening craziness of playtime, baths, activities, dinner, and bedtime. So half an hour, an interesting article or mindless TV show, and a quick snack is all I need to get me over the hump and ready for all of that activity. And while I want to feel like I'm indulging my body and soul, I still want that snack to be healthy. Chobani Flip Greek Yogurt is perfect for that! They are free of preservatives, artificial ingredients, and artificial sweeteners, stuff that I wouldn't put into a snack I was making for myself. I can peel the lid and flip the toppings onto the yogurt faster than I can even make a smoothie. That means a couple extra minutes of me-time. I deserve it and you deserve it!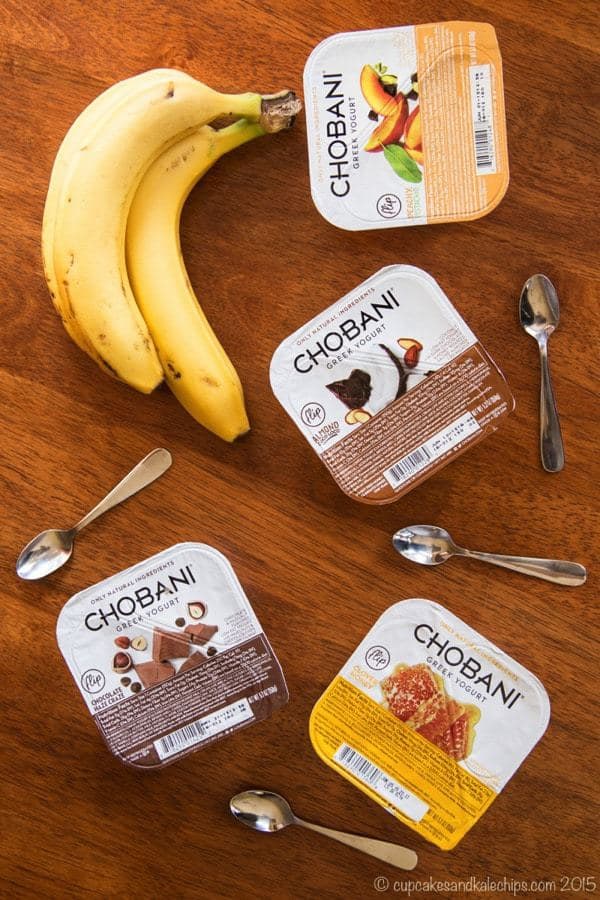 And we aren't just talking about your basic strawberry or peach in these Chobani Flip cups. These are exciting and quality crafted flavors like Chocolate Haze Craze, Peachy Pistachio, Tropical Escape, you can satisfy any craving – sweet, smooth, crunchy, nutty, even a little salty – without compromising nutrition. There's definitely something for everybody, but guys, I have to tell you, the Almond Coco Loco – rich and creamy coconut yogurt topped with dark chocolate and honey roasted salted almonds. I was in heaven! And definitely a healthier alternative to a candy bar with those same flavors – you still get the total indulgence while making better snack choices! And by taking these moments for ourselves, we will be ready to live this life and live it naturally with Chobani!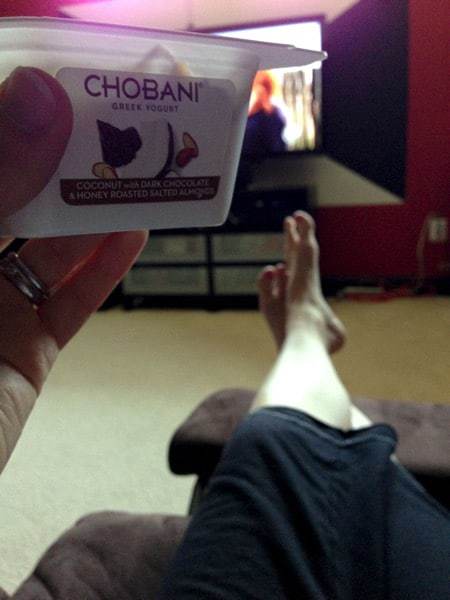 Let's chat, moms. We all work so hard. What do you do to take a break?