This post may contain affiliate links. Read my disclosure policy.
Between Mom's Crazy Cooking Challenge – Grilled Cheese, and the abundance of fancy-pants grilled cheeses that were all over the blogosphere during April – National Grilled Cheese Month, I have been craving grilled cheese constantly. Luckily I found Rudi's Gluten-Free Multi-Grain Bread, so that I can indulge my craving a bit. And I know I just posted my Chicken & Broccoli Grilled Cheese yesterday, but can you ever really have enough grilled cheese?! This one has the sweet and savory combo that I love, with a little tang of Dijon mustard, and the creaminess of the Havarti. Havarti adds a so much butteriness itself that you don't have to add a ton of butter to the sandwich to get that rich, creamy flavor. The bacon almost acts as a seasoning here, as opposed to being a main component of the sandwich. I didn't want a grilled cheese and bacon sandwich – I really just wanted the salty smokiness and a bit of crunch. And May is National Strawberry Month, so the sweetness to balance that saltiness comes from some Smucker's Orchard's Finest Pacific Mountain Strawberry Preserves.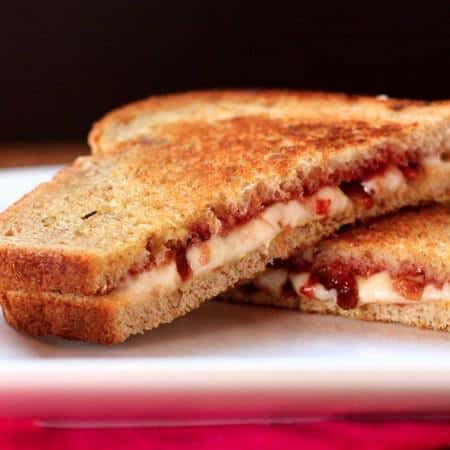 This was a hit all around – The Bug and The Hubby loved it, and so did I, in my gluten-free version.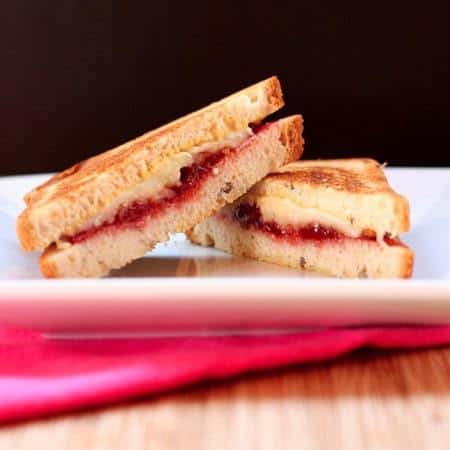 Do you like sweet & salty/savory together? What are your favorite foods with that combo – chocolate covered pretzels, kettle corn? I love chocolate and peanut butter or fruit with cheese.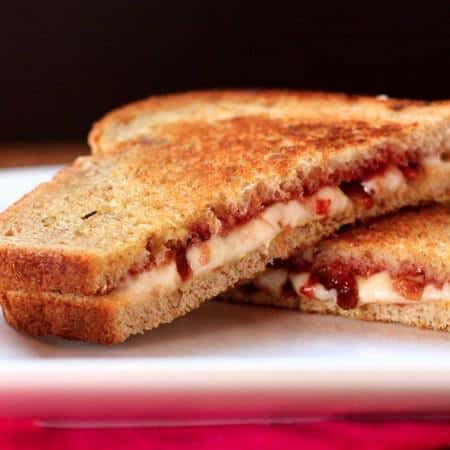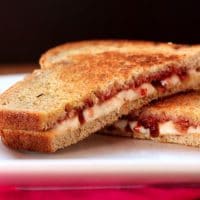 Strawberry, Bacon & Havarti Grilled Cheese
Ingredients
8

slices

of your bread of choice

I used Rudi's Gluten Free Multi-grain bread, and whole wheat bread

4

t

Dijon mustard

4

T

strawberry preserves

I used Smucker's Orchard's Finest Pacific Mountain Strawberry Preserves

2

slices

of bacon

cooked until crispy, and crumbled

1

c

about 4 oz. Havarti cheese, shredded

2

T

butter and/or olive oil

I used 1 T of each
Instructions
Spread four of the slices of bread with 1 t Dijon mustard on each.

Spread the other four slices 1 T of preserves on each.

Divide the bacon evenly among the slices with the preserves. Top each with 1/4 c Havarti cheese.

Top with the slice of bread spread with the mustard.

Melt butter and olive oil in a pan over medium-low heat.

Cook the sandwiches for about 3-4 minutes per side, or until golden brown and the cheese has melted. Covering the pan with a lid during cooking will help the inside get all warm and gooey before the bread gets too browned.
Enjoy!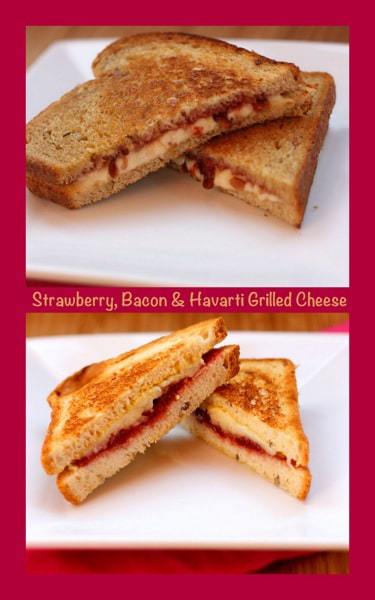 This recipe was shared with:
Countertop Confections' What's Cookin Thursday's