This post may contain affiliate links. Read my disclosure policy.
Spaghetti squash pastitsio is a healthier gluten free casserole recipe with the tastes of a traditional Middle Eastern dish.
This week #SundaySupper is traveling to the Middle East to bring you a menu of exotic and flavorful dishes. I went with a non-traditional rendition of a very traditional dish that appears in the cuisine of several different countries with my Spaghetti Squash Pastitsio with Greek Yogurt Bechamel.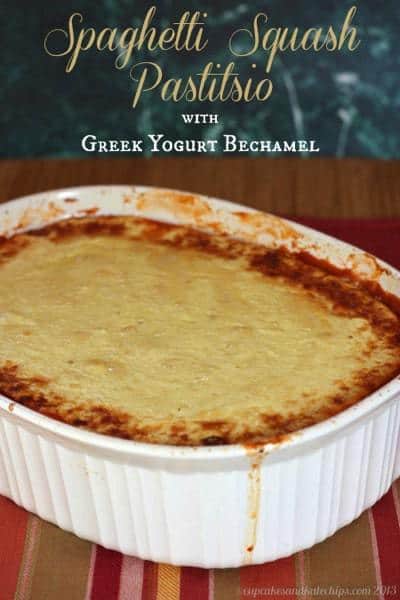 Oh my gosh, let me tell you about Friday. I had high hopes. Baby Smiles, who still likes to wake up every 3 or 4 hours, slept from 7:40 pm to nearly 5 am, then went back to sleep. The Bug also was out cold, and I wasn't falling back to sleep, so I got in my third workout of the week. Baby Smiles started to stir, but The Bug was still asleep, so I was able to feed him before waking up the big guy. Yeah, waking up the big guy – that is when all hell broke loose. Apparently putting solid color underwear on him instead of underwear with characters on it was clearly worthy of inducing a tantrum of epic proportions that involved peeing in his little potty then proceed to throw the potty across his bedroom. Yup, it was that kind of morning.
Even Baby Smiles was freaking out because I didn't get to put him down for his nap until after he was already a little overtired.
And it didn't end there. The Bug jumped around his bed instead of napping, and had another screaming fit because The Hubby had to run outside to the car for a minute to grab his bag, and told The Bug to wait inside because he didn't have socks or shoes on. This same fit was prolonged because when he said he was thirsty, The Hubby brought him his cup instead of letting him drink out of the teensy-weensy zippy cup that already contained Baby Smiles' backwash.
I boiled the same pot of water three different times because the first time I started it, my mom told me she was going to go straight to my uncle's and wouldn't be stopping for dinner because they were behind schedule, my aunt and cousin figured they'd wait till my uncle's party to eat, and then finally I got to cook the pasta when our friends arrived.
Luckily their arrival turned things around. The Bug's mood changed instantly, the kids gobbled up their pasta and tomato veggie sauce, we got to chat with our friends that we don't see often enough. There was wine. So a day that started with such promise and turned pretty ugly ended up being pretty awesome in the end.
Kinda like this gluten free spaghetti squash pastitsio. I had the idea in my head, and it sounded fabulous. I had it cooking and it smelled amazing. The top had a lovely golden brown color, and the sauce was bubbling up around the edges. I took some lovely photos of the casserole, then sunk the serving spoon through the creamy topping and saw this…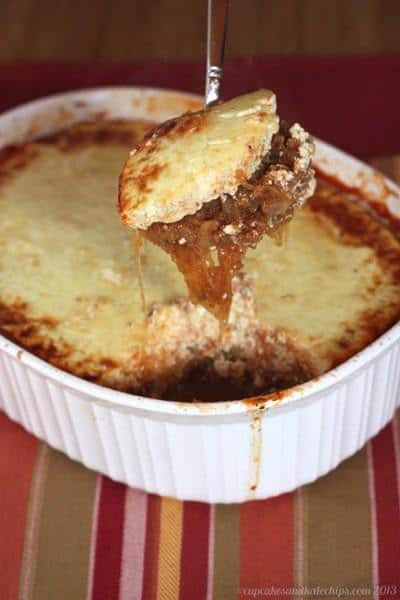 Yeah, it ain't pretty. And as a food blogger, I like pretty food. All of you folks out there on Pinterest like pretty food. I'm telling you, just because food is pretty doesn't mean it tastes good, and sometimes the ugliest stuff is the most delicious.
Spaghetti squash pastitsio – ugly! But the flavors are incredible!
If you are hung up on how your food looks, then make it and just close your eyes when you eat it. Or throw it in the fridge and reheat it the next day. It's a little less sloppy, and tastes just as good. Maybe better! The aforementioned friend and I polished off the leftovers.
The warm spices added to the tomato sauce give such an incredible, exotic flavor compared to a standard tomato sauce. It is nice and meaty and comforting, without being as heavy as a traditional pastitsio made with pasta.
Also helping to lighten the dish is the béchamel made with Greek yogurt instead of the typical butter, flour, and whole milk or heavy cream. The creaminess and tang is a nice contrast to the acidity and meatiness of the tomato-based sauce on the spaghetti squash. It is as good, if not better than I hoped as I was thinking about it during middle of the night feedings. I don't care if it is ugly!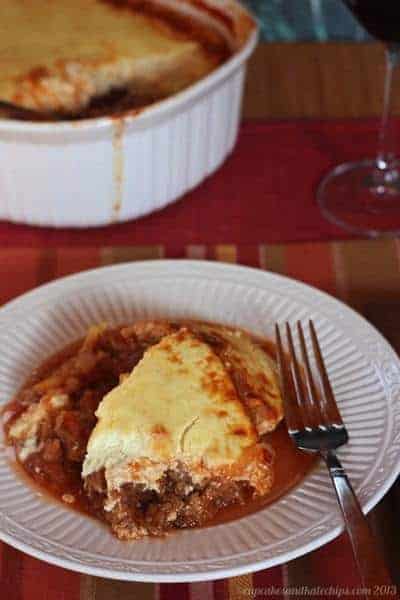 Join the #SundaySupper conversation on twitter each Sunday. We tweet throughout the day and share recipes from all over the world. Our weekly chat starts at 7:00 pm EST. Follow the #SundaySupper hashtag and remember to include it in your tweets to join in the chat. Check out our #SundaySupper Pinterest board for more fabulous recipes and food photos.
After you print the recipe for the spaghetti squash pastitsio, check out the other delicious Middle Eastern recipes at the bottom of this post.
Some things you may need to make this dish…
[amazon_link asins='B00MQMEX1W,B000S94M8O' template='ProductCarousel' store='cupkalchi-20′ marketplace='US' link_id='70d1e4aa-c3ff-11e7-a592-cb9c2b380a1c']
Do you have a favorite Middle Eastern dish? Or one that you would like to try?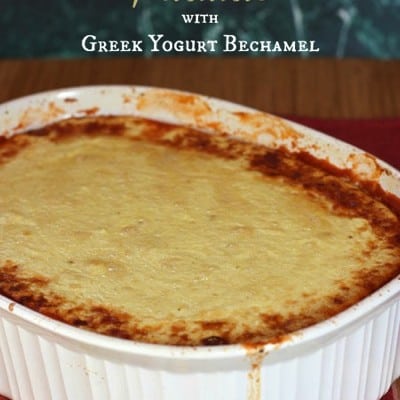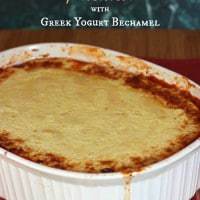 Spaghetti Squash Pastitsio with Greek Yogurt Bechamel
The traditional Greek or Middle Eastern dish reinvented in a lighter, lower carb, gluten free, veggie filled way.
Ingredients
For the Spaghetti Squash Pastitsio:
For the Greek Yogurt Bechamel:
2

c.

of plain Greek yogurt

I used nonfat

¼

c

grated parmesan cheese

2

eggs

1/4

t

nutmeg

1/4

t

kosher salt

Freshly ground pepper
Instructions
For the Spaghetti Squash and Tomato Meat Sauce:
Scrape out the "noodles" into a large bowl using a fork and set aside.

Meanwhile, heat the olive oil in a large skillet over medium heat.

Add the onion, season with salt and pepper, and cook for about 5 minutes, or until onion starts to soften and become translucent.

Add the garlic and cook for another minute or two.

Add the ground been to the skillet, and cook until cooked through and browned, crumbling it as it cooks.

Once the ground beef is cooked through, drain any excess grease from the pan.

Add the oregano, cinnamon, and allspice, cook for a minute or two, then add the crushed tomatoes, and simmer until heater through.

Meanwhile, prepare the Greek Yogurt Bechamel according to the instructions below.

Preheat your oven to 400°F, and coat a 2 quart casserole dish with oil or cooking spray.

Pour the tomato meat sauce over the spaghetti squash. Depending on the size of your spaghetti squash, you may not need all of it, or you may also wish to keep some set aside to pour additional sauce over when serving.

Transfer the spaghetti squash and tomato meat sauce mixture to the casserole dish.

Spread the bechamel evenly over the spaghetti squash mixture, then sprinkle with the parmesan cheese.

Bake for 40-50 minutes, or until bubbling, and the bechamel is set and browning.
For the Greek Yogurt Bechamel:
Stir together all of the ingredients in a bowl, and set aside until assembling the pastitsio in the casserole dish.
Notes
Greek Yogurt Bechamel adapted from Sumptuous Spoonfuls Moussaka.
Categories:
Enjoy!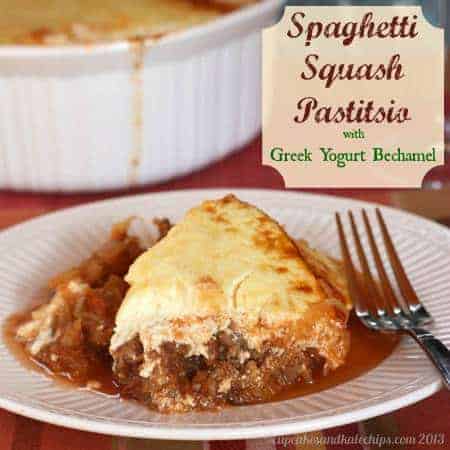 Want some more ugly but good food?
Make sure you check out 12 of the Best Spaghetti Squash Recipes So Good You'll Forget About Pasta!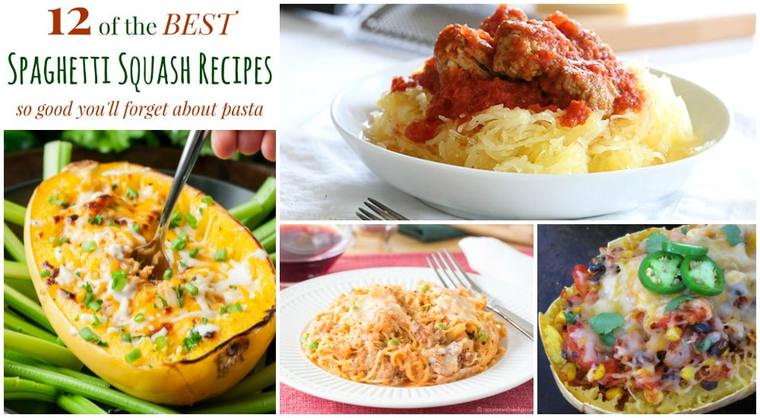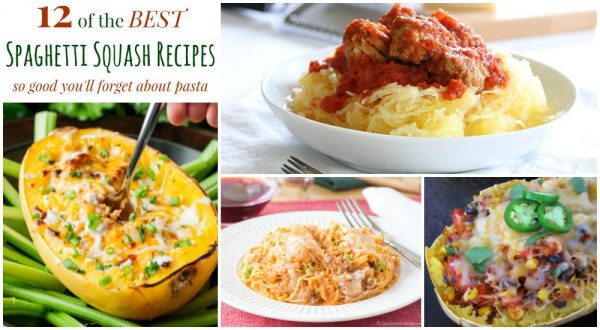 And check out the rest of the Middle Eastern #SundaySupper menu:
Mezze {Appetizers}
Salata {Salads and Sides}
Main
Halwa {Desserts}