This post may contain affiliate links. Read my disclosure policy.
Disclaimer: Yoplait provided travel accommodations and samples of the Yoplait Greek yogurt. They will also be providing free product to a randomly chased winner of a giveaway. As always, all opinions are my own.
Have you ever gotten to sample a new product before it hit the store shelves? Let me tell you, I did, and it was super fun. Yesterday I told you about my trip to the General Mills Headquarters, where we talked all things Greek yogurt, and tried the six flavors of the new Yoplait Greek Blended. I know you thought my stories and photos fun and interesting, but what you really want to know is whether its good and if you should go buy it.

In a word…  YES!! Well, first I'll give you the opportunity to win a case of the flavor you are most excited to try. But after that, go find it stores. I already have seen it on the shelves in my two local grocery stores. For those that love Greek yogurt, you'll love this. For those that love yogurt, but not the Greek style, I'm thinking you'll love this, as well.
The first thing Kate, Heather and I all did was read the labels – no artificial flavors or sweeteners, no funky ingredients, just stuff that you would expect to see. As the resident Mom of the group, that made me feel really good. There are so many day-glo yogurts marketed to kids, but this is something I could feel good about feeding my boys. Nutritional stats seemed similar to other Greek yogurts on the market, another positive.
When I first peeled the lid, the first thing I noticed was that there was no watery layer on the top, like most Greek yogurts on the market. Then you could see that it was blended nicely, with no needed to stir and stir and stir to have a nice, smooth texture. It was already smooth and silky, much more similar to traditional yogurt, but with nice juicy chunks of real fruit, which was a pleasant surprise. However, if you love the thickness, you totally get that here. You could flip the cup upside-down and it wouldn't spill out.
And what about the taste? Well, they tasted like FRUIT, not fruit-flavoring.  There is a hint of the tartness of Greek yogurt, but it isn't as strong. Nor is Yoplait Greek as cloyingly sweet as some traditional yogurts can be. Not one of the flavors was, in my option, super sugary sweet. And I liked that about this product. I've strayed away from traditional yogurts because I do now find them too sweet, and even with Greek yogurt, I tend to eat plain, and add my own fruit or sweeteners or other toppings.
Up first was Tangerine. Honestly, not my favorite, but that is because I've never been big on citrus and creamy-type stuff. I will say, it had a very authentic tangerine flavor, and was not muted or artificial-tasting at all, since the flavor came from tangerine pulp and oil. I could totally see freezing this into some popsicles, and for a savory spin, I am thinking an Asian-style salad dressing or chicken salad. I think The Bug would love that!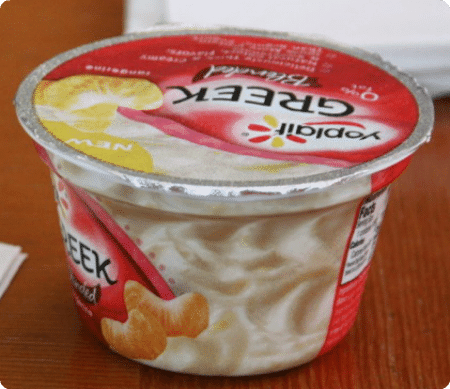 Then we moved on to one of the more traditional yogurt flavors, Blueberry. The first thing I noticed were the whole blueberries in there, which I loved. While sweeter than the other flavors, it was not overly sweet, as some berry-flavored yogurts tend to be, and again, channeling my inner Willy Wonka, the blueberry tasted like blueberry. I've already used it to make some blueberry peach overnight oats, which were pretty darn fabulous.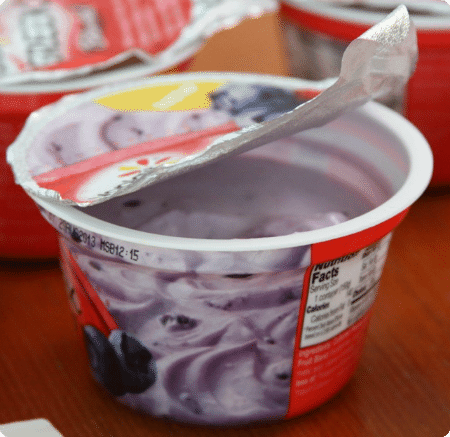 Next on the list was Vanilla. I sound like a broken record, but I can't emphasize the natural and real flavors enough – it tasted like vanilla. I actually think this is a big one though, because so many vanilla-flavored products taste totally fake. I don't usually just eat plain vanilla, but this would be great base for toppings like fresh berries or nuts or granola, and in smoothies. It is also what I used for my Test Kitchen recipe, which you will see on Thursday.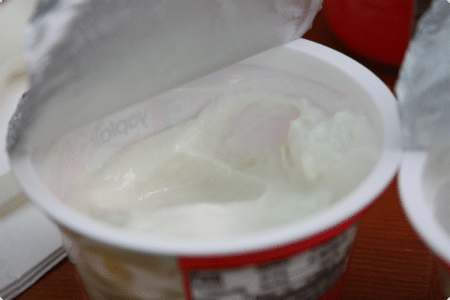 And now, OMG, the Coconut. This was the unanimous favorite. I never liked coconut until the last few years, and now I am obsessed, but can still be put off by the texture of coconut flakes. Well there is a coconutty texture here, but it totally works. Heather, Kate and I could NOT STOP eating the coconut. And the ideas I have for it – coconut curries, coconut frosting and cake filling, fro yo, straight out of the cup sprinkled with some mini chocolate chips. Please, just bring me more!!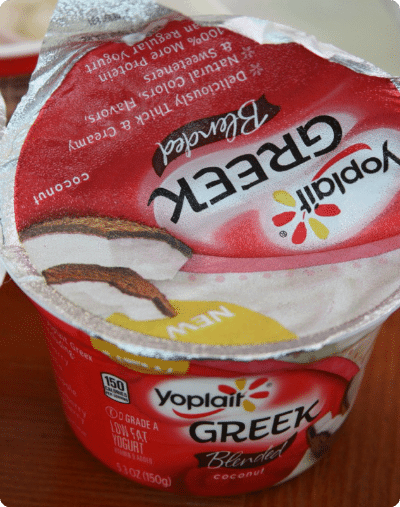 Then we had Pineapple. What surprised and impressed us the most was the chunks of juicy pineapple that looked and tasted totally fresh. After the coconut, this was my second favorite, which I totally did not expect. Combining this with the Coconut, I am totally seeing some pina colada smoothies in my future.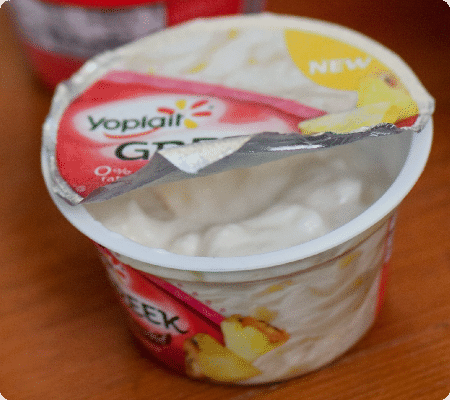 Finally, Strawberry Raspberry, which is more like some of the traditional yogurt flavors, but with a surprise of cranberry to cut some of the sweetness, plus chunks of cherries with the strawberry and raspberry. This is yummy straight from the cup, but I also want to experiment with a creamy berry balsamic dressing.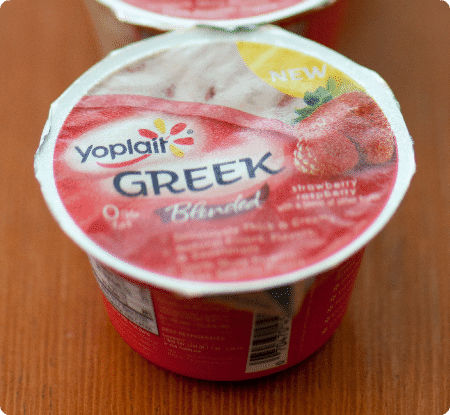 And naturally, being the foodie folks we are, we started combining flavors – Pineapple & Coconut, Vanilla & Tangerine, Blueberry & Coconut, Strawberry Raspberry & Vanilla…  Yogurt carnage!!

Then, like good food bloggers, we styled and photographed and Instagrammed!!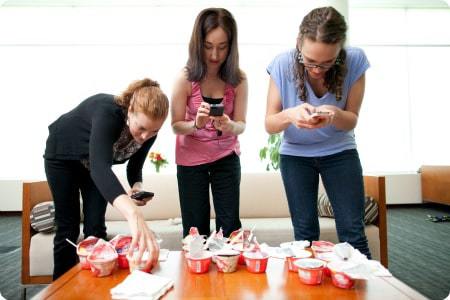 We also had the opportunity to taste the unflavored base, and I totally hope that Yoplait decides to market a plain version sometime soon. I use tons and tons of plain Greek yogurt in cooking and baking and making different parfaits and smoothies, and I totally love the texture and flavor of the unflavored Yoplait Greek.
So you wanna try some right?! Well here is your opportunity to win a case of your very own in whatever flavor YOU think you are gonna love the most.
Giveaway runs until midnight on August 5th, EDT, and is open to US residents. Winner will be notified via email, and will have 48 hours to respond, or a new winner will be chosen.
a Rafflecopter giveaway