This post may contain affiliate links. Read my disclosure policy.
I am so excited to be participating in my very first Crazy Cooking Challenge from Moms Crazy Cooking. As you all know, I am new to the blogging world, so just heard about this late last week, but still wanted to join in on the fun. Since I found out about my little bit of a wheat intolerance, I have only had pasta a few times, and typically use spaghetti squash instead. Or just forego it altogether. But I have been looking for a good reason to try some of the gluten free pastas, so the Tomato Sauce Challenge was the perfect opportunity, and I made Slow-Cooker Tomato Veggie Sauce with Sausages.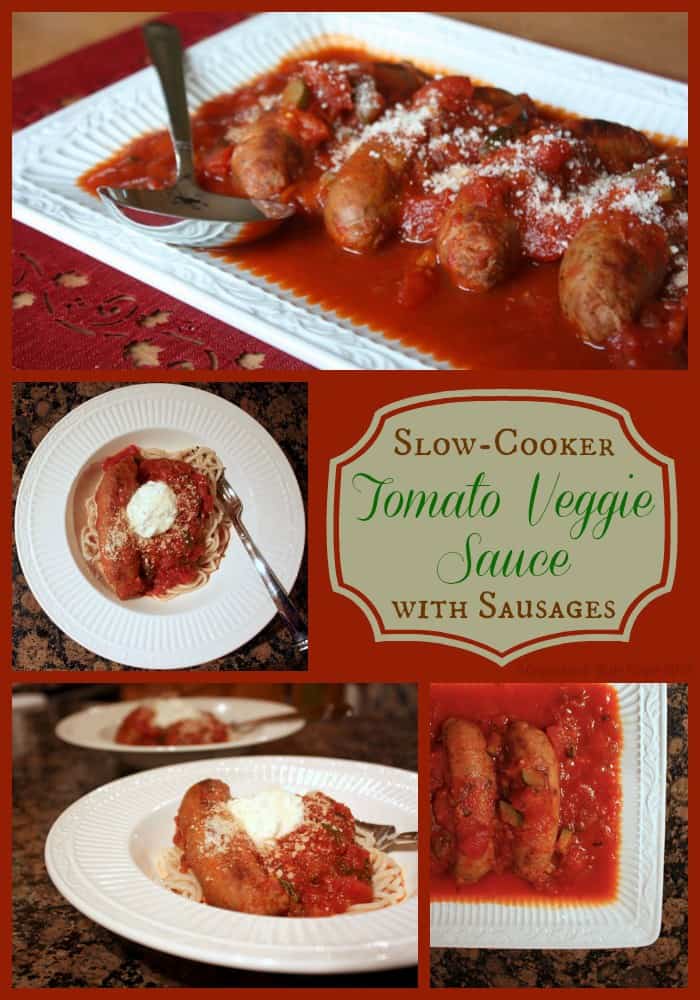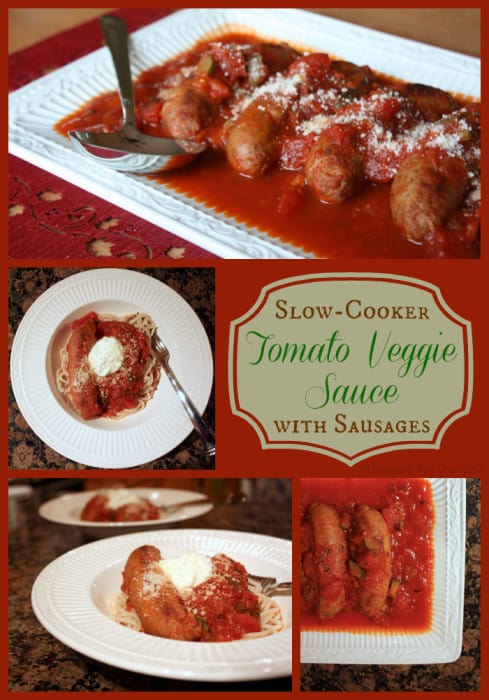 The only problem was that I was heading to my mom's for a long weekend the day after I found out about the challenge, and we already had plans for cooking in and eating out for the weekend. So the only day I had to shop and cook and blog was Tuesday – yes, the day before the posts go up. I needed something quick, easy, and would only require a quick trip to the store for a few items I didn't already have in my fridge and pantry. I started clicking on some links of the blogs listed on the Crazy Cooking Challenge page, and, although I looked at a few others, the first one I stumbled upon was perfect! It was Simple Slow Cooker Pasta Sauce from Little Mommy, Big Appetite. I had most of the ingredients (including a partial bottle of red wine), and I knew that I could easily grab the last few items from the store and get it in the Crock Pot while The Bug was at pre-school.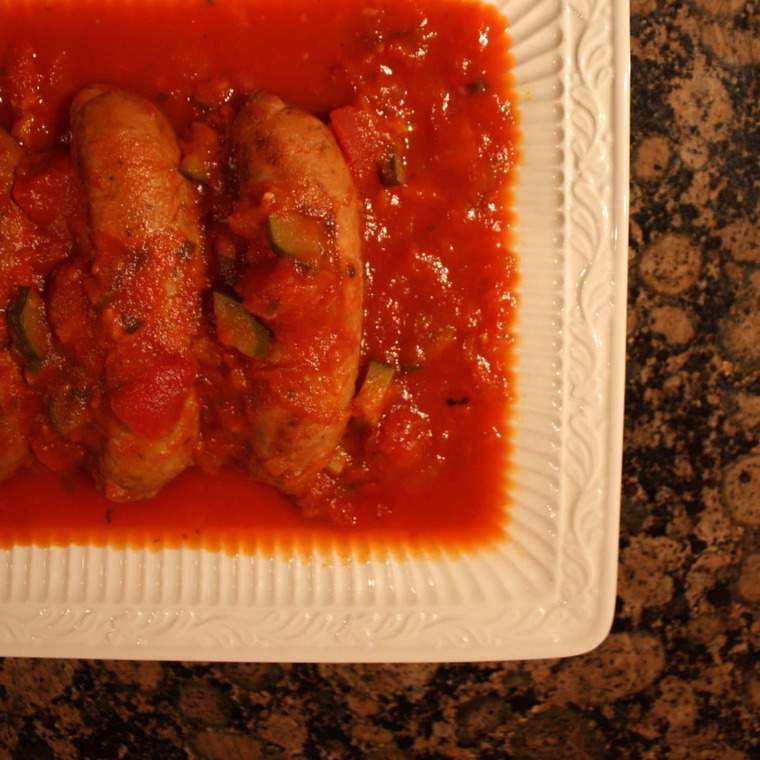 I made a few changes to the recipe, mainly based on what I had in the house. I had some fresh basil I wanted to use up, instead of dried, so added that in at the end. Little Mommy suggests mushrooms as an optional addition, but I decided to add in zucchini – mushrooms are not The Hubby's favorite, but I still wanted to get in some extra veggies. And, while I wanted meat with dinner, I didn't want a meat sauce. So instead of the optional ground beef, I threw in some mild Italian chicken sausages. You could definitely use pork or turkey sausages. Or make it vegetarian or vegan by leaving out the meat altogether.
Well, first of all, I was pleasantly surprised by the brown rice spaghetti. Pasta may be re-entering our lives, and not just in squash form! And, since this is what we are really talking about here, the sauce was rich and delicious. I loved all the veggies, the sausage was super soft, and the red pepper flakes gave it a nice kick that I balanced by topping it with a dollop of ricotta cheese (just because I had some to use up) and parmesan.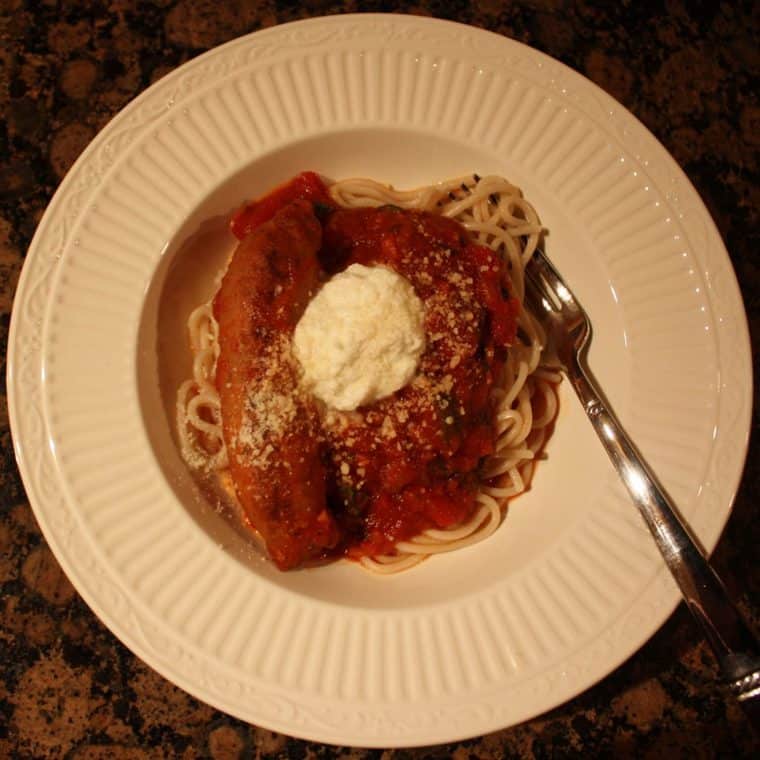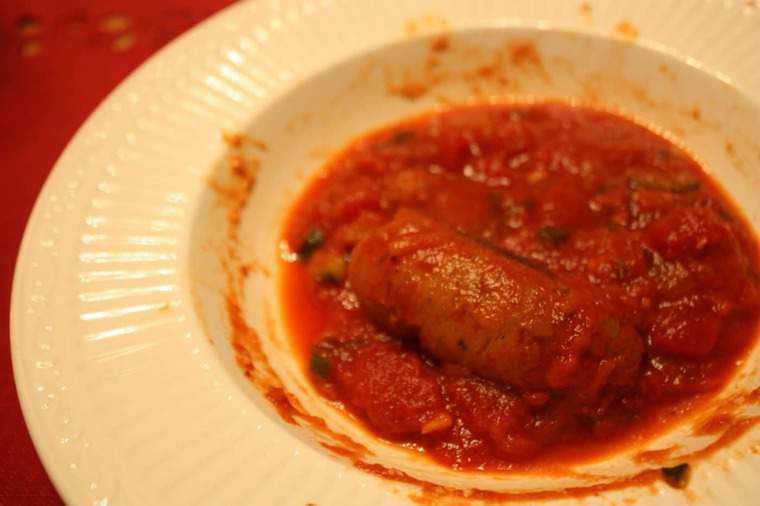 I liked it so much that after I finished my spaghetti, I went back for a bowl of sauce and sausage.
This sauce will definitely be entering our regular dinner rotation. And, most importantly, The Hubby and The Bug approved. The Bug typically spits out zucchini, and can be hit or miss with meat, but he ate three plates of "noodles"!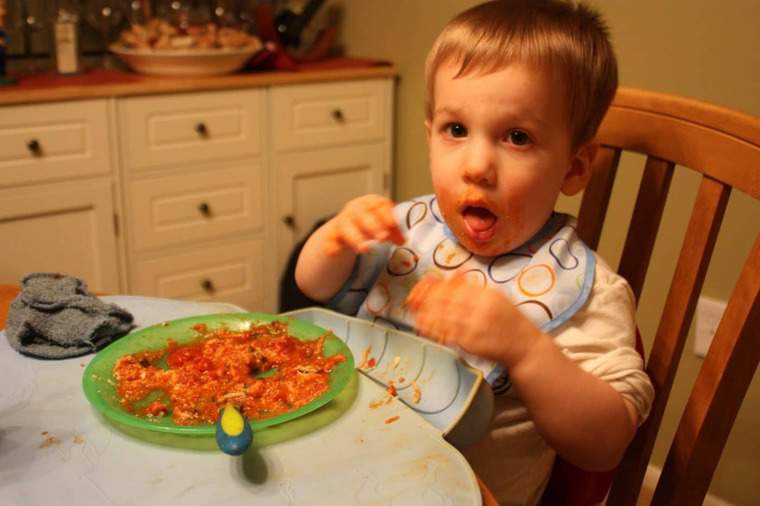 And in my never ending quest to re-purpose leftovers, I bet this would make a really awesome sausage sandwich, on some nice, crusty bread with mozzarella cheese melted on top.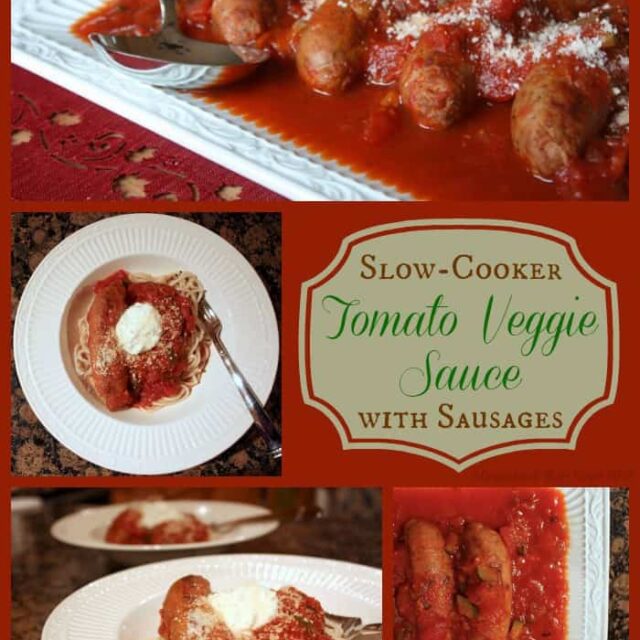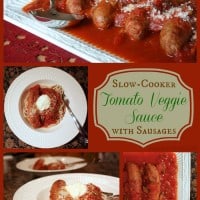 Slow Cooker Tomato Veggie Sauce with Sausages
Ingredients
1

T

olive oil

1

sweet onion

chopped (I actually used only half because the one I had was enormous)

1

cup

shredded carrots

2

small zucchini

chopped (about 1 1/2 cups)

3

cloves

garlic

minced

1

T

olive oil

1

28 ounce can whole peeled tomatoes – I used Tuttorosso Whole Peeled Plum Tomatoes, chopped them into bite-sized pieces, and added the liquid from the can, but not the liquid that squished out from the tomatoes onto the cutting board while I was chopping them.

1

6 ounce can tomato paste

1

15 ounce can tomato sauce – again I used Tuttorosso

1/2

T

dried oregano

1

T

parsley

1

t

sugar

1

t

crushed red pepper flakes

this gives it a but of a kick, so you may want to cut this down, depending on how spicy you like things

1/4

cup

red wine

I used Merlot

1/2

T

Worcestershire

1/2

teaspoon

salt

or more

1/2

teaspoon

black pepper

2

T

fresh

or 1/2 T dried, as per the original recipe, but toss this in before cooking

1

pound

mild Italian chicken sausage

optional, or substitute pork or turkey sausage

Spaghetti of your choice

regular, whole wheat, gluten-free, cooked as per package instructions.

Optional: Ricotta and/or Parmesan cheese for serving.
Instructions
Heat the oil in a pan over medium heat.

Add the onions, carrots, and zucchini and cook until soft, and onions are translucent.

Add the garlic and cook for another minute or two.

Throw all of the veggies in your slow cooker.

While you are adding all of the other ingredients to the slow cooker, throw the sausages into the pan you used to cook the veggies and brown them a little on the outside.

Add all of the other ingredients except for the pasta and optional cheese(s) to the slow cooker, stir it up and add in the sausages.

Cook on low for 4-6 hours (to be honest, I had mine cooking for about 7).

While you are cooking your pasta, take the lid off of your slow cooker to allow the sauce to thicken up a bit.

Serve over your favorite spaghetti, with a little dollop of ricotta cheese and/or a sprinkle of parmesan, if you like.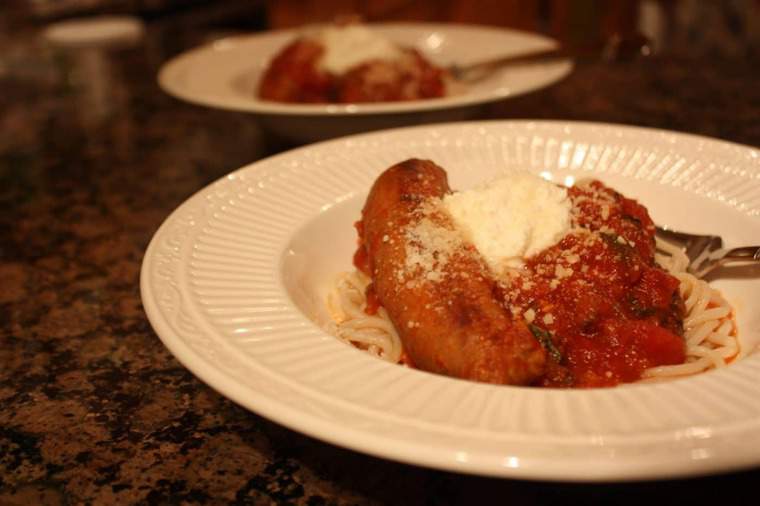 Enjoy!