This post may contain affiliate links. Read my disclosure policy.
Some restaurant salads really astound me. I am sure you have all seen the articles that detail salads from lots of common chain restaurants that easily have more calories and/or fat and/or saturated fat and/or sodium than a Big Mac and fries. Usually it is pretty easy to spot the major offenders – salads loaded with fried chicken fingers or wonton strips or croutons or a mountain of cheese, served in a bread bowl or fried tortilla bowl, topped with about a cup of ranch dressing.
But then there are the ones that sneak in under the radar. These are the ones I usually fall victim to. I've told you about my love of salads with fruit, and I have tried a number of them at many different restaurants. Everyone seems to have their own spin on it, but you can usually count on that fruit being paired with cheese and nuts – not unhealthy in moderation, but you know the portion sizes in restaurants. My favorite salad in the world (which I ordered when me and The Bubby ordered takeout, put The Cranky Bug to bed early, and had a date-night-in on Friday) is called the Italian Country Salad from my favorite local restaurant, Old Man Rafferty's. Sounds lovely and light. Well the mixed field greens and sliced pears are very light…  before they are loaded down with massive chunks of Gorgonzola and sugar-coated candied pecans and a healthy dose of an oily champagne vinaigrette.
So this is why I have started to make my own versions of the types of salads I love – cheaper and better for you, because you know what is going into it, and can control the quality and quantity of the ingredients.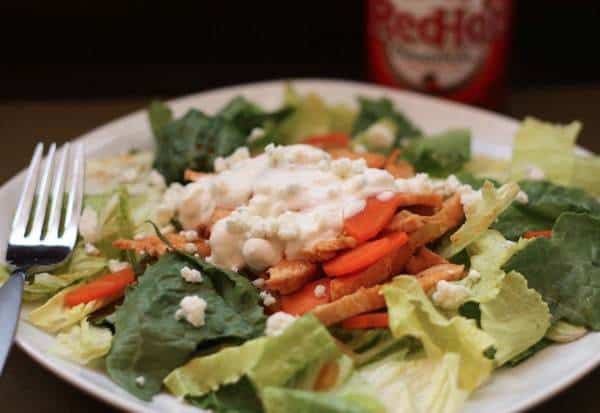 Now there are probably a million restaurants that have a Buffalo Chicken Salad, and like a gazillion different versions on various blogs, recipes websites, and in cookbooks. I really love hot, spicy chicken and blue cheese, but I am honestly not a fan of wings – don't like chicken skin, so they are way to much work for too little payoff. And other incarnations of Buffalo Chicken usually involve breaded chicken fingers coated in a buttery hot sauce – even on a salad, it is still one of the calorie bombs I just mentioned. So I came up with this version.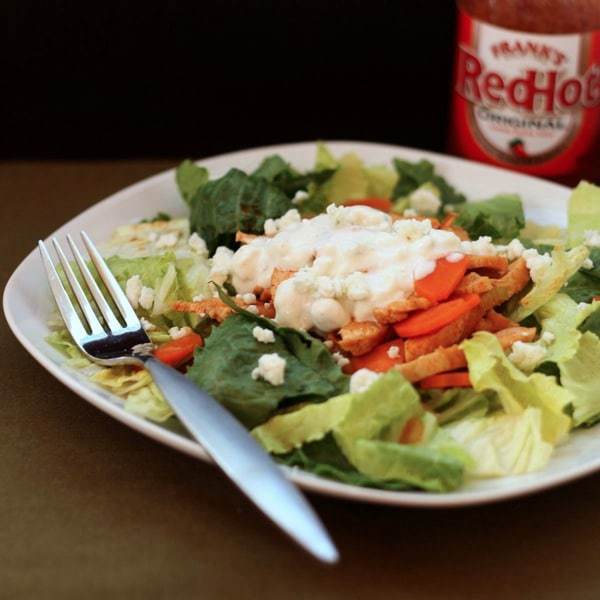 Cooked boneless, skinless chicken breasts are sliced, then simmered in hot sauce with just a hint of butter for richness. Plus, since The Bug just does not dig salads yet, I also figured I'd load in a few more veggies. Besides, what goes better with Buffalo Chicken than some carrots and celery…  and blue cheese – from my homemade Greek Yogurt Blue Cheese Dressing. And why is it called a Skinny Buffalo Chicken Salad? Well, not just because I've lightened it up, but also because I sliced the chicken and veggies super-skinny, so that they can absorb more of the spicy sauce.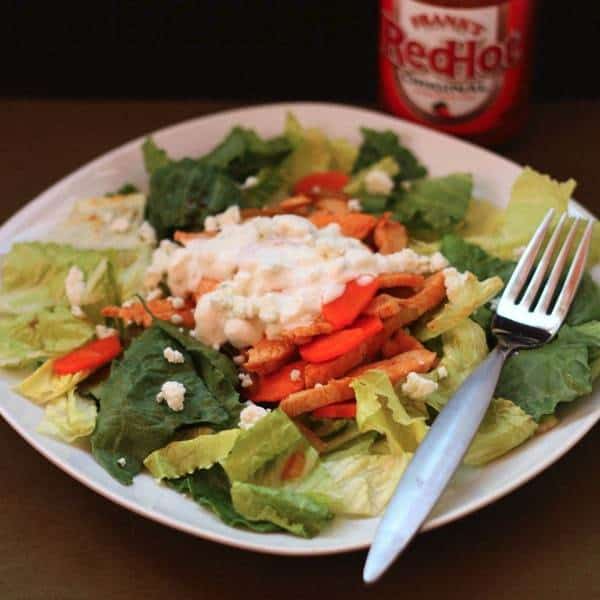 You've got yourself a flavorful, filling salad that won't weigh you down. The chicken mixture would probably also make a great filling for some Buffalo Chicken sandwiches or wraps.
Do you have any strategies for eating healthy at restaurants? Or do you figure that going out to eat is a treat, so you splurge?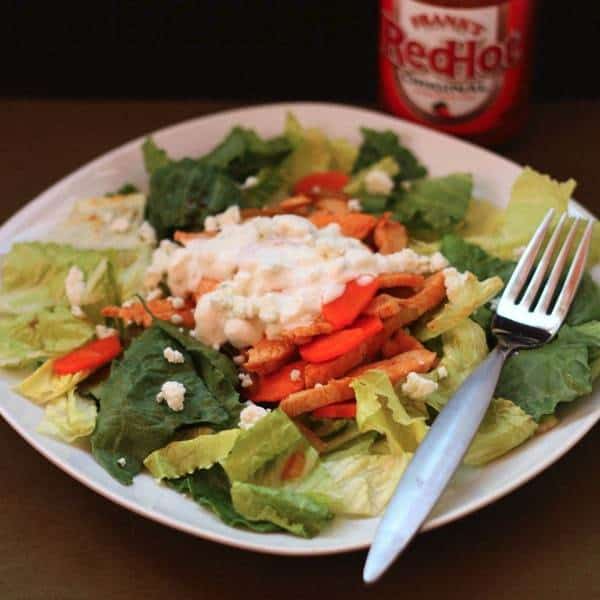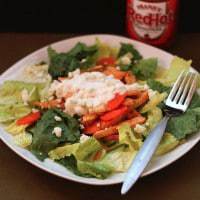 Skinny Buffalo Chicken Salad with Greek Yogurt Blue Cheese Dressing
Ingredients
1/2

T

butter

1/3

c

thinly sliced carrots

1/3

c

thinly sliced celery

pinch

of salt and pepper

2

c

about 3/4 lb cooked (in a pan, on the grill, whatever), thinly sliced boneless, skinless chicken breasts

1/4

c

hot sauce

I used Frank's Red Hot

1/4

c

water

1

T

Worcesteshire sauce

salad greens of choice

I used Romaine

Greek Yogurt Blue Cheese Dressing

see link below

Additional crumbled blue cheese

optional
Instructions
In a saucepan, melt the butter, add the carrots and celery, and a pinch of salt and pepper. Cook for several minutes, or until veggies are starting to get tender.

Add the chicken, hot sauce, water, and Worcesteshire sauce. Heat to bubbling, then simmer until heated through and thickened slightly.

Divide salad greens among 4 plates. Top with the chicken mixture, a dollop of dressing, and a sprinkle of blue cheese, if desired.
Notes
The chicken mixture would also be delicious for some Buffalo chicken sandwiches or wraps.
Click HERE for the Greek Yogurt Blue Cheese Dressing recipe.
Enjoy!