This post may contain affiliate links. Read my disclosure policy.
Do you ever get bored of sending out the same old Christmas cards every year? Why not design your family as LEGOs instead!? You'll love this adorable holiday gift idea.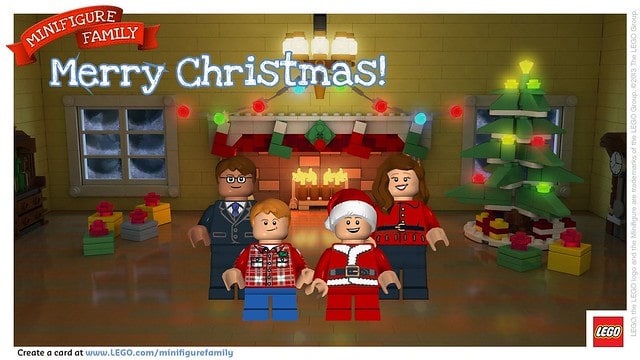 Send a Holiday Greeting with a LEGO Family
I don't know about your kids, but The Bug is not one for getting his picture taken. If we are lucky enough to get him to sit still and cooperate, then he is undoubtedly making a silly grin, holding his hand up next to his face, and saying "CHEEEEEEEEESSSSEE" as loudly as possible. So I decided that this year, we will opt for the LEGO Minifigure Family holiday greeting instead of cards!
Ha! I'm kidding. But getting The Bug to sit down at the computer is a lot easier than getting him to sit down for a photo, so he and I had a blast creating our LEGO Minifigure family. He came home from school in rare form, so this was a great activity for a little Mommy and Bug quiet time while Baby Smiles was napping. It was so fun to pick from all of the different skin tones, facial expressions, hairstyles, hats and outfits. And while I tried to recreate a real family portrait – you know, Hubby in a suit, me with my hair styled nicely, The Bug in a festive holiday outfit, and Baby Smiles wearing some Santa jammies for his frist Christmas – The Bug got a little more, umm, shall we say, creative…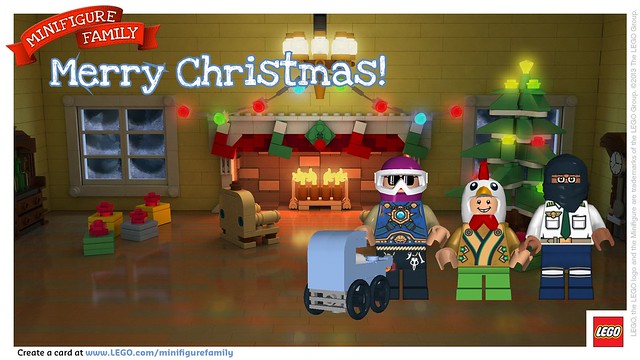 This certainly made for some giggles all around! Apparently Mommy likes skull keychains and hot pink ski helmets, Daddy just had to have a helmet and a pilot's shirt, and The Bug should now be called The Chicken! And while The Bug and I both went traditional with our fireplace and Christmas tree scenes, you and your kids can put your LEGO family in the North Pole, on the moon, or on the beach! Then add your favorite holiday greeting.
Why don't you head on over and build a LEGO Minifigure Family of your own? Let your kids get creative, then share with your family and friends all of the fun and crazy LEGO portraits they come up with! I guarantee you'll have lots of smiles and laughs!