This post may contain affiliate links. Read my disclosure policy.
Salsa chicken chipotle grilled cheese sandwiches are easy gluten-free Cinco de Mayo food! As National Grilled Cheese Month comes to a close and Cinco de Mayo approaches, this blend of salsa, chicken, and both regular and chipotle cheddar cheese turns your standard grilled cheese into a fiesta in your mouth.
Disclaimer: As a member of the Cabot Cheese Board, Cabot Creamery Cooperative provided me with samples of their cheese. I was under no obligation to write this post, and, as always, all opinions are my own.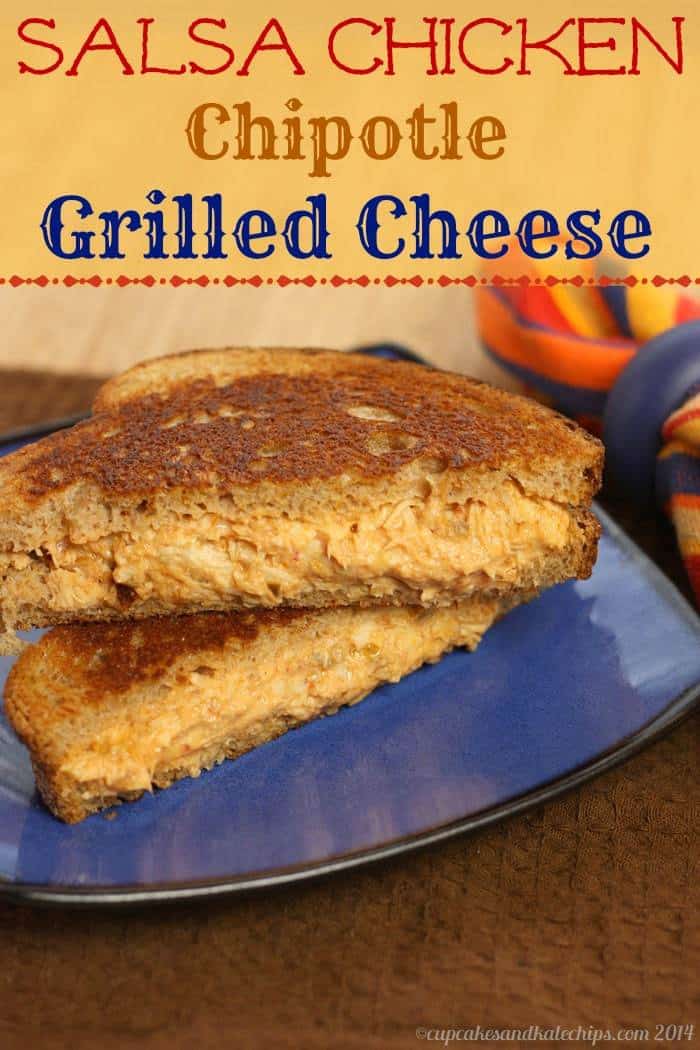 Usually I try to put some effort and thought into my blog posts. I know most people are use here for the food, and really don't care one bit about my random ramblings, but I really don't lie just dialing it in. You know, "Hey, here's food. It's yummy. Make it." That's some other bloggers' styles and that's cool, but it's not me. This is why I am not good with Twitter. 140 characters just doesn't work for this wordy girl.
But here I am, dialing it in. Because I am in the middle of a ten day visit to my mom's, it was just Easter, and in the midst of getting packed while I had an almost-4-year old home on spring break, a 1-year old who likes to hang on my legs and empty my cabinets, and the first decent weather in ages, I didn't get my blog posts written ahead of time. Then I spent the holiday weekend making goodies and watching my boys hunt for eggs and spending time with the family. And today mom babysat so I could go shopping ALONE!
So here you go… salsa chicken chipotle grilled cheese. But let me tell you, making this particular grilled cheese is NOT just dialing it in. This is uhhhh-maaaa-zing!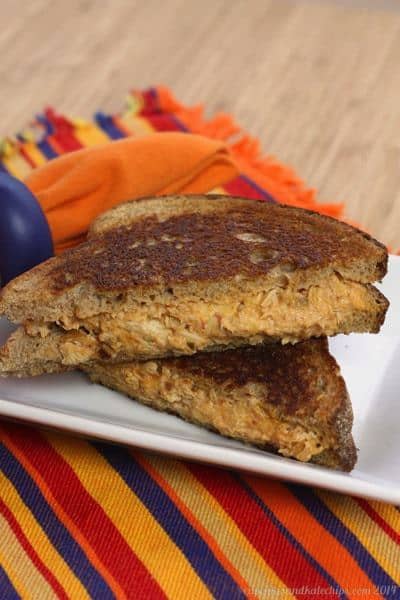 A few weeks ago, I heard a knock at the door and opened it to another fabulous box of cheese and goodies courtesy of Cabot Creamery Cooperative in celebration of National Grilled Cheese Month. You all know I'm a huge fan of fancy pants grilled cheese (hello Hot Brown, Buffalo Chicken, Chicken & Broccoli and Corn, Bacon & Avocado, just to name a few), and that Cabot is most often my cheese of choice, especially for grilled cheese. So when this package arrived just in time for the most awesome of months, I knew I had to get all grilled cheese crazy. And that Cabot Chipotle Cheddar was calling my name…
[amazon_link asins='B008AK5Q0G' template='ProductGrid' store='cupkalchi-20′ marketplace='US' link_id='e229c559-0a7c-11e7-ac7a-cbccc015f5ed']
"Brianne… shred me… grill meeeee!"
Oh boy am I glad I listened.
This salsa chicken chipotle grilled cheese sandwich may not look like much, but the flavors are just WOW!
I used medium salsa to give it a little kick. And sure, you could use all cheddar and it would still be tasty, but the smokiness from the Chipotle Cheddar really just took it to another level.
Ole!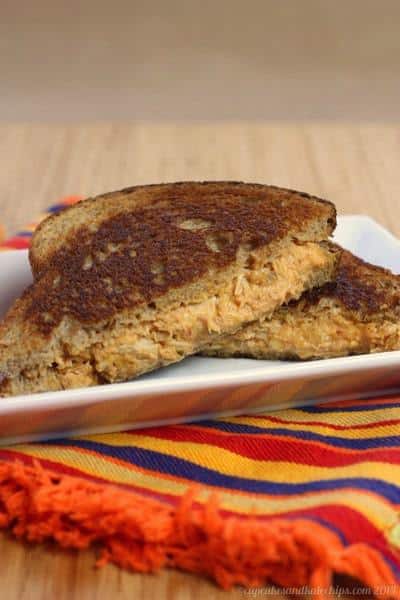 Are you or did you do anything fun for spring break?
Let me know what you think of the salsa chicken chipotle grilled cheese sandwich!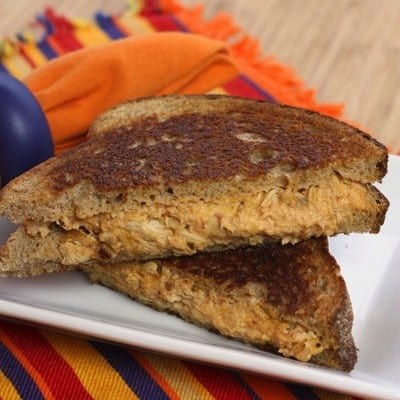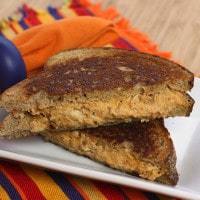 Salsa Chicken Chipotle Grilled Cheese Sandwich
Ingredients
About 1 cup cooked chicken

shredded or finely chopped

1/2

cup

shredded sharp cheddar cheese

1

cup

shredded Chipotle Cheddar cheese

or use all sharp cheddar

1/2

cup

salsa

1/4

cup

Greek yogurt

8

slices

of your favorite bread

I used whole wheat for the boys and gluten free for me

4

Tbsp

butter

softened

2

tsp

olive oil
Instructions
In a medium bowl, combine the chicken, cheeses, salsa, and Greek yogurt.

Spread about ½ Tbsp butter on the outside of each slice of bread.

Divide the mixture evenly between four of the bread slices, and top with another slice of bread.

Heat olive oil in a pan over medium-low heat.

Cook the sandwiches for about 4-5 minutes per side, or until golden brown and the cheese has melted. Covering the pan with a lid during cooking will help the inside get all warm and gooey before the bread gets too browned.
Categories:
Enjoy!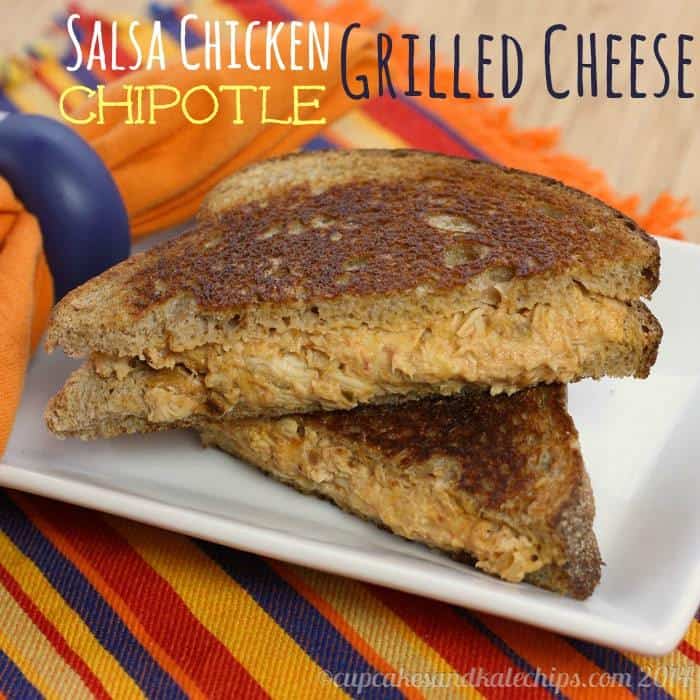 Want more salsa chicken goodness?
And here are some from my friends…