Rosemary Balsamic Roast Chicken and a new job for The Hubby
The Hubby started his new job today.  I am so excited for him!  He has been looking for a new opportunity for a while, and he really deserves this promotion.  So to celebrate, this weekend I roasted a chicken.  Well, not really.  I am actually just trying to clear out my freezer so that I can defrost it, and I have a habit of buying a chicken or two whoever they go on sale.  Saturday was an overcast day, we weren't going anywhere – perfect day to roast a chicken for dinner.  And after a week filled with a few too many cookies and cupcakes, some nice, lean protein was definitely in order.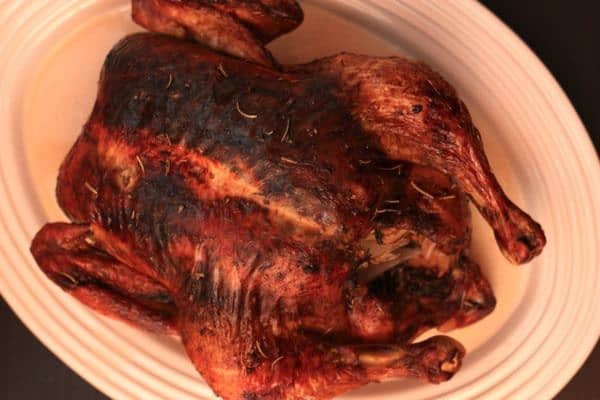 Well, the new job will likely require more hours, and probably some travel.  I was expecting this, and while I know that it means The Bug and I may be on our own a little more than we were before, I was not expecting that he would have to stay for post-work activities on his first two days of the new job.  Tonight he got wine, dinner, new and interesting coworkers, and Moneyball.  I had water, leftovers, a very-tired-after-a-busy-day-and-short-nap Bug, and Cupcake Wars on the DVR.  Tomorrow he gets to go out for a nice dinner.  I get more leftovers.  Luckily they were very tasty leftovers.  That is one of the best things about roasting a chicken when you only have a family of two adults and one little guy – there are always leftovers.  And if you have more people, well, it is only a tiny amount of additional work to throw two chickens in the oven.  Even we often do that.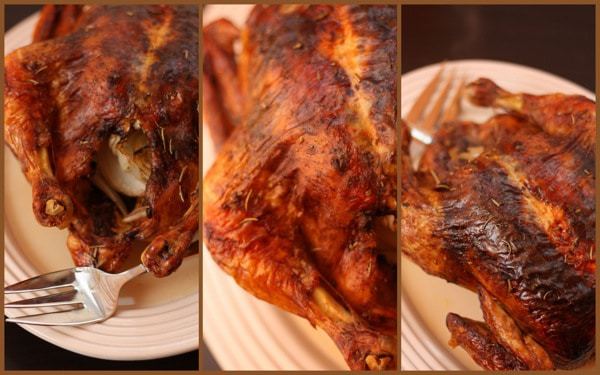 The Hubby and I are not big gravy people, so when I am making a chicken, I like to do as much as I can to infuse flavor and moisture.  So Saturday I thought about one of my favorite ingredients – balsamic vinegar.  I thought it would be perfect to infuse flavor into the chicken, and provide a slightly sweet and tangy glaze.  And it was definitely yummy, and not in need of any gravy.  And actually, I bet pouring on the vinegar mixture and letting it marinate for a few hours before roasting would make it even tastier.  I'll try this next time and let you know how it turns out.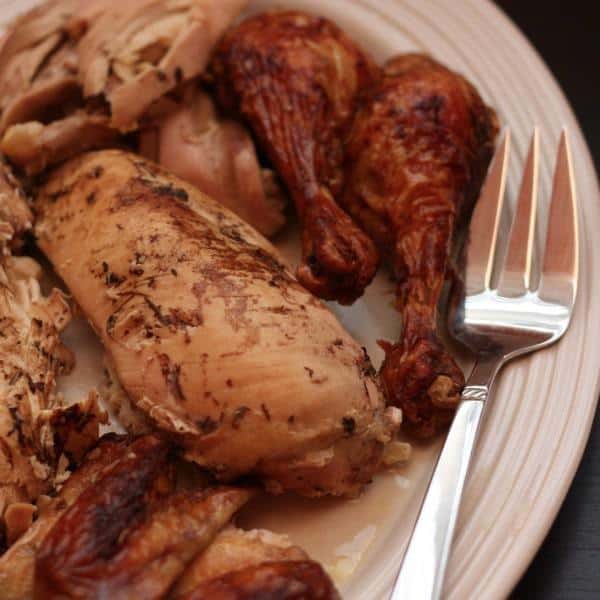 I may have been complaining a bit, but I am actually looking forward to eating the leftovers tomorrow.  They would also be delicious on a panini with roasted red peppers and mozzarella, or brie cheese and a mixture of dijon mustard and more balsamic vinegar.
What is your go-to recipe when you want to make sure you have leftovers?  Is there anything that you always stock up on when it goes on sale?
Rosemary Balsamic Roast Chicken
Ingredients
1 5-8 lb roasting chicken
1 medium or half of a large onion
1/2 c balsamic vinegar
1/4 c olive oil
1 t dried rosemary (or about 3 t fresh)
1 t dried oregano (I'd stick with the dried here)
2 t kosher salt
a few grinds of black pepper
Optional thick, aged balsamic vinegar or regular balsamic vinegar, reduced to a syrup, for serving
Directions
Preheat the oven to 425°F.
Remove the giblets from the chicken, pat dry with paper towels, and place on a rack in a roasting pan.
Cut the onion into about 4 chunks and place inside the cavity of the chicken.
Combine the balsamic vinegar, olive oil, rosemary, oregano, salt, and pepper.
Use your fingers to separate the skin from the breast and pour some of the vinegar mixture under the skin. Pour the remaining mixture inside the cavity and rub some over the outside of the skin.
Put the chicken in the oven for 30 minutes. Reduce oven to 350°F, and roast for an additional 1 to 2 hours, depending on the size of your chicken, or until the breast meat registers 165°F and the thighs register 180°F on an instant-read thermometer. If the skin is browning to quickly, cover lightly with a tent of aluminum foil.
Let rest for about 10 minutes before carving.
If desired, drizzle with the aged or reduced balsamic vinegar for serving.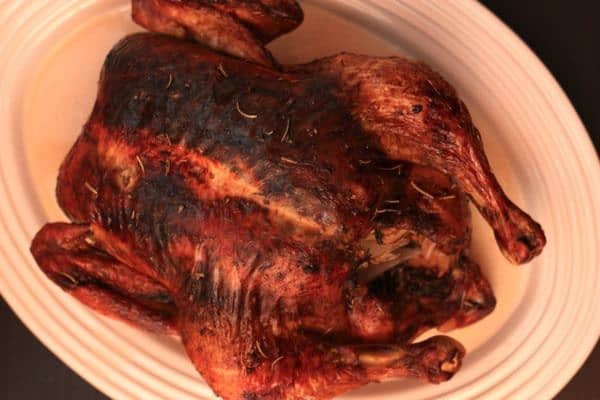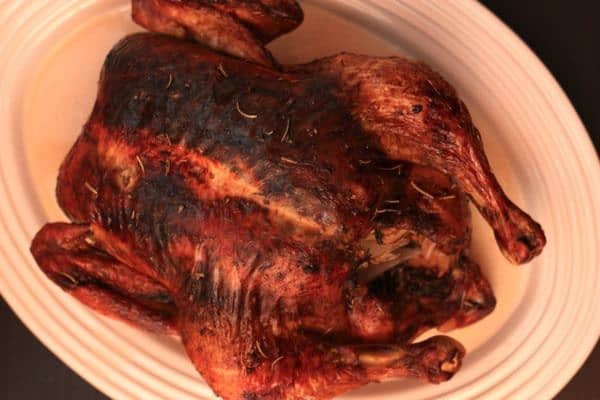 Loading nutrition data...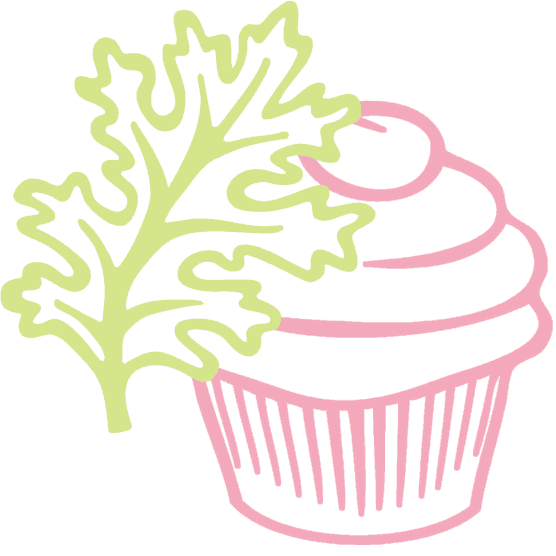 LOVE THIS RECIPE?
Give it a 5 STAR rating and share your photos on Instagram with the hashtag #CKCrecipes!
Enjoy!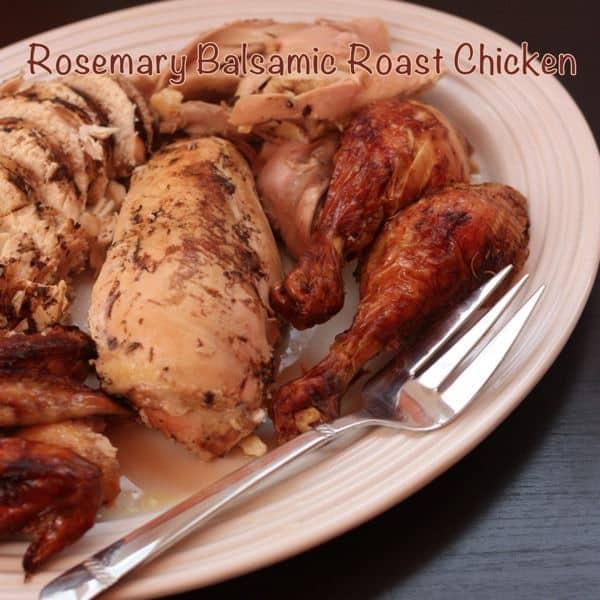 This recipe was shared with:
Kelly the Kitchen Kop's Real Food Wednesday 4/4/2012
Family Fresh Meals' Recipe of the Week: Chicken