Restaurant Review: Catherine Lombardi (and a little pre-dinner at Daryl) – #WIAW (sort of)
Disclosure: This post may contain affiliate links. Cupcakes & Kale Chips is a participant in the Amazon Services LLC Associates Program, an affiliate advertising program designed to provide a means for us to earn fees by linking to Amazon.com and affiliated sites.
I have seen a lot of bloggers post "What I Ate Wednesday." Of course, most of the ones I have seen are the healthy bloggers, who post their green smoothies, and black bean burgers, and kale salads. Well, I figured it was time for me to participate. Except that I didn't actually eat any of this on Wednesday (it was Saturday), and it is decidedly not healthy. However, it was incredible!
The Hubby and I got a "date day." Dad come over while The Bug was napping, and The Hubby and I got to catch some spring practice Rutgers college football action. And I got some photography practice. I seriously need a zoom lens.
Then we headed home for a quick change, and, though we still had quite awhile before our dinner reservation, we wanted to take full advantage of a grandparent who was happy to stay with our wonderful child ALL afternoon and evening. And we were starving. So we headed to Daryl, a restaurant/wine bar/wine store in downtown New Brunswick, NJ. Daryl was formerly owned by the amazing David Drake, a major player in the New Jersey culinary world. He has since moved on, and the restaurant has reopened with new leadership for the restaurant and the kitchen. The kept the decor the same, still offer many wines by the glass, in 2 oz., 4 oz, and 6 oz. pours, thanks to their vacuum wine preservation system. No need to worry about getting the last glass out of a bottle that has been sitting around open for awhile. On several occasions in the past, The Hubby and I have taken advantage of this to sample 7 or 8 1 or 2 different wines. Saturday night we sat at our favorite spot at the end of the bar, and decided to kick off the evening with a small 2 oz. taste of Trevisal Prosecco from Veneto. I love a little bubbly, especially Prosecco, and this one did not disappoint.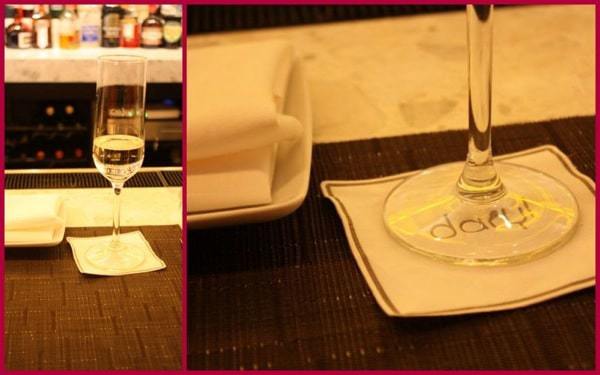 Then we shared the Buffalo chicken appetizer, which they nicely split up for us, so that we each had our own plate, instead of trying to divvy it up ourselves. This was definitely a top notch interpretation of Buffalo chicken – a nicely spiced boneless thigh, served with cubes of celery root and crumbles of blue cheese, with some extra Buffalo sauce on the side. Clearly we didn't like this at all…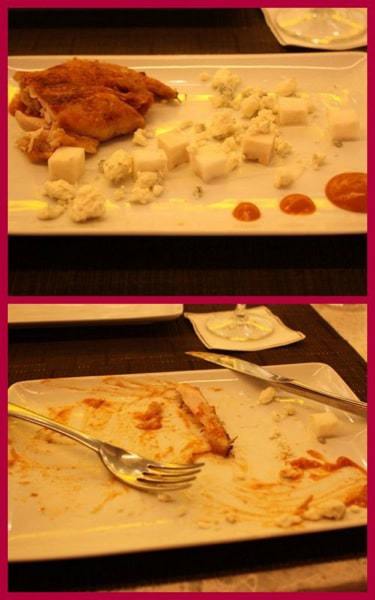 Then, since we still had some time, we decided on a couple of cocktails. The Hubby had a Raspberry Caipirihna, and I had an Argentinian Sunrise, with had pisco, sour mix, and a cabernet sauvignon float. Both were beautiful and tasty.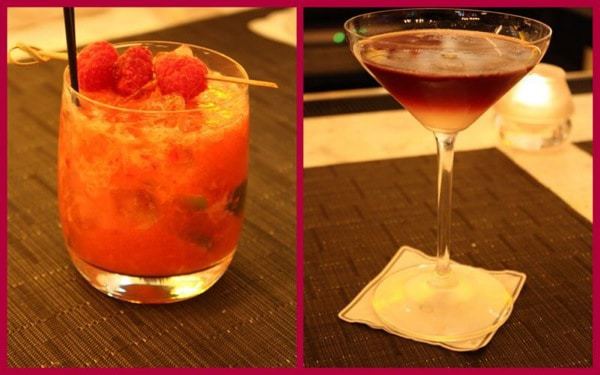 This little sampler definitely whet our appetites to return to Daryl and sample some more of the offerings from the new team. And it whet out appetite for dinner at Catherine Lombardi to celebrate our friend's 50th birthday. Catherine Lombardi is a modern Italian restaurant owned by the same gentlemen as Stage Left, one of my best dining experiences ever (and home to the most amazing hamburger ever). I have been wanting to eat here for ages, and am so happy I finally did.
The decor of the restaurant is warm and comfortable, with lots of reds and dark wood, and enough light to make it glow, but not too brightly. Catherine Lombardi's cocktail bar is famous, with some excellent bartenders who know their spirits, and it is all described in full detail to those, like me, who know nothing about spirits. I  will have to return for a cocktail sometime, but after Daryl, I knew I had to skip this round.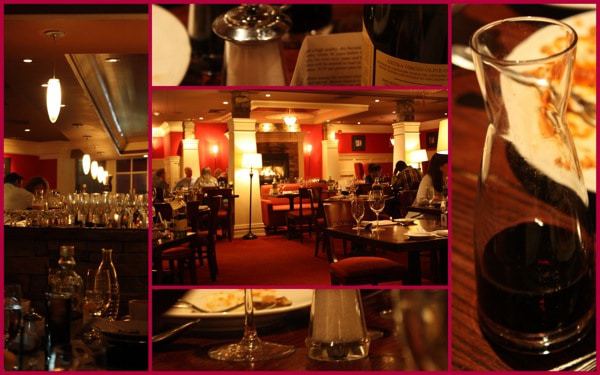 The waiter offered us with the option of having a selection of hot anipasti brought to the table to share, family style. Four large plates of Eggplant Rollatini, Stuffed Mushrooms, Stuffed Calamari, Stuffed Clams, and Shrimp Scampi. Everything looked delicious, and everyone seems to enjoy the appetizers, and the fun of sharing them. I tried the shrimp, and it was buttery and not too garlicky. And the marinara sauce for dipping was perfect. The birthday boy wanted the Very Garlic Bread. Several baskets rapidly disappeared. Since I am staying away from wheat and could not eat most of the antipasti, I ordered the fresh, house-made mozzarella with roasted red peppers. It was so creamy, yet light, and perfect with a little olive oil, and the bright green pesto swirled on top.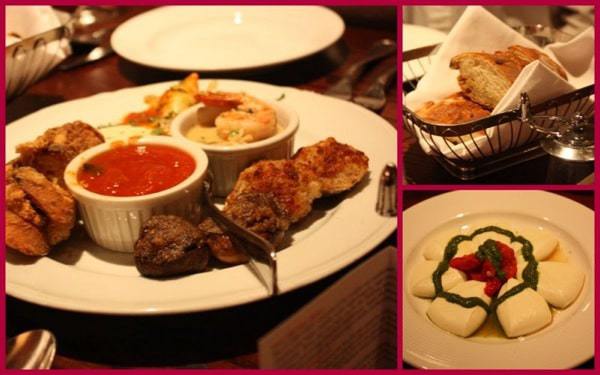 I knew I had to stay away from the pasta dishes, even though they sounded wonderful, and the Buffalo chicken satisfied my meat craving, so I didn't want a meat-heavy meal. So I decided on a side order of polenta, and a mixed cold antipasti plate, for which I chose Taleggio cheese, Gorognzola Cheese, Sweet Dried Sausage, Marinated Mushrooms, Marinated Olives, and Eggplant Caponata. I created so many different flavor combinations by mixing up all of the different components – this was such an excellent choice as a meal. I also ate the polenta with a little of the leftover marinara from the appetizers. I would definitely recommend this as a gluten-free entree option. And it paired nicely with my red wine.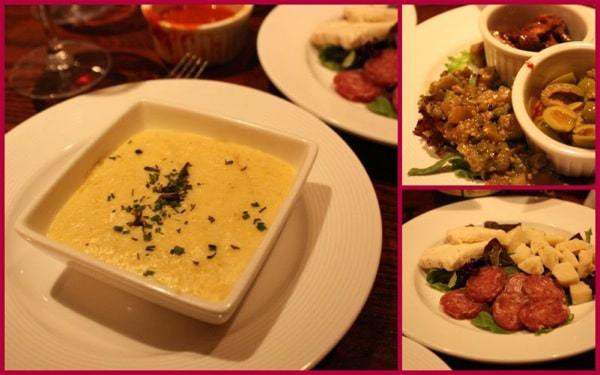 The most-ordered dish was the special Papparadelle with Wild Boar Bolognese. It looked and smelled amazing, and the four people at the table to ordered it loved it, and I think finished every bite. Other selections included salmon and ravioli, and everyone was quite pleased with their dishes.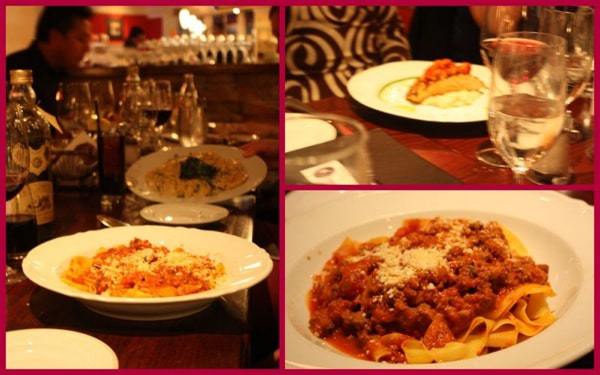 I was definitely too full for dessert, but they did bring out a little birthday Creme Brûlée.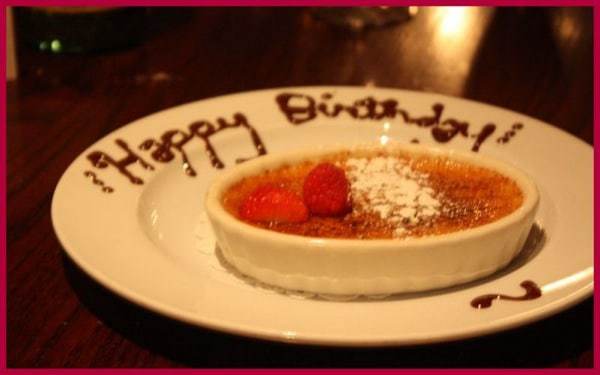 Such a fun night, made that much better by good company, and excellent food and drinks. If you are ever in New Brunswick, stop by Daryl or Catherine Lombardi (or even Stage Left) – you will not be disappointed.