Recipe Without a Recipe: PB&J Yogurt
Disclosure: This post may contain affiliate links. Cupcakes & Kale Chips is a participant in the Amazon Services LLC Associates Program, an affiliate advertising program designed to provide a means for us to earn fees by linking to Amazon.com and affiliated sites.
So what is a Recipe Without a Recipe? Well, I'm always looking at what we have in the pantry and fridge to come up with quick and easy breakfasts, lunches, and snacks for The Bug. I want to make his meals and snacks as nutritious as possible, focusing on "real foods", plus the same-old-same-old gets boring. I mean, how many times can you give a toddler apple slices or grapes or carrot sticks or cheese or raisins before it gets totally boring? So I've tried to come up with some alternatives to packaged crackers, cereal, and mac & cheese, but that still require little effort. These are my Recipes Without a Recipe, and I will share them with you from time to time.
The Bug has pretty much been eating yogurt almost everyday since I first gave it to him when he was, oh, about 9 months old. Other than the occasional treat of going out for or making pancakes or waffles with syrup, I try to avoid giving him a dose of added sugar for breakfast, which you usually find in those little yogurt cups. Even the ones made for kids have 12 or more grams of sugar. And they are teeny-tiny – The Bug could probably polish off two or three at breakfast. Plus, for little ones, at least until they are 2 or 3, full fat dairy is what they need. Those prepackaged yogurts are usually low fat, and the Day-glo colors that some of them come in freak me out a little. Plus the extra cost and extra trash kinda bugs me, too. So unless we are traveling and need the convenience of pre-packaged yogurt cups, I tend to buy a big container of Stonyfield Farms Organic Whole Milk Yogurt, and mix in fresh or thawed, frozen fruit. But since he does eat A LOT of yogurt, I try to at least keep in interesting by coming up with some different combinations. Plus it is a way to sneak in some other good-for-you ingredients to increase the protein, fiber, and flavor. Here is one of his faves…
PB&J Yogurt
1. Spoon some plain yogurt into a bowl. I pretty much always give The Bug Stonyfield Farms Organic Whole Milk Yogurt.
2. Add a spoonful of your favorite nut (or non-nut, a.k.a. sunflower seed) butter. This is almond butter, but I usually use peanut butter.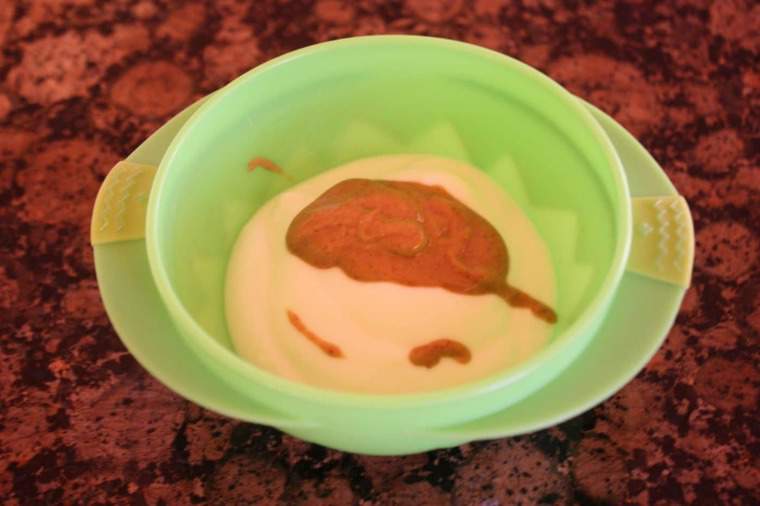 3. Add some finely chopped fruit. I usually go with strawberries or grapes – kind of a classic PB&J combo.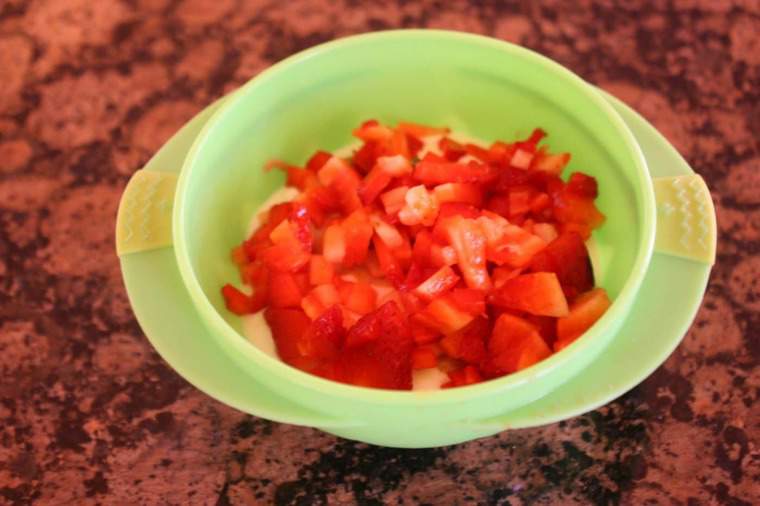 4. If you like, top with your "nutrition booster" of choice, such as wheat germ, ground flax seeds, chia seeds (I haven't tried these yet, but I want to), granola, chopped nuts, etc. This is wheat germ here.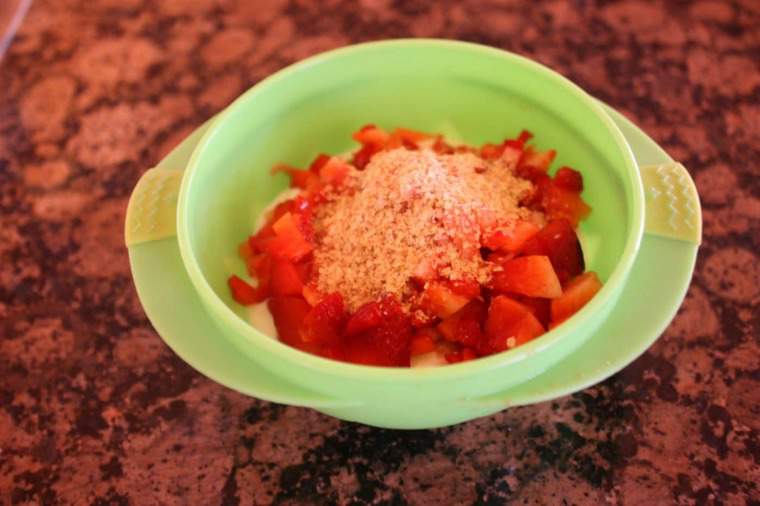 5. Stir it all up. Then smell it. I always do. Smells so yummy!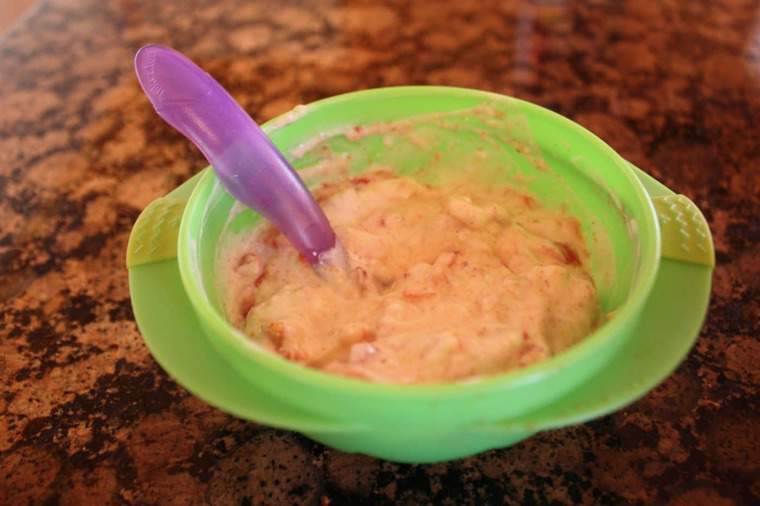 6. Enjoy!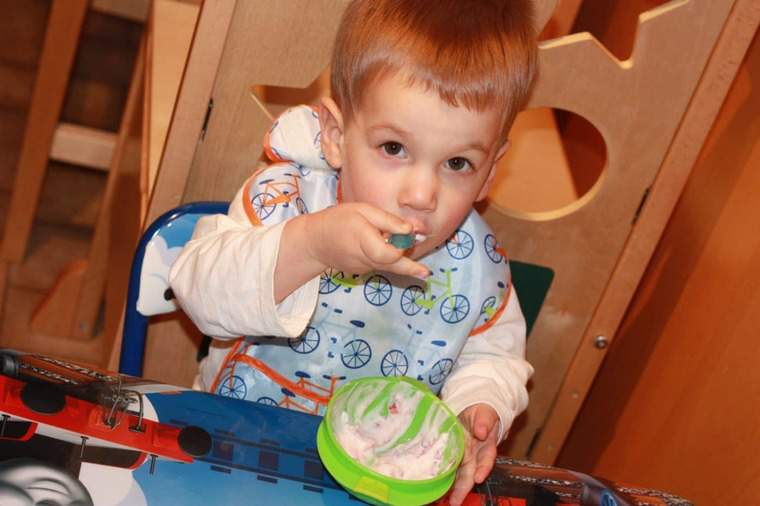 Clearly this is Bug-approved!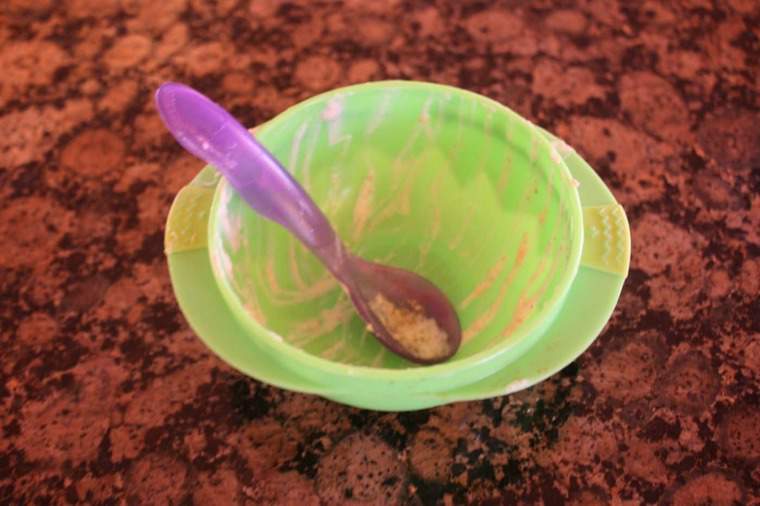 What do you usually eat for breakfast? Is there something that you eat pretty much everyday?