This post may contain affiliate links. Read my disclosure policy.
A quick and easy one pot meal that is a fabulous fusion of Asian flavors and autumn ingredients, you have to try this recipe from contributor Linda from Brunch with Joy for Pumpkin Thai Curry Udon.
Pumpkin Thai Curry Udon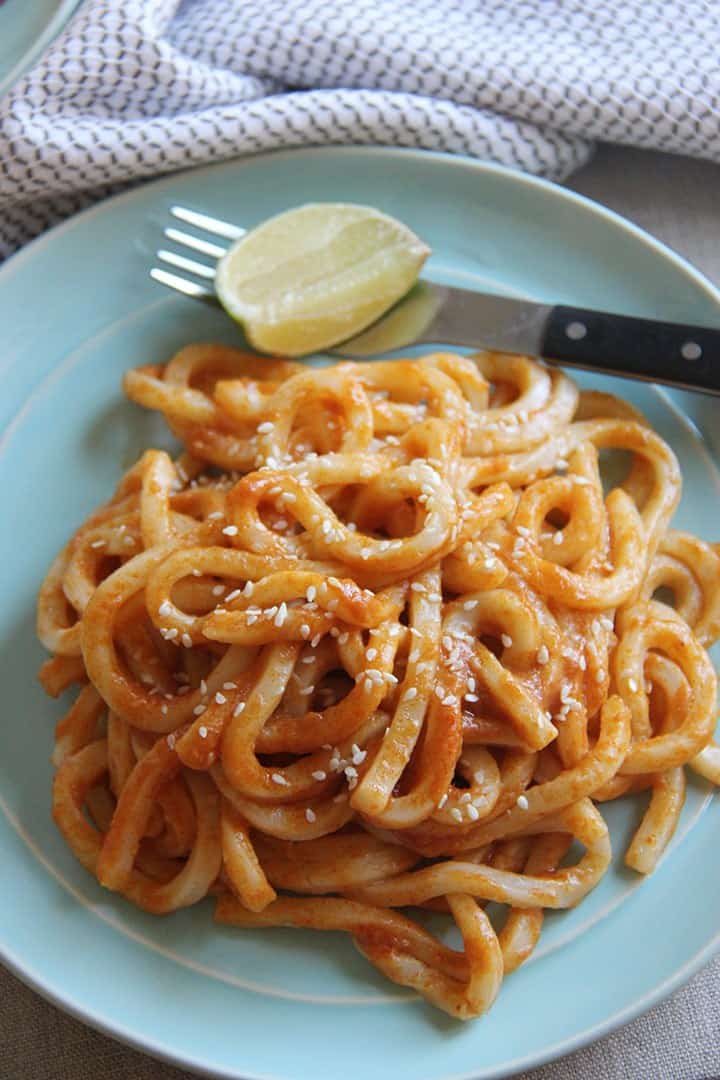 Have you been in this kind of situation? You're making dinner and you have put lots of flavorful ingredients in the dish, but for some reason it just tastes… bland. Boring. Uninspiring. That situation happened to me few weeks ago when we had our housewarming party, for which I decided to make pumpkin thai curry udon. Hearing my frustrations, my mom and my sister tried to help by adding spices and other ingredients but I still think that the dish tasted dull.
So, the next morning, I woke up with a mission. Two missions actually. To improve the taste of the udon and to find ways to use pumpkin in many different meals. After some serious thinking, I decided to combine the two missions. I did some experiments with both ingredients and added a ton of different seasonings. And suddenly – as if by magic – it worked! This time, the ingredients made a world of difference and the dish was so much better!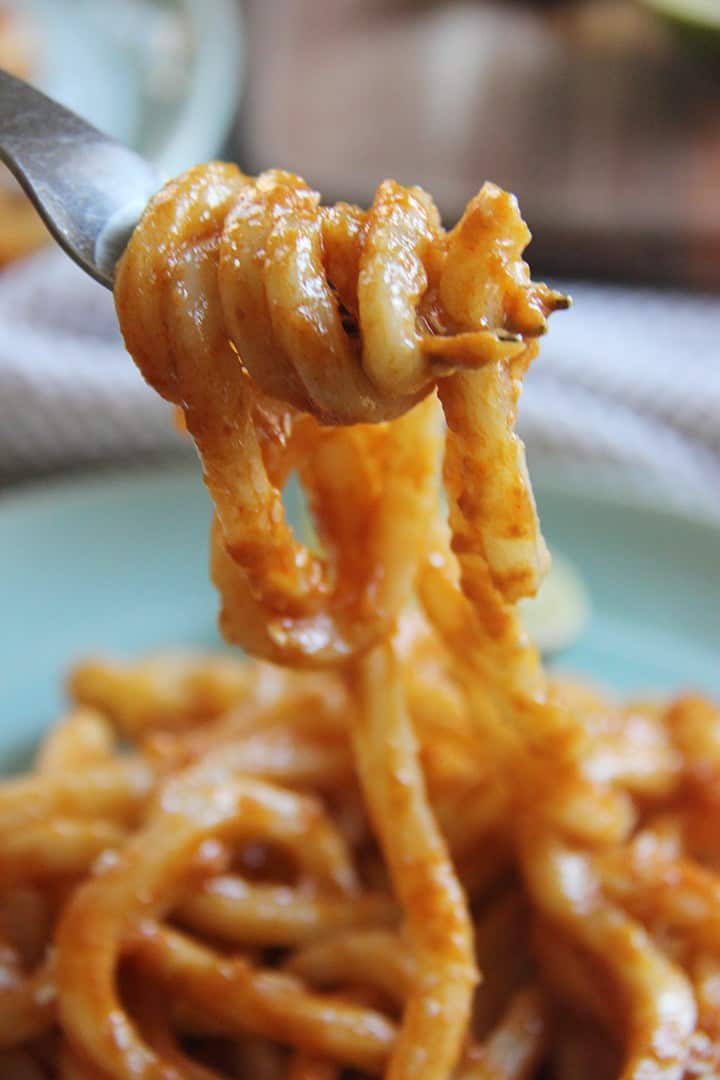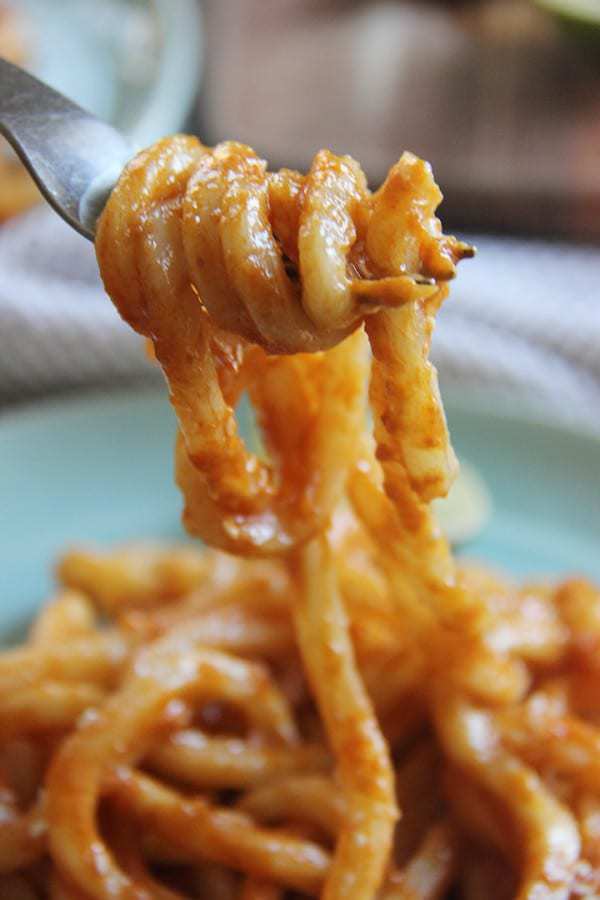 What's so special about this dish? One-pot meals! I just love one-pot meals. Sure, I love the simplicity of throwing everything in a pot and just wait for my dinner to be ready. But what I love most of all is having less dishes.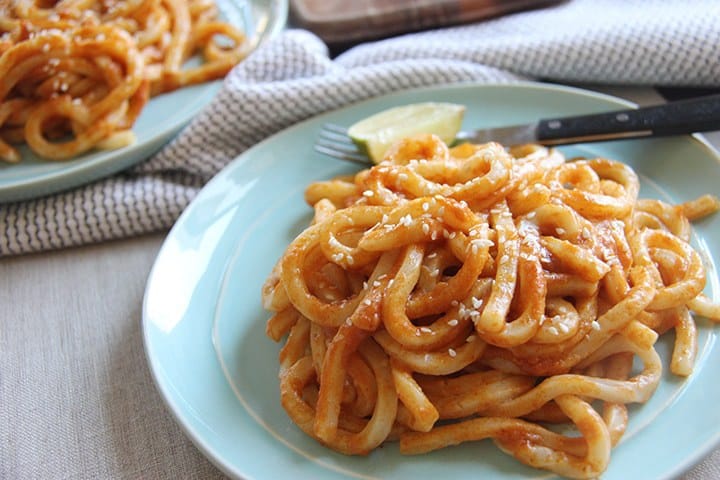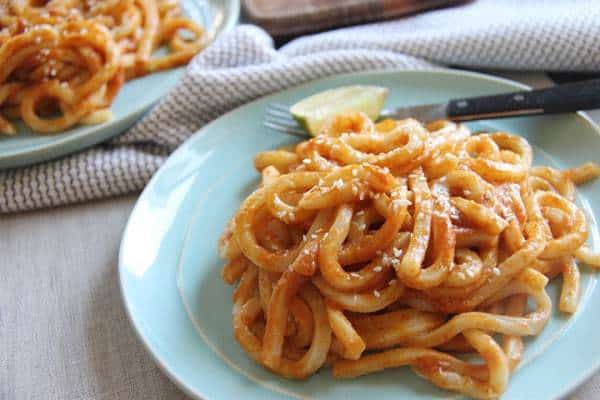 This is also one of those super-quick dinner ideas. With kids back to school and everyone is getting ready for Q4, dinner needs to be prepared in a hurry. So, why not have this pumpkin thai curry udon for dinner tonight?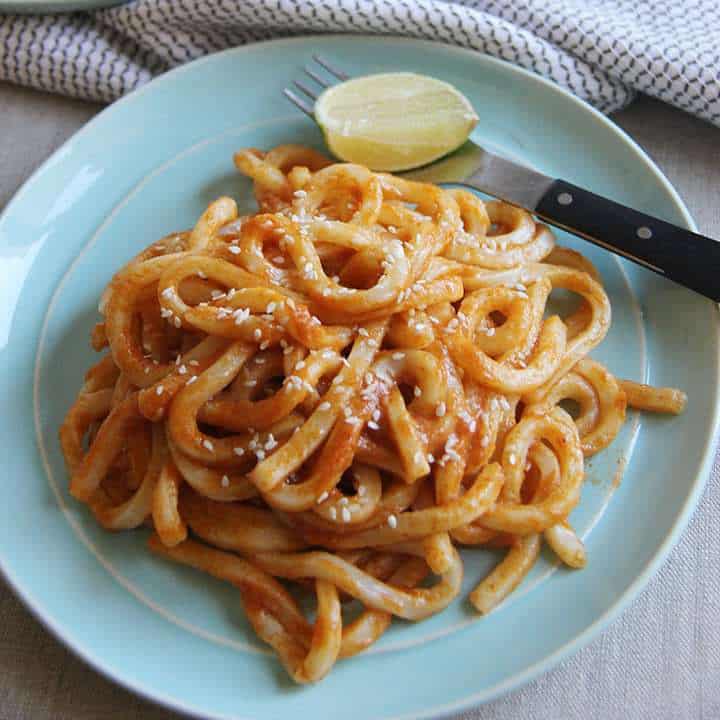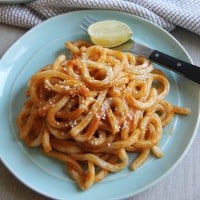 Pumpkin Thai Curry Udon
A quick and easy one pot meal that combines Asian flavors and autumn ingredients.
Ingredients
1

brick frozen udon

1

tbs

pumpkin puree

2

tsp

sesame oil

1

tsp

Thai red curry paste

1

tsp

fish sauce

½

tsp

minced garlic

Sesame seeds and fresh lime juice for garnish
Instructions
In a bowl, whisk together pumpkin, sesame oil, curry paste, fish sauce, and garlic. Set aside.

Cook the udon according to the package instructions. When done, carefully pull out the udon and toss into the pumpkin mixture.

Add 1-2 tbs hot udon water if the pumpkin mixture is too thick. Sprinkle some sesame seeds and enjoy warm with fresh lime juice.
Categories:
Here are some other noodle recipes from Linda…
Crockpot Caramelized Pork Noodle Soup
Mushroom Zoodles and Cheese
Thai Shrimp Scampi
And a few of mine…