This post may contain affiliate links. Read my disclosure policy.
Pumpkin Pie Recipes can be anything from classic to creative, paleo to vegan, gluten-free to low carb, crustless to deep dish, and much more. You'll find all of these recipe ideas to satisfy your pumpkin spice cravings in this collection of OVER 25 of the BEST pumpkin pie recipe ideas!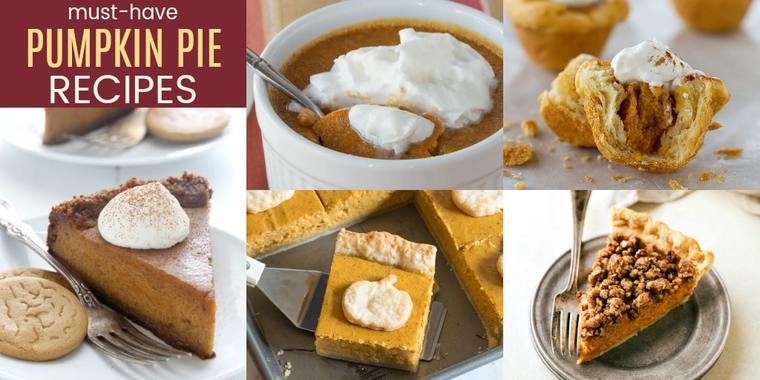 25+ of the Best Recipes for Pumpkin Pie
As Thanksgiving approaches, the first thing on everybody's mind is the turkey. But coming in a close second is pumpkin pie! On that fourth Thursday in November, the meal isn't complete until you've had your slice of rich and creamy pie filled with warm autumn spices. Maybe with a slice of apple pie alongside it.
While I'd say most of us pick up canned pumpkin puree, I know there are some people out there who go all out and roast their own pumpkins to make their pies completely from scratch.
Speaking of making pie from scratch, do you make your own crust? I always struggle with crust, and honestly, I'm happy to pour my pumpkin pie filling into a pan and bake it without a crust at all. But I know that flaky, homemade crust is the best part of the pie for many people. So whether you go with homemade whipped cream, or even opt for Cool Whip or the stuff from a can, you have to admit that this all-American dessert is truly the highlight of the meal.
But these recipes prove that pumpkin pie shouldn't be limited to one day a year, because there are so many different ways to make it.
How can you make pumpkin pie?
You can stick with the classic Libby's Pumpkin Pie with a flaky crust.
Take that traditional pumpkin pie and infuse it with some bourbon
Top it with a crumbly streusel.
Gluten free pumpkin pie can be made with a gluten free crust or make a crustless pumpkin pie
There are pumpkin pie recipes for other dietary needs like vegan, paleo, or low carb recipes.
If you need to feed a large crowd extra-large slab pies, or pumpkin pie bars are a great option.
Or go the opposite and make mini pies.
And don't forget a scoop of vanilla cheesecake ice cream to go with your pies.
What are the best pumpkin pie recipes?
25+ Pumpkin Pie Recipes
In this list you'll find:
-Gluten Free Pumpkin Pies
-Pumpkin Pies with Crust
-Extra-Large and Mini Pies