This post may contain affiliate links. Read my disclosure policy.
Are you looking for an easy dinner for busy weeknights? Tired of the same old boring bacon, lettuce and tomato sandwich? All you have to do is whip up some simple creamy balsamic dressing (healthier because it's made with Greek yogurt), throw some prosciutto in the oven to make it crisp, and assemble this Italian-inspired B.L.T. also know as…
The P.A.T. – Prosciutto, Arugula & Tomato Sandwich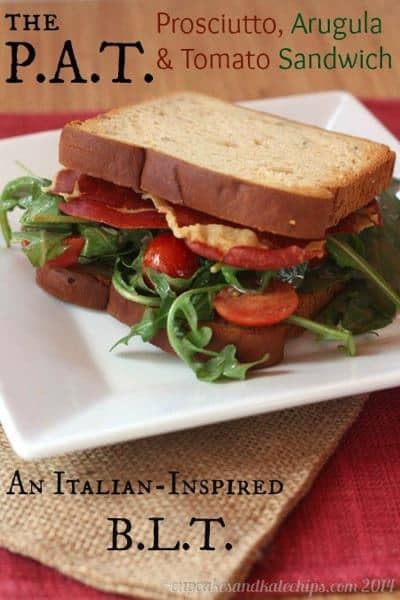 It starts off as one day a week and soon becomes a way of life.
As you know, #SundaySupper has expanded to #WeekdaySupper, where every Monday through Friday we bring you meals that are simple enough to make any night of the week, and are suited to busy families. You can see what's cooking up this week at the bottom of this post. And don't forget about the #SundaySupper and #WeekdaySupper Pinterest boards!
Can I tell you, lately I hate giving The Bug a sandwich. He dissects it every time. Rips off the top and starts digging through the contents like he is searching for buried treasure. Clearly the kid has been watching too much Jake and the Neverland Pirates. Or I've been listening to him watch too much Jake and the Neverland Pirates while I cook dinner and feed Baby Smiles, since I am the one making the analogy.
But do you know what his buried treasure is? CHEESE! The kid is obsessed. So he'll rip off the top, search for any cheese that may or may not be in there, eat it, jam the bread in his mouth, leave the rest of the sandwich fillings (and whatever fruit and/or veggie is on his plate) and tell me he is still hungry. HE JUST WANTS MORE CHEESE. This is why I can only give him half of his sandwich at a time. The kid likes carrots and apples and turkey and whatever else may be in or next to his sandwich, but I have to meter it out in order to keep him from devouring all the cheese in three seconds flat and asking for even more before he touches anything else.
Argh! Three-year-olds!
No cheese in this sandwich, though there is one ingredient that I would say is my buried treasure – crispy prosciutto!! I love laying slices of prosciutto on a rack in the oven and baking them till they are warm and crunchy, bringing out the lovely porky saltiness! Or salty porkiness? Or delicious awesomeness? Whatever, just do it. It is so good crumbled on salads or on top of soup, and in this Prosciutto, Arugula & Tomato Sandwich.
Oh heck, just snatch a piece right off the rack as it come out of the oven. I won't tell.
Just whisk together this super-simple Creamy Balsamic Greek Yogurt Vinaigrette, toss it with an handful of arugula and grape tomatoes, then pile onto your favorite bread (lightly toasted is my preference) with a few slices of that buried treasure. The pepperiness of the arugula and juicy sweetness in the grape tomatoes give such a nice contrast to the salty crunch of the prosciutto. Mmmmmmm!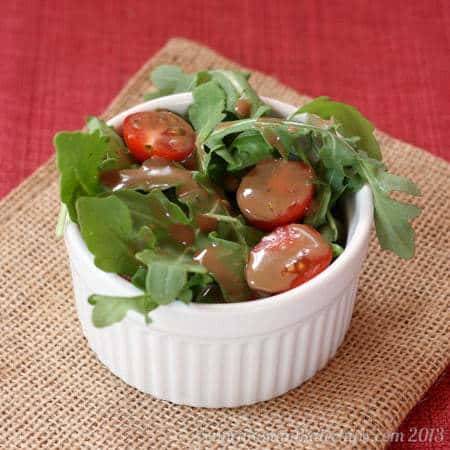 What is your favorite sandwich?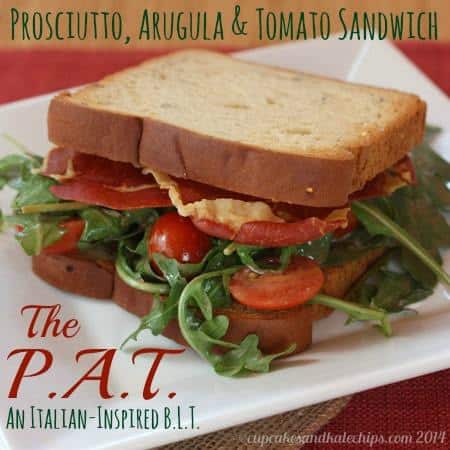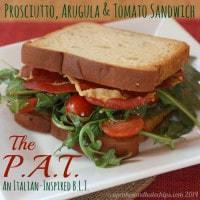 The P.A.T - Prosciutto, Arugula & Tomato Sandwich
For a change from the original, try an Italian-inspired variation on the classic BLT sandwich made with crispy prosciutto and peppery arugula.
Servings:
1
(adjust for as many sandwichs as needed)
Ingredients
For each sandwich (multiply this depending on the number of sandwiches you are making):
About 2 oz.

3-4 thin slices prosciutto

1

c

arugula

1/4

c

grape tomatoes

halved

1

T

Creamy Balsamic Vinaigrette

salt & pepper

to taste

2

slices

of your favorite sandwich bread

regular or gluten free
Instructions
Prepare the crispy prosciutto by preheating your oven to 350°F, placing the prosciutto on a cooling rack which is set on top of a baking sheet, and baking for 6-8 minutes per side, or until crispy. Set aside on paper towels to drain. Alternatively, you could cook it in a pan on the stove top over medium low heat until crispy.

Assemble the sandwiches by first tossing together in a bowl the arugula, tomatoes, and Creamy Balsamic Vinaigrette, and seasoning with salt and pepper, if desired.

Lightly toast two slices of your favorite sandwich bread. Top one slice with the arugula mixture, layer on the prosciutto, and top with the second slice of bread.
Categories:
Enjoy!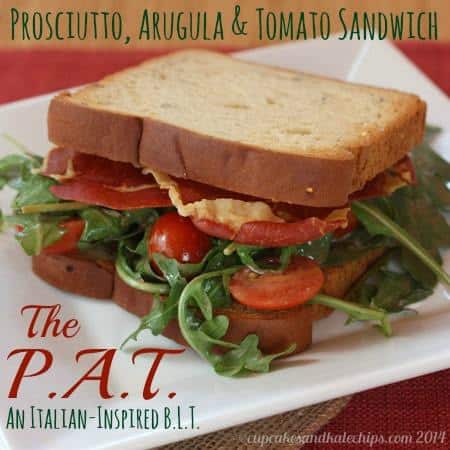 If you like this recipe, you'll love these:
Plus check out all of the other fast and tasty #WeekdaySupper recipes for this week:
Monday
Tuesday
Pineapple Chicken from The Foodie Army Wife
With tender chicken, sweet pineapple and crunchy water chestnuts, this is a family favorite for a busy weeknight meal.
Wednesday
Korean Spicy Pork (Dwaeji Bulgogi) from kimchiMOM
Dwaeji bulgogi is a great make ahead dish that can be ready in minutes for dinner. Perfect with a steaming bowl of rice!
Thursday
The PAT – Prosciutto, Arugula & Tomato Sandwich from Cupcakes & Kale Chips
When you need a change from the original, try an Italian-inspired variation on the classic BLT sandwich.
Friday
Slow Cooker Sausage and Corn Chowder from Cookin' Mimi
This stick to your ribs soup is simple to prepare and perfect for chilly nights.