This post may contain affiliate links. Read my disclosure policy.
Polenta crust creamed spinach tart combines two simple dishes into one elegant, healthy, naturally gluten free meal! It's a perfect way to celebrate a gluten free St. Patrick's Day!
It's almost St. Patrick's Day, it's almost spring, so #SundaySupper is bringing you all things green! I took two of our favorite side dishes, polenta, and lightened up creamed spinach , and combined them into this simple appetizer, side dish, or meatless main. The Bug may have called it "pizza", but I'll call it Polenta Crust Creamed Spinach Tart.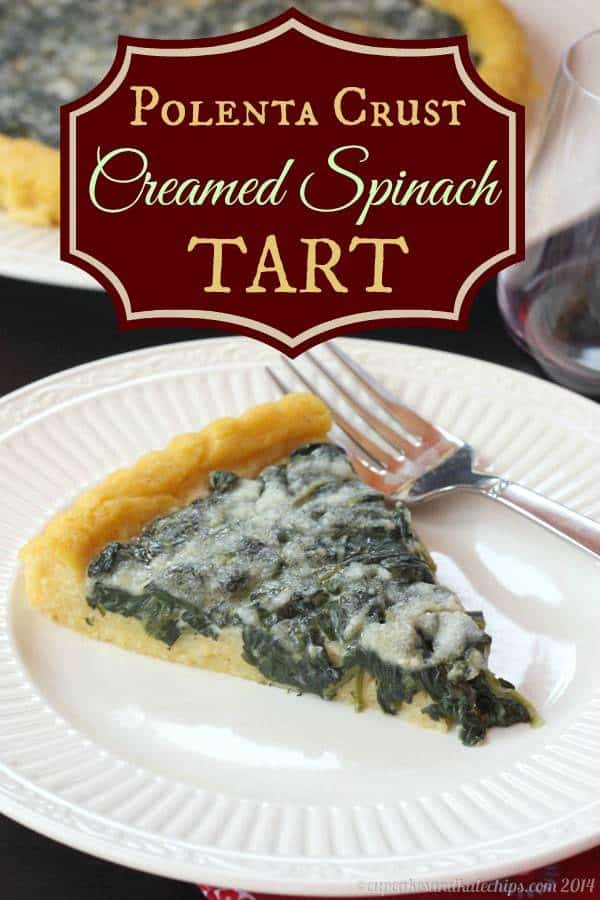 Every weekday, I post a picture of what is in The Bug's lunchbox on my Instagram and Facebook pages. I do this because I like to show that there is a middle ground between the same old sandwich and bag of random snack everyday and those sandwiches with homemade bread and backyard-grown fruits and veggies cut into shapes and arranged to replicate a Van Gogh painting.
I know lots of parents are looking for different ideas, sometimes even for themselves, and I hope that my attempt at creativity can inspire someone. Honestly, what it comes down to is that I like to use up food, so I rarely buy things specifically for his lunch and instead try to use whatever is in the fridge and pantry.
One thing that challenges my creativity is that because his school leases space in an annex to a Jewish temple, the kids' meals are required to be meatless in order to ensure that all food consumed on Temple grounds abides by Kosher laws. That means no mixing meat with dairy, no pork, and I'm not sure what else, because I am not Jewish. We are definitely not vegetarian, so I am always trying to come up with different things to make sure he gets protein.
Well, some days I get comments about how shocked people are that he eats what he eats. They say how their kids or grand kids would never touch the stuff or would demand peanut butter and jelly. People often want to know how I have such a good eater. You know, he is three. He has his likes and dislikes and picky moments. He's currently having a tomato sauce aversion. He doesn't love steak or anything that he really has to chew. He won't touch zucchini, and doesn't quite enjoy broccoli like he did as a baby. He'd prefer to live on bananas and chocolate and bread and cheese.
But yes, he eats a wide variety of foods and has an amazing appetite and palette for his age. And it started from Day 1. Well, I supposed Day 5 Months when he started solid food, but this is the type of food I have always fed him. To him, this isn't weird food or healthy food. It's just food. And of course he'll gobble up ice cream and cupcakes and pizza, but he also enjoys cauliflower and carrots and apples and salmon and nuts, and heck, even asks for prunes and dates and dried apricots instead of fruit snacks.
So I'm gonna ride the wave while I can. There's gonna come a day where he can read the menus at the restaurants and he'll want chicken fingers and french fries. Times where he will raid the Doritos and Oreos at a friend's house. And he'll get himself into Mommy's ice cream or treats that she made for the blog. But if he continues to eat a variety of nutritious foods most of the time, then this is all OK. Balance, you know. Moderation.
I tell this story for a reason.
The Bug brought this polenta crust creamed spinach tart for lunch one day.
In his mind, it was pizza. His favorite kind of pizza is white pizza with broccoli. This had crust, cheese, and a green veggie. Who am I to correct him?! Sure kid, I'm sending in pizza for lunch!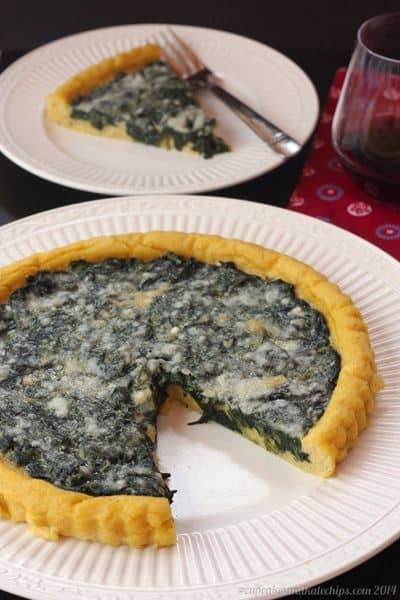 Since polenta and my lighter version of creamed spinach are two of our favorite side dishes, I knew combining them would be a hit. Both of my boys, well, actually all three, devour polenta. The Bug is actually only a recent spinach convert, but the little guy is surprisingly a huge fan. And The Hubby, who before I met him was not the biggest veggie eater, and is pretty much anti-leafy greens, really likes my spinach dish. I simply use a little light cream cheese and parmesan to make it rich and creamy, but still light. The earthy, creamy spinach atop the savory, soft but firm polenta was a perfect combination.
This tart was a nice side dish when I threw a chicken in the Crockpot one night. But it would also make a lovely lunch or meatless main course. You can even cut it into small wedges for a little appetizer.
The Hubby likes polenta cooked firm, versus the creamy style. Sometimes I don't cook it long enough for it to get firm immediately after taking it out of the pot. So it doesn't set up like he prefers it. When I can, I try to cook it early in the day. That approach is perfect for creating a savory tart crust.
You can either make sure you cook it suuuuper duper thick, then pour it in the tart pan and bake it, or throw it in the fridge at some point, even for just a short while, before baking it, after filling it, or after the final turn in the oven to heat through and brown the spinach and parmesan. It reheats quite well, and this chill time allows it to firm up enough to slice well.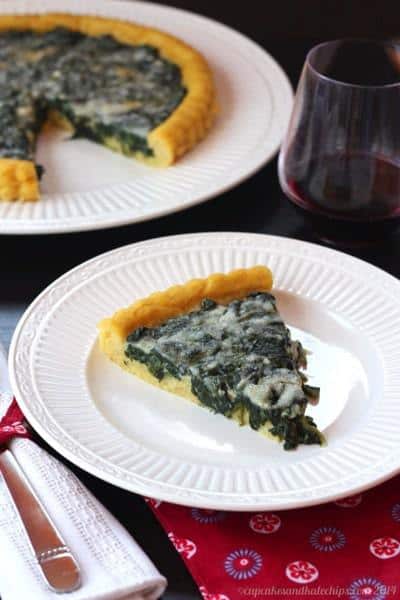 Join the #SundaySupper conversation on twitter on Sunday! We tweet throughout the day and share recipes from all over the world. Our weekly chat starts at 7:00 pm ET. Follow the #SundaySupper hashtag and remember to include it in your tweets to join in the chat. Check out our #SundaySupper Pinterest board for more fabulous recipes and food photos.


Would you like to join the Sunday Supper Movement? It's easy. You can sign up by clicking here: Sunday Supper Movement.
And from spinach to mint, broccoli to lime, and everything in between, check out the great green menu from the #SundaySupper contributors at the bottom of this post.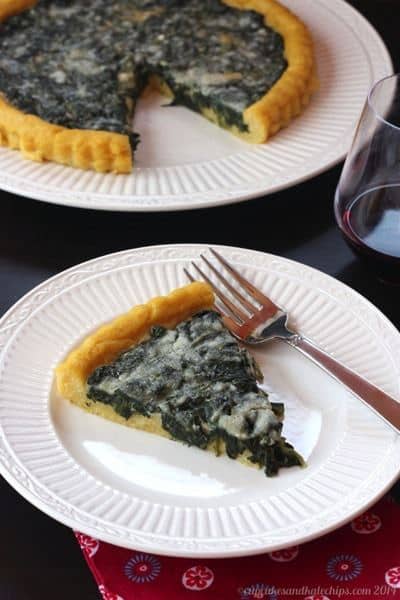 What is your favorite green food?
Please tell me it will be this polenta crust creamed spinach tart!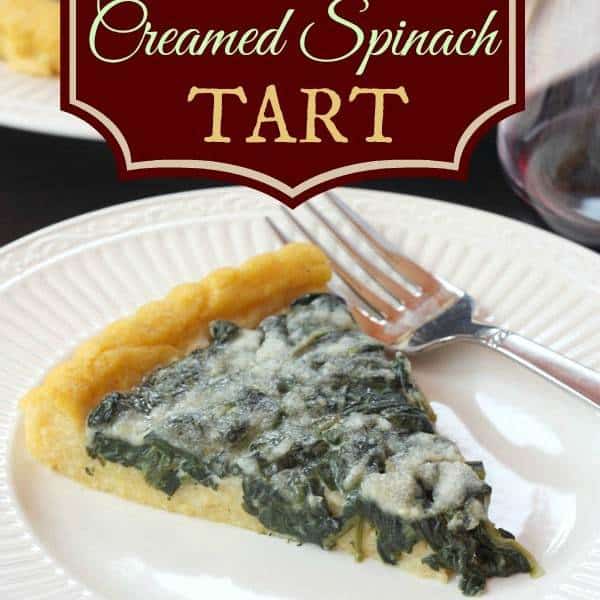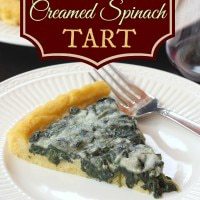 Polenta Crust Creamed Spinach Tart
Combines two favorite sides into a simple, elegant, and healthy appetizer, side dish, or meatless main.
Ingredients
For the polenta crust:
3

cups

low sodium vegetable or chicken stock or broth

1/2

tsp

kosher salt

1

cup

cornmeal or polenta

1/4

cup

parmesan cheese
For the creamed spinach:
two 6 oz bags of baby spinach

2

oz.

cream cheese

I used light

1/2

tsp

kosher salt

a few grinds black pepper

1/4

tsp

freshly grated nutmeg

1/4

cup

parmesan cheese
Instructions
For the polenta crust:
Preheat oven to 400°F.

In a medium saucepan, bring the stock and salt to a gentle simmer.

While whisking, slowly pour in the cornmeal.

Continue to simmer, stirring frequently, for 15 to 20 minutes, or until very thick and almost firm.

Stir in the parmesan cheese.

Pour into a 10 inch tart pan with a removable bottom (a springform pan would probably work as well).

Bake for 10 minutes. (*See Note)

If filling right away, set aside until the creamed spinach is ready. (*See Note)
For the creamed spinach and to assemble the tart:
Spray a large pan with olive oil or cooking spray and add spinach, salt, pepper and nutmeg and cover to allow spinach to wilt for about 3-5 minutes.

Remove lid and stir in cream cheese until cream cheese blends in evenly and excess moisture evaporates.

Remove from the heat.

Take the baked polenta crust (warm or chilled) and press down the center to create an indentation and a raised crust around the edge.

Fill the indentation with the creamed spinach.

Sprinkle top with parmesan cheese. (*See Note)

Bake at 400°F for 10-15 minutes, or unti hot, slightly bubbling and lightly browned. (*See Note)
Notes
*At any of these points, you could chill the crust or tart in the refrigerator for at least 30 minutes and then proceed or reheat before serving in the oven or microwave. Chilling will ensure that it firms up to slice cleanly.
Categories:
Enjoy!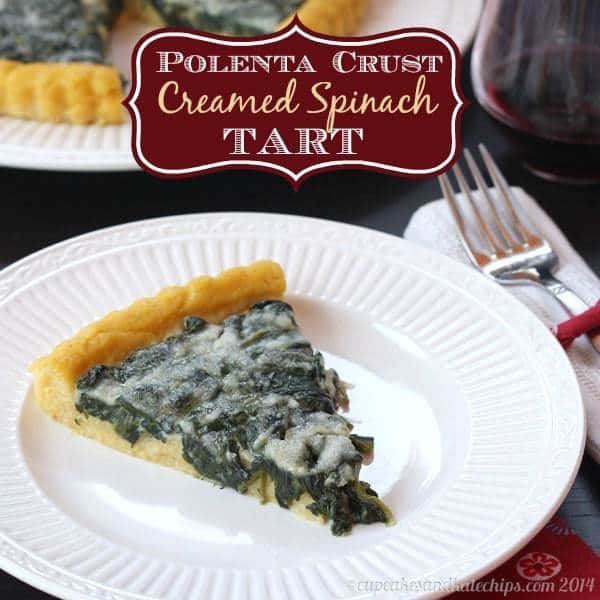 Want some more great greens from me…
And #SundaySupper has tons of great recipes to help you eat your greens of all kinds…
Green Light Appetizers and Sides
Getting Greens Through Salads
Entreés That Will Leave You Green With Envy
Desserts and Beverages That Will Make Others Turn Green