This post may contain affiliate links. Read my disclosure policy.
OK, pretty soon we will be back to our regularly scheduled at-least-somewhat healthy recipe posts. But I have one more birthday party goody to share with you, since a Pinstripe Cake is not nearly enough. I mean, my blog is called Cupcakes & Kale Chips, so we had to have some cupcakes. I mean floury, sugary cupcakes, and not just my black bean ones (which are way more delicious than it sounds from that description). It is a birthday party, for goodness sake. And a baseball party, which called for baseball-themed cupcakes. I know – Peanuts & Cracker Jack!!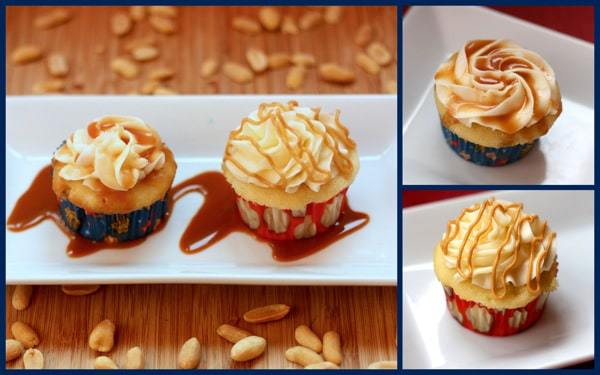 Yep, that's right, Peanuts & Cracker Jack Cupcakes! "Take Me Out to The Ballgame" was one of the first songs I started singing to The Bug, since he was born right at the beginning of baseball season. So I knew that this was the perfect idea. I had initially thought about having peanuts and Cracker Jack as snacks. But, with lots of little ones coming to the party, and my friend's paramedic husband at work and not at the party, I thought it best to leave these choking hazards off the menu. So I figured I would incorporate the flavors into cupcakes.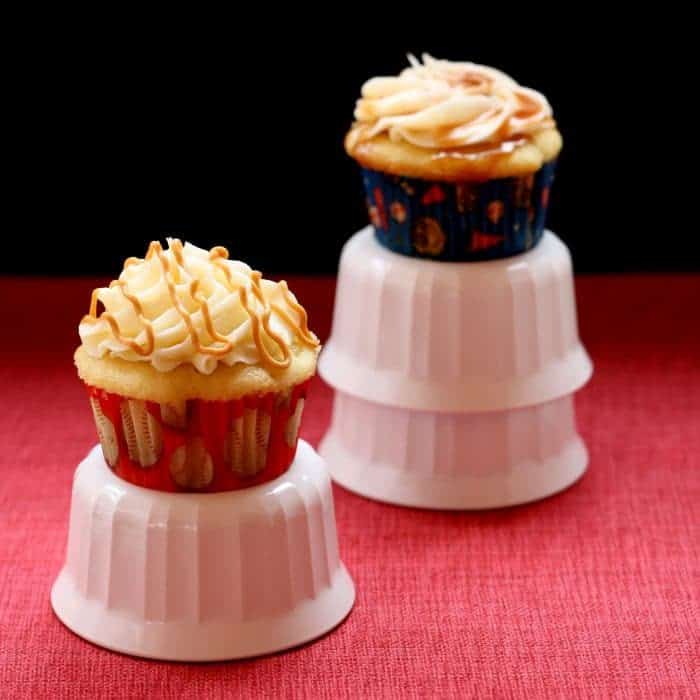 I made one batch of these Yellow Buttermilk Cupcakes from Martha Stewart. What I love about this recipe is that it makes A LOT of cupcakes in only one batch. So if, like me, you have three cupcakes tins, this is a good way to go if you have to make more than the typical 18-24 in most recipes. And it called for three egg yolks, while the Pinstripe Cake called for three egg whites. This, to me, is the most exciting thing ever, because I hate throwing away food, and yet I am never good about saving and using extra whites or yolks. It's like when I make an angel food cake recipe that calls for the same amount of whites as the number of yolks in the recipe for the accompanying ice cream.
The Peanut Cupcakes were filled with this Peanut Butter Filling I found from Food & Wine.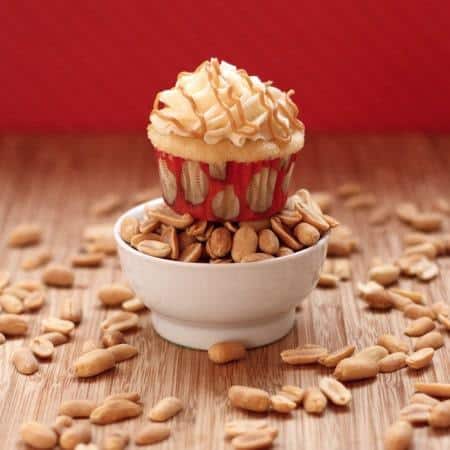 And the Cracker Jack Cupcakes were filled with Pink Parsley's Salted Caramel – the same recipe I used for the Coconut Salted Caramel Cupcakes.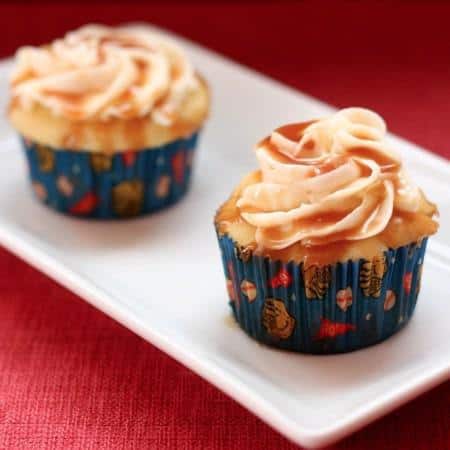 Add a little buttercream, make them look fun and festive, and you are all set. For the birthday party, I made fondant baseballs and pinstriped #2's using food-safe markers, and for the prettier ones for photographing, I drizzled some of the extra fillings.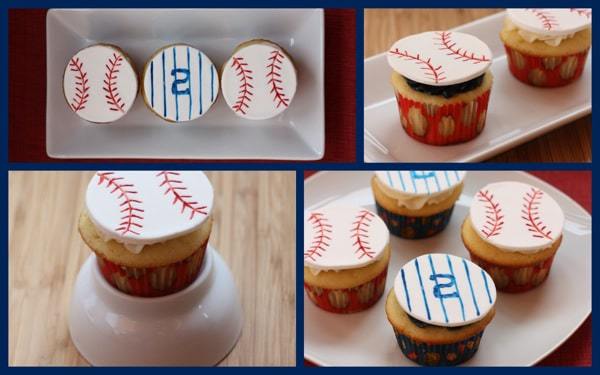 These didn't look quite as pretty in the photos, but I also frosted half of the cupcakes with the "blue velvet" frosting from the Pinstripe Cake.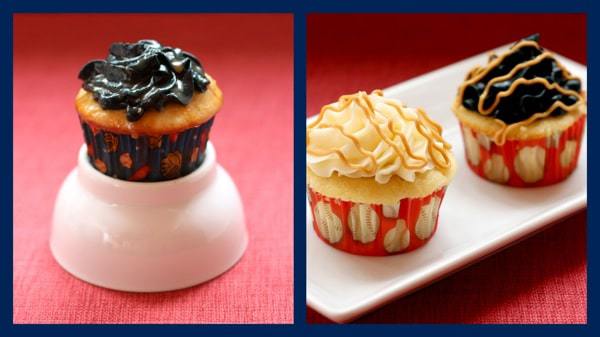 The coolest thing was that with one batch of cupcakes, two fillings, and two frostings (which did double duty on the cake), everyone could choose the exact combo they wanted – peanuts and vanilla, peanuts and chocolate, caramel and vanilla, or caramel and chocolate. Just trying to make everyone happy! And I must say, these were a huge hit. The leftovers were gobbled up by The Hubby's coworkers and my sister's college roommates.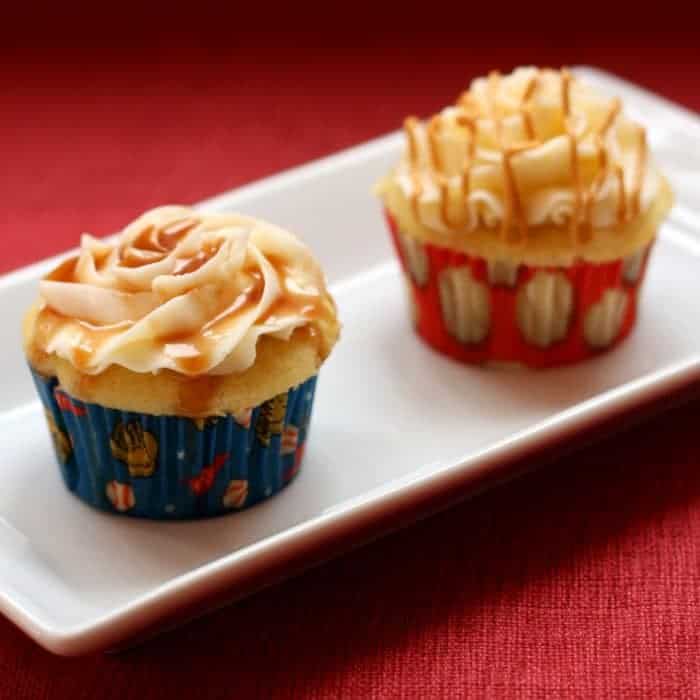 What is your favorite song to sing to your kids? For The Bug and I, it is "The Barney Song" – you know, the one that goes "I love you, you love me…"
OK, I am going to be a little lazy here. I am recovering from a stomach bug, and pretty much used all of my brain power editing photos and writing what I did up to this point. I am going to just point you to the links to there recipes I used to create these cupcakes. The directions are simply:
1. Bake the Yellow Buttermilk Cupcakes – Yellow Buttermilk Cupcakes from Martha Stewart
2. Make the Salted Caramel – Salted Caramel from Pink Parsley
3. Make the Peanut Butter Filling – Peanut Butter Filling from Food & Wine
4. Make the Buttercream and/or Chocolate Buttermilk Frosting (and add any food coloring you desire) – Basic Buttercream from Martha Stewart and/or Chocolate Buttermilk Frosting from Evil Shenanigans
5. After the cupcakes are cooled, using a pastry bag with a star tip (which I used for the peanut butter) and/or the Pampered Chef Easy Accent Decorator (which I used for the caramel), squeeze peanut butter filling into half of the cupcakes and salted caramel into the other half.
6. Frost and decorate as desired.
Enjoy!