This post may contain affiliate links. Read my disclosure policy.
Kids love PB&J and kids love crackers, so why not combine the two into a tasty and healthy snack like these Peanut Butter and Jelly Swirl Whole Wheat Crackers.
Peanut Butter and Jelly Swirl Whole Wheat Crackers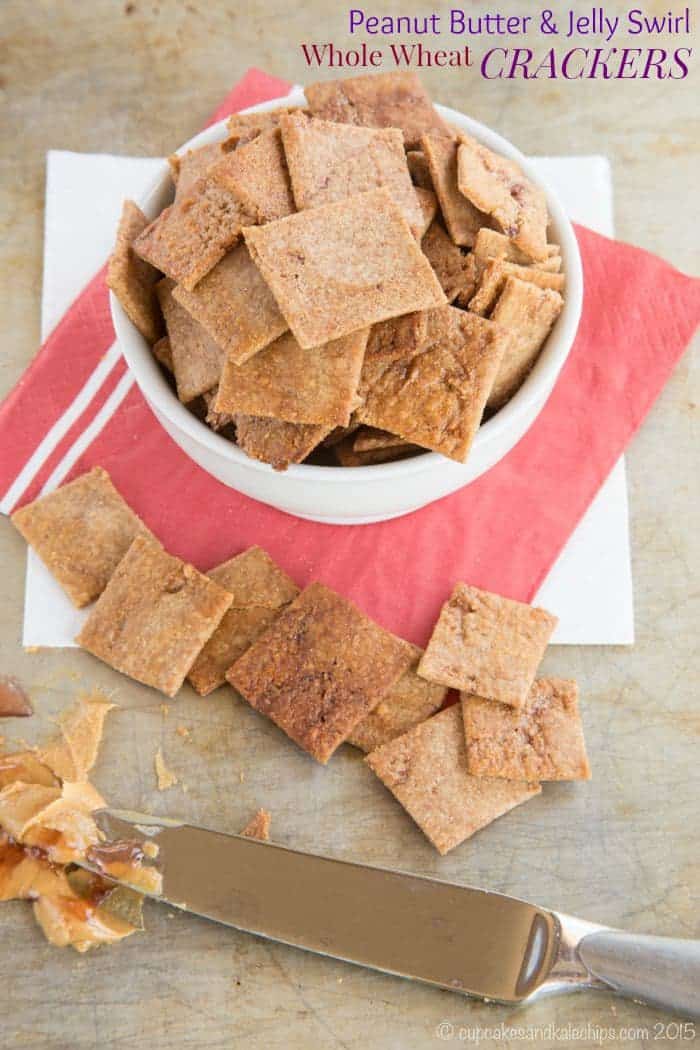 Disclaimer: This post is sponsored by Cascadian Farm. As a brand ambassador, I am being compensated for writing this post. As always, all opinions are my own.
My kid can talk your ear off about everything except what you want him to talk about. On the first few days of school, I'd ask him to tell me about his day. That got me nowhere because talking about Star Wars or something of that sort is way more interesting in his five-year-old mind. So I've had to modify my question a little bit in the hops that I would solicit at least a little more information. I started asking him, "What was the best part of your day?" Three weeks in, and nearly everyday his reply is, "Coming home to see you."
This is obviously going nowhere. The funny thing is, I think he means it. They did a little booklet about their first week of school, and for "My favorite part of the week was ________.", his response was "dismissal" and he drew a picture of the two of us and his bus. I have a few theories about this.
1 – He really doesn't like school. But, I mean, it's Kindergarten – what's not to like?
2 – He sincerely misses me. Yeah, doubtful.
3 – He sincerely misses the relative freedom of being home versus the structure of the school day. And the TV. Plausible.
4 – He is buttering me up in the hopes that I will allow him to watch the aforementioned TV. Likely.
Or maybe he just wants to come home for some yummy snacks…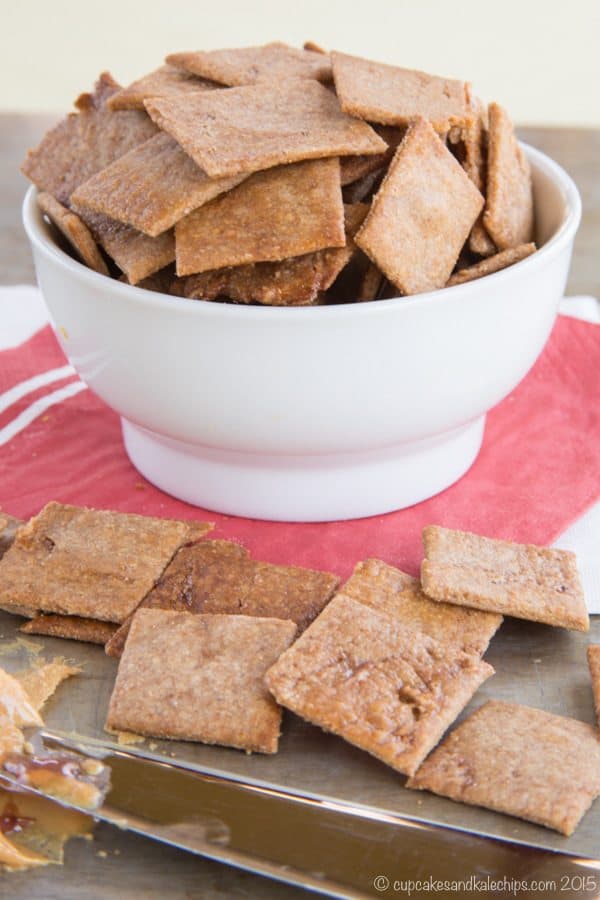 I first started make whole wheat crackers for my kids years ago. I don't do it all the time, but they are really easy and made from the most basic of ingredients, so you know exactly what's going in there. Plus I use only whole wheat flour, so the crackers are totally packed with whole grains. But after making the same old plain crackers so many times, it was time to change them up a bit. I took inspiration from the kid-favorite combo and the line of sweet and delicious Organic Fruit Spreads from my friends at Cascadian Farm and made these…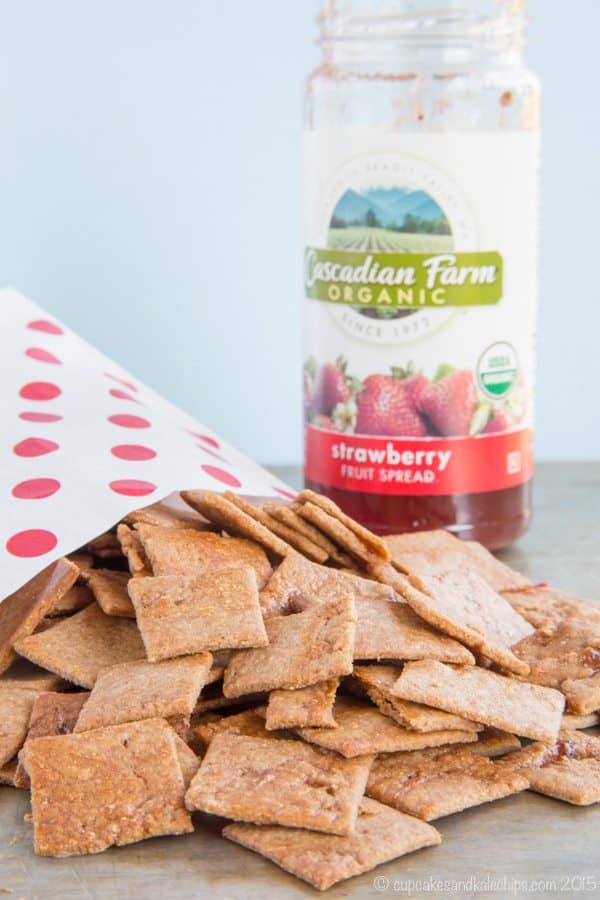 Yes, you guys, Peanut Butter and Jelly Swirl Whole Wheat Crackers are definitely a new favorite snack in my house. The classic crunchy cracker gets infused with the flavors of your favorite childhood sandwich. Ribbons of creamy peanut butter and swirls of fruit spread add a sweet and salty twist that make these crackers more fun and tasty than a boring old cracker.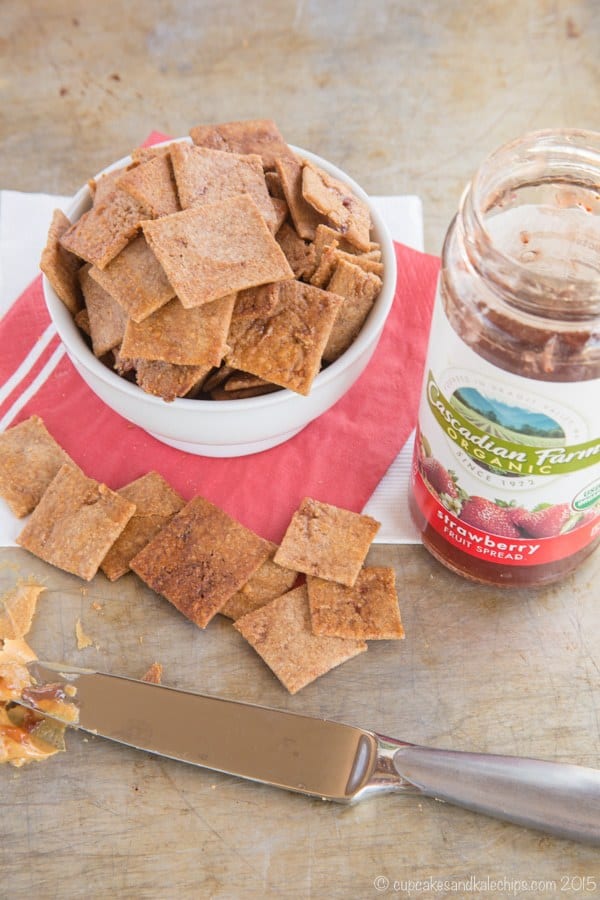 As I said, crackers are easy to make, but here are a few tips. Once you roll out the dough and cut squares with a pizza cutter, you don't have to separate them, and, in fact, I wouldn't recommend trying, As they bake, they shrink up and separate. They don't take long, but they require a bit of babysitting as they go from slightly underdone to overdone quickly. Neither of which renders them inedible, but if you want cracker perfection, make sure you check them every minute or two after the first five minutes. You can also take some of the crackers from the middle and move them to the outside, as the outer ones will cook faster. And trust me when I recommend splitting the dough and baking them in two batches. Otherwise they will be too thick and you'll have too much "middle" that is not done by the time the edges get a little too crispy.
But have fun with them. Grab your favorite Cascadian Farm Fruit Spread, get the kids in the kitchen and get a little messy!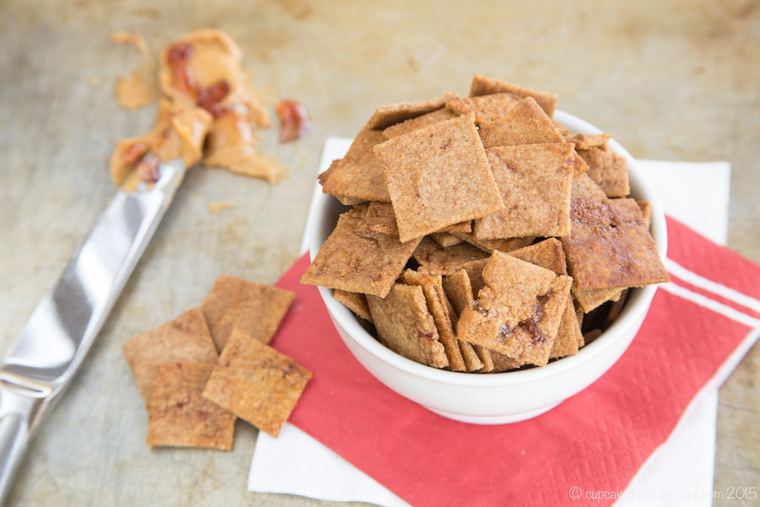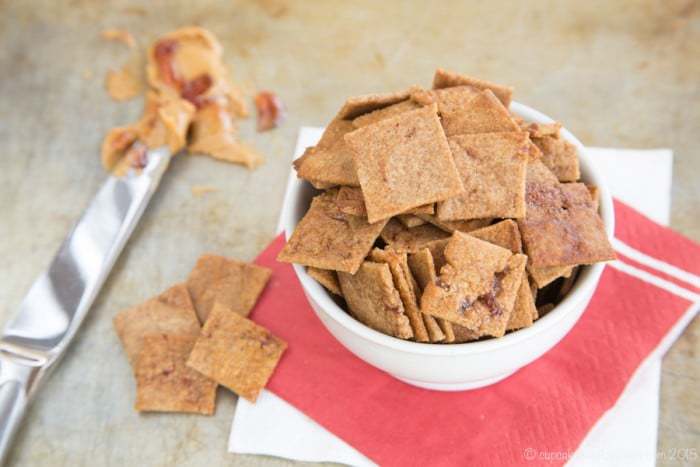 Do your kids tell you about their school day or do you have to pull it out of them?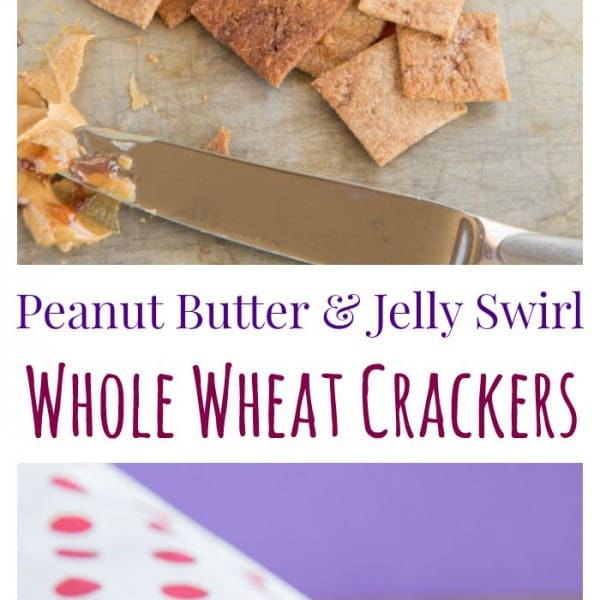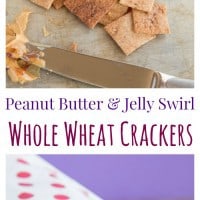 Peanut Butter and Jelly Swirl Whole Wheat Crackers
Combine two kid favorites into one tasty and wholesome snack recipe.
Ingredients
3

Tablespoons

cold water

1/2

teaspoon

vanilla extract

1

Tablespoon

honey

1 1/4

cups

whole wheat flour

1/2

teaspoon

salt

4

Tablespoons

cold unsalted butter

cut into cubes

2

Tablespoons

peanut butter

2

Tablespoons

Cascadian Farm Organic Fruit Spread

or your favorite jam, jelly, or preserves
Instructions
Preheat oven to 400°F.

Stir together the water, vanilla, and honey until honey dissolves and store in the refrigerator until you are ready for it.

Place the flour and salt in a food processor and pulse a couple of times to blend.

Scatter the butter cubes over the flour and pulse the food processor 8 to 10 times, or until the mixture resembles cornmeal. It's fine if a couple of large pieces of butter remain.

Turn the food processor on and add the water and honey mixture through the feedtube while it is running. Then run for another 30 seconds to blend.

Dump the dough onto a silicone baking mat and gather together in a ball. Roll into a rectangle about a quarter inch thick, and about 8 by 10 inches.

Spread the dough with a thn layer of peanut butter and then follow with the fruit spread, going to about a half inch from the edges.

Starting with the short side, roll the dough into a tight pinwheel. Cut the roll in half and set one half aside.

Cut one half of the roll into five or six slices and place next to each other on the baking mat. Cover with parchment and roll until very thin, about 1/16th of an inch thick, and covers almost the entire mat.

Remove the parchment, and if and edges are loose, you can press them back together. Using a pizza cutter, cut the dough into one inch squares.

Transfer the baking mat onto a baking sheet. Bake for 5 minutes, rotate the sheet, return to the oven and check every minute or two for about another 3-5 minutes, until the crackers are golden brown and as crisp as desired. As you are checking the crackers, you can remove the ones on the edges as they are done, and you can also move the ones from the middle to the outside as they are cool enough to handle.

Transfer the crackers to a cooling rack. Store in an airtight container.

Repeat steps 9-11 with the second half of the dough.
Nutrition Facts
Peanut Butter and Jelly Swirl Whole Wheat Crackers
Amount Per Serving (1 cracker)
Calories 24
Calories from Fat 9
% Daily Value*
Fat 1g2%
Cholesterol 2mg1%
Sodium 26mg1%
Potassium 15mg0%
Carbohydrates 2g1%
Vitamin A 30IU1%
Calcium 2mg0%
Iron 0.1mg1%
* Percent Daily Values are based on a 2000 calorie diet.
Categories:
Here are a few more peanut butter and jelly recipes…
Plus a few from my friends…